Review: L.A. Phil's Green Umbrella takes on the European avant-garde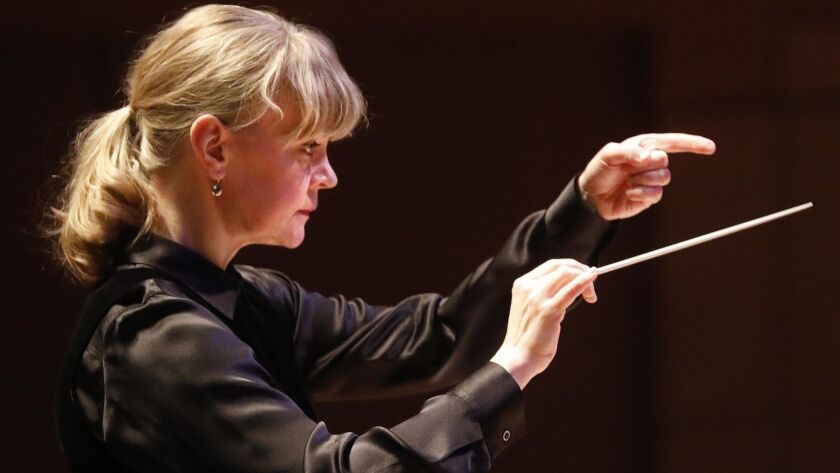 Music Critic
The Walt Disney Concert Hall organ pipes were bathed in a slimy green light that made them look like they were up to no good. To begin a Los Angeles Philharmonic Green Umbrella program Tuesday night, Italian composer and organist Francesco Filidei, who has written such pieces as the aptly titled "Killing Bach," sat motionless at the organ keyboard onstage, as if waiting.
Waiting for what? Was it the faint rumbling that sounded like it was coming from backstage? When it got a little louder, and the vibrations were mildly felt under foot, another possibility came to mind that no one wanted to think about.
Filidei's feet weren't moving, but they were on the pedals. He was stirring the barely audible but plenty physical lowest notes on the largest pipes, summoning colliding pitches capable of producing a rumble. Ever stronger, rumble became roar, the organ pipes now seeming some slimy green monster from the deep.
Over all that, a tinnitus-like high pitch, with the sound of a flute, ominously pierced the atmosphere. The piece eventually reached a huge climax before dying away. Throughout, Filidei produced a repertory of sounds I had never heard before from this magnificent instrument.
Called "Lamento," it was the first of five works commissioned for the occasion from European composers who were selected by L.A. Phil principal guest conductor Susanna Mälkki, the latest premieres in the orchestra's centennial season extravaganza.
This Green Umbrella program came under the umbrella, "European Avant-Garde," a classification all five composers rejected during a pre-concert discussion. To them, the European avant-garde connotes the period of continental new music experimentation in the 1950s, ancient history to these composers who were born between 1968 and 1974.
But the title sticks just the same. These are major mid-career figures in Europe who are little known in the U.S. because they are out-of-step (whether out ahead is a matter of contention) from the Americans. John Adams has offered a sense of optimism as one reason why. You might add to that the progressive European composers' drive to challenge their audiences. They mean to reflect their times, whether we like it not.
Mälkki, who is a former music director of the Ensemble Intercontemporain in Paris, very much has her finger on the European pulse and is a compelling advocate of uncompromising modernism.
In the case of Czech composer Miroslav Srnka, whose spectacular "South Pole" was a stunning success in Munich two years ago, this was a consideration of what a centennial means. Accepting the L.A. Phil commission left him, he said, with no time to accept offers to provide works for the centennial of the Czech Republic, also this year. Not that he was sorry. It hasn't been such a hot century, or you might say it's been too hot, with its wars, environmental disasters and general level of suffering.
Srnka wrote a poem on that subject as his program note, asking "whether we care more about the flags or the heat," and noting the flag's "threads frazzle into gusts of burning sparks," only to have the premiere of his "Overheating" in an L.A. shockingly aflame.
"Overheating" is as exactly as uncomfortable as it needs to be, with its gusts of roiling and airless sounds. A muted trumpet wha-whas into the night. A solo cello slides down the scale like a first responder down the station pole. Still, a sense of emerging, of sparks of sound becoming fertile offers if not hope, awareness.
French composer Yann Robin's "Übergang II" is meant to capture the transitional state between death and liberation of the soul from the body that "The Tibetan Book of the Dead" describes as a sonic procedure, listening being the last sense to go. Thus large mallets hit the strings of the piano and harp. Winds and brass screech like wild animals. Robin convinces us that we should not expect to be wrenched from the physical world without a fight or fright.
Finnish composer Lotta Wennäkoski offered something of an exception to the profound alienation in the male composers. Her "Hele," the title being a Finnish term for grace note and implies light, sparkled without setting off dangerous sparks. It is complex and rhythmically playful. Toy bird-whistles are employed but even they in their unreal vivacity are unsettling.
Fires and alienation, however, found their way back into Arnulf Herrmann's "The Call," six songs set to texts by Esther Kinsky. These comprise a forlorn call to overcome the fear of action in the face of the too many possibilities contemporary life forces upon us.
The poetic images are of smoldering obstacles, "coils of smoke" and "glow of cinders" again too close for the slightest comfort. Not unlike Filidei's "Lamento," this "Call" begins in the rumbling depths — here with the help of a contrabass clarinet and grumbling French horn.
Baritone Sean Michael Plumb conveyed the score's shuttering "indifferent sighs." Mark Lowenstein, who conducted, did the same on his end. Herrmann is too much a realist to ask "The Call" to be a call to action. It is a call, instead, to understanding inaction.
Optimism may not always be an option but at least, as these composers show, each in their own way, we're not alone.
---
Inside the business of entertainment
The Wide Shot brings you news, analysis and insights on everything from streaming wars to production — and what it all means for the future.
You may occasionally receive promotional content from the Los Angeles Times.