Guggenheim fellowship 2019: Robin Coste Lewis and Catherine Opie among 20 SoCal winners
For L.A.'s poet laureate Robin Coste Lewis, winning a prestigious Guggenheim fellowship means winning the time to focus solely on her writing. It means taking a break from touring, spending more time with her son, possibly taking a vacation for the first time since the 1990s.
"I'm a single mom and I have some disabilities and so I am hoping not to have to tour as hard," she said. "Artists, we struggle, and it's a tremendous idea to think that I won't have to work as hard as I have been working for the last 12 years."
Lewis is one of 168 winners of the John Simon Guggenheim Memorial Foundation's 2019 fellowships, announced Wednesday. The fellowships, awarded to artists, scholars and writers, provide between six months to a year to pursue creative projects.
Robin Coste Lewis' fierce and arresting poetry has its roots in Compton »
Almost 3,000 people applied for the foundation's 95th competition. Winners range from 29 to 85 and represent 49 disciplines and artistic fields, 75 academic institutions, 28 states, the District of Columbia and two Canadian provinces.
Southern California is represented by 20 fellows, including Coste Lewis, fine art photographer Catherine Opie, artist Elliott Hundley, and former Times photographer Barbara Davidson.
"This fellowship will give me time to sit still and be aware of my environment… and of the art I want to make," Lewis said.
In 2015, Lewis won the National Book Award for her debut collection, "Voyage of the Sable Venus." The poet says she will use part of her Guggenheim to work on her next book about the African American Arctic explorer Matthew Henson.
Opie plans to use her fellowship to explore the relationship of language and screens and how people obtain information, using collected newspapers and magazines and working with a team of animators.
Receiving the fellowship is incredible and validating, Opie said. "You can be nothing but excited about obtaining this type of award, especially in terms of all the other people who have had Guggenheim fellowships prior to myself."
ARCHIVE: A Catherine Opie moment in Los Angeles at MOCA and the Hammer »
Established in 1925, the Guggenheim Memorial foundation has awarded more than $360 million to over 18,000 people. Past SoCal winners include novelist Viet Thanh Nguyen (2017) and social practice pioneer Suzanne Lacy (1992).
"It's extraordinary to be a Californian, and a black Californian writer and receive the fellowship," Lewis said. "The publishing world can be overly focused on the Northeast, so to be acknowledged within the fine community of California writers and artists is just extraordinary."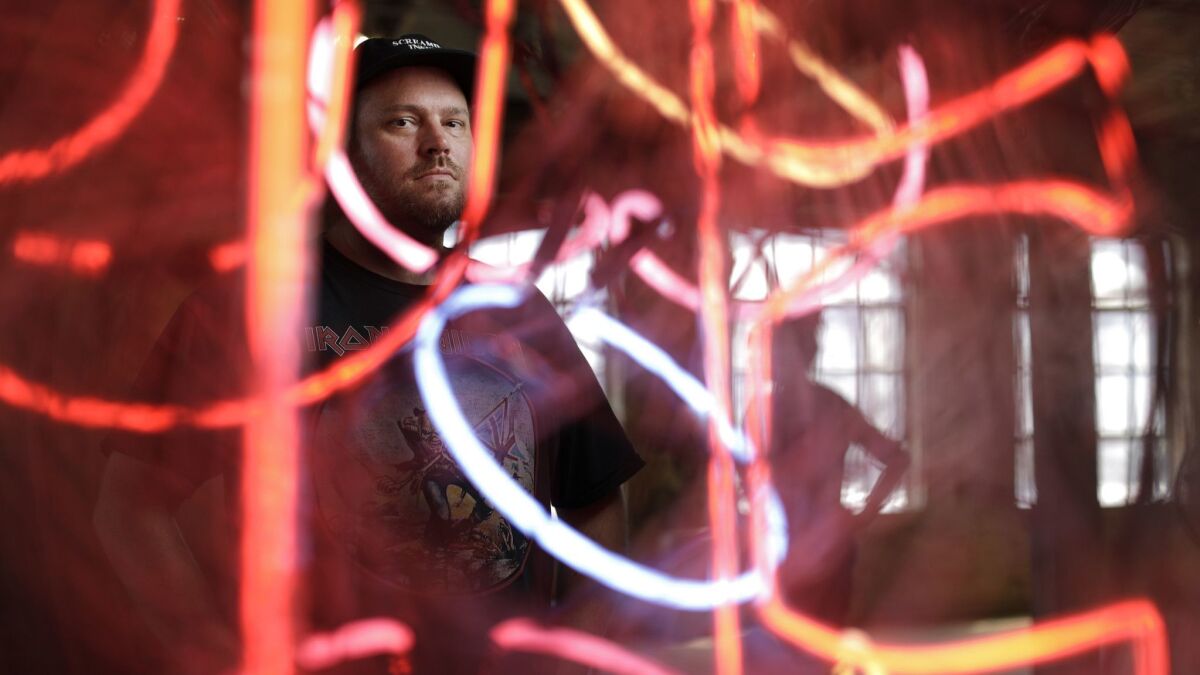 Complete list of 2019 SoCal winners:
Fine arts research: Susanna Berger
Film-video: Sean Buckelew, Mariah Garnett, Mark Grieco, Brigid McCaffrey
Photography: Barbara Davidson, Catherine Opie
Biology: Neal K. Devaraj, Todd Oakley
Psychology: Miguel P. Eckstein
Fine arts: Merion Estes, Elliott Hundley, Daniel Joseph Martinez, Maryrose Cobarrubias Mendoza
Engineering: Massimo Franceschetti
Music research: Elisabeth Le Guin
Poetry: Robin Coste Lewis
Drama and performance art: Sylvan Oswald
Music composition: Katharina Rosenberger
East Asian studies: Lothar Alexander von Falkenhausen
---
Get our daily Entertainment newsletter
Get the day's top stories on Hollywood, film, television, music, arts, culture and more.
You may occasionally receive promotional content from the Los Angeles Times.