Gustavo Dudamel speaks out on Venezuela's constitution fight: 'The present is the future'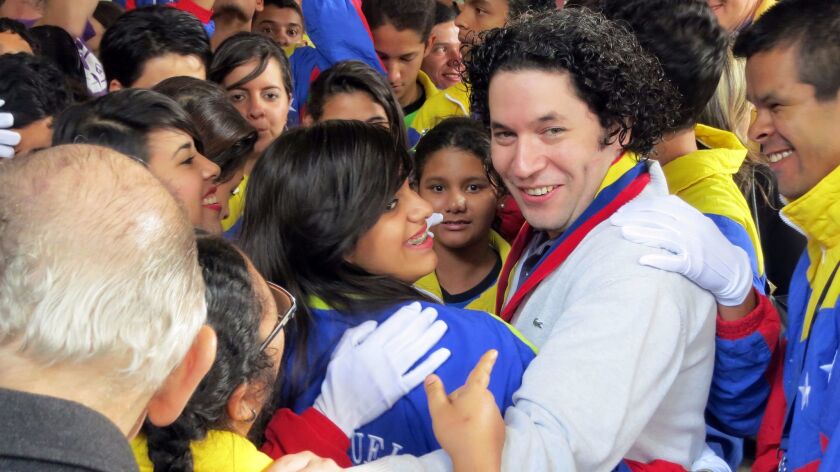 "You know, I didn't want to speak out," Gustavo Dudamel said in a short interview in his office at Walt Disney Concert Hall. He'd just taken part in a conversation at the Los Angeles Philharmonic's "Take a Stand" symposium, which brings together administrators, teachers and young musicians from Dudamel-inspired training programs around the county. "But we have arrived at a point where you have to say something."
For this reason, Dudamel has written an editorial in Spanish (for Spain's El País) and English (for the New York Times) in which he calls on his native Venezuela not to impose a new constitution on the people, as an increasingly unpopular government is proposing to do later this month.
"I don't want to scream," he said, "but I want to say what I think will not work and what will work."
On Sunday, more than 7 million Venezuelans participated in a symbolic referendum that rejected a constitutional overhaul. The government is backing a July 30 vote to elect an assembly with the power to rewrite the constitution.
As one of the world's best-known Venezuelans, the music director of the L.A. Phil and the Simón Bolívar Symphony Orchestra of Venezuela has long resisted taking too much of a public stand, lest he endanger the government funding of the country's unparalleled music education and social action program, El Sistema, which serves more than half a million mostly underprivileged children.
Unique to Venezuela's current constitution is the right to a music education, and there is no guarantee that this right would be included in a new constitution. Still, Dudamel says that is not what motivates his latest statement. Rather, it is the larger democratic issue of public involvement.
"We don't know which laws will change," he explains. "That is why it is not right to do that, because you have to go to an election of the people to vote if we need that.
"That is what happened in 1999," he notes. "That is the way our constitution works. That is what we have to defend."
In May, after 17-year-old violist Armando Cañizales, from one of the El Sistema youth orchestras, was killed during a demonstration in Caracas against the government of Venezuelan President Nicolás Maduro, Dudamel issued a statement titled "I Raise My Voice." In it, he deplored the violence and repression of the current regime and declared: "Enough is enough."
Dudamel does, though, make clear that he has no desire to become swept up by politics when he feels the strongest statement he can make is doing what he knows best, making music and showing by example how putting an orchestra concert together is an act of bringing individuals together.
For him, that approach is also the only way out of the crisis in Venezuela. "What we need is to sit and talk and to solve this problem together."
And the way to do this is not to place all the progress on some vague notion of the future. As he told the symposium, politicians love to talk about the future, because then they don't have to do anything in the present. But, he insists, "the present is the future."
ALSO
Gustavo Dudamel has tried to stay out of politics. Now, he's demanding action in Venezuela
Millions take part in symbolic referendum rejecting plans to rewrite Venezuela's constitution
Dudamel dedicates concert to a slain student in Venezuela — and opens a new chapter with the L.A. Phil
L.A. Phil's Gustavo Dudamel: Teaching music took these students 'from nothing to something'
---
Your essential guide to the arts in L.A.
Get Carolina A. Miranda's weekly newsletter for what's happening, plus openings, critics' picks and more.
You may occasionally receive promotional content from the Los Angeles Times.