Review: L.A. Opera's colorful reprise of Humperdinck's 'Hansel and Gretel'
Lumbering and lurching across the Los Angeles Opera stage this fall, life-size and larger-than-life-size puppets are stealing the show.
In "Satyagraha," Philip Glass' music-as-mantra meditation on the life of Gandhi, directors Phelim McDermott and Julian Crouch activated wicker baskets and papier-mâché to conjure epic battles and looming sociopolitical realities. In that stellar production, which closed this month, abstract puppets illuminated real world social justice issues.
In contrast, the puppetry in L.A. Opera's production of Humperdinck's "Hansel and Gretel," which opened a six-show run at Dorothy Chandler Pavilion on Nov. 17, uses fantastical creatures to soften harsh realities. In a production first seen in Los Angeles in 2006, whimsical puppets cushion darker elements of the Grimm brothers' fairy tale, hovering protectively around the title characters so that carefree holiday fantasy can sparkle.
As if they were the product of tossing the imaginations of Jim Henson, Frank Oz and Maurice Sendak into a blender, director/designer Doug Fitch's puppets are feathered and fluffy, globular and jolly. Their illuminated, googly eyes made for an effectively charming visual motif, "peeping" through the hall's curtain and interior walls during intermission. Like a modular paint-by-number coloring book, the flexible, color-saturated design morphed deliciously into a dense forest, a trippy mushroom grove and a sparse starry night.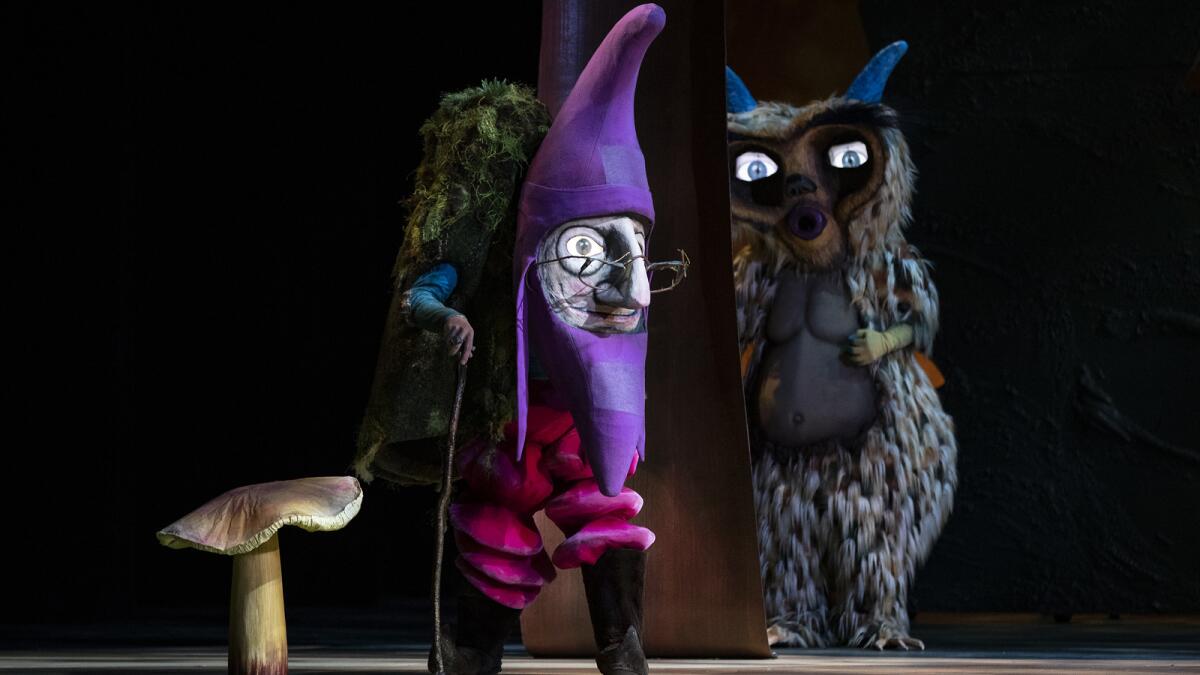 Dwarfed by this exaggerated fantasyland, mezzo-soprano Sasha Cooke and soprano Live Redpath were effectively shrunken into playful young siblings. Making her L.A. Opera debut, Cooke gave a rich-voiced performance as Hansel. As Gretel, Redpath was lithe and engaging, matching Cooke's effortless midrange power to create perfectly matched duets.
As the witch with an insatiable appetite for baking little boys and girls into gingerbread snacks, Susan Graham was more entertaining caricature than fear-inducing villain. Flouncing and bouncing, she made the most of her bright yellow Pippy Longstocking pigtails and fluffy pink costume. She focused less on pristine singing and more on dramatic impulses, manipulating and distorting her voice at all ranges to create an exaggerated, cigarette-smoking, lovable mess of a character.
There were, in fact, no weak links in this strong cast. Craig Colclough was a bold, big-voiced and happy stumbling drunk. As Hansel and Gretel's mother, Melody Moore was just the right amount of cruel. Taylor Raven and Sarah Vautour made strong impressions as the Sandman and Dew Fairy, respectively. The Los Angeles Children's Chorus added soft-voice loveliness.
Supporting the strong cast throughout this compact, well-paced performance, the L.A. Opera orchestra gave a lush, romantic performance under the baton of company music director James Conlon, the orchestra doing its part to sweep the audience out of reality and into a satisfyingly fantastic world.
Taken as a whole, this production is all sugar and spice. Poverty and hunger and the threat of violence are present as part of the narrative, but thematically they are overshadowed by storybook imagery. Richard Spark's singsong English libretto keeps things light with lyrical rhymes. With the help of charming puppet spirit animals and stellar leads, this is a fantasy world audiences will be happy to join.
-------------
'Hansel and Gretel'
Where: Dorothy Chandler Pavilion, 135 N. Grand Ave., Los Angeles
When: 2 p.m. Nov. 25 and Dec. 9 ; 7:30 p.m. Dec. 6, 12 and 15
Price: $16-$324 (subject to change)
Info: (213) 972-8001, LAOpera.org
-------------
Get our L.A. Goes Out newsletter, with the week's best events, to help you explore and experience our city.
You may occasionally receive promotional content from the Los Angeles Times.