The Huntington acquires 32 prints by quilters from Gee's Bend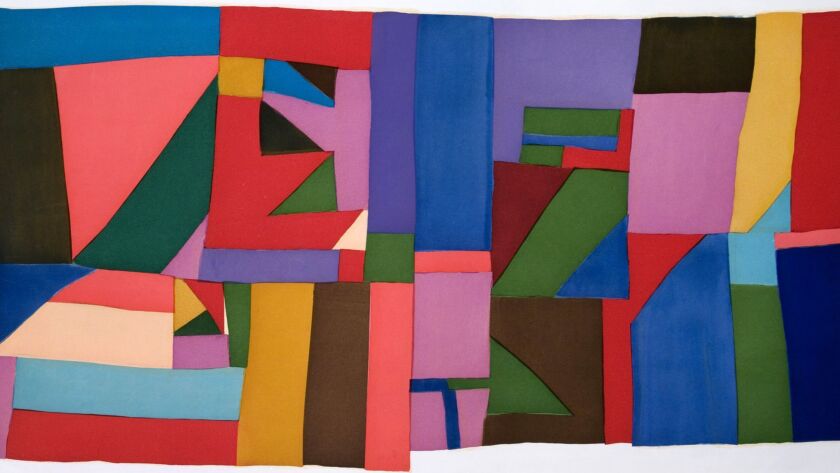 The Huntington Library, Art Collections, and Botanical Gardens announced Tuesday the acquisition of 32 prints by the quilt artists from Gee's Bend, Ala.
Created between 2005 and 2014, the prints are the work of Louisiana Bendolph, Mary Lee Bendolph, Loretta Bennett and Loretta Pettway, all part of the Gee's Bend Quiltmakers, a collective of more than 100 black women from a small, remote community in Alabama. Known for their improvisational style of quiltmaking, the Gee's Bend quilters created hundreds of pieces dating to the early 20th century.
A selection of these works went on view at the Whitney Museum of American Art in 2002, bringing widespread attention to the artists. In 2005, a Bay Area fine art print studio, Paulson Fontaine Press, invited the Bendolphs, Bennett, Pettway and others from Gee's Bend to collaborate on a print series, creating an etching technique that captured the seams, fabric weave and wear typical of their quilts.
FROM THE ARCHIVES: Quilts with messages about gun violence and racial injustice aim to unsettle »
James Glisson, interim chief curator of American art at the Huntington, said he first came across the prints a few years ago, calling them "gorgeous and evocative." "As artworks, they stuck with me, and years later I was still thinking about them," he said.
The acquisition, funded by the Huntington's Art Collectors' Council last month, was an easy decision, he added.
"It's important to think about and engage with art of the past, but you have living, breathing artists right here and right now, and they need support and attention," he said. "Four amazing African American women doing this work who are living, it just seemed like a no brainer."
The Huntington also acquired Romare Bearden's 1969 collage "Blue Monday." Bearden, a renowned contemporary American artist, often depicted black urban and rural life in his collages.
Other acquisitions include two oil sketches by modernist John Marin created between 1910 and 1916 from the Weehawken Sequence and a side chair made in the 1890s by Louis Comfort Tiffany.
In recent years, the San Marino museum has prioritized diversifying its collection, Glisson said. The acquisition "is part of a much bigger push that the Huntington's trying to make to open up."
---
From the Oscars to the Emmys.
Get the Envelope newsletter for exclusive awards season coverage, behind-the-scenes stories from the Envelope podcast and columnist Glenn Whipp's must-read analysis.
You may occasionally receive promotional content from the Los Angeles Times.