Answering the call of the wild with Isabella Rossellini and her 'Link Link Circus'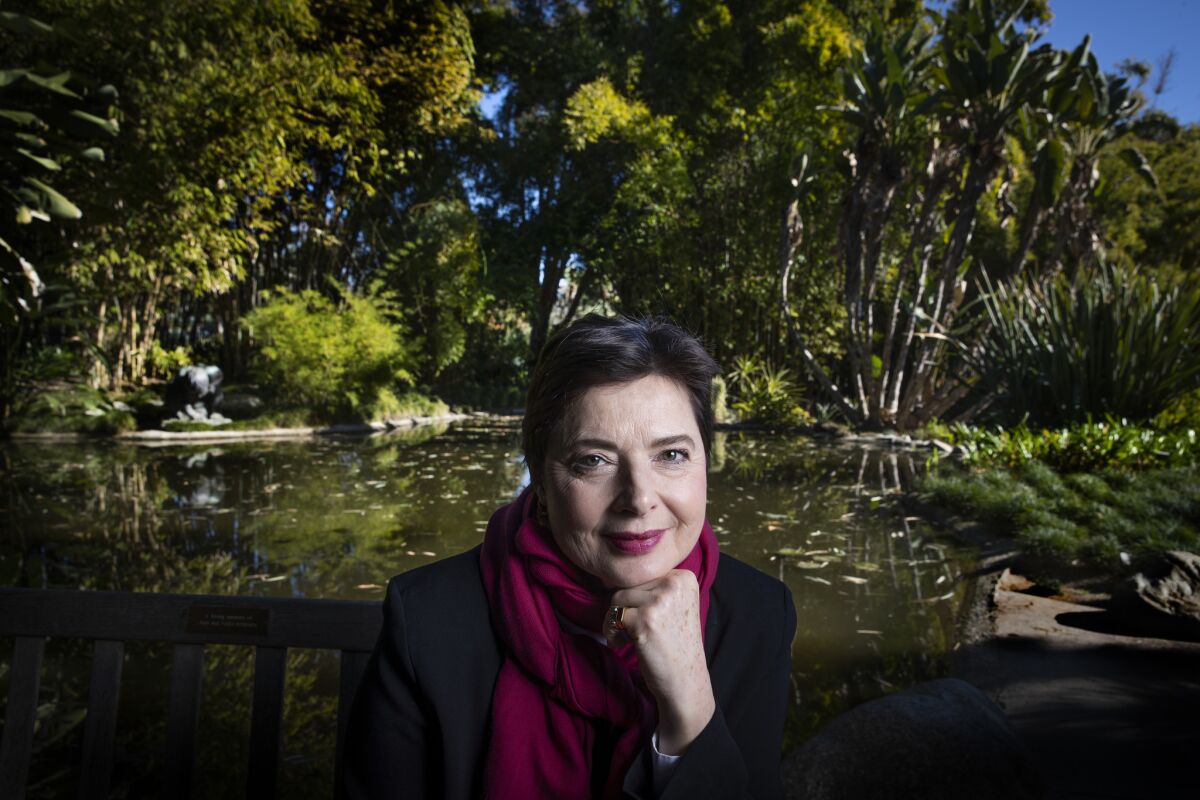 Isabella Rossellini stops in her tracks, her eyes fixed on a California scrub jay. Its feathers are deep azure blue, its belly a soft gray-brown. Perched on a security guard's finger, it sits near the historic Japanese house at the Huntington Library, Art Collections, and Botanical Gardens in San Marino.
The guard is feeding the bird a peanut as a hungry squirrel looks on, tail bushy with anticipation. The squirrel too is fed a nut.
"How did you tame the jay?" Rossellini asks after the bird soars away in a flash of electric-blue flutter.
The man smiles. "She knows me," he says.
Rossellini nods, looking out over the garden with its rolling hills, blossoming cherry trees and rippling koi ponds. A smile plays on her lips.
"It would be interesting to see if others will come," she says. "And if they don't come, is that because the jay is territorial? It would be interesting to see if they mimic or copy."
This isn't idle chatter. The actress and model — Independent Spirit Award winner for the film "Blue Velvet," Emmy nominee for a guest turn in "Chicago Hope," and famously the daughter of actress Ingrid Bergman and Italian neorealist director Roberto Rossellini — is intensely interested in animals. She is months away from receiving her master's degree in animal behavior and conservation at Hunter College in New York City, and she raises heritage chickens on her organic farm in Long Island.
Evolution is not only the survival of the fittest but survival of the friendliest.
— Isabella Rossellini
Animals play a central role in her current work as an actress and writer. She has arrived in Los Angeles on tour with her one-woman, one-dog show, "Link Link Circus," which plays at the Broad Stage in Santa Monica for three days beginning Friday.
The show explores, among other subjects, humanity's complex relationship to the evolution of animals through domestication. (Did we domesticate them, or did they domesticate us? she asks.) It also takes animal cognition very seriously, something that Rossellini was discouraged from doing when she was a young, animal-obsessed child insisting that her dog looked sad, or worried, or jealous.
The basic belief in our civilization, she says, is that humans have a rational intelligence that animals don't have and that the latter behave strictly on instinct. Darwin proved a human link with animals — which is why she named her show "Link Link Circus" — and we largely recognize a physical continuity between us and them. However, we have yet to fully recognize a cognitive link. That's where animal behavior studies come in, she says. These studies seek to discover whether animals are capable of thinking, feeling and making decisions.
Her show was inspired by her favorite lessons at Hunter. She took the knowledge that fascinated and excited her and tried to put it in layman's terms through a series of projected drawings, videos and monologues that are witty and illuminating.
Her co-conspirators in the show are a plucky rescue mutt with the stage name Pan (real name Darcy), and Darcy's handler, a puppeteer named Schuyler Beeman. Pan wears costumes to play other animals. Rossellini wears costumes too, in her case to play historical figures such as Aristotle and René Descartes and to be ringmaster in this circus of ideas.
FOURLARKS: An immersive trip into the afterlife in 'katabasis' »
Rossellini has a quiet, focused way of speaking. Her gaze is steady and intense, and when she's talking about something that interests her — the way primitive humans first went about domesticating wolves, for instance — she picks her words carefully, so that none is lost in service of her idea.
Her attention strays only when she sees an animal — a rabbit flitting in and out of a bush or red-tailed hawks circling gracefully in the sky above.
"She has an inquisitive mind, and this incredible background through her family and own film career," says the Broad Stage's director of programming, Carolyn Elliott. "A love of animals has taken her on an amazing journey. This play feels like the culmination of her interests."
It is also a companion piece to a solo show Rossellini developed more than four years ago, "Green Porno." She adapted that performance from a series of shorts she created for SundanceTV that explored sexual predilections in the animal kingdom.
Discussing animals from the waist up rather than the waist down might seem less interesting to potential audience members, Rossellini admits, but so far she hasn't had any problems attracting a crowd. Co-producer and art director Rick Gilbert, who has worked with Rossellini since 2007, says fans regularly wait outside after the show.
"Everyone is usually overjoyed," he says. "They want to meet Isabella, Schuyler and Darcy, in no particular order. Isabella usually gives the most autographs."
INTERVIEW: Betty Buckley on taking over 'Hello, Dolly!' »
Rossellini has toured "Link Link Circus" since last year. Spring shows in Spain and New York were followed by fall performances in London, Athens, Belfast in Northern Ireland and Nice in France. This year she has appeared in Chicago, Seattle and San Francisco. San Diego is next.
When she takes time off, it's to act in TV or films, where she says she makes her real money. The live shows are for the love of it. Touring, however, is becoming too much for her. At 66, she dreams of no longer performing — just writing and directing — and she speculates that she might try that formula with shows at her farm, which has an art program.
"I'm not tired of working, but I'm tired of traveling," she says. "I prefer to study and be at the farm or do New York shows."
When she does take a break, her two dogs are always at her side. Since dogs were the first animal to be domesticated, she says she feels a long, primal sense of history with them.
"Evolution is not only the survival of the fittest but survival of the friendliest," she says.
♦ ♦ ♦ ♦ ♦ ♦ ♦ ♦ ♦
'Link Link Circus'
Where: The Broad Stage, 1310 11th St., Santa Monica
When: 7:30 p.m. Friday-Saturday, 2 p.m. Sunday
Tickets: $79-$99
Info: thebroadstage.org
---
Get our L.A. Goes Out newsletter, with the week's best events, to help you explore and experience our city.
You may occasionally receive promotional content from the Los Angeles Times.