Review: Jarvis Boyland's diva paintings strike a fine pose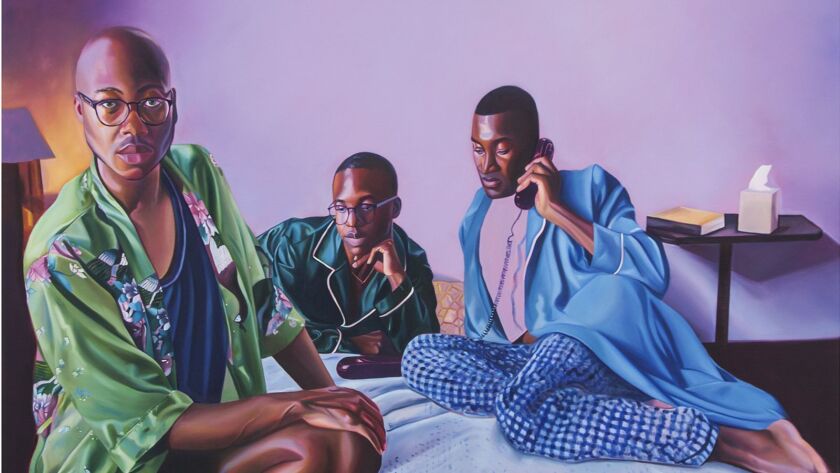 Art Critic
Diva painting might be its own notable genre, given such exceptional practitioners as Kurt Kauper and Marilyn Minter. Their work doesn't merely show as vivid, dramatic subject matter an array of imperious opera singers, fashion models, Hollywood icons at home or sex-tape-style celebrities-in-the-making. Instead, it forthrightly asserts that, in an era in which any form of art-making is possible, painting is a diva too.
Now, add Jarvis Boyland to the roster.
At Kohn Gallery, where the young Memphis-born, Chicago-based artist is having a fine solo debut, five paintings and three preparatory drawings insist that attention must be paid. Working from photographs, Boyland assembles boudoir compositions of millennial men. The imagery gives liberating new meaning to the fraught Western art tradition of the odalisque or harem slave.
The young men loll in rumpled beds, a hand placed carefully on a knee or beneath a chin, a glance directing an observer's eye, lips always sealed in resolute silence. These photorealist painted pictures and colored-pencil drawings look like the results of a commercial photo-shoot. (The popular Netflix series "Pose" could be its back-story.) Style is high.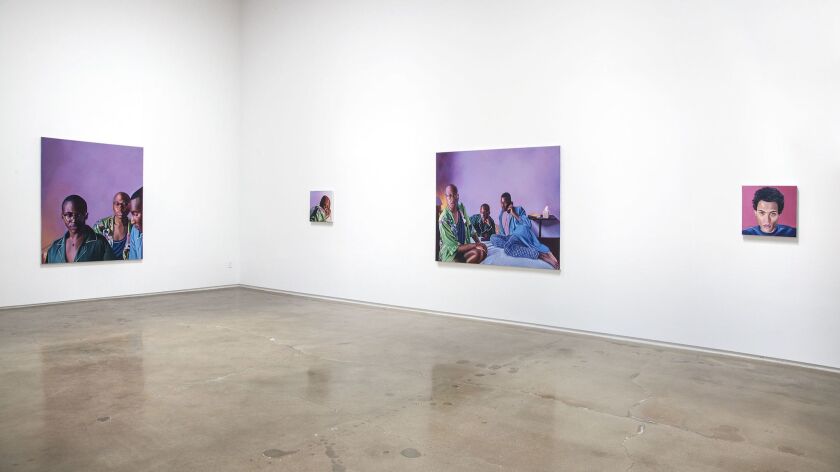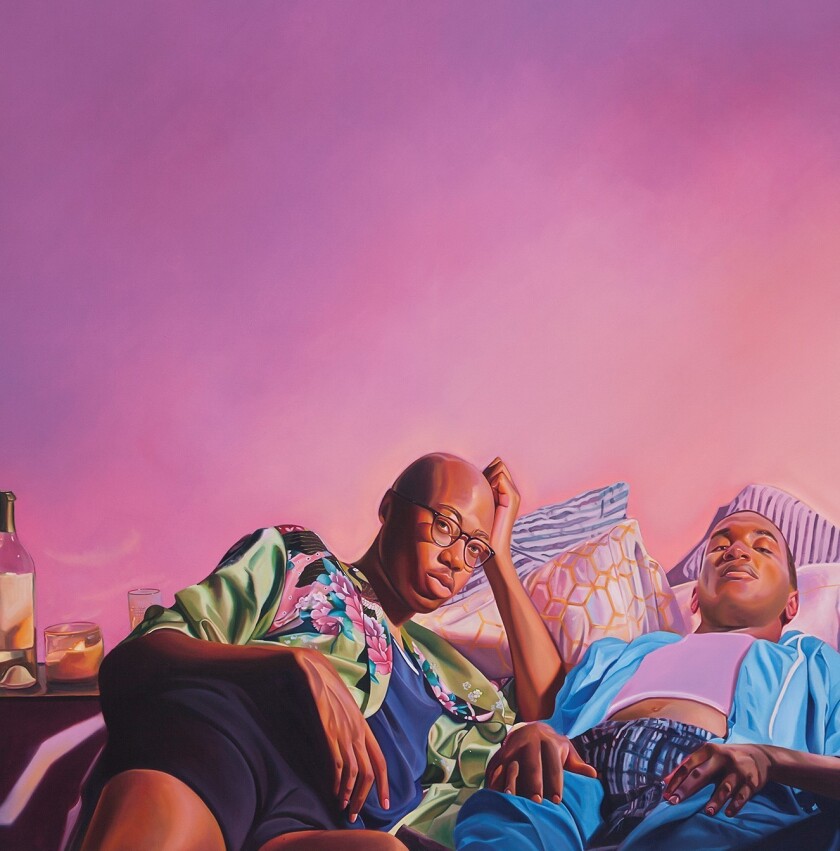 LACMA's concrete wall problem: Why a chic design comes with consequences »
What's being advertised in these homoerotic arrangements are queer, poised, self-possessed men. What's also being advertised is the potentially powerful practice of painting.
Boyland is a gifted colorist. Broad expanses of rich, modulated color dominate the backgrounds, expertly coordinated with the foreground clothing — a florid Japanese kimono, emerald pajamas piped in pink, a royal blue bathrobe open over a violet T-shirt.
The men are black, their skin color sliding from deep brown and ochre through gold, rose and lavender blue. From body to surrounding environment to canvas, Boyland's jewel-tone palette underscores the artifice oozing from the figures' meticulous poses. It's diva deluxe.
Kohn Gallery, 1227 N. Highland Ave., Hollywood. Saturday, Tuesday-Thursday. Ends Thursday. (323) (461-3311, kohngallery.com
---
Your essential guide to the arts in L.A.
Get Carolina A. Miranda's weekly newsletter for what's happening, plus openings, critics' picks and more.
You may occasionally receive promotional content from the Los Angeles Times.