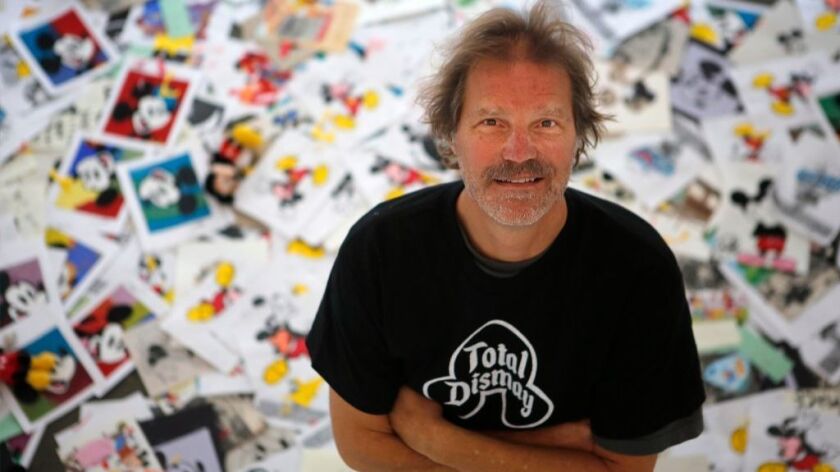 Jeff Gillette invites you to trash his artworks — to step on them, kick them, wade through the hundreds of drawings and prints littering the floor of Gregorio Escalante Gallery in L.A.'s Chinatown. This is where Gillette's solo show "Total Dismay" opened on Saturday. It's where the artist has created what he calls "an art landfill."
Gillette — who was among those featured in British street artist Banksy's month-long 2015 installation "Dismaland," a dystopian amusement park in Somerset, England — brings that same sardonic tone to his solo show. More than 200 works include large-scale paintings, ink drawings, sculptures and shadow box works.
Disney imagery prevails. The art on the floor, which visitors must walk over when perusing works on the gallery walls, was created by Gillette and his students at Tustin's Foothill High School, where he teaches, during the last year. The concrete floor is blanketed with hundreds of variations on Mickey Mouse, ink-drawn, pencil-sketched, finger-painted, collaged. While Gillette's pieces on the gallery's walls are priced into the thousands of dollars, the paper works on the floor are $5 apiece. That they're strewn on the ground and presented as trash is the point, he says. Gillette is juxtaposing art and garbage to make a statement about the subjective nature of the art market.
"Who sets the value on art? It's pretty arbitrary," Gillette says. "I'm a little cynical on who dictates that. It has nothing to do with the artist or the art, I think, especially when you get into the blue chip stuff. It's more to do with commerce and people flipping art and making money. I'm working on the far bottom end of that spectrum. Is it garbage or art? You decide."
Over the last year, Gillette has traveled to residential slums in Mumbai, India, for what he calls "art interventions." He was a Peace Corps volunteer in Nepal in the late 1980s and has visited India more than 20 times in the last three decades, so the area is close to his heart. A fine artist who's also experimented with political street art, Gillette paints peppy Disney imagery on the walls surrounding these ramshackle shanty towns, vast landfills and outdoor toilets. He photographs the scene where his public art hangs, then he paints photo-realistic versions, adorning the canvases with sculpted latex to give the oil and acrylic works a three-dimensional quality.
The idea, he says, is to turn a spotlight on the poverty and suffering that some people might otherwise ignore.
"I always use Disney, the supposed happiest place on Earth, with what I would consider the heaviest place on Earth," he says. "There's realism, and then there's 'too-realism' — my work — it's too realistic, stuff that people don't really want to look at."
Gillette plans to return to Mumbai for a month to erect a large-scale Disney castle sculpture in the slums. It's a tricky installation.
"You gotta get permission not from the city, but from the mafia lords," he says. "They kinda control the slums."
Gillette also made hundreds of small shack sculptures for the Gregorio Escalante Gallery exhibition. Some are made of cardboard and wood, adorned with found objects and commercial imagery, such as a Twinkie box cutout or a Coca-Cola logo. Others are made from beer cans or 12-pack boxes.
Among the most pointed works in the exhibition are large-scale paintings of slums based on his art interventions. Gillette digitally collaged or re-created with paint images of the works of Jackson Pollock, Roy Lichtenstein and Mark Rothko. Lichtenstein's bright comic-book imagery adorns the roof of one shack; Pollock's chaotic black-and-white paint drippings adorn another.
"It's like if they took Rothkos and used them to build their houses with them," Gillette says. "Like if things go really, really bad, that stuff just becomes architecture materials."
♦ ♦ ♦ ♦ ♦ ♦ ♦ ♦ ♦ ♦
'Total Dismay'
Where: Gregorio Escalante Gallery, 978 Chung King Road, L.A.
When: Through July 2; closed Mondays and Tuesdays
Info: (323) 697-8727, www.gregorioescalante.com
Follow me on Twitter: @debvankin
ALSO
Piano virtuoso Yuja Wang could have gone anywhere for this interview. She chose ... Universal Studios?
The new LACMA: Plans call for radical change to how we see the permanent collection
In Pasadena, the $6-million Chinese stage show three years in the making: 'Memory 5D+'​​​​​​​
---