Piano virtuoso Yuja Wang could have gone anywhere for this interview. She chose ... Universal Studios?
We are taking Yuja Wang, a virtuoso and child prodigy who's considered one of the best classical pianists performing right now, to Universal Studios for a day of fun. We asked her where she wanted to go and Universal was the answer. Wang will be performing with Gustavo Dudamel and the L.A. Philharmonic over the next two weekends.
(Francine Orr / Los Angeles Times)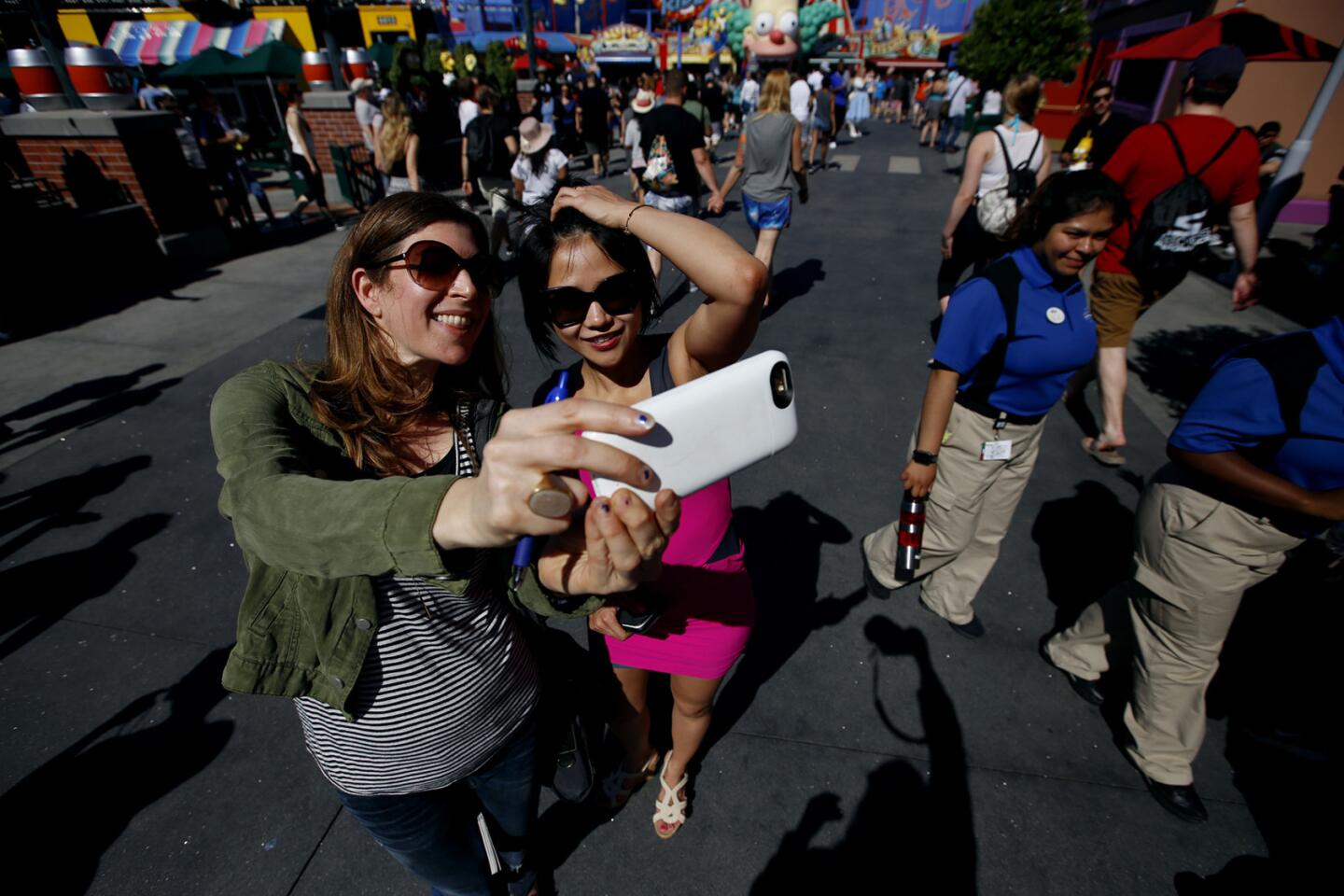 Los Angeles Times reporter Deborah Vankin, left, takes a selfie with Yuja Wang at Universal Studios in Universal City.
(Francine Orr / Los Angeles Times)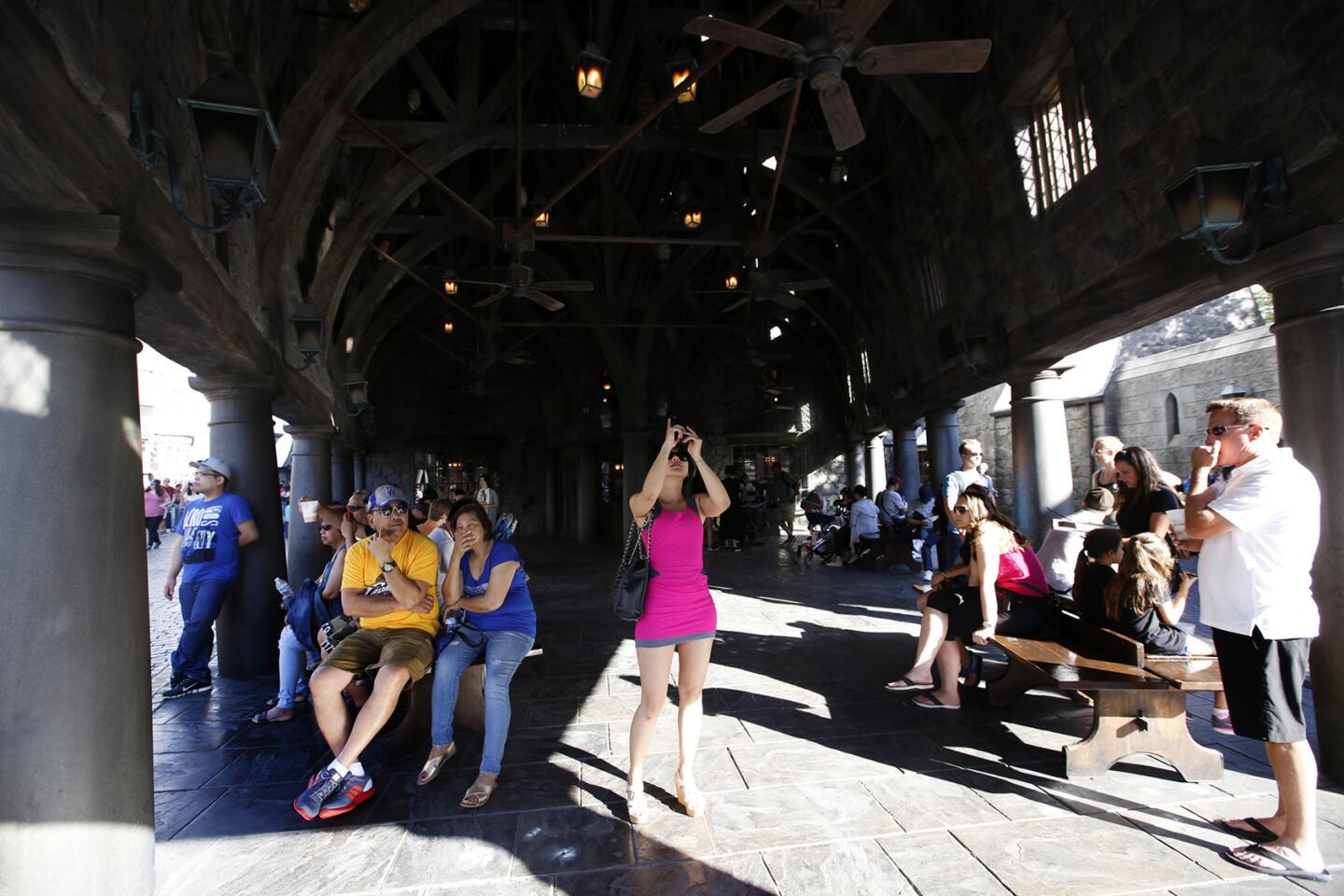 Yuja Wang captures images of her trip to Universal Studios.
(Francine Orr / Los Angeles Times)
In a break away from the concert hall, Yuja Wang enjoys a ride on the tram at Universal Studios.
(Francine Orr / Los Angeles Times)
Yuja Wang cools off during her trip to Universal Studios.
(Francine Orr / Los Angeles Times)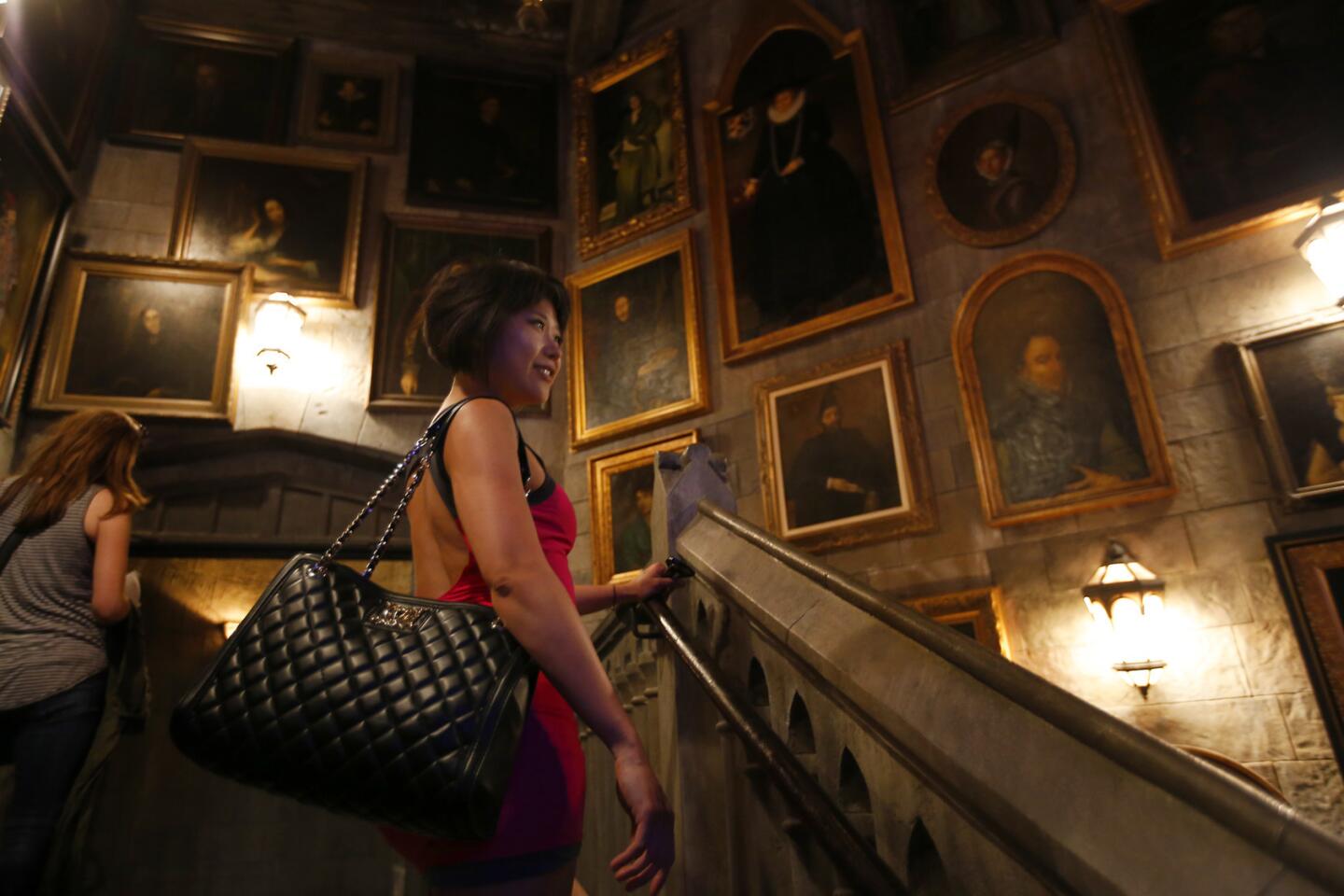 Yuja Wang checks out the Universal Studios ride Harry Potter and the Forbidden Journey.
(Francine Orr / Los Angeles Times)
Yuja Wang shows her excitedment at visiting Universal Studios ahead of her appearances at Disney Hall.
(Francine Orr / Los Angeles Times)
Yuja Wang pauses for a portrait at Universal Studios.
(Francine Orr / Los Angeles Times)
Yuja Wang has a new crush: the fast-talking, buck-toothed Donkey from "Shrek" addressing tourists at Universal Studios Hollywood from the window of a waffle cart.
"Step on up. Nice hair. Bring it with you," Donkey teases one woman.
Wang stands transfixed in her skin-tight fuchsia minidress and oversized glam-girl sunglasses, her outfit popping out against the crowd of straw visors and denim shorts. At this moment the global classical music star is simply a smitten innocent, let loose in a theme park.
"Oh, I looove this Donkey!" she coos, stirring a frozen latte. "OMG! Look at him!" She tosses her head back, spiky bits of her layered bob blowing every which way, and she unleashes a powerful, deep belly laugh out of sync with her coquettish demeanor. "Wah-ha-ha!" she guffaws, before composing herself.
Nearly a decade after she started to set the classical music world ablaze with her technically dazzling piano concertos and sexy, convention-defying outfits onstage, Wang is one of the most distinctive, acclaimed and popular figures in the classical music world. She is also a thicket of contradictions. She's a blinged-out fashionista who's whip-smart, rattling off titles of recently consumed highbrow books and films; a speed-talking, admitted "cellphone addict" who nonetheless relishes languid strolls through parks in her slivers of down time; a powerhouse performer who gets nervous before every appearance; a passion-to-the-wind personality respected for her refined musical intelligence.
Today, hours after arriving in L.A. from Santa Barbara, where she performed at a Music Academy of the West gala with French pianist Jean-Yves Thibaudet, she is the piano virtuoso who has chosen to blow off steam at Universal Studios. The rare half-day off comes before an extended engagement begins Friday with the Los Angeles Philharmonic, where Wang is one of the most popular soloists — a performer whom the orchestra will book for not two or three concerts at a time but seven.
I find him a mysterious person and I'm trying to understand him.
— Yuja Wang on composer Béla Bartók
Over the next two weeks, Wang will perform Bartók piano concertos with Gustavo Dudamel conducting. She's played the Hungarian composer's individual concertos this season, including at the National Centre for the Performing Arts in Beijing and with the Royal Stockholm Philharmonic Orchestra. But the Walt Disney Concert Hall run will be the first time she'll tackle the vastly different cycle of three concertos in one engagement. It's a challenge she's excited to take on, particularly with Dudamel.
"We have good chemistry," she says in an L.A. Phil fleet car on the way to Universal. "It's all about growing, about stepping into this unknown territory together. These two weeks — it's going to be a journey."
Of Bartók, she adds: "I find him a mysterious person and I'm trying to understand him. There's always this background theme of people not getting what they wanted, this longing, that interests me."
Then, upon our arrival: "Universal Studios, yah!"
Wang chose Universal as the location for an interview about her upcoming concerts, her career and her future largely because she's such a big movie fan, she says. "I watch so many on the flights."
Entering the theme park, Wang teeters on high-heel platform sandals as she heads through the turnstile and later navigates the uneven cobblestone paths. Now 30, Wang says she has outgrown some lifestyle choices for which she's known. Of fashion, once an obsession, she says, "Oh, it was a phase." On Hollywood clubbing: "Also a phase. Been there, done that."
Instead, Wang is thinking more about the future. The Beijing-born musician has been playing piano since she was a 6-year-old prodigy. With 24 years of experience performing, she has less in common with fellow millennials and is more aligned with mid-career people who are 15 to 20 years her senior and contemplating, like her, the proverbial "Is this all?" and "What next?"
The answer could very well be teaching, Wang says. She enjoyed mentorships with San Francisco Symphony Music Director Michael Tilson Thomas and the late Italian conductor Claudio Abbado, among them. This season she switched hats, teaching master classes at Tel Aviv University and New York's Manhattan School of Music. The recent visit to the Music Academy of the West got her thinking: Teaching would allow Wang, who spends only about one month a year in her Manhattan apartment and is booked with engagements through 2019, "to stay in one place longer."
"I was thinking of maybe teaching there in the summer and just scouting out the place," she says of Santa Barbara. "You can learn a lot from a student, especially a talented one," she adds, slinging over her shoulder a Moschino bag that's stuffed with a bright orange dress, lest she need to change outfits.
Suddenly, Wang stops at Harry Potter's snow-capped Hogsmeade Village, raising her iPhone to snap photos.
"Or I could be a photographer," she jokes. "I just love to take pictures."
When the midday sun becomes too unbearable, Wang takes refuge at one of the park's "cool zones," posing with hands on hips and pursed lips in front of the enormous fan as if she were a Sports Illustrated model. She may be the Beyoncé of the classical music world, but no one in this crowd recognizes her — though they are not disinterested, stretching their necks to admire the pretty woman in the tight dress.
Later, adjusting her sunglasses while striding through the crowd, she mulls what she might have pursued if not music. "For me, playing music is about transporting to another way of life, another way of being. An actress does that."
Until about three years ago, the emphasis of Wang's concerto repertoire was on the Russian composers — Rachmaninoff, Prokofiev, Tchaikovsky. But in the last few years she's been experimenting with French, German and Hungarian composers. Last season, she tackled Beethoven's Hammerklavier sonata, considered one of the most difficult solo piano pieces ever written. This season she's tried new collaborations, performing with German baritone Matthias Goerne and Austrian percussionist Martin Grubinger and his Percussive Planet Ensemble. For her most recent tour, however, a two-week stint in Europe with Rome's Accademia Nazionale di Santa Cecilia, she purposefully returned to familiar territory.
"I went back to Tchaikovsky and it was like: I'm coming home," she says. "This fall will be all about learning new repertoire. Tchaikovsky was like taking a vacation."
A different sort of vacation begins now, though, on the 45-minute tram ride through sound stages and backlot sets. As the Studio Tour rolls past Universal movie posters, Wang's eyes spark, first because it triggers film fandom. "Oh, 'The Mummy,' I saw that," she says. "'Meet the Parents,' 'American Pie,' I've seen them all." Later it becomes clear she's hobnobbed with many of the stars on the billboards. Passing "Jurassic Park," then "Milk," Wang pulls up pictures on her iPhone. "That's Jeff Goldblum and me, there's Sean Penn. It was the Kennedy Center Honors."
The tour guide shushes Wang, gesturing with a finger to the lips.
"She just told me to shut up!" Wang says, amused and shocked. Then: "She's getting on my nerves."
As the tour rollicks on, its tone — and Wang's demeanor — morphs with each stop, like a concerto building to its crescendo. There is high drama with the onslaught of dinosaurs during the "King Kong 360 3-D" portion of the ride. As roaring, prehistoric creatures stretch their necks into the open tram, one widening its jaws around Wang's head, she recoils and shrieks with fear, bracing her famous wrists against the guard rail and shrinking in her seat. "OMG, nooo," she screams.
For me, playing music is about transporting to another way of life, another way of being. An actress does that.
— Yuja Wang, contemplating what else she might have done instead of music
A simulated magnitude 8.3 earthquake in a subway stop provokes wails of laughter from Wang as the tram rocks back and forth, surrounding her with sparks of fire from faux torn power cables and spray from broken water lines.
The Whoville set from "Dr. Seuss' the Grinch Who Stole Christmas" brings on unexpected melancholy as the conversation turns to kids — something Wang says she thinks about these days — and romance.
"It depends on the guy," Wang says of whether to have children, adding that dating, when you're away from home so much, is hard.
"Even if you see the person once a month, you don't share it, you don't share your lives," she says. "I just love the feeling of being in love, the first month, everything's brighter. But unconditional love, long term, that's hard. It's inspiring, the love my parents had. I want it, but I know I'll never have it."
When, finally, the tram pulls to a stop, Wang isn't ready to quit.
"That's it?! Wanna do another?" she asks, suggesting the Harry Potter attraction.
Soon Wang is soaring through the air over Hogwarts Castle, hooting with delight as her fuchsia-painted toenails wriggle in the air.
On the way out of the park, Wang lines up to have her picture taken with Donkey, who's nearing the end of his shift. She inches forward, slowly and excitedly, but when her turn comes, Donkey says: "OK, time's up, see you all tomorrow." He slams the window shut, leaving Wang, forlorn, at the front of the line.
"Oh well," Wang says, pivoting, the corners of her mouth curling upward at the humor of it all. She continues on her way out, snapping her fingers to a jazzy compilation playing over the park's loud speakers. "Woody Allen, 'Manhattan,' I love it!" she giggles.
In the car ride back to her hotel, while she looks through pictures of the afternoon's adventure, more contradictions bubble to the surface. Wang is shamelessly vain: "Oh, my butt looks good in that one!" she says of one picture. But also self-conscious: "Uck, I hate my round face!" she says, squeezing her cheeks, while scrutinizing another picture.
At the end of the day, a favorite experience remains the Harry Potter ride. If her performance at Disney Hall is even a sliver as thrilling, she will be pleased, she says. "I hope every concert has the thrill of that ride."
But it holds only second place in her heart.
"I did love it," she says. "But oh, my God — that Donkey!"
♦ ♦ ♦ ♦ ♦ ♦ ♦ ♦ ♦ ♦
'Bartok Cycle With Dudamel & Yuja Wang'
Where: Walt Disney Concert Hall, 111 S. Grand Ave., L.A.
When: 8 p.m. Friday, 2 p.m. Saturday-Sunday, 8 p.m. Thursday, 11 a.m. June 2, 8 p.m. June 3, 2 p.m. June 4
Tickets: $70-$216 (subject to change)
Info: (323) 850-2000, www.laphil.com
Follow me on Twitter: @debvankin
ALSO
Jeffrey Kahane leaves L.A. Chamber Orchestra as master musician and mensch
In Pasadena, the $6-million Chinese stage show three years in the making: 'Memory 5D+'
Schubert's surprising relevance: Dudamel mines the promise of youth in trying times
The new LACMA: Plans call for radical change to how we see the permanent collection
Get our L.A. Goes Out newsletter, with the week's best events, to help you explore and experience our city.
You may occasionally receive promotional content from the Los Angeles Times.