Review: In Jesse Fleming's 'The Halftime Show,' the spectacle is all around us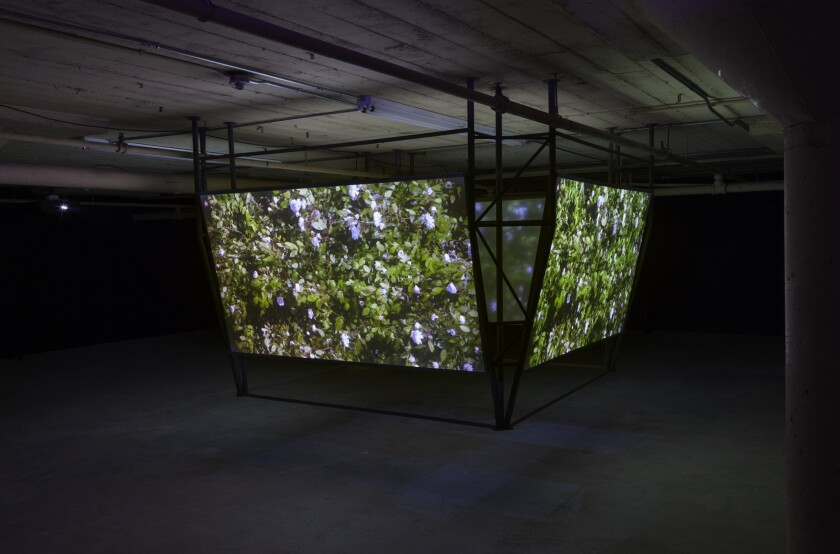 Typically, the halftime show at a sporting event is a spectacle designed to be passively received. Jesse Fleming's version, an absorbing video installation at 356 Mission, inverts the form while retaining some of the format.
The 13-minute piece is projected onto four large screens, facing in all directions, of a Jumbotron-style structure suspended from the ceiling. "The Halftime Show" is a meditation that invites private participation.
Opening frames show pale pink rosebushes from overhead in a slow-motion, sensuous sway. The image rhymes with one that appears shortly after, of another pale, round shape in motion, this time a whirling dervish, all in billowing white, spinning in a rhythmic trance on an urban basketball court.
Fleming's anti-spectacle proceeds at a viscous pace as a montage of scenes, each given a sustained stretch of airtime and accompanied by the aural equivalent, a soundtrack of deep, droning tones. No quick cuts here; no driving beat.
Fleming shows fans in the stands of what seems to be a Clippers game -- now the Jumbotron looks back at them. He shows tourists in Times Square, posing for selfies.
FULL COVERAGE: Gallery and museum reviews
Spectatorship and self-spectatorship emerge as subtle themes, as do continuous rhythmic motion (wind, waves, dervishes) and roundness (basketballs, a mirrored disco ball, even the bald head of a Buddhist teacher in the final scene).
In this contemplative "Halftime Show," the view, ultimately, is inward, a matter not of attendance, but presence.
356 Mission, 356 S. Mission Road, through Nov. 2. Closed Monday and Tuesday. www.356mission.com
---
Your essential guide to the arts in L.A.
Get Carolina A. Miranda's weekly newsletter for what's happening, plus openings, critics' picks and more.
You may occasionally receive promotional content from the Los Angeles Times.