Review: 'Julia' updates 1888 classic with passionate acting, stunning staging, modern observation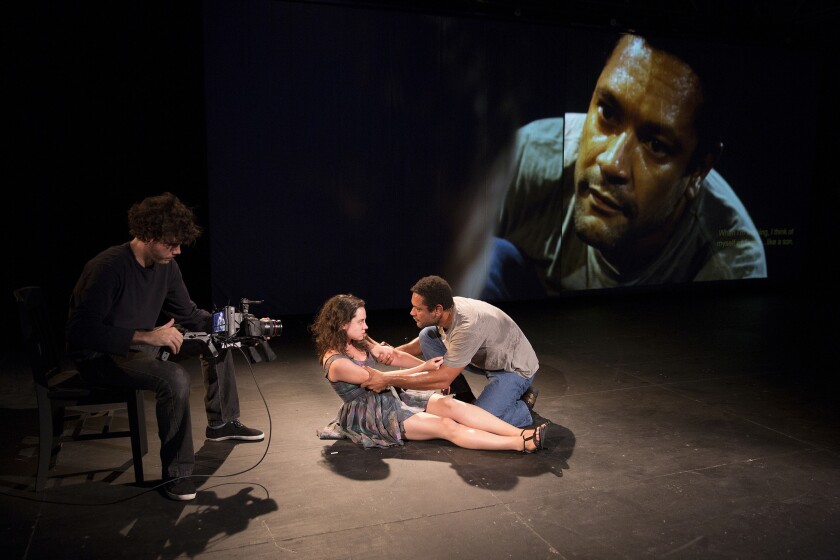 Los Angeles Times Theater Critic
"Miss Julie," August Strindberg's 1888 classic, has inspired so many high-profile adaptations — the work has been relocated to Britain, Ireland, America, Russia and (most effectively) South Africa — that I was tempted to call for a moratorium on new versions of the play out of fear that Antarctica might be next.
Luckily, I held off. Christiane Jatahy, a Brazilian artist who has had similar dealings with Chekhov, transports "Miss Julie" to contemporary Brazil in "Julia," a stunning multimedia riff on the Swedish playwright's combustible tale of an aristocrat's tragically consequential dalliance with her father's servant.
See more of Entertainment's top stories on Facebook >>
The 70-minute production, which ends its brief run at REDCAT on Sunday, gracefully interweaves film, live video and carnal performance to tell its story. (The work is performed in Portuguese with English supertitles displayed in a way that encourages the audience to stay focused on the propulsive rhythm of the dialogue rather than on the word-for-word translation.)
An ingenious stage design of sliding panels and screens (by Marcelo Lipiani and Jatahy) sets up a warren of different playing areas, one room discretely giving way to another as Rodrigo Marçal's music drives the action with a playful yet somberly insistent blend of acoustic piano and strings.
A cameraman (Paulo Camacho) follows the two performers, Julia Bernat (who plays Julia) and Rodrigo dos Santos (who plays the unnamed chauffeur), as they dance outside, flirt in the pool, drink some beer and wine in the modern kitchen and wonder how they're going to recover any sense of normalcy in their lives after making heated love in a house in which the hired help are always watching.
The cook (Tatiana Tiburcio, appearing only on film) is especially furious at this breach of propriety. She can't countenance working for a mistress who acts like a nymphomaniac with the staff. (Her own relationship to the good-lucking driver adds a sharp edge to her moralizing.)
The sex scene between Julia and the chauffeur is boldly presented. While Strindberg leaves the sex to the audience's imagination, Jatahy, who wrote and directed the adaptation, incorporates much of the original post-coital dialogue into the characters' dirty talk.
The brutal eroticism theatrically heightens the power dynamics of two characters bitterly divided not just by social class but by gender. (For the notoriously misogynistic Strindberg, Julie's economic advantages are undercut by her inherent inferiority as a woman.)
Jatahy begins with a more or less straightforward reworking of the original before chipping way at the fourth wall to interrogate what it means to revisit "Miss Julie" from her cultural and historical vantage. This starts off gently with the onstage cameraman saying "cut" after a significant moment. But as the crisis grows more intense for the characters, the performers step out of their roles to share their harried thoughts.
At one point, the actress playing Julia, not wanting to reach the suicidal finish line, runs offstage and into the Walt Disney Concert Hall parking structure. Dos Santos, who feels compelled to complete the drama as originally written, eventually retrieves Bernat outside on 2nd Street and lures her back inside the theater.
Jatahy's interest in the content of the play is ultimately matched by her fascination with the play's status as a cultural artifact. This is a natural development of reckoning with this landmark work of modern drama.
In "Miss Julie," Strindberg formulated a new approach to character, scenic design and plot by tapping into late 19th century developments in psychology, economics, biology, aesthetics and philosophy. The playwright's aim, as expressed in his brilliant preface to the play, was "to modernize the form" according to what he believed were "the demands a contemporary audience would make of this art."
Jatahy follows suit in her rethinking of the meaning of naturalism for 21st century theatergoers. (Her canny use of film allows her to challenge assumptions of what is real onstage.) She brings a racial dimension to the struggle of the characters (the servants are black) and updates the terms of the gender battle, which, while far from over, is not what it was in 19th century Sweden.
But the success of this production hinges on the moment-to-moment precision of Bernat and Dos Santos, both of whom bring flavorful specificity to their characterizations. Their passion hits like a summer storm, and the actors seem by the end as devastated by the impact as their characters.
Their work is so authentic that in the famous scene in which Julia's bird is slaughtered by her servant, the fiction is interrupted to assure the audience that the creature wasn't at all harmed. It's one of the many original touches that enable Jatahy to reinvent this naturalistic tragedy for a new age.
-------------------
'Julia'
Where: REDCAT, 631 W. 2nd St., L.A.
When: 8:30 p.m. Saturday, 7 p.m. Sunday. Ends Sundays
Tickets: $20-$25
Info: (213) 237-2800, www.redcat.org
Running time: 1 hour, 10 minutes
---
Inside the business of entertainment
The Wide Shot brings you news, analysis and insights on everything from streaming wars to production — and what it all means for the future.
You may occasionally receive promotional content from the Los Angeles Times.