Why Keith A. Wallace's police violence play 'Bitter Game' is relevant today more than ever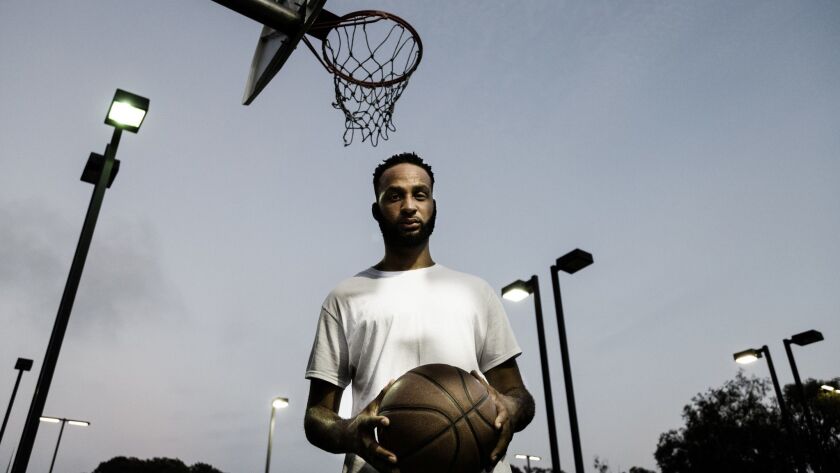 Three years after the premiere of his one-man performance piece exploring the effects of police brutality on communities of color, playwright and actor Keith A. Wallace is still confronting issues around policing and race through art.
Created, written and performed by Wallace, "The Bitter Game" tells the story of Jamel Smith and his relationship to his mother. The play draws from Wallace's experiences growing up in inner-city North Philadelphia and is structured as the four quarters and overtime of a basketball game.
Wallace is performing the work, co-created by Deborah Stein and directed by Malika Oyetimein, at the Wallis Annenberg Center for Performing Arts from Nov. 14 through 17.
"Living with this project and working on this project so long, there's a level of intimacy that I feel and connectedness that I feel that is really rewarding as an artist," Wallace said. "The reason I continue to work on this project is because this issue of excessive police force, police murder and police community relations, though it may be slowly improving, the kind of improvement that we need to see hasn't necessarily taken place yet."
The seeds of "The Bitter Game" were planted with the 2014 death of Michael Brown, an unarmed black teenager who was fatally shot by a police officer in Ferguson, Mo. Brown's death ignited mass protests in Ferguson and helped catalyze growth of the Black Lives Matter movement.
For Wallace, Brown's death was "the point of no return" as an artist.
"Mike Brown's murder wasn't the first instance of police murder of an unarmed person of color, but there was something about the aftermath of Mike Brown's murder that felt egregious to me in a way that demanded that we do something about it," Wallace said. "He was murdered in the neighborhood where he grew up and where he lived. And then his body was lying in the middle of the street for four hours uncovered, just a public display of white supremacy."
Infuriated, Wallace staged a performance art installation at Philadelphia's "LOVE" statue a few weeks later. Wallace re-orchestrated Brown's fatal shooting, lying motionless on the ground for an hour. Tourists and people passing by first paused, unsure of what to make of Wallace, but after a few minutes they began stepping over the playwright, taking pictures and getting selfies with the statue. When someone posted the scene to social media, Wallace's silent protest went viral.
"It was a moment of me realizing, 'Oh, the arts truly have the power to impact the world and truly have power to get people's attention and force conversation," Wallace said.
A year later, "The Bitter Game" was commissioned for La Jolla Playhouse's Without Walls (WoW) 2015 festival while Wallace was a graduate student at UC San Diego. Since its premiere, Wallace has performed the show across the U.S. and abroad in Dublin, Ireland.
But since Brown's death, there have also been numerous other deadly officer-involved shootings of unarmed black people. In 2016, Philando Castile, a black 32-year-old, was shot and killed by a police officer during a traffic stop with his girlfriend and her 4-year-old daughter in the car. This year, Stephon Clark was shot and killed in his grandmother's backyard by Sacramento police and an off-duty Dallas officer fatally shot Botham Jean, 26, inside his own apartment. And on Sunday, Jemel Roberson, a 26-year-old security guard, was killed while attempting to apprehend a shooter at a bar near Chicago.
"I can remember times where I've been in performances and there will be another murder of an unarmed person of color the day before, the week before, sometimes even during the run of a performance, and I feel like it's the socially responsible thing to do to include that name, that story, that person's spirit in the performance of the show," Wallace said.
At the Wallis' outdoor space, Wallace plans to continue blurring the lines of separation between himself as a performer and the audience. The goal of his "in-your-face" approach is help viewers better understand a potentially unfamiliar experience.
"The way it's told is done theatrically in a way that doesn't feel like preaching; it really feels like a piece of theater," said Paul Crewes, artistic director at the Wallis.
Although the show tackles heavy subject matter, the playwright says audiences can expect to have a good time. During "The Bitter Game," Wallace establishes a personal relationship with spectators in a highly interactive environment. "This show is a celebration," Wallace said. "It's joy, it's revelry, it's call and response, it's participation, but it's also challenging us to ask some difficult questions and asking us to show up in ways that maybe we haven't before or might be uncomfortable with."
As a self-described "actorvist," Wallace feels its his responsibility to mobilize people to take action to confront everyday injustices. His next work will be another solo show that addresses racial disparity in the criminal justice system and how the formerly incarcerated reintegrate into society.
"I think at minimum [artists] should be reflecting the times, and at best we should be asking difficult questions and forcing people to think critically and to act on whatever those thoughts are that arise from being a part of an artistic experience."
"That's what 'actorvisim' is to me," Wallace continued. "Using your talent, your resources, your gifts as a platform to promote social change and using your platform, when you get it, to create space for other people to amplify the voices of the underserved."
'The Bitter Game'
Where: Wallis Annenberg Center for the Performing Arts, 9390 N. Santa Monica Blvd., Beverly Hills
When: Nov. 14-17, 7:30 p.m.
Tickets: $40
Info: thewallis.org
---
Your essential guide to the arts in L.A.
Get Carolina A. Miranda's weekly newsletter for what's happening, plus openings, critics' picks and more.
You may occasionally receive promotional content from the Los Angeles Times.