For gardener-turned-artist Kenzi Shiokava, new show proves wood is the ultimate 'Spiritual Material'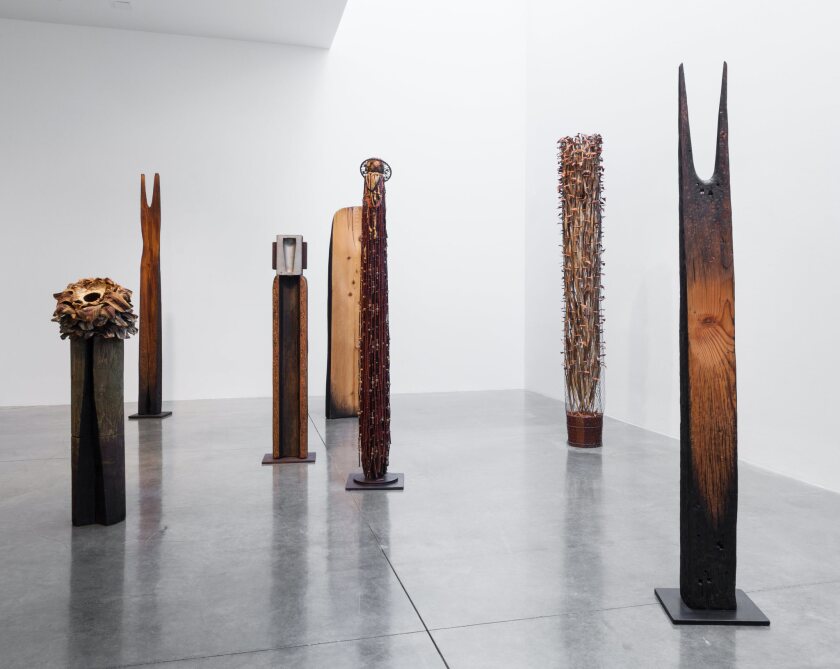 Kenzi Shiokava, born 1938, has an academic résumé that reads like those of many established L.A. artists: bachelor's in fine arts from Chouinard (later CalArts), MFA from Otis College of Art and Design. But his profile remained fairly low until 2016, when his work entered the Hammer Museum's "Made in L.A." biennial and the exhilarating assembly of sculptures earned him the Public Recognition Award — best in show, by popular vote.
Now the Ben Maltz Gallery at Otis offers a broader view of Shiokava's career in "Spiritual Material," curated by Kate McNamara and featuring 50 works, most dating between 1985 and 2005.
GALLERIES: Rona Pondick's head sculptures are beautiful nightmares »
Elegiac wall-mounted assemblages incorporate dried bamboo leaves and tableaux of toy figurines in shadowboxes suggest subtle social critiques. But the most soul-stirring of Shiokava's works — and the rich heart of the show — are free-standing forms in carved wood.
An untitled piece from the "Primal Totem Series" (1986) is a breathtaking example, an elegant and formidable presence with a profound sense of authority. Shiokava hand-carved the work from a telephone pole, leaving the familiar uniform cylinder partially intact and burning its rough skin black. He scooped out one side and smoothed the interior so the piece, about 10 feet tall, stands like a giant, horned personage shaped to signal affirmation, embrace. The grain pattern of repeated, rising craggy peaks at eye level hints further of physical and metaphorical ascent.
GALLERIES: The sensual landscape of William Downs »
Totems, shaman figures and staffs fill the gallery like an august congregation. One bears a glass sphere as surrogate skull, capped by an abalone shell and trailing strands of seashells. Shiokava bedecks others with beads, twine and feathers. In two pieces with the latent energy of musical instruments, he threads dragon tree fronds through the holes of chicken wire that rises in a column from a planter.
Shiokava had worked as a gardener and has long been an artist-in-residence at the Watts Towers Arts Center. He is fluent with the textures and forms of trees and plants, and he is alert to the reverberations of meaning possible in found-object assemblage — how the act of salvage connotes not just material but spiritual renewal.
The continuity between matter and spirit can be viscerally felt when standing before these fellow vertical bodies rising from the earthly plane.
Ben Maltz Gallery, Otis College of Art and Design, 9045 Lincoln Blvd., L.A. Open Tuesdays-Saturdays, through April 20. (310) 665-6905, otis.edu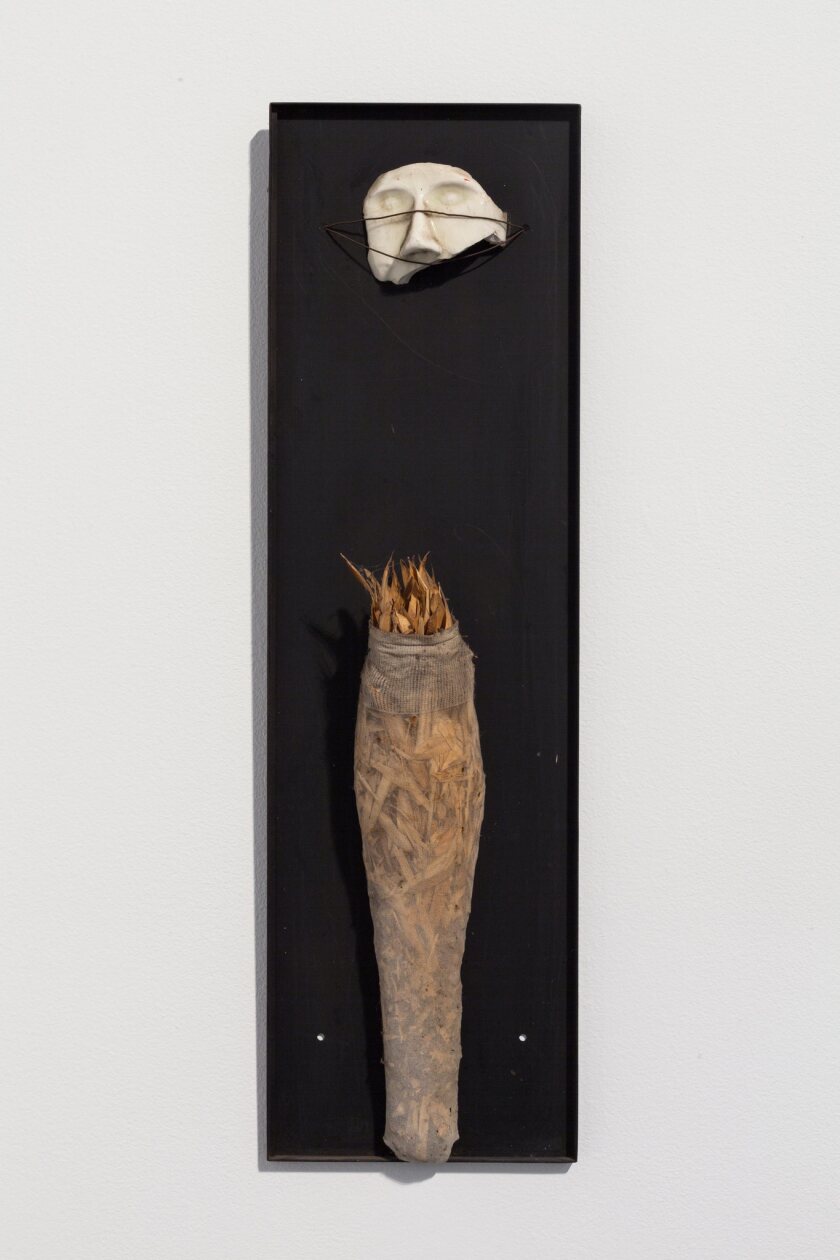 Support our coverage of local artists and the local arts scene by becoming a digital subscriber.
See all of our latest arts news and reviews at latimes.com/arts.
---
Your essential guide to the arts in L.A.
Get Carolina A. Miranda's weekly newsletter for what's happening, plus openings, critics' picks and more.
You may occasionally receive promotional content from the Los Angeles Times.