The sensual landscape of William Downs, where gender and time feel totally fluid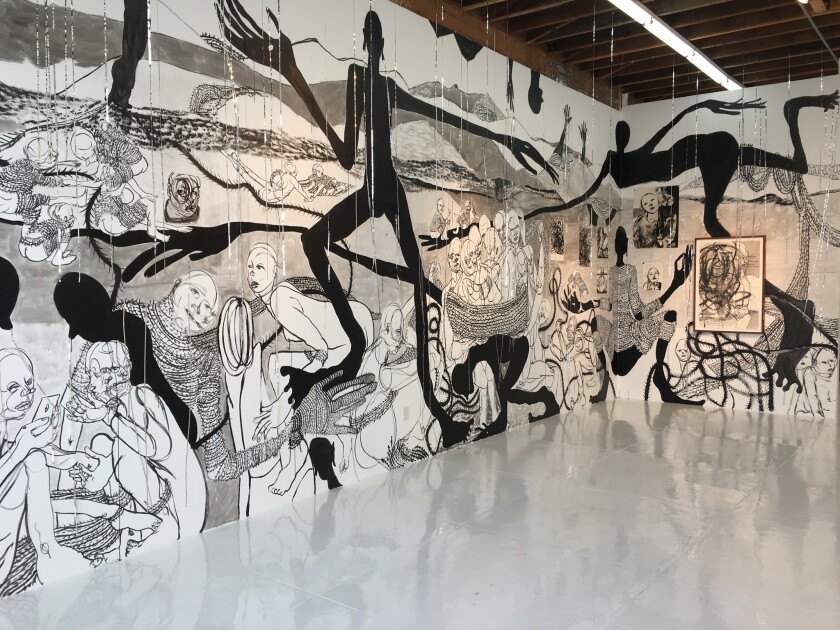 William Downs has covered two full walls at the L.A. gallery E.C. Liná with an immense ink drawing, a floor-to-ceiling invitation to be immersed in his streaming consciousness.
Human figures gather and dance across the expanse, beneath a horizon of low hills with nippled peaks. The landscape is bodily — "A Soft Place to Lay," as the work is titled — and the scene surges with sensuality.
Small figures defined by supple, calligraphic line coexist with larger ones in solid black silhouette. Scale, gender, purpose and time all feel fluid here. The imagery, some of which emerged during the Atlanta artist's session in a sweat lodge, is dream-like, an open-ended parable composed in song.
AT LACMA: Charles White show pinpoints the power of an underappreciated black artist »
Whether in motion or seated, the figures are rendered as unfixed, their contours repeating like flickering, sequential frames in a stop-motion animation. Some of those seated engage with hand-held devices: eye-phones, according to the insignia on their backs. Others play, converse, whirl and spin. Passages of deep black neighbor areas of dilute gray wash and stuttering smudges. Against the white of the wall (as well as the gallery floor), the drawing pops, immediate and vital.
Vine-like lines wrap around waists, thighs, arms and a tightly clustered group of figures. The lines shift in function from garment to sash, from ribbon to something of a constricting belt. The little dashes they sprout seem to shift in nature too, from innocent tendrils to spiky thorns that imbue the lines with a hint of menace, as if barbed wire. Perhaps this is the snake in Downs' otherwise edenic garden.
AT THE HAMMER: Allen Ruppersberg show is a don't-miss tour de force »
The only other unwelcome element comes in the form of skinny Mylar strips that drop from drawn fingertips and noses and dangle from the ceiling. They give the whole an added glimmer, but the drawing is radiant enough as it is, without the slightly tacky distraction.
A dozen works in ink on paper are also included in the show, some hanging in frames, some directly affixed atop the wall drawing. The vocabulary of forms is similar, figures re-creating, procreating, communing. In the intimate "Just Too Tired to Cry," the features of two faces repeat with gentle, percussive insistence, wavering chains of eyes and lips. The motion and multiplicity of the forms in Downs' work bring to mind the vigorous drawings of Kenyatta A.C. Hinkle. The bold, graphic power emitted directly from the wall recalls Hugo Crosthwaite.
In Downs, as in the others, drawing perfectly embodies the improvisatory urgency of life.
E.C. Liná, 4480 W. Adams Blvd., L.A. Wednesdays-Saturdays, through March 30. (323) 998-0464, www.eclinagallery.com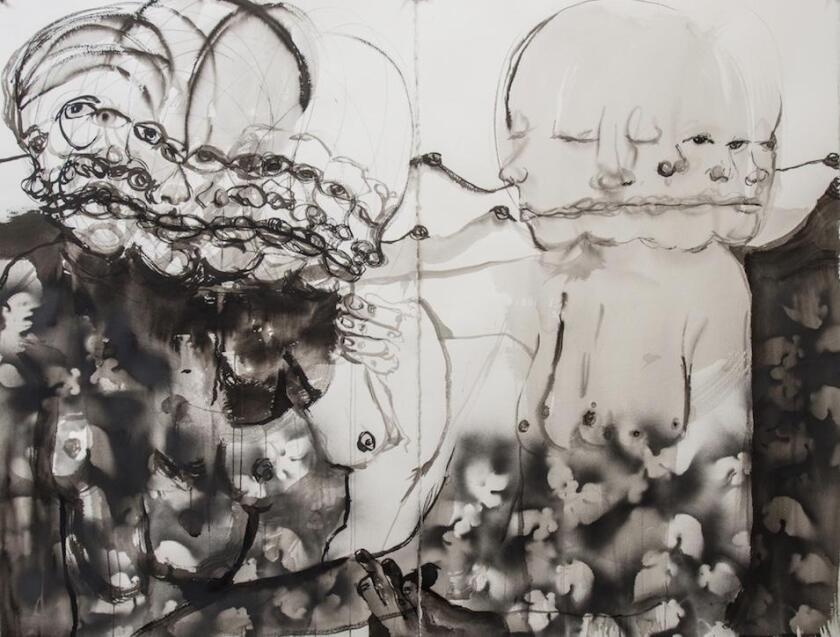 Support our coverage of local artists and the local arts scene by becoming a digital subscriber.
See all of our latest arts news and reviews at latimes.com/arts.
---
Your essential guide to the arts in L.A.
Get Carolina A. Miranda's weekly newsletter for what's happening, plus openings, critics' picks and more.
You may occasionally receive promotional content from the Los Angeles Times.