Review: Russia's secret weapon? Valery Gergiev and the rapturous music of the Mariinsky Orchestra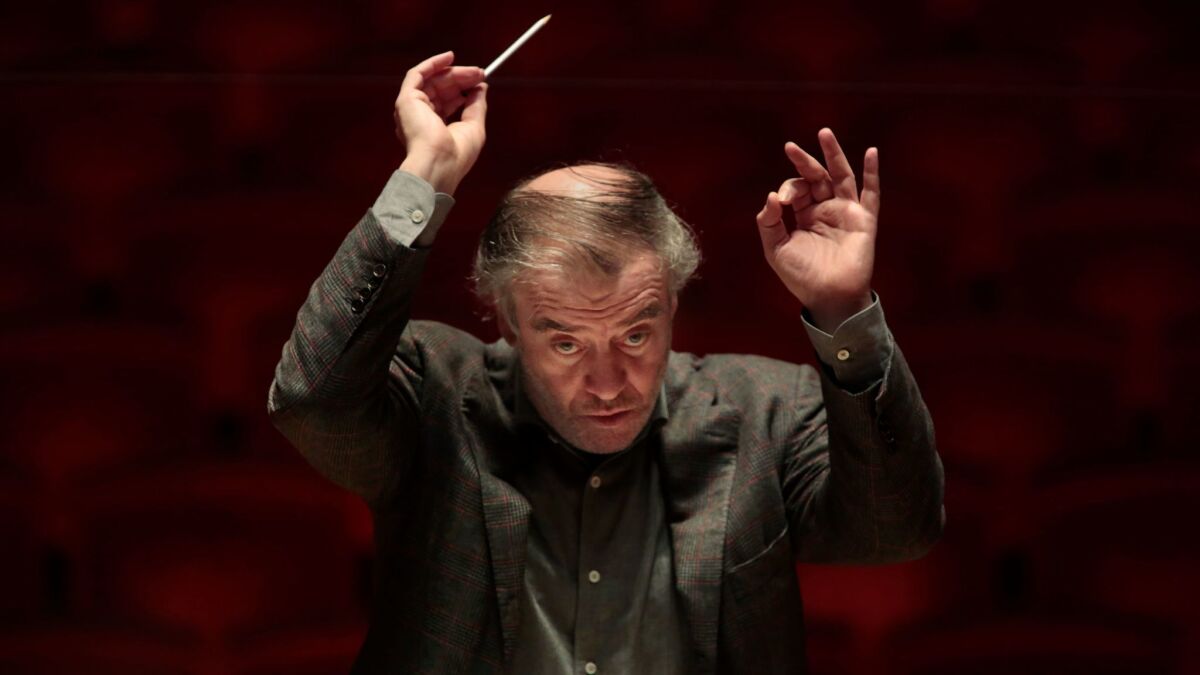 Music Critic
Valery Gergiev brought his marvelous Mariinsky Orchestra to Walt Disney Concert Hall on Wednesday for a program of distinctly Russian music. The powerhouse Russian pianist Denis Matsuev was the soloist. It was a long, riveting, ravishing evening. Should we be worried? Possibly.
Nearly a quarter century ago, I wrote a commentary for Opera News warning that Gergiev, having turned 40, had to slow down. The extraordinary Russian conductor had become addicted to nonstop touring. He ran the Mariinsky Opera and Ballet in St. Petersburg. He was about to add music director of the Rotterdam Philharmonic. He was guest conductor of orchestras and opera companies all over the place. He recorded constantly. He had a habit of starting festivals everywhere he went.
And then he sped up.
Since then, the Mariinsky has grown into a huge complex, for which Gergiev has built a second opera house and concert hall. He just added a concert hall in his home in St. Petersburg. He's got more festivals than ever in and out of Russia, including the White Nights in St. Petersburg, where he is likely to be conducting more operas and concerts, day and night. He's taken over, and cleaned up, the famed International Tchaikovsky Competition. He's now added music director of the Munich Philharmonic to his CV. He's conducted concerts on three continents the same day. I'm sure to be forgetting something and probably a lot.
In an interview with Russian news agency Tass in September, Matsuev, who is two decades Gergiev's junior and an unstinting musician in his own right, said he gave an unbelievable 264 recitals last year. He then noted that even he couldn't keep up with Gergiev, whom he called a mentor.
Is this a Russian secret weapon? Again, possibly.
Both Gergiev and Matsuev have close ties to Russian President Vladimir Putin. In the conductor's case, those ties goes back to his early years at the Mariinsky (he became its music director in 1998, when it was known by its Soviet name, the Kirov) when Putin was vice mayor of St. Petersburg and champion of the opera and ballet company. Then, and to some extent now, the political principle was make Russian great again — through culture!
The program at Disney Hall, however, offered a strikingly and admirably nuanced approach to Russian music. It began with Shostakovich's Ninth Symphony. There is talk of a neo-Stalinist movement in the Kremlin. But Gergiev's vital performance of a 1945 symphony — one that Shostakovich may have meant as (and that Stalin certainly took as) a puerile put-down of the dictator — told another story.
Russian officials at the end of World War II wanted a victory symphony. Instead, Shostakovich offered five short, playful and sometimes sarcastic lightweight movements. Gergiev gave them weight. He gives everything weight, building an orchestral sound from the bass instruments up. He evoked empty heroism and then cut it down to size by making the sneers threatening, the uprising of the people.
Prokoviev's youthful Piano Concerto No. 2 was a place for more biting heroism. Matsuev produced the tone of a powerful gong, and the beautiful opening tune rang like a great summons. It was a summons for a spectacular bruising as he later dominated the piano with astonishing force. For his encore, Liadov's "The Music Box," Matsuev released yet another Russian secret weapon, the ability to electrify upper registers of the piano with mere finger power.
Scriabin's massive Third Symphony ("The Divine Poem") after intermission provided a particularly useful opportunity to see just how far Gergiev has come in his unflagging musical quest. One of his first recordings, made as an unknown in 1989, was a live performance of this megalomaniacal occult-ish, perversely Wagnerian early 20th century symphony that lasts just short of 50 minutes and is a vision of the apocalypse by way of voluptuous sexuality.
That early recording shows a young man flexing his considerable musical muscle but also too constrained to let go. Three years ago, Gergiev recorded it again with the London Symphony, where he was in the midst of a troubled music directorship (accused by the British critics of being far too overextended). It's a disappointingly bloated performance.
But at Disney, with his Mariinsky, which boasts a majority of stylish young players who idolize Gergiev, Scriabin's symphony proved stirring. A stunning brass section heralded Scriabin's vision of a utopian new era for humanity. The middle movement, with its gorgeous tune (impossible to get out of your head for days), swelled with a rapturous grandeur that seemed like it would never stop. Climax topped climax.
Gergiev, with his laughably trademark pencil-sized baton and finger-wiggling left hand, was wizard of it all. His Mariinsky musicians played as if alive to every extravagance, each one a fabulous discovery. Sleep scientists who fail to search for the source of Gergiev's eternal fountain of freshness are simply barking up the wrong tree.
---
Get our L.A. Goes Out newsletter, with the week's best events, to help you explore and experience our city.
You may occasionally receive promotional content from the Los Angeles Times.