Review: Esa-Pekka Salonen's Cello Concerto soars on Cloud Nine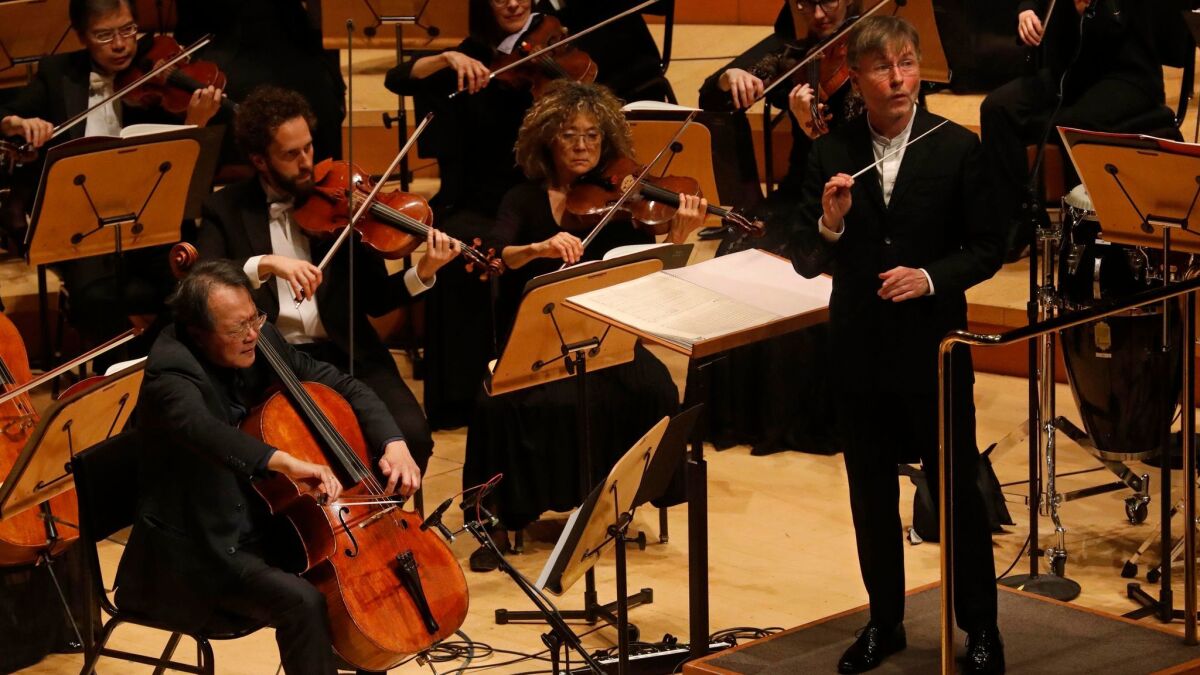 Music Critic
In Esa-Pekka Salonen's radiant and surprisingly hopeful new Cello Concerto, Yo-Yo Ma is asked to be a combination wave-maker and cloud seeder. What with our winter of drought, those are not unwelcome metaphors to begin the Los Angeles Philharmonic's "Composer Salonen" series of programs celebrating the 60th birthday of its conductor laureate.
The Cello Concerto, which had its premiere with the Chicago Symphony 11 months ago, was a one-shot deal at Walt Disney Concert Hall on Thursday night, opening a weekend survey of Salonen's three mature concertos. All feature the soloists for whom they were written — Yefim Bronfman in the Piano Concerto on Friday and Saturday, and Leila Josefowicz in the Violin Concerto on Sunday — and the composer on the podium. Next week Salonen returns to reprise "Wing on Wing," which he wrote for the opening season of Disney. In April, Gustavo Dudamel will premiere a new Salonen orchestral work, as yet untitled, and, if Salonen follows form, far from finished.
Following form for Salonen is not following form. Although he started out as an abstract Modernist, Salonen's music has become increasingly personal, each piece requiring its own narrative structure. "Wing on Wing," for instance, is an expression of his close friendship with architect Frank Gehry. The 2007 Piano Concerto likewise explores his long history of collaboration with Bronfman.
The Violin Concerto, which Salonen finished and premiered as part of his final concerts in 2009 as the L.A. Phil's music director, ends with a touchingly nostalgic slow movement, titled "Adieu." This, he says, covering his tracks in a program note, is not a farewell to anything in particular. Just as the tears are about to well up, the music turns on a dime, ending on an unexpectedly luminous chord that is "the beginning of something new."
The Cello Concerto gets its impetus from cosmology and our attempts to find our individuality amid a landscape of incomprehensible large forces. A science fiction buff, Salonen indicates that he begins with a representation of chaos, out of which the cello's voice emerges.
That chaos turns out to be a pretty nice place, a sparkling orchestral outer space where atoms contentedly swirl at random play. The cello melody that emerges with falling gestures is instantly memorable but not easily definable. It just keeps going like a jazz improvisation around a ballad. Different instruments in the large orchestra pick up on it a fraction of a second after the cello and a fraction of second before.
They layer with a complexity you can't necessarily follow. The sensation thus is that the cello is simultaneously generating, and being generated by, the cosmos. Its very presence also changes the nature of things. The beauty of it all makes it seem possible for humans to improve, not destroy, the environment.
The cello emerges again from a big orchestra cloud in the middle movement, but this one is more explosive, mushroom-shaped. The cello exchanges radiance for radioactivity. Short solo cello fragments are recorded and played back through quadraphonic speakers. (If someone in the audience coughs, that gets caught in the loop as well.) Ma plays teasingly fleeting lines against himself, with an alto flute joining in. This is another planet. Could it be a soundscape preview of the science fiction opera that Salonen has long been planning to write and, rumor has it, may actually be about to?
The third movement is motoric. The orchestra has a large percussion section. After all the earlier glittering metal and mellow wood, rattles and the visceral skin of prominent bongos and congas take center stage. (Hipster alert: It looks like bongos are back; they also had notable role in Leonard Bernstein's "Mass" last week.) Ma here is pretty much buzzing, boogieing, pirouetting in perpetual motion, his feet maybe finally on firm ground.
In fact, that's a liftoff dance. In the "Adieu" of the Violin Concerto, Salonen spoke of the sensation of lying in bed and hearing the sound of a partner's quiet breathing. In the final sections of the Cello Concerto, he calls for "a big lung." The cello soars into outer space and keeps going until it can go no higher. The orchestra whistles in a range suitable for a dog's hearing, aided by more electronic looping. The Violin Concerto's "something new" has become an altogether new world.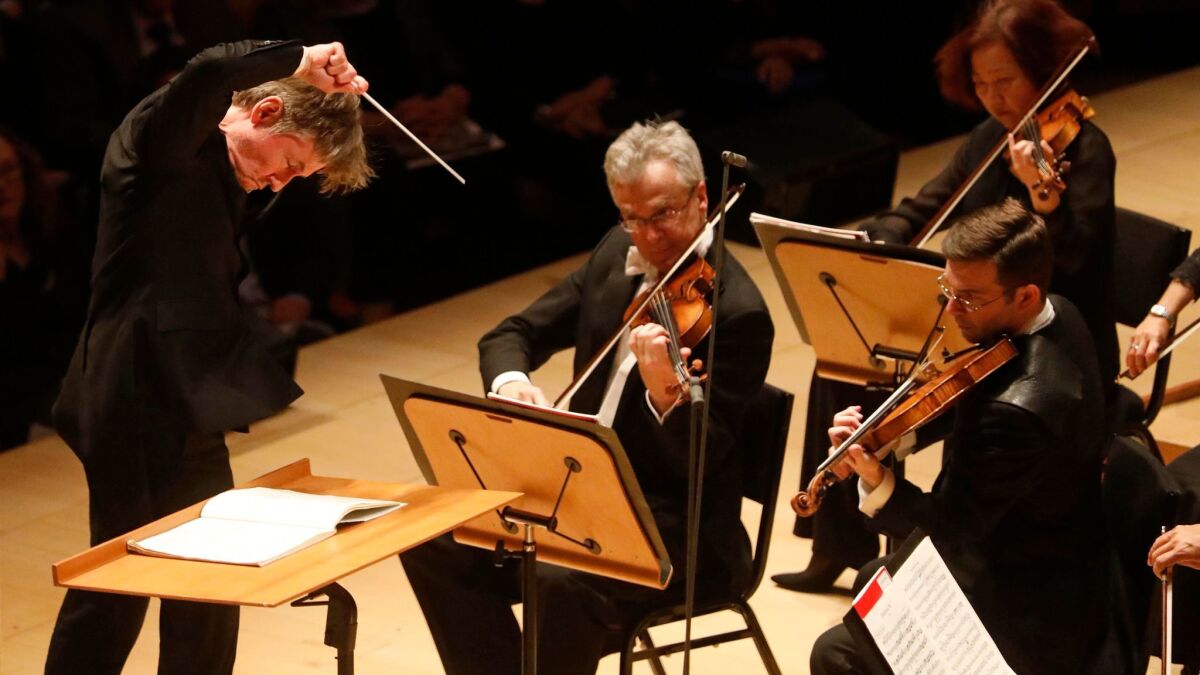 "Composer Salonen" extends to the role as creative program maker. Salonen introduced the Cello Concerto with Heinrich Biber's "Battalia" and ended with Beethoven's Seventh Symphony (which will also be the case for the other concertos Saturday and Sunday). "Battalia," written in 1673, is a startling nine-minute outlier for a handful of strings and harpsichord that describes battle from the point of view of drunken and wounded soldiers over the course of several tiny movements. Way ahead of his time, Biber employs eight folk songs played simultaneously for an example of 17th century dissonant chaos and a bass plunking strings against a sheet of paper to simulate drumbeats.
Salonen began Beethoven's Seventh with an astonishing bang and never let up. He has always had a particular affinity for the symphony Wagner famously dubbed "the apotheosis of the dance." But in the decade since he last conducted it with the L.A. Phil, that affinity has turned into something that now makes the symphony sound almost as though Salonen had written it himself.
Salonen finds a rhythmic drive in Beethoven that other conductors might strive for in Stravinsky. Crisp instrumental textures are kept so tart that they lack the sound of modern instruments without suggesting the dryness of period ones. Woodwind and brass, in particular, are balanced in such a way as to breathe new life into old harmonies with a big lung.
♦ ♦ ♦ ♦ ♦ ♦ ♦ ♦ ♦ ♦
'Composer Salonen'
Where: Walt Disney Concert Hall, 111 S. Grand Ave., L.A.
When: 8 p.m. Friday and Saturday (Salonen Piano Concerto), 2 p.m. Sunday (Salonen Violin Concerto)
Tickets: $54-$188
Information: (213) 850-2000, www.laphil.com
ALSO
Renée Fleming: Romantic melodies and a message for 'Dreamers'
Tim Robbins' Actors' Gang mines 300 years of immigrants' stories in 'New Colossus'
For celebrated pianist Stephen Hough, it's time to show yet another side of himself
---
Get our daily Entertainment newsletter
Get the day's top stories on Hollywood, film, television, music, arts, culture and more.
You may occasionally receive promotional content from the Los Angeles Times.