LACMA's Art + Film Gala blurs boundaries between the museum world and Hollywood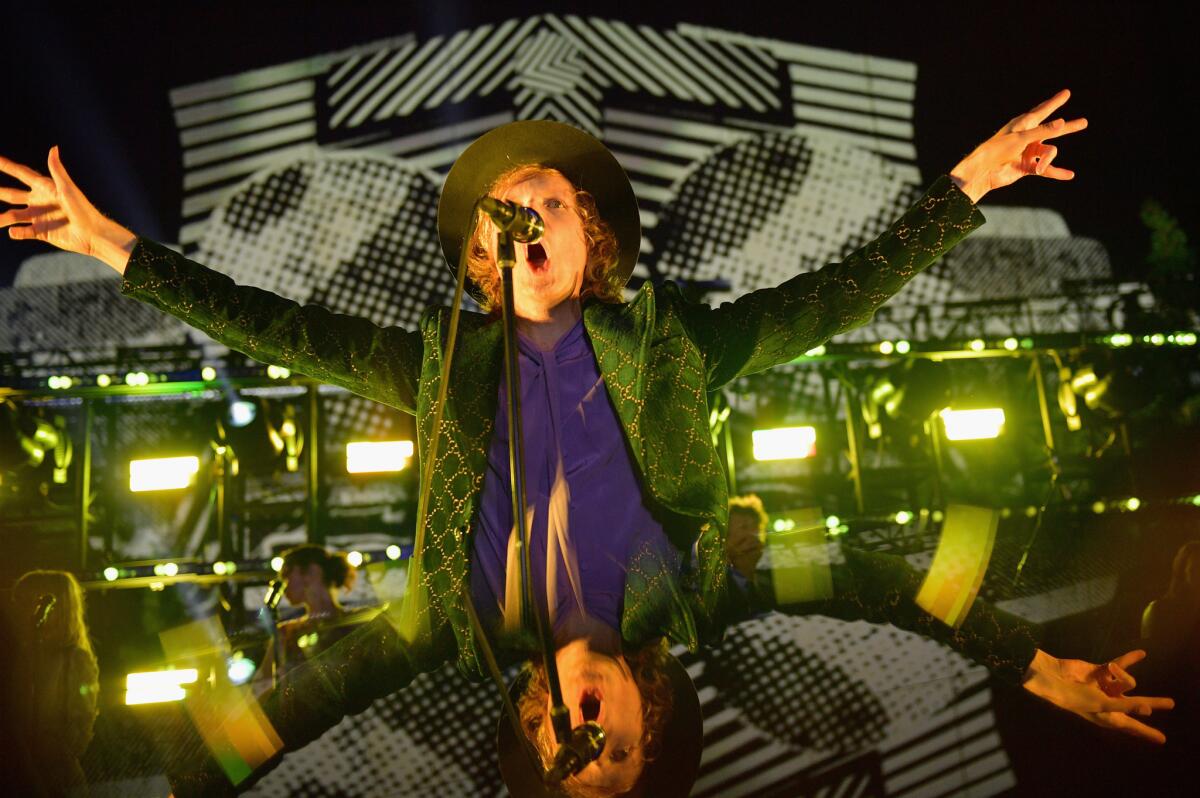 Despite Los Angeles' growing position as an international cultural hub, the art and film communities here still exist largely in parallel but separate tracks. You wouldn't know that, though, from the crowd assembled Saturday night at the Los Angeles County Museum of Art's eighth Art + Film Gala, where artists and filmmakers mingled freely, alongside luminaries from the worlds of fashion, music and architecture.
"When I came to L.A., I thought artists and filmmakers would all hang out, and they didn't really, but now they do," said LACMA Director Michael Govan. "I don't know that it's just at this gala, it's also the coming of age of Los Angeles."
As more than 850 guests entered through Chris Burden's Urban Light sculpture onto a bright orange carpet, this synergy was evident. Filmmaker Jon Favreau embraced artist and director Julian Schnabel, the two looking like they could be cousins. Klaus Biesenbach, the new director of the Museum of Contemporary Art, could be seen chatting with Maurice Marciano, the Guess co-founder who opened the Marciano Art Foundation with his brother Paul in an old Masonic Temple on Wilshire Boulevard last year.
Jared Leto, dressed in a white suit and hat, strolled past, emulating David Bowie's Thin White Duke persona. Other notables included Ryan Murphy, the tireless creator of several popular television series; Peter Zumthor, architect of LACMA's expansion; artist Tacita Dean, who works in film; and Oscar winner Damien Chazelle.
The guests of honor Saturday night were artist Catherine Opie and filmmaker Guillermo del Toro, a pair who embody this blurring of boundaries and breaking of barriers, not only artistically but socially and politically as well. Opie is a Los Angeles-based photographer whose work focuses on both marginalized and ubiquitous groups, from the LGBTQ community to surfers and high school football players. Opie made her first foray into cinema recently, with her film of still images "The Modernist."
"It's very much an L.A. story," told through the city's iconic modernist architecture, said Opie, smartly dressed in jacket and slacks, with a jeweled tiger collar broach, all furnished by Gucci, the event's sponsor.
Del Toro's career also manifests a sense of barrier-breaking fluidity, not only in the stunning visual style that characterizes his movies — including "Pan's Labyrinth," "Hellboy" and "The Shape of Water" — but also in his collection of both high and low forms of art, many of which were included in the blockbuster 2016 exhibition "Guillermo del Toro: At Home With Monsters," held at LACMA, where they were brought together with items from the museum's collection.
On the surface, the two may seem worlds apart, but Opie drew out a common thread. "We're both really interested in the human condition," she said. "We're both incredible humanists who at times dip into tragedy and drama but also always in the realm of beauty."
Although the evening was an elegant, black-tie celebration of L.A.'s cultural community, the current political climate and impending midterm elections seemed to hover like a cloud in the bucolic sky. The choice to honor the pair — who represent and champion groups that have been under political attack recently — seemed to send a message of solidarity.
"They've really thought carefully about who they're honoring in a long cultural arc," said Pilar Tompkins Rivas, director of Monterey Park's Vincent Price Museum of Art, which began a partnership with LACMA last year to share the larger institution's collection. "I see this commitment to inclusivity and diverse voices. Given the current political climate, it's more important than ever."
Govan noted that, although the honorees may champion various forms of otherness, they were very much at the vanguard of American culture.
"Guillermo del Toro and Cathy Opie are the mainstream of American art and film," he said. "There is a misunderstanding, not about the margins, but about the mainstream of accomplishments in the arts. The attempt to characterize them as anything but that is out of sync."
Actress Kiki Layne shows off her gown at the 2018 LACMA Art+Film Gala in Los Angeles.
(Chris Delmas / AFP/Getty Images)
Directors Alejandro G. Inarritu, Alfonso Cuaron, Lee Daniels, Julian Schnabel and honoree Guillermo del Toro attend the 2018 LACMA Art + Film Gala.
(Charley Gallay / Getty Images for LACMA)
Honoree Catherine Opie, left, with her partner Julie Burleigh, second from right, and family arrive for the 2018 LACMA Art+Film Gala at the Los Angeles County Museum of Art in Los Angeles on Nov. 3.
(Chris Delmas / AFP/Getty Images)
Actor Jared Leto attends the 2018 LACMA Art + Film Gala in Los Angeles.
(Joe Scarnici / Getty Images for Audi)
Attending the 2018 LACMA Art + Film gala at the museum in Los Angeles on Nov. 3 are, from left, Kenneth "Babyface" Edmonds, Nicole Pantenburg, George Lucas and Mellody Hobson.
(Jesse Grant / Getty Images)
Jordyn Blum and musician Dave Grohl at the gala at LACMA.
(Jesse Grant / Getty Images)
St. Vincent, left, Jared Leto and Sam Taylor-Johnson and Aaron Taylor.
(Nina Prommer / EPA-EFE/Rex)
ASAP Rocky arrives for the LACMA Art + Film Gala at the Los Angeles County Museum of Art.
(Nina Prommer / EPA-EFE / Rex)
Wolfgang Puck and Gelila Assefa attend the 2018 LACMA Art + Film Gala in Los Angeles.
(Jesse Grant / Getty Images)
Kourtney Kardashian, left, and Kim Kardashian arrive for the gala at LACMA.
(Nina Prommer / EPA-EFE / Rex)
Eva Chow attends the 2018 LACMA Art + Film Gala at LACMAin Los Angeles.
(Jesse Grant / Getty Images)
Paris Jackson, left, Karrueche Tran and Victor Cruz, and Dakota Johnson.
(Left and right - Nina Prommer / EPA-EFE / Rex | Center - Jesse Grant/Getty Images)
Olivia Hamilton, Alejandro Gonzalez Inarritu and Maria Eladia Gonzalez, and Asia Chow at the LACMA Art + Film Gala.
(Nina Prommer / EPA-EFE / REX)
Zoe Kravitz arrives for the LACMA Art + Film Gala at the Los Angeles County Museum of Art in Los Angeles.
(Nina Prommer / EPA-EFE / Rex)
Dave Grohl performs during 2018 LACMA Art + Film Gala in Los Angeles on Saturday.
(Matt Winkelmeyer / Getty Images for LACMA)
Beck performs during 2018 LACMA Art + Film Gala at the museum.
(Matt Winkelmeyer / Getty Images)
More than simply bringing people together in celebration, the gala's function was to raise money for the museum's programming, including exhibitions, acquisitions, education and film screenings. To that end, just more than $4.5 million was raised, a new record for the gala.
Cocktail hour drew to a close, and guests were ushered inside the dinner pavilion for a meal of cheese-filled crepes with pomodoro sauce and baked orata with fennel prepared by chefs Edoardo Baldi and Joachim Splichal. After opening remarks from Govan and LACMA trustee Eva Chow, who co-chaired the event with Leonardo DiCaprio, a moving, short film about Opie by Sini Anderson began the program.
"I have been a fan of Cathy since I was a young, little queer artist in San Francisco," said Anderson, "so when I was asked by LACMA to make this short film about her, I couldn't have been more thrilled."
Opie's remarks were brief, allowing time for a poem read by Robin Coste Lewis, the poet laureate of L.A., further expanding the cultural umbrella at hand.
After an introduction from studio mogul Jeffrey Katzenberg, Del Toro — who is working on a stop-motion version of "Pinocchio" — spoke passionately about the power of art during this politically fraught moment, "at a time when my race is vilified, and the LGBTQ community is trying to be legislated out of existence."
"Now more than ever, stories are needed to heal us, to join us," the Guadalajara-born director added. "Stories are our most ancient path to empathy.
"We are told over and over that we have reasons to hate each other and to fear each other, and we're told that things are either black or white. I invoke the sacred right to be gray, to be polychrome," he said, followed by applause from the crowd. "Sameness is madness, difference is sanity."
Artist Alison Saar, who attended with her artist mother, Betye Saar, echoed Del Toro's sentiments.
"I don't want to say that art can cure all evils, but it can definitely help to bring things to light," she said. "Sometimes it helps to allow us to survive in some respects."
"Beyond the set of ideas and beliefs that have become filtered by religion and political ideologies, art and culture through film, through poetry, through photography, it's where we can all meet and grow," said filmmaker Alejandro G. Iñárritu, a 2015 gala honoree. "Carne y Arena," Iñárritu's powerful virtual-reality installation about the experience of border-crossing migrants, was on view at LACMA last year, and it recently traveled to Washington, D.C., where former President Obama visited it.
"He wrote a message in the book of visitors after he saw it: 'Thank you for reminding us of the common humanity that we all have,' " recalled Iñárritu. "I thought, 'Wow. That was a president.' "
After the weighty and poignant reception speeches, actor Will Ferrell added a bit of levity, inviting everyone outside for the musical portion of the evening. As guests shuffled back out into the balmy Southern California night for a dessert of churros and tiramisu, Angeleno native Beck took the stage, backed by a band featuring none other than Dave Grohl on drums.
Opening with a rocking version of "Devils Haircut," followed by "Loser" and "Where It's At," the band went into a set of covers, including classics by the Rolling Stones, Led Zeppelin, Talking Heads and Van Halen. Beck called up secret guest Anne Clark, better known as guitar goddess St. Vincent, for a version of Blondie's "Rapture," a genre-bending mix of rap, disco, pop and punk, epitomizing the evening's boundary-bashing audacity. The assembled crowd of misfits and insiders, artists and filmmakers, collectors and creatives, was all caught up in the rhythm, seeming right at home.
calendar@latimes.com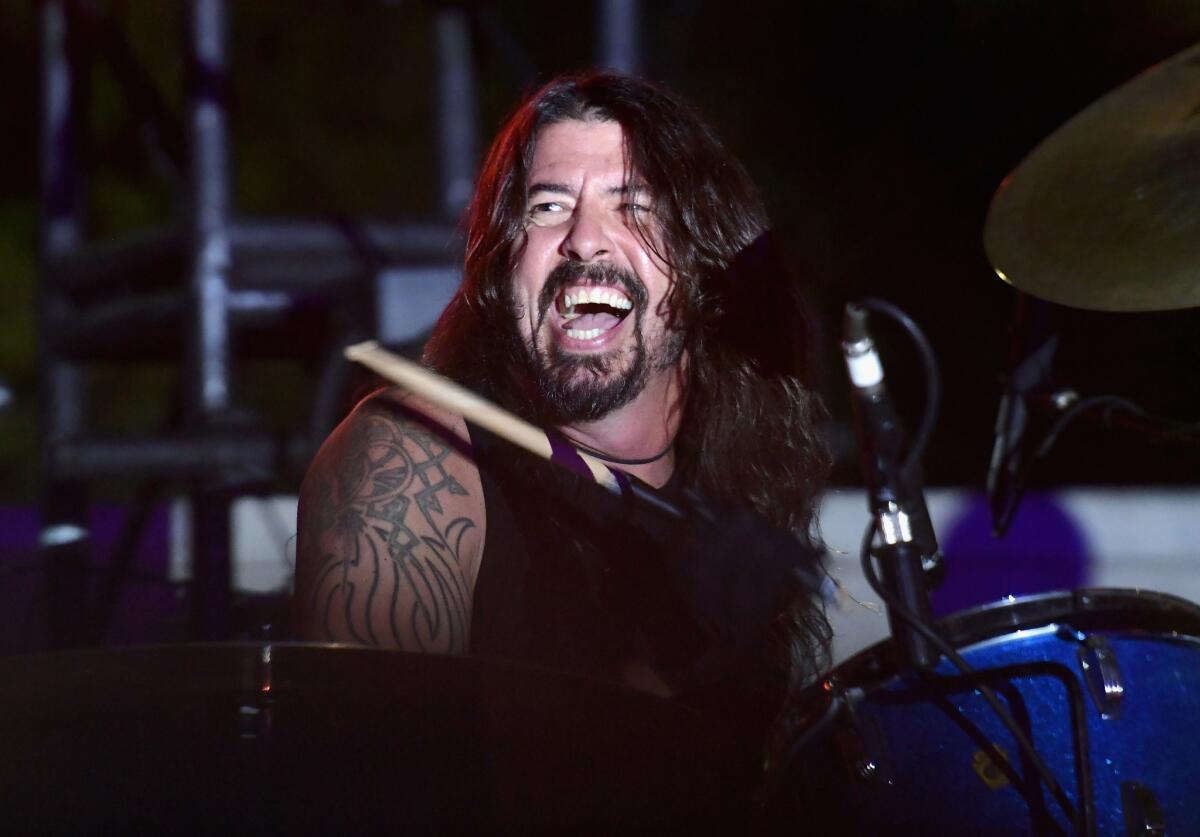 Get our L.A. Goes Out newsletter, with the week's best events, to help you explore and experience our city.
You may occasionally receive promotional content from the Los Angeles Times.