Review: L.A. Phil's 'Mass': A glorious Leonard Bernstein mess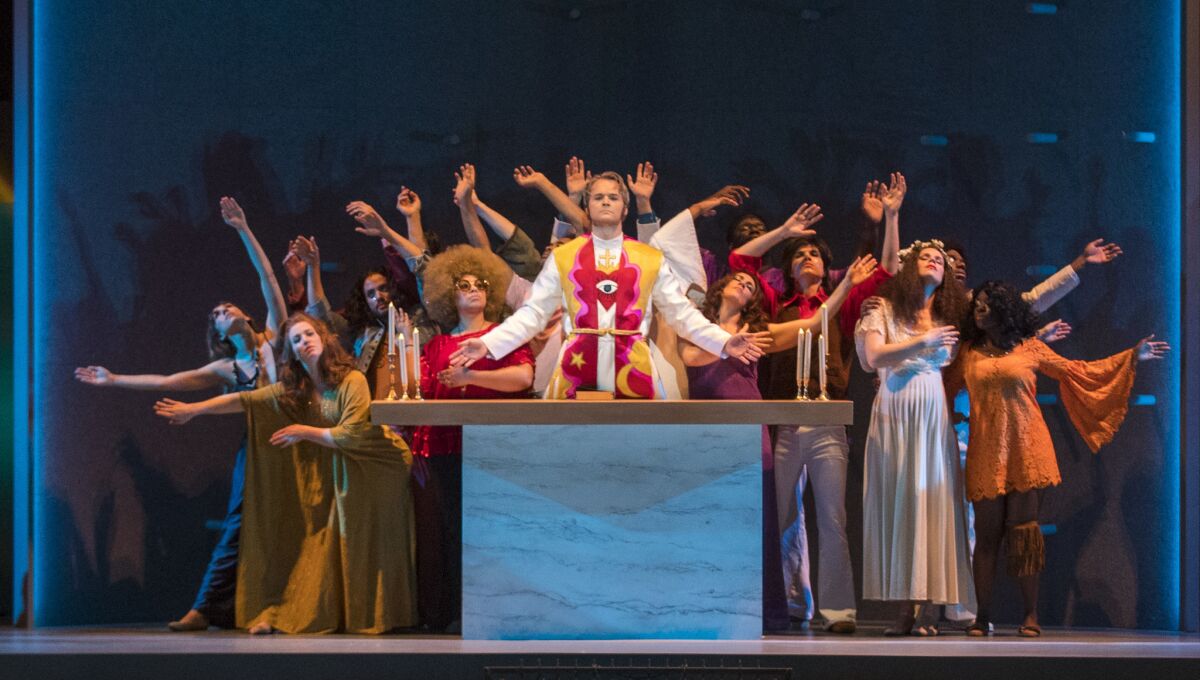 Music Critic
Leonard Bernstein's "Mass" is a mess, but it's our mess. Written to open the John F. Kennedy Center for the Performing Arts in 1971, this way-over-the-top theatrical setting of the traditional Roman Catholic Mass outrageously reveled in musical and theological sacrilege to reflect, sympathize with and even promote the social upheaval of political unrest of a time when the Vietnam war raged.
That such a spectacle — which included a chorus of hippies, sex and a thinly veiled antiwar message — would inaugurate a government-funded, lavish new performing arts center and national monument to John F. Kennedy infuriated President Nixon and FBI Director J. Edgar Hoover, both of whom loathed Bernstein to distraction.
But they had company from all sides. Just about everyone found something to be offended by in Bernstein's chaotic mélange of styles and in the cultural mores and religious defiance. Along with symphony orchestra and chorus, the forces include a rock band, a marching band, blues and gospel and folk singers, and whatnot. The officiator, or Celebrant, of the Mass, the central figure, loses his faith and has a crackup.
Times have, and they have not, changed. The reputation of "Mass" has gradually risen from bewilderment and belittlement to being hailed for its proto-Postmodernism to downright veneration. In a recent German documentary on Bernstein, the conductor Marin Alsop calls "Mass" a masterpiece. She is not alone in feeling that this is a Mass for our time.
Thursday night, it was Gustavo Dudamel's time to add substantial weight to that claim with the first performance of "Mass" at Walt Disney Concert Hall as the Los Angeles Philharmonic's main entry in the Bernstein year sweepstakes, 2018 being the centennial of Bernstein's birth.
More than anyone before him, and that includes Bernstein himself, Dudamel solved the musical puzzle of "Mass" in a grandiose performance of almost unbelievable splendor. An elaborately staged and choreographed production that had some stunning visual moments along with some stunningly clueless ideas, however, suggested that there is still massive work to be done on "Mass."
It's the context that remains at issue. In 1967, a year after Jacqueline Kennedy commissioned Bernstein to write a work in memory of her husband, he explained that he saw the world on the verge of collapse. "It's worse than ever," Bernstein is quoted in John Gruen's "The Private World of Leonard Bernstein," "because of the multiplying nuclear arsenals and the total unpredictability of statesmen who are hardly statesman-like." He went on to decry the "farcical, cynical way everything is being handled. The massive lie that is constantly being told. How can one feel that one is part of anything real? I can't."
Bernstein labeled "Mass" "a theatre piece for singers, players, and dancers." So the first question has to be: Do you update or don't you? Part of the original "Mass" problem was that it came off as a Broadway spectacle with fake hippies and the like (which infuriated real hippies who got stoned to Bernstein's recordings of Ives and Mahler).
For the Disney Hall production Elkhanah Pulitzer created new confusion, reflecting something of the time of "Mass," something of a little earlier time and something of a little later time. Seth Reiser's set is a backdrop that curiously evokes a Midcentury Modernist church with a large cross. Christine Crook's costumes allow for an incongruous crowd of of 1960s hippies to mingle with disco showoffs from a decade later. The main chorus dons the robes of a cult.
To add further confusion to any sense of time and place is the sound design. Mark Grey's understated modern amplification is worlds apart from the punchy metallic amplification that would have suited the eras Pulitzer wanted, for whatever reason, to suggest.
There is, in "Mass," everything under the sun, and that is what at first made "Mass" so offensive and then, as everything under the sun became the way of the musical world, so seemingly important. But the revelation of Dudamel's performance was that, despite the staging, this is one grand symphonic work that makes glorious musical and compelling dramatic sense.
Rather than separating orchestra and rock band, he integrated them. He blended musical styles into an overarching continuum. In the larger sonic picture, the amplification, which didn't have the pop singers popping out but seeming practically operatic in the sense of today's anything-goes new opera, proved revelatory.
This allowed Dudamel to dig into the musical substance in a way that showed "Mass" is not so much a mess after all, but a highly sophisticated symphonic work with musical motives that go through a complex series of variations in different styles. It also allowed Dudamel to reach the level of orchestral grandiosity that one suspects Bernstein might have had, had he returned to "Mass" at the end of his life, as he did with "West Side Story" and "Candide."
The center of it all is baritone Ryan McKinny's Celebrant. Rather than a naive, young, folk-singing cleric who struggles with the demands of institutionalized religion and the contemporary world, McKinny proved a more mature, more authentically troubling cross between Moses, the cult leader Jim Jones and 1960s countercultural spiritualist Alan Watts. In a brilliant performance, his breakdown was Shakespearean, the madness of Lear.
Another highlight is Laurel Jenkins' choreography, which when she wasn't having to re-create Studio 54, allowed for extraordinary abstract solos and groups whirling like dervishes. She and Pulitzer used bodies for their imagery, magnificently in the three orchestral "Meditations."
It is, of course, no easy task to maneuver more than 200 performers crowded on and around the Disney stage. These include the Street Chorus, with its many impressive soloists; the incomparable Master Chorale; the outstanding Los Angeles Children's Chorus; seven commanding solo dancers; the UCLA Wind Ensemble as the exciting marching band; and the luminous boy soprano Soren Ryssdal. The L.A. Phil is an orchestra born to play "Mass," as is Disney Hall made for "Mass."
♦ ♦ ♦ ♦ ♦ ♦ ♦ ♦ ♦ ♦
'Mass'
Where: Walt Disney Concert Hall, 111 S. Grand Ave., L.A.
When: 8 p.m. Friday and Saturday, 2 p.m. Sunday
Tickets: $72-$225
Information: (323) 850-2000, www.laphil.com
---
Get our L.A. Goes Out newsletter, with the week's best events, to help you explore and experience our city.
You may occasionally receive promotional content from the Los Angeles Times.