Review: The L.A. Phil and CicLAvia brought the city together for a game-changing street party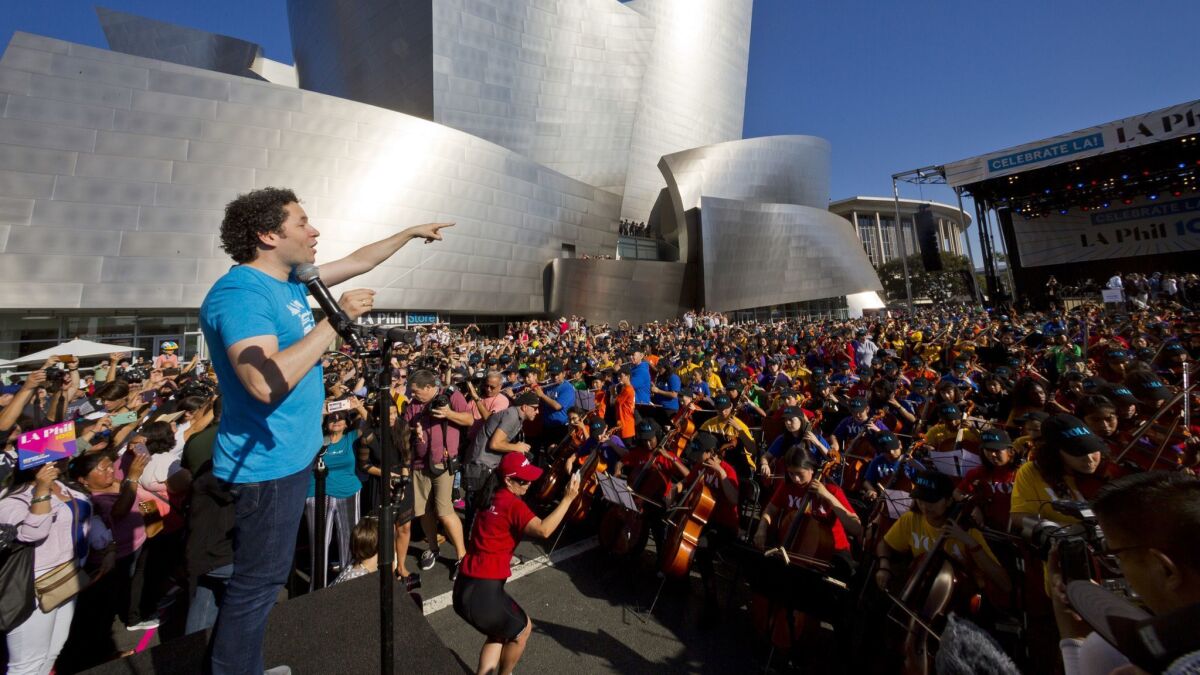 Music Critic
At 8:30 a.m Sunday morning, more than a thousand pedestrians, bicyclists, musicians, politicians and a marching band were assembled downtown on Grand Avenue in front of Walt Disney Concert Hall listening to Gustavo Dudamel conduct members of the Los Angeles Philharmonic brass in John Williams' celebratory "Music for Brass."
Almost 13 hours later, Williams, who has brought symphonic music to a wider audience than any composer in history with his film scores, made a surprise appearance at the Hollywood Bowl, conducting his music from "Star Wars" in front of the lucky 18,000 people able to score free tickets — most made available by lottery — to the L.A. Phil's daylong extravaganza, "Celebrate LA!"

For the record:
6:40 p.m. Oct. 1, 2018An earlier version of this article incorrectly stated that the Trojan Marching Band was part of the event's kickoff on Grand Avenue. It was Compton's Centennial High School band that helped start things off.
What happened in between these two bookending moments opens a next chapter not only in the history of the Los Angeles Philharmonic but also the institution of the symphony orchestra and the modern vitality it promises. For the L.A. Phil, "Celebrate LA!" was what has maybe become business as usual, only this time on an unprecedentedly grander scale that just might turn out to be a cultural milestone for L.A. and a literal road map of possibilities to arts institutions and cities anywhere and everywhere.
Bicyclists pass by the Wiltern.
(Christina House / Los Angeles Times)
A crowd including Michael Boateng, 35, and Jasmine Anderson, 30, from left, joins in CicLAvia: Celebrate LA!, a daylong, eight-mile musical street-fair extravaganza.
(Christina House / Los Angeles Times)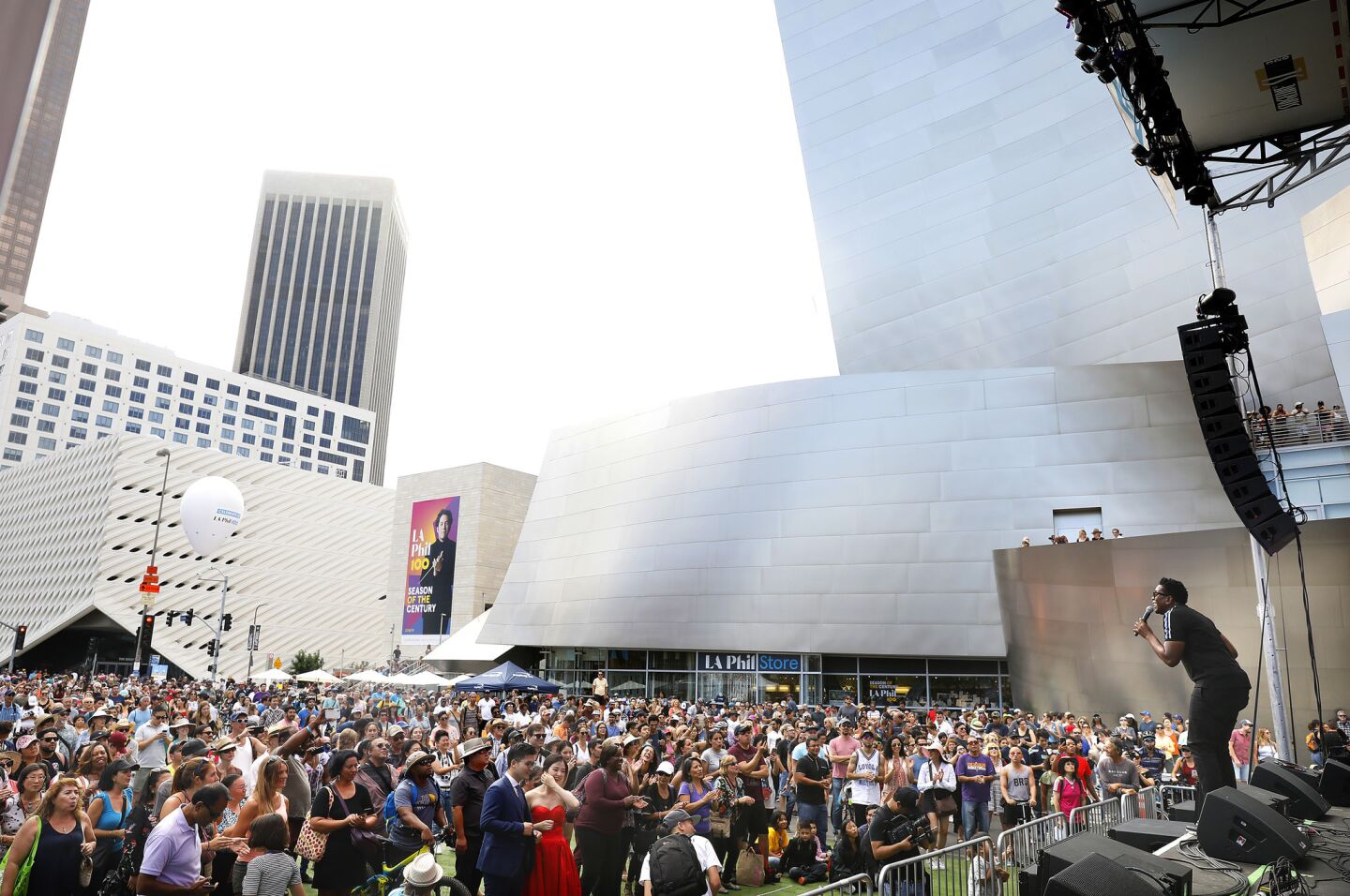 Jason White & Co. perform in front of Disney Hall in downtown Los Angeles.
(Christina House / Los Angeles Times)
Jason White & Co. perform in front of Disney Hall.
(Christina House / Los Angeles Times)
Classical Music and Dance Company performs in Koreatown.
(Christina House / Los Angeles Times)
Madeleine Rubio of Youth Orchestra Los Angeles and Barry Gold, a member of the L.A. Phil, perform at MacArthur Park.
(Christina House / Los Angeles Times)
An audience applauds a performance by YOLA and members of the L.A. Phil.
(Christina House / Los Angeles Times)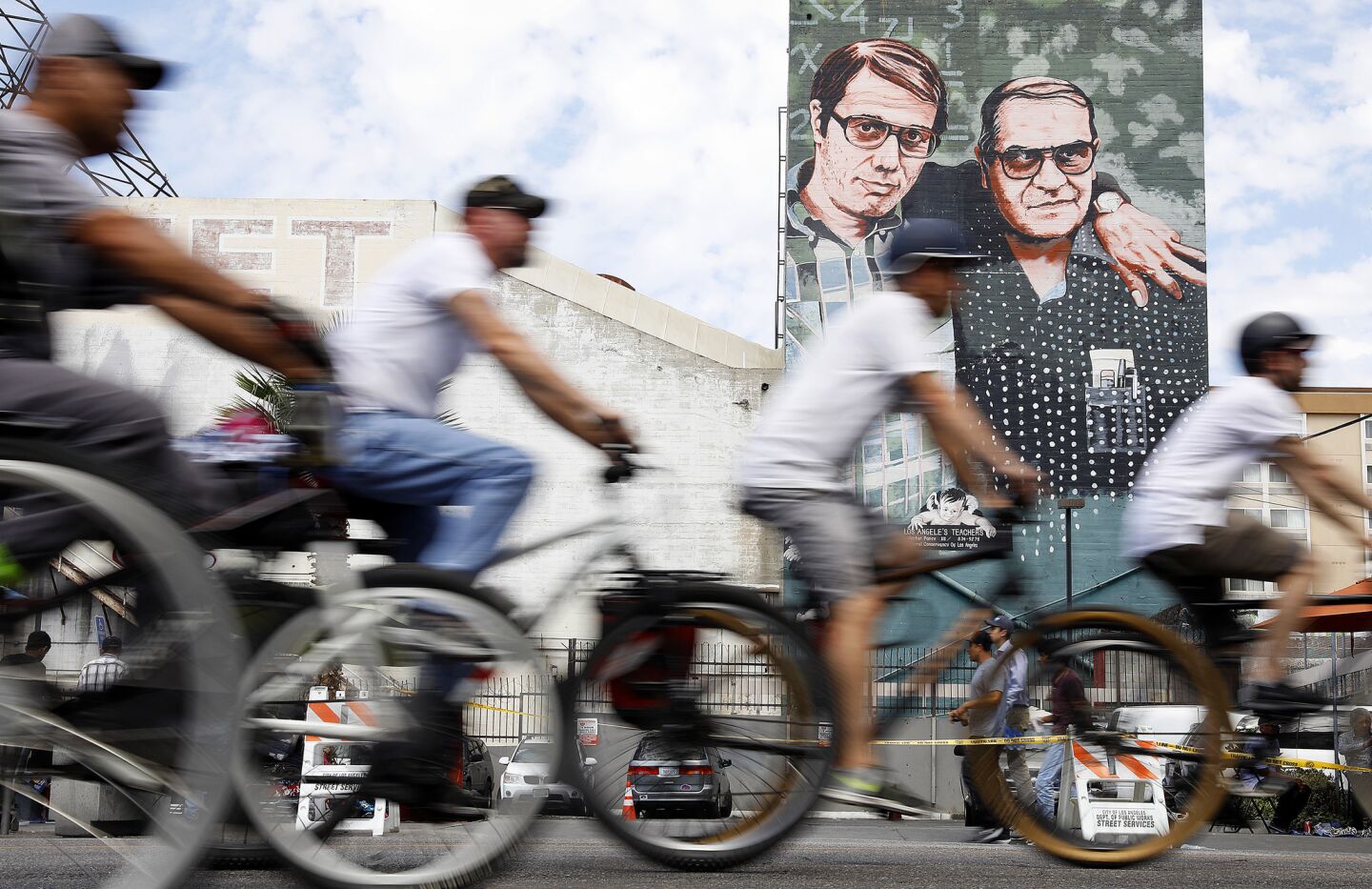 Bicyclists ride along Wilshire Boulevard past the MacArthur Park Hub during CicLAvia: Celebrate LA!.
(Christina House / Los Angeles Times)
In case you didn't venture out Sunday to downtown, the Mid-Wilshire neighborhood, Koreatown, Melrose Avenue or Hollywood, the L.A. Phil undertook the most elaborate event of its audaciously ambitious celebratory 100th season. It partnered with the car-free streets initiative CicLAvia to close off seven miles of roads between Disney Hall and the Capitol Records building in Hollywood to automobiles. The orchestra organized events throughout the day at various stages along the route, including at the Hollywood Bowl, a final mile away. There were, as well, pop-up concerts, roving and/or riding performers and various workshops. Food trucks go without saying.
The celebration ended at the orchestra's free evening Bowl concert, a gift to the community, featuring Dudamel, the L.A. Phil and its youth orchestra YOLA, and an important and politically cogent orchestral world premiere by Venezuelan composer Paul Desenne. Pop star Katy Perry performed with fireworks, and other acts filled out the bill including Kali Uchis, jazz great Herbie Hancock and finally Williams. Throughout the day, a staggering 1,800 performers (dancers included) participated from all walks, so to speak, of musical life. Make that 1,800 and one, but more about that later.
It feels like in a day something incredible has changed in the century-long relationship between a symphony orchestra and its city.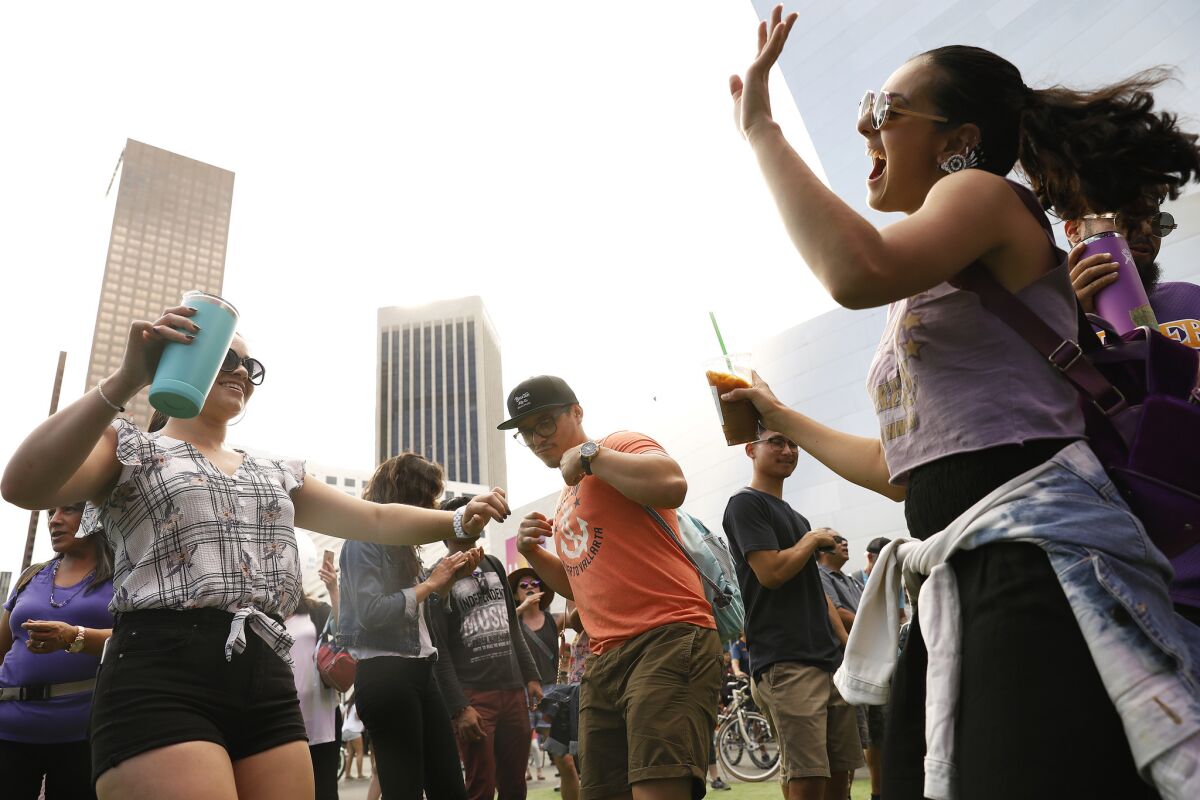 Mapping out a reasonable schedule for a day was hardly feasible. I chose to walk rather than bike the CicLAvia route, better for absorbing the atmosphere, catching sounds and being available for any kismet on offer. Everyone's experience was, like the lives we lead, meant to be different. Here's mine.
Besides Williams' five-minute flourish of brass and percussion at the Grand Avenue kickoff, Dudamel stood on a platform in the midst of a crowd of spectators conducting more than 400 members of YOLA. There were speeches by politicians predictably supporting the popular CicLAvia but even more enthusiastically jumping on the L.A. Phil bandwagon. The Centennial High School band from Compton took over.
Heading down Grand and turning west on Wilshire revealed the first, if unacknowledged, cultural landmark: Good Samaritan Hospital. It was here 106 years ago that the most important artist from L.A., John Cage, was born. There is no marking (come on, L.A., how much does a plaque cost?), but since Cage will play a major part of the L.A. Phil's upcoming season, open a music series at the new Wende Museum of the Cold War in Culver City and was the subject of a groundbreaking concert at Pomona College two days earlier, there was only one thing to do: a performance of his silent piece, "4'33"." (Someone had to do it.)
The streets were now alive with their own sounds, as if the day were a giant Cage "Musicircus," in which any and all music is invited to coexist without interference. An Indonesian gamelan orchestra with its alluring metallophones played in front of the 1929 Art Deco Bullocks Wilshire building while a Oaxacan band and dancers headed down the avenue toward it, creating a delicious new musical fusion cuisine.
At MacArthur Park, tap dancing was the act on the Levitt Pavilion bandshell. Dudamel was there with his young son, Martín, and his wife, Spanish film star María Valverde, playing the game Connect Four, all wearing L.A. Phil T-shirts. They headed off to find the fanciful giant puppet of the conductor that was parading down Wilshire somewhere behind the Oaxacan parade.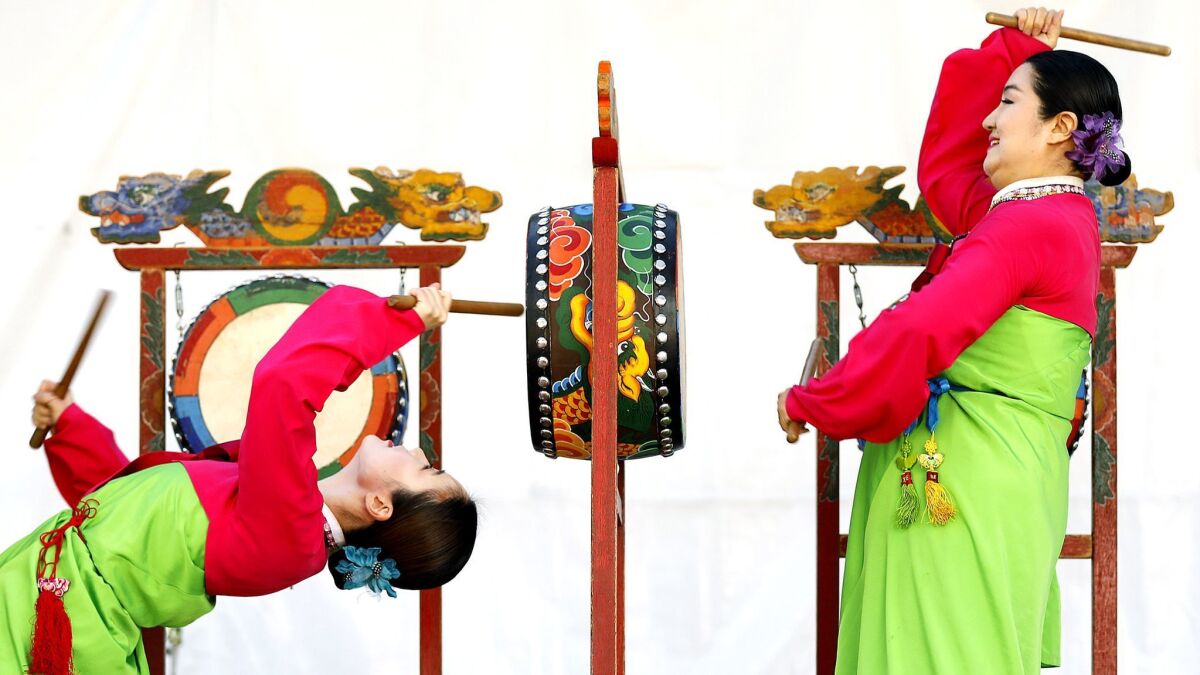 Korean drumming at the Koreatown hub provided a reminder that the notion of world music is a Californian phenomenon and that the gamelan and traditional Korean music were among the most powerful resources of our greatest pioneer of musical hybridization, composer Lou Harrison. Meanwhile in a marvelously serendipitous transition, West African drummers were active a half hour later when I reached the Paramount Studio Gates at Melrose and Windsor avenues, and after that, trumpeter Wynton Marsalis and his Jazz at Lincoln Center Orchestra were in magnificent form in the parking lot next to Capitol Records. That trek alone was a brilliant lesson in the DNA of our aural landscape.
Relying on chance for a six-hour trek meant missing pianist Joanne Pearce Martin on a pedicab, bassist David Allen Moore performing La Monte Young's Cagean "Draw a Straight Line and Follow It," Mozart, Bollywood and much, much else.
It's a big city.
A few hours later, Dudamel began the evening at the Bowl with members of YOLA joining the L.A. Phil for Mexican composer Arturo Márquez's seductive "Conga del Fuego Nuevo." Desenne seemed at first to want his new "Guasamacabra," one of the more than 50 L.A. Phil centennial commissions, to be equally seductive. It begins with the kind of happy Venezuelan tune known as a guasa.
But the composer, who like Dudamel came out of El Sistema music program in Caracas, Venezuela, and now lives in the Boston area, writes in his program note that he could hardly ignore the terrible situation the youth have faced during "the unbelievable final collapse of Venezuela this past year," as he was composing the piece. The guasa comes apart, rhythms no longer danceable, the melody fragmented.
Known for his marvelously quirky cello pieces, including one imitating frogs, Desenne calls them in again. A startling, stirring strumming becomes frogs demanding that Venezuela dance again. This is a piece that needs to be heard many times.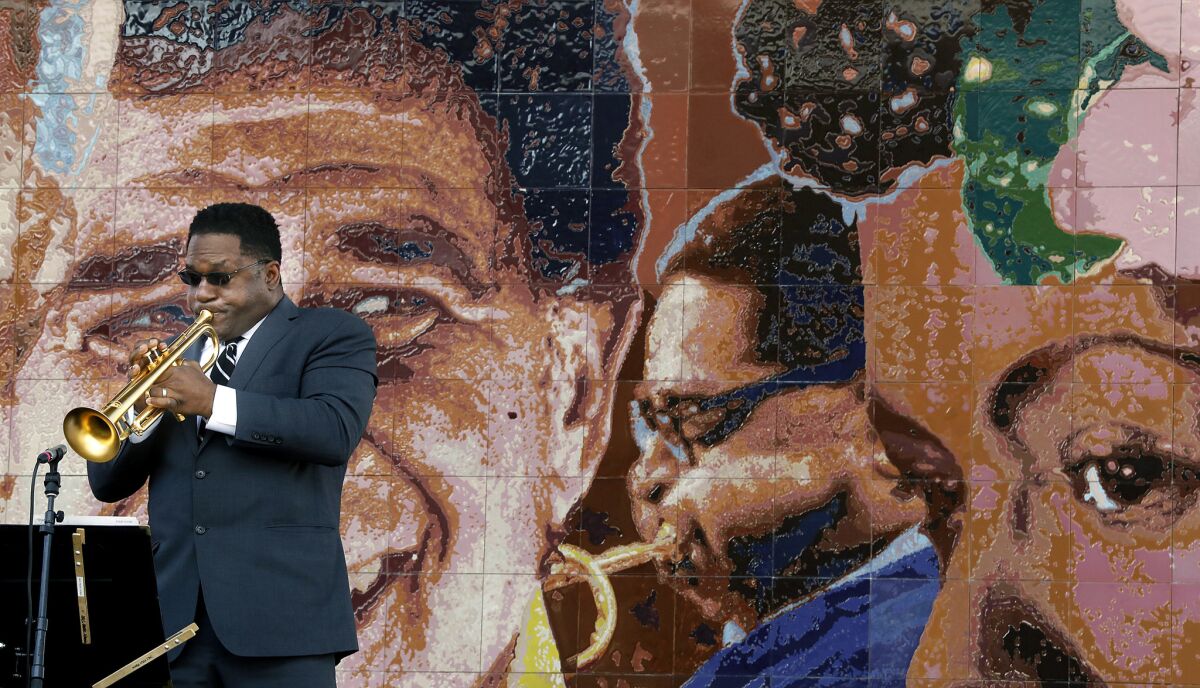 At the start of the day, Dudamel had told the audiences that "with music nothing is impossible." With the ending of Stravinsky's "Firebird" and then the famous guest stars each joining the conductor and the orchestra for a short set, the formal concert setting reflected the day on the streets, and the impossible did seem possible. A superstar like Perry, with her billions of streams, was, for a few minutes anyway, one of us, a member of the community (although that striking dress wasn't exactly T-shirt and jeans).
Given the ambition of the orchestra's season, which starts for real this week, concert-wise, a street party of a populist Hollywood Bowl program might seem — and in many ways is, — the tip of the iceberg. But it feels like in a day something incredible has changed in the century-long relationship between a symphony orchestra and its city. After Sunday's "Celebrate LA!," all histories of the symphony orchestra are out of date, including the beautifully illustrated $100 "The LA Phil at 100" that went on sale at Disney just the other day.
---
Get our L.A. Goes Out newsletter, with the week's best events, to help you explore and experience our city.
You may occasionally receive promotional content from the Los Angeles Times.