Review: Getting to know — or at least trying to — Matthias Pintscher at an L.A. Phil concert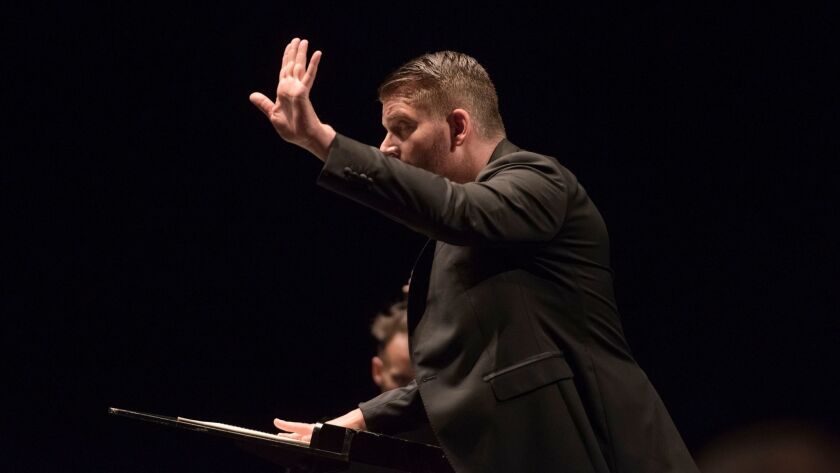 Music critic
German conductor and composer Matthias Pintscher, who began the Los Angeles Philharmonic's new year in a program of French music and a piece of his own at Walt Disney Concert Hall on Friday night, may or may not be a candidate for music director of the Los Angeles Chamber Orchestra. Top brass was on hand, but no one's talking. He will, however, definitely become more of a presence in Southern California.
Pintscher's bio in the L.A. Phil program book leaked the news that he will make his Hollywood Bowl debut this summer. And last week the Ojai Music Festival announced that Pintscher has been tapped to be music director of the 2020 festival. Maybe by then we'll have a better idea of this enigmatic musician who is both a progressive and romantic.
He came out of the world of modernist German music but with a compelling feeling for French culture. He has followed, as conductor and composer, in Pierre Boulez's footsteps. He is currently music director of Ensemble Intercontemporain and principal conductor of the Lucerne Festival Academy Orchestra (which trains young players in new music), both of which Boulez founded.
And, like Boulez, he has become as well known, if not better, for his conducting rather than his own music. About to turn 47 later this month, he has few major orchestras with which he has yet to make his debut as a conductor. Big name soloists want pieces from him (a cello concerto for Alisa Weilerstein was recently given its premiere by the Boston Symphony) and so do big concert halls (he was artist-in-focus, whatever that means, for the spectacular new Elbphilharmonie in Hamburg, Germany, last year).
Pintscher is clearly worldly. He lives in New York, where he teaches at the Juilliard School, and he just made a marvelous, and quirkily idiomatic, recording of New York new music — from Cage to Carter to Steve Reich and the present generation — with his Ensemble Intercontemporain in Paris, apparently without a single American musician.
The L.A. Phil program didn't do much to help pin down Pintscher. He ended the first half of the program with his own piece "mar'eh," a violin concerto that glides on gossamer wings for an unbroken 22 minutes, never touching land. He ended the concert with Dukas' playful "The Sorcerer's Apprentice," which is full of clumsy footfalls.
Then there was the French/Spanish theme with Ravel's opulent, devil-may-care "Rhapsodie Espagnole" and Debussy's more particulate and shaded "Ibéria." Both composers breathe the intoxicating Spanish night air and dance the dances, but Ravel does so with his senses, as a participant, and Debussy as a rigorous observer.
Where does Pintscher stand? Seemingly everywhere and nowhere.
His conducting style is relatively broad, a little heavy and somewhat reserved, all of which can disguise his impressive command of a score. He has a generous sense of color.
In the "Rhapsodie Espagnole," he stayed out of the way, letting Ravel take the orchestra for a scenic ride. Pintscher probably didn't stay out of the way of "mar'eh," although he made it seem that way. The title is Hebrew for the vision or aura of a face, and the concerto might be likened to the enticing blur before the eyes focus or an intriguing figure in the fog.
The soloist was French violinist Renaud Capucon, who has an ideally lithe tone and who was able to make mysterious melodies come out of, and after a long flight, fade back into the mists. The orchestra was decorative, quiet, iridescently hued. A large tam-tam, for instance, was brushed not struck.
Getting all the details right must have been an exacting task, but Pintscher made the performance seem as if it were happening on its own. The unintentional rustles of the audience and the intentional ones of the orchestra became one. If nothing else, that alone would have proved a wonderfully accepting and non-dramatic way to start a new year.
Pintscher's approach to Debussy was then to lift the fog and bring out details. His approach to "The Sorcerer's Apprentice" was to apply a heavy hand. Forget "Fantasia" and Mickey Mouse with a broomstick. Pintscher enjoyed Dukas' orchestral parodies for their jolly radicalism, something else worth pondering at the skewered dawn of 2018.
---
Your essential guide to the arts in L.A.
Get Carolina A. Miranda's weekly newsletter for what's happening, plus openings, critics' picks and more.
You may occasionally receive promotional content from the Los Angeles Times.