Review: Disney Hall's hidden corridors became a stage for dancers in Benjamin Millepied and L.A. Phil's 'Romeo and Juliet'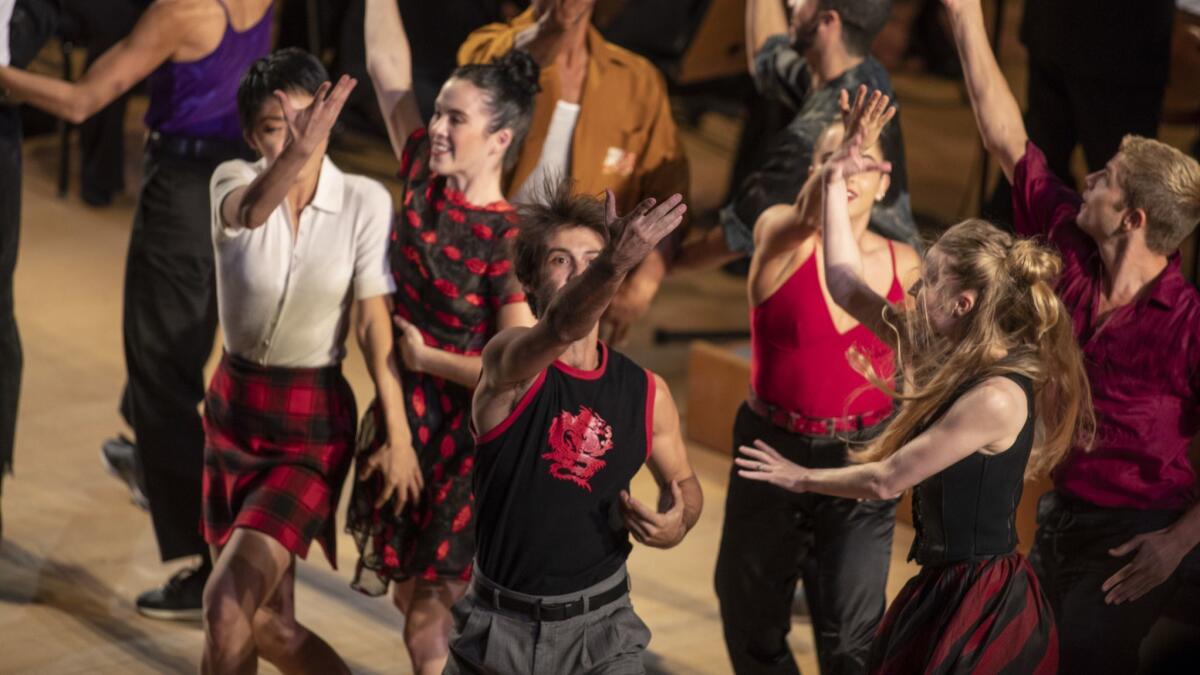 Music Critic
The Los Angeles Philharmonic's centennial season powers into its third week. It's hard, I know, to keep track.
Gustavo Dudamel has been involved in eight different programs. I'm running out of fingers, but I think 10 commissioned centennial works have so far premiered (making dozens to go). There have been groundbreaking events at Walt Disney Hall, the Hollywood Bowl and along the streets in between, to say nothing of two actual groundbreakings for educational YOLA projects in Inglewood and MacArthur Park. The 24/7 L.A. Phil news cycle has further included violinist Vijay Gupta being awarded a MacArthur "genius" grant and Dudamel the Lillian Gish Prize.
All of this might make Dudamel's Thursday night Disney Hall performance of Prokofiev's beloved ballet, "Romeo and Juliet," seem practically quotidian. After all, last year he conducted a sizable selection of numbers from the ballet in Disney and accompanied Misty Copeland in the balcony scene at the Bowl.
It is also worth noting that Prokofiev's score happens to have been a specialty of Dudamel's two most recent predecessors, André Previn and Esa-Pekka Salonen (who recorded his own selection of numbers with the L.A. Phil in 2007). But, in keeping with the L.A. Phil centennial ambitions, Dudamel this time took up Prokofiev's full 135-minute score, a rarity for concert performances.
That, though, was hardly enough. Choreographer Benjamin Millepied and his L.A. Dance project staged selected sections of the ballet. Even that was not enough: Through the use of live video and dance, Millepied took over backstage, the garden and other parts of Disney.
And, no, that was still not enough. The performances, which run through Sunday afternoon and employ three casts of principal dancers, are being recorded by the L.A. Phil to be used as the soundtrack for a Millepied film of ballet to be shot around L.A.
Wouldn't you know, the L.A. Phil has yet another sensation on its hand, both as a glorious orchestral extravaganza and for Millepied's ingenious site-specific choreography.
The orchestra was pushed back to the wall, recessed to allow for dancers in front, that space used for street scenes. A large video screen covering the organ pipes took us elsewhere.
During the balcony scene, Romeo (David Adrian Freeland Jr. in a bright yellow Hawaiian shirt) runs up the stairs on stage right and out the exit followed by a videographer, then out into the garden where Romeo meets Juliet (Janie Taylor in delicate dress and black sneakers). Their pas de deux is danced amid plants and, spectacularly, in the sculptural space between the hall and the amphitheater, the dancers reflected on the shiny steel.
The fight scenes are backstage and through hallways into the L.A. Phil offices. Juliet's tomb is, with creepy effectiveness, under Disney and surrounded by wiring. For their final duet, they are touchingly alone on the bare stage before the orchestra.
Millepied's choreography is full of life — ballet steps and street steps and quirky out-of-nowhere steps all seeming part of the same dance vocabulary, whether Taylor's girlish Juliet, Freeland's exuberant Romeo, Nathan B. Makolandra's belligerent Tybalt or the company's animated six-member troupe.
Still, the real buoyancy came from the orchestra.
While only a fifth of the score was danced, I doubt that anyone before has ever experienced Prokofiev's ballet quite like this. Has there ever been a production where dance is paired with an imaginative full score emanating not from the pit, but from an orchestra onstage in one of the world's greatest acoustical spaces?
In an effort to convey a broad dramatic arc, and to move a long concert along, Dudamel did not linger on Prokofiev's ear-catching orchestral effects. His tempos were often breathtakingly fast. But he did put a great deal of emphasis on the lower strings and brass, producing a tremendous sense of presence.
The score itself remains a great orchestral showcase, its big effects offset by distinctive instrumental solos, fleeting though they may be. Most important, this was the first real opportunity to get a sense of two key new principal players.
Unlike oboists of the so-called clear-throated "America school" common in U.S. orchestras, Ramón Ortega Quero provides a reedier, stout timbre with viscosity and character of a fine olive oil. Meanwhile Teng Li, who now heads the violas, conveyed a robust evenness to her solos and seemed to bring vibrant density to her section.
Over the past three weeks, the L.A. Phil has had to change on so many dimes that it has been difficult to get a sense of exactly what this orchestra now really sounds like. Is it one sound or a hundred? Thursday night it was one sound that integrated bigness, boldness, flexibility, power, precision, grace, finesse, flair and on and on.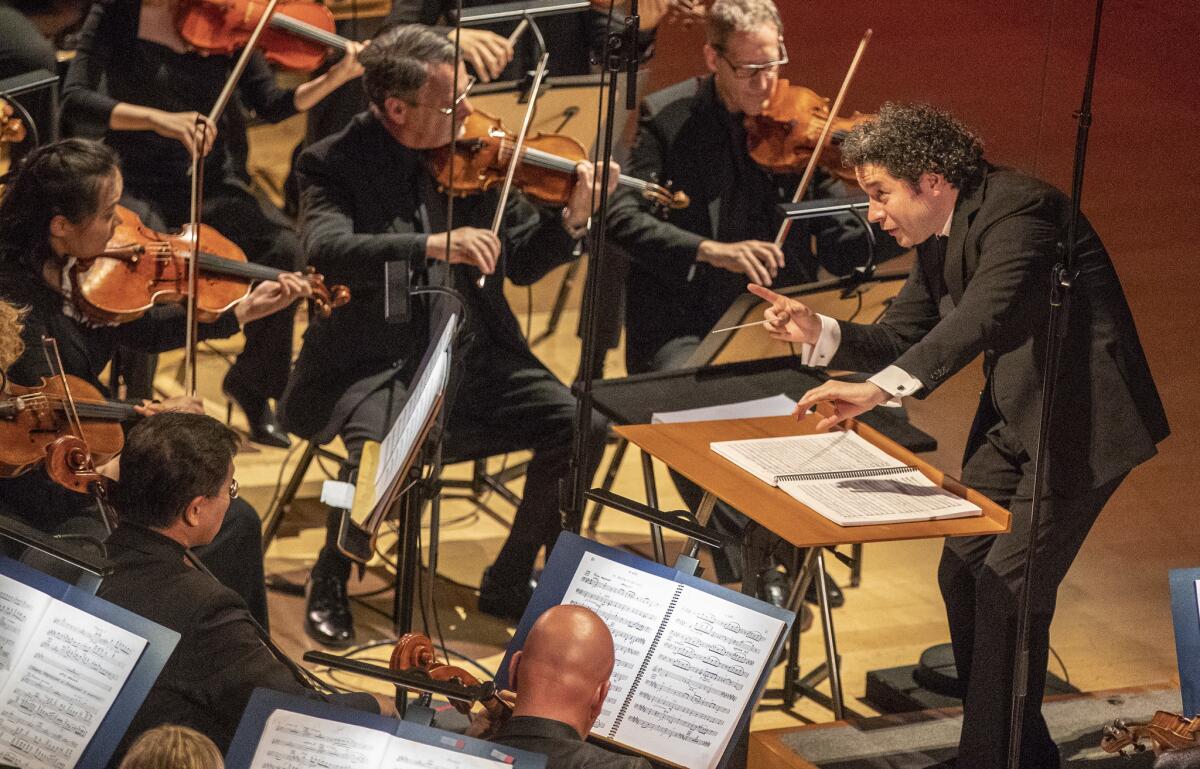 Where: Walt Disney Concert Hall, 111 S. Grand Ave.
When: 8 p.m. Friday and Saturday, 2 p.m. Sunday
Get our L.A. Goes Out newsletter, with the week's best events, to help you explore and experience our city.
You may occasionally receive promotional content from the Los Angeles Times.