Review: Why this woman fed hay and water to a baby grand piano outside Disney Hall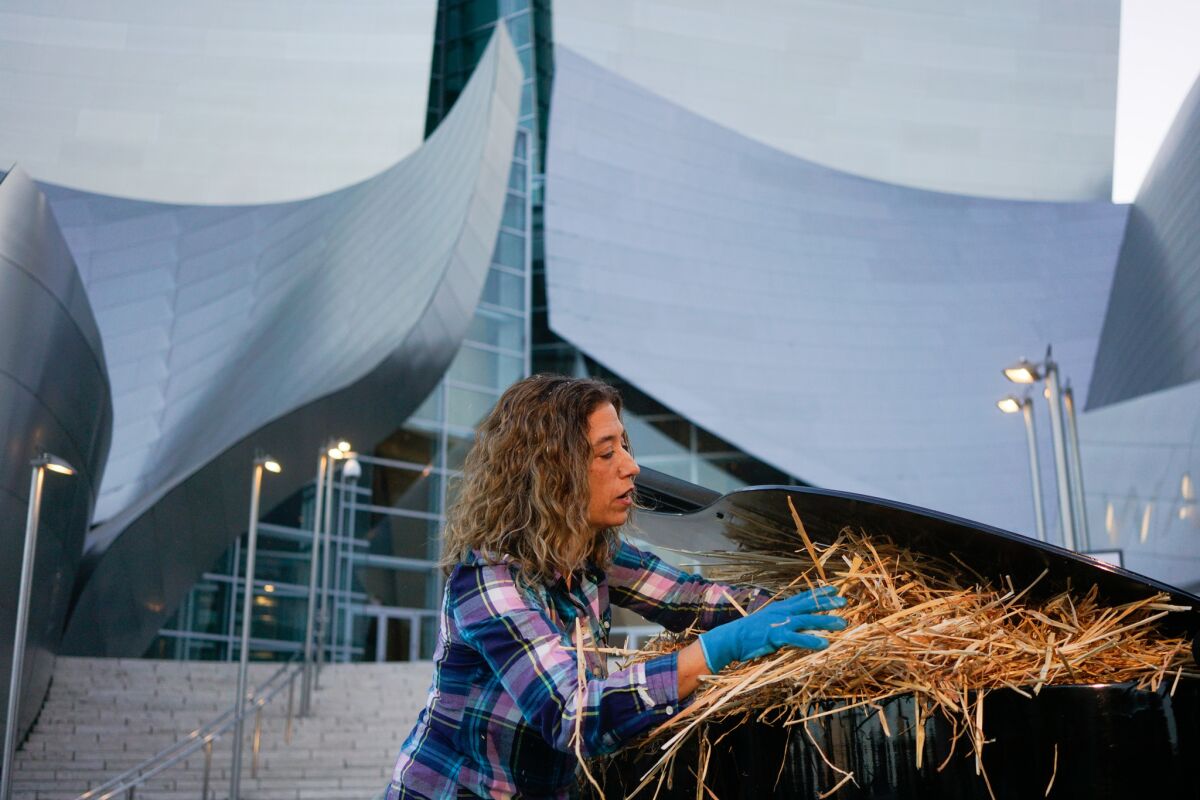 Music Critic
As the sun was going down Thursday night, the steel of Walt Disney Concert Hall reflected the colors of twilight and an oncoming chill in the air added a sense of expectancy. A baby grand piano on the plaza at 1st Street and Grand Avenue waited patiently to be fed. Bales of hay were beside it, and spectators milled around, admiring the cute little guy (I'm only guessing it was a guy, piano gender being beyond my expertise).
The Los Angeles Philharmonic's keyboard handler, Joanne Pearce Martin, came out with a pitchfork and filled the instrument. She then gave it plenty of water to drink and left it to its digestion.
However anti-establishment La Monte Young's "Piano Piece for David Tudor #1" may have been meant when conceived back in 1960, here it provided a tender Fluxus moment, bringing the kind of smiles to onlookers that, say, a particularly loving performance of a Mozart piano concerto might.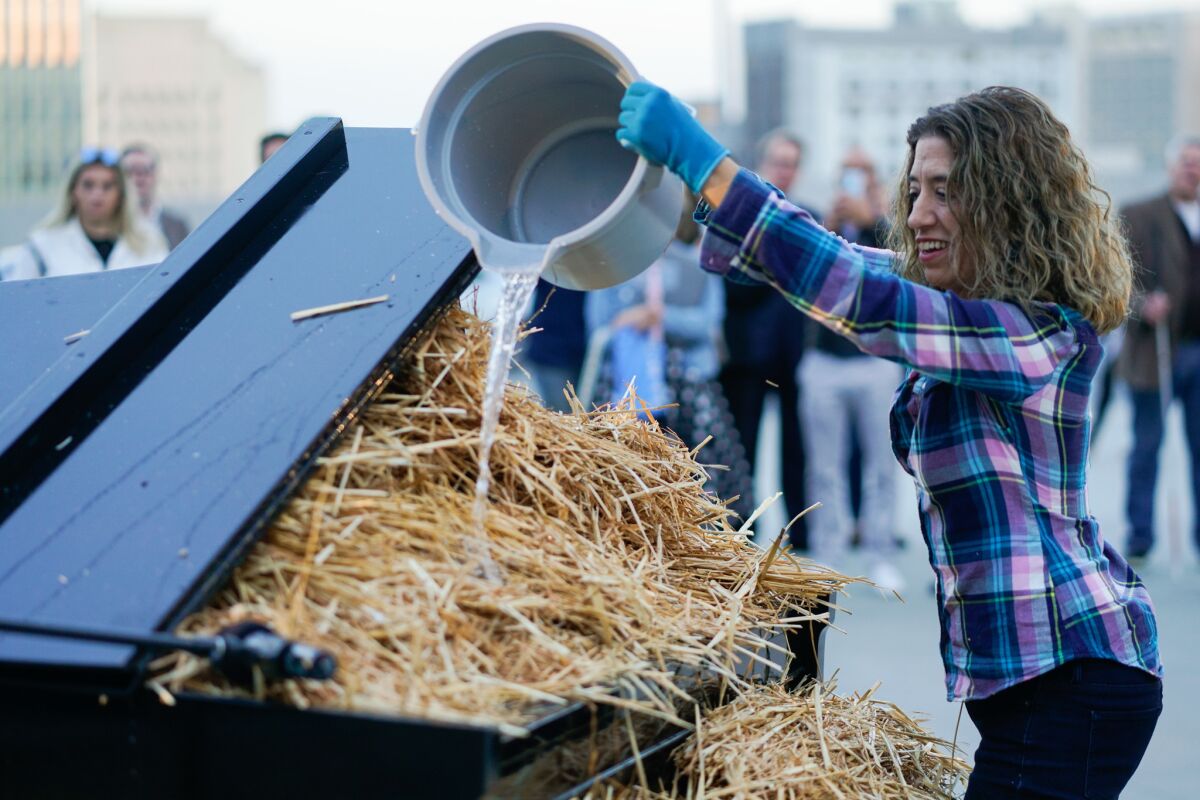 A little while later inside the hall, Emanuel Ax was jockey to a sleek Steinway thoroughbred, the full-sized creature polished to a fine glossy black shine. I can't say whether it had been fed or not (some piano trainers apparently recommend hay after exercise). Ax rode Mozart's Piano Concerto No. 23 in just such a loving way that, had the full house of ticket buyers been at Santa Anita, we'd all be rich. Yet even without winnings, Ax gathered many authentic Mozartean smiles.
The original intent for this concert was to have been a direct juxtaposition of the L.A. Phil's ongoing investigation of the Fluxus so-called anti-art movement with its actual concert programming. However, fire marshals, who had been perfectly OK with fireworks on the Disney stage a few years ago, wouldn't hear of hay, thus ensuring Fluxus' outsider-art standing from classical music co-optation.
At its most effective, Fluxus jolts you into the present, helping you be in the world afresh. In this case, the exceptional grace of movement that Ax brought to the rapid passages seemed meant for our time and sensibilities. The slow movement was bathed in 21st century beauty, the piano's sweet tone matching the colors of the winds with a subtlety that would make a graphics card with 16 gigs of memory jealous. In the last movement, Ax brought a Pegasus quality of winged flight that no virtual reality could come close to matching.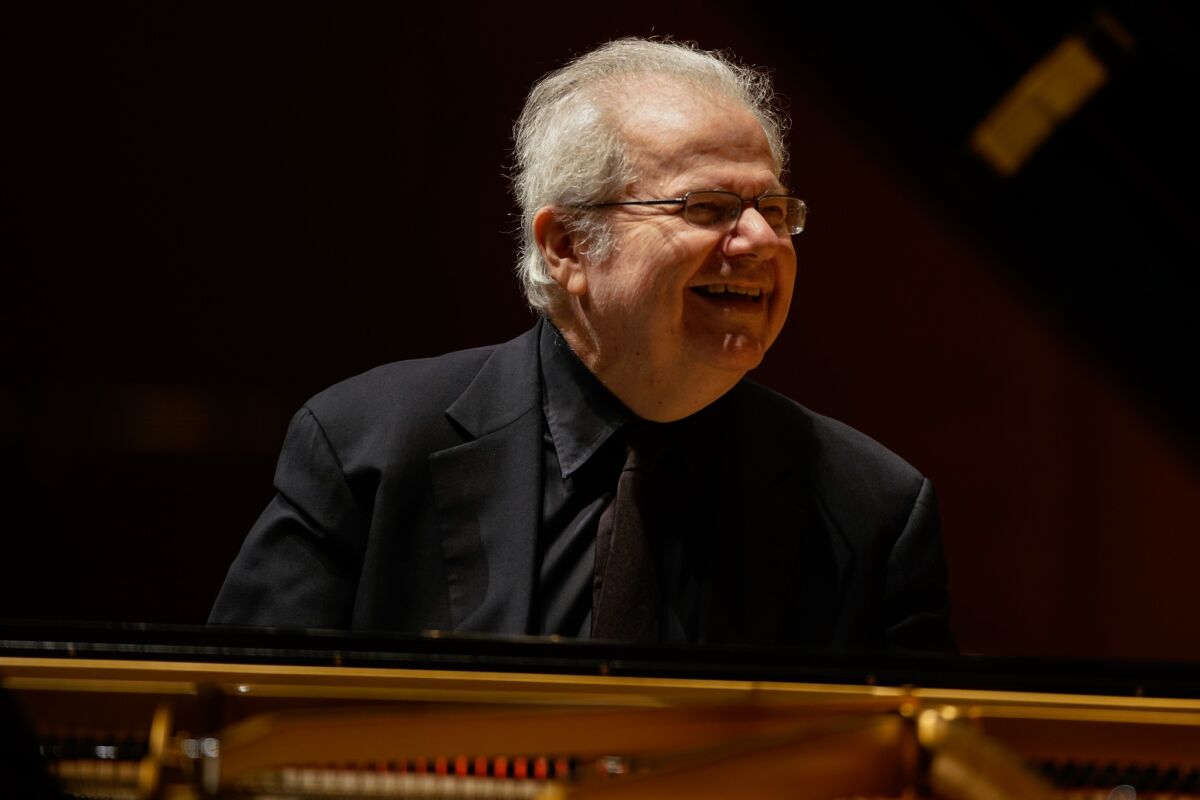 For the second half, again something radical was followed by something traditional. The L.A. Phil premiered "The only one" by the one and only Louis Andriessen. He is Holland's leading composer — easily the best and most important composer since Jan Pieterszoon Sweelinck died nearly 400 years ago — and far and away the most radical of any major composer on the scene today.
The scion of generations of leading Dutch composers, Andriessen doesn't like orchestras and never has. Approaching his 80th birthday, he lately has let the Royal Concertgebouw Orchestra in Amsterdam and the New York Philharmonic twist his arm for new pieces. But he told me at intermission that he's had it with orchestras, making an exception now only with the L.A. Phil, because it does programs like this one. Still, he was a little perplexed that Esa-Pekka Salonen, who put the program together, would then play Beethoven's First Symphony.
In fact, an Andriessen sandwich — "The only one" between a Mozart concerto and a Beethoven symphony — made perfect sense, allowing the song cycle intended for a feisty singer to all the more dramatically stand out. The strings — the composer particularly doesn't like a big, lush string sound — are limited. Winds and brass hit hard. There is percussion aplenty, and electric guitars.
The texts are by a Flemish poet, Delphine Lecompte, with a modern, troubled sensibility full of suggestive imagery about cats scratching, stroked breasts and baby fat. The singer, Nora Fischer, began as punk stylist and changed her clothes and singing style throughout the 20-minute work, winding up more grown-up at the end. During the interludes she bopped around the orchestra, peering over the players' shoulders, you might say making hay.
Andriessen used bits of old music, an allusion to the Dies Irae motif and some Minimalism, a jazz riff here and a Mexican brass allusion there, as he often has. But he always remakes it into a complex and powerfully blatant new thing, and here edge-of-your-seat operatically so.
After that, there was only one way to play Beethoven's First: like new music. Salonen took great care in balance and phrasing but also went in for percussive punch. The pungency of Andriessen's wind chords, twanging guitars and striking complements to startling poetic imagery were still fresh in a listener's imagination, as was Fischer's irreverence. The way was thus paved to sense the shock of what must have been the effect of Beethoven's own startling irreverence at the first performance of his first attempt at remaking the symphony.
Talk about making hay.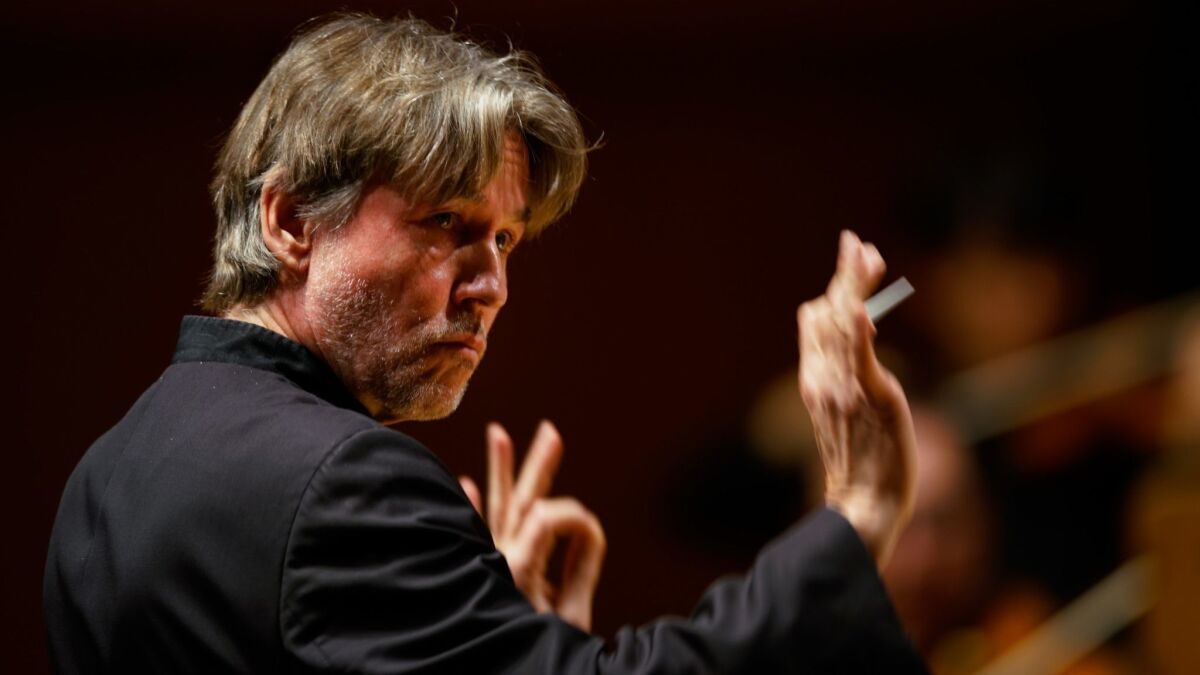 =====
Los Angeles Philharmonic
Where: Walt Disney Concert Hall, 111 S. Grand Ave., L.A.
When: 8 p.m. Saturday and 2 p.m. Sunday
Tickets: $61-$199
Info: (213) 850-2000, laphil.com
Get our L.A. Goes Out newsletter, with the week's best events, to help you explore and experience our city.
You may occasionally receive promotional content from the Los Angeles Times.