Lee Quiñones is famous for his graffiti. An L.A. exhibition shows the artist to be more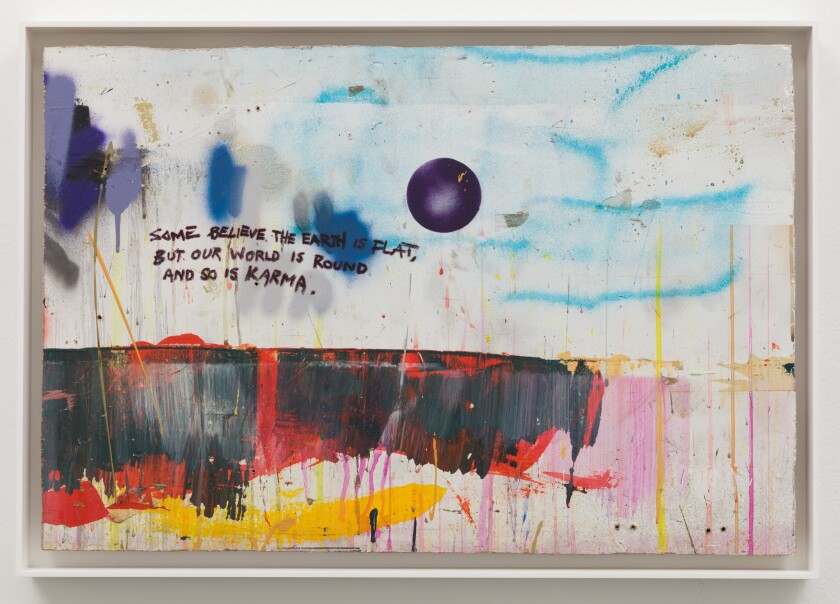 Lee Quiñones has been making paintings in the studio for almost 40 years, but he always will be best known for graffiti. Emerging in New York City in the 1970s, the Nuyorican artist rose to prominence with massive, comic book-inspired subway car murals that carried his moniker, "LEE," all over the city.
His current exhibition at Charlie James Gallery looks back at both phases of his career. It features a few new paintings, but the bulk of the show is devoted to "tablets" cut from his studio walls and early sketches and drawings from the 1970s through the 2000s. The latter are the most intriguing, representing a scattershot, somewhat melancholy archive of a time and an urban landscape long gone.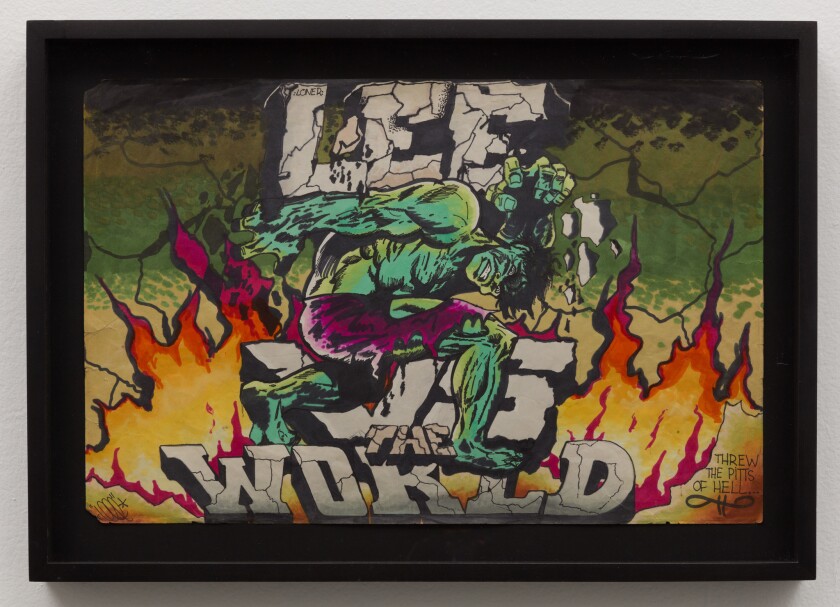 By contrast, the "tablets," dated 2005 to 2018 feel a bit cynical. Drywall fragments cut into salable sizes from Quiñones' studio walls, they feature all the splatters, drips and sprays one might expect. Less expected are the handwritten aphorisms and quotes that pepper their surfaces. They're the kind of notes that artists jot down as inspiration or encouragement. "Some believe the earth is flat, but our world is round, and so is karma," reads "Tablet #9." They are documents of artistic process, but they come across more like consumable relics anointed by the artist's touch, rather than purposeful works in their own right.
The real treats are in the gallery's back room and basement, including several stunning, full-color marker drawings from the 1970s and '80s that showcase Quiñones' considerable talents as a draftsman and colorist. "Lee vs. the World," from 1980, features the comic book Hulk character straining with Herculean effort beneath the weight of the titular letters, which look as if carved from stone. Flames rage below as the entire picture, riven with cracks, appears about to explode off the page.
"The Ways of Man," from 1981, is a much rougher sketch, simply outlined in black ink. Against a backdrop of belching smokestacks, two men shake hands while stabbing each other in the back. It's a succinctly powerful indictment of a society that cares as little for the environment as it does for its young men.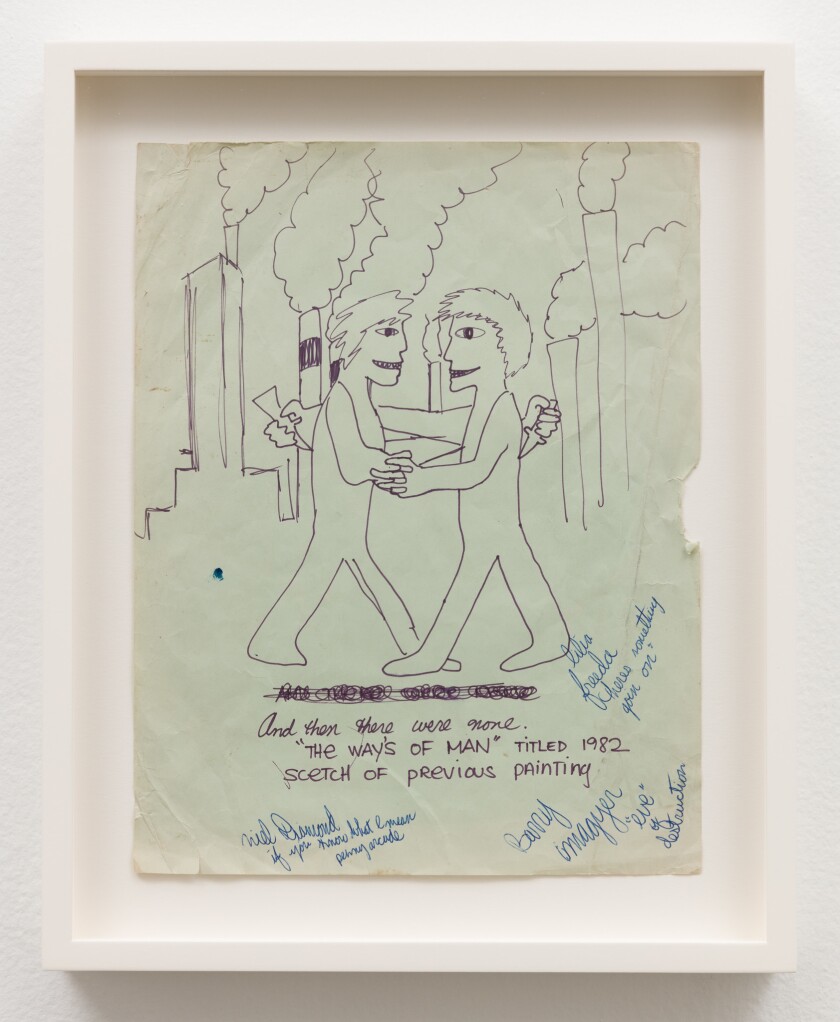 In most cases, such sketches are all that remain of Quiñones' murals and subway car works. Graffiti as an art form has long been tamed and commercialized. On Venice Boulevard the other day, I spotted four men spraying graffiti-style lettering on a construction fence in broad daylight. Although still ephemeral, graffiti is sanctioned, even commissioned. Shows like Quiñones' rouse some nostalgia for the days when it ran wild.
Charlie James Gallery, 969 Chung King Road. Open Wednesdays-Saturdays, through March 2. (213) 687-0844, www.cjamesgallery.com
Support our coverage of local artists and the local arts scene by becoming a digital subscriber.
See all of our latest arts news and reviews at latimes.com/arts.
---
Your essential guide to the arts in L.A.
Get Carolina A. Miranda's weekly newsletter for what's happening, plus openings, critics' picks and more.
You may occasionally receive promotional content from the Los Angeles Times.