'Letters Live' makes its U.S. public debut at Theatre at Ace Hotel
The letter was more than 1,000 years old. In 1900, a Daoist monk named Wang Yuanlu unearthed an ancient Buddhist cave library near the town of Dunhuang in western China. When he pried open the sealed cave, he found inside, among other relics, a brittle, handwritten letter from the 9th century, penned in AD 856.
Its contents? The letter was an apology note from the author, a local official, to his dinner party host for having gotten too drunk the night before and behaving badly.
"And it was a form letter! That's how often it happened back then," says letter aficionado Shaun Usher, founder of the long-running blog Letters of Note. "It just shows you: nothing's changed. It could've been written today."
The cave letter was performed by British actress Olivia Colman to hilarious effect several years ago, before a London audience of about 1,500 at the staged show "Letters Live," which Usher co-produces. The recurring U.K.-based event, which celebrates the lost art of literary correspondence, has A-list talent such as Benedict Cumberbatch, Gillian Anderson, Russell Brand, Nick Cave, Ben Kingsley, Neil Gaiman, Stephen Fry, Sally Hawkins, Ian McKellen and others perform real letters, from different time periods and across the globe, for a live audience, typically in grand, theatrical settings. It's been running for more than four years in Britain and will now make its U.S. public debut at the Theatre at Ace Hotel on Monday night.
The messengers that evening? Mark Hamill, Jake Gyllenhaal, Anjelica Huston and Catherine Keener are among those scheduled to perform letters during the show.
"Usually we keep the lineup secret. That's part of the appeal. But it turns out L.A. is a different beast," Usher says of star-savvy Angelenos, who want to know whom they can expect to see on the bill.
The epistolary event, which Usher co-produces with Canongate Books' Jamie Byng and Cumberbatch's producing partner Adam Ackland, is spare in execution but potent. There are few visuals onstage, just the letter-bearer at a lectern, sometimes with projected text overhead offering the letter's origins. A letters-inspired musical number is often performed at the start and end of each show — B.B. King's "The Letter" or Nick Cave's "Love Letter," for instance.
But bringing a handwritten letter to life, no matter how simply as it turns out, sparks endless stories and a spectrum of emotions. There are love letters, rejection letters, corporate memos, war correspondences, open letters to newspapers, erotic letters, fan mail, hate mail. "Oct. 19, 1860," "Sept. 1920," "Nov. 5, 2006…" "Dear President Eisenhower," "Dear Laurence," "To all those at MTV …," as the missives in one show began.
Every letter has a "little story" embedded within it, Usher says. One show featured the last letter Virginia Woolf wrote to her beloved husband, Leonard Woolf, before she drowned herself in the River Ouse. Another show included the letter Mohandas Gandhi wrote to Hitler in July, 1939, urging him to prevent war; it was intercepted by the British government and never delivered. Yet another show featured a cheeky exchange of letters between "Simpsons" character Marge Simpson, as penned by the TV show staff, and then-First Lady Barbara Bush.
"There's a voyeuristic aspect, it feels quite wrong at times," Usher says of listening to letters, intended to be private, read aloud. "There's sadness, anger, love and longing. Humor. It's a roller-coaster ride, we don't want anyone to be too comfortable in their seats."
Cumberbatch, a partner in "Letters Live," has been involved since the first show in 2013 and has performed more than a dozen times in it. As a film and TV actor he appreciates the direct, intimate connection with the audience, but says performing letters also comes with "great responsibility."
"You're curating this kind of bizarre but incredibly precious artifact," Cumberbatch says. "Bizarre in that it's not the usual text people think of as a form of live entertainment. How do you bring this to life, these incredibly condensed moments in time, these personalities? It's scary, but it's terribly satisfying."
"You come off hoping you did justice to the letter," Cumberbatch adds, "but I've never come off stage not having had just about as good of a time you can as a performer."
The evolution of "Letters Live" is especially personal for Usher. His blog Letters of Note, started nearly 10 years ago, grew out of despair. After his then-girlfriend moved to Spain, only weeks after they'd met and formed an instant connection, the lovesick couple began corresponding through handwritten letters. "We learned so much about each other," Usher says. "Somehow, writing a letter feels safer than an email. Secrets on paper."
Their relationship lasted — they're now married — and so did Usher's fascination with the lost art of letter writing. Then an advertising copywriter, he scoured libraries, museums and online archives to find the most obscure, funny, telling, dramatic, interesting and inspiring letters, postcards, telegrams and other written correspondence he could, then featured the documents online.
In 2013, U.K.-based Canongate published a collection of letters from the blog. And the live event they staged to promote the book got an overwhelming response. Simon Garfield's book "To the Letter," also published by Canongate that year, provided inspiration for the event as well.
"I saw it as a one-off, but it just took off," Byng says. "By the end of the show people were asking, 'when's the next one?'"
Several books — and more than 600 individually-performed letters later — "Letters Live" is now its own entity and has staged shows in England, Scotland, Ireland and Wales. A percentage of proceeds from every show goes to charity. Monday's show will benefit literacy nonprofit 826LA and Women for Women International, which supports female survivors of war.
In the U.S., Usher's "Letters" books are published by Chronicle, and in 2015, "Letters Live" partnered with 826LA for a private benefit. Jimmy Kimmel hosted the event, held at the Santa Monica Bay Women's Club, and B.J. Novak, Julia Louis-Dreyfus, Aimee Mann, Thandie Newton and others performed.
But "Letters Live" hasn't been open to the public in America until now.
The Los Angeles lineup, a one-night-only event that's a partnership with online fashion retailers Net-a-Porter and Mr. Porter, will include about 20 performed letters. In addition to Hamill, Gyllenhaal, Huston and Keener, Stephen Fry, Jarvis Cocker, Shirley Manson, Ian McShane, Minnie Driver and James Corden are scheduled to perform.
What they will be reading, however, is a closely guarded secret.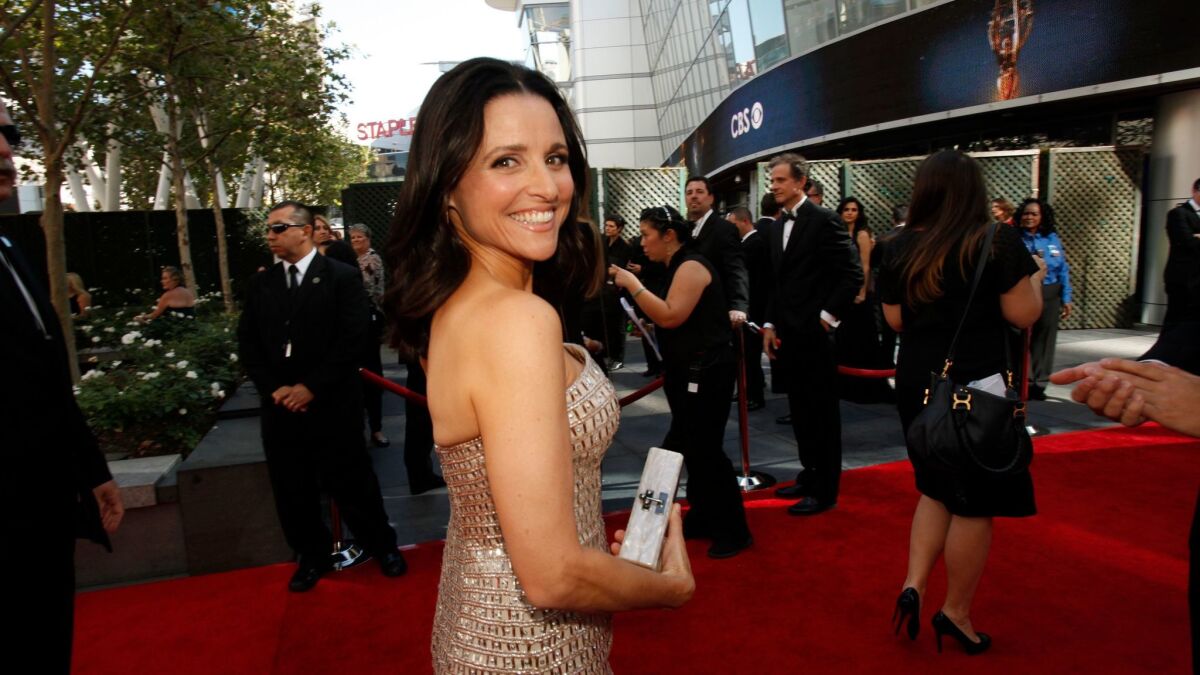 "The element of surprise is woven into the very DNA of 'Letters Live' and is part of its very essence," Byng says, adding that there will also be up-to-the-minute additions to the lineup to punch up the surprise factor.
"'Expect the unexpected' @letterslive," Hamill tweeted earlier this month.
The very nature of a show built around an intimate, "ancient art form" delivered publicly in the 21st century, Byng says, creates a sort of electric creative tension.
"The letter is so deeply personal and everyone in the audience feels that in their own unique way," he says. "But it's also a shared experience — people laughing out loud and profoundly moved, being made to think really hard about something — it's an intense experience. And that's because the letter is such an intense art form."
And a universal one. Usher and Byng don't expect Monday's show to play any differently stateside than it has in Britain.
"I can't see any audience, in any country, not responding to these stories," Usher says. "They encapsulate the human condition. Pretty much everyone can relate."
Follow me on Twitter: @debvankin
ALSO
Letters Live makes its American debut tonight in L.A.
Letters of Note's Shaun Usher discusses the power of the written word
---
Get our L.A. Goes Out newsletter, with the week's best events, to help you explore and experience our city.
You may occasionally receive promotional content from the Los Angeles Times.