Review: Flower beds? Body parts? The compelling abstract paintings of Lily Stockman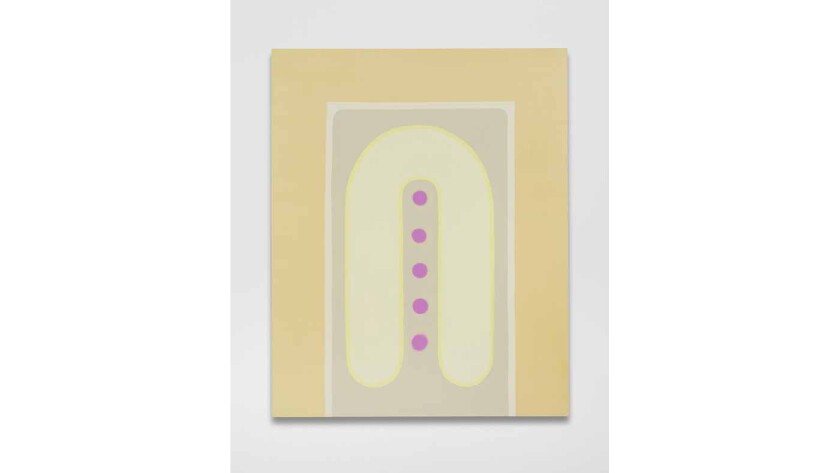 Lily Stockman's strikingly simple geometric abstractions at Gavlak gallery possess a mysterious confidence. Her softly curved lozenges, U-shapes and circles, rendered in a mostly muted palette of grays, yellows and pinks, refer to 1970s feminist abstraction, but also feel strangely unique.
But nothing comes from nowhere, and Stockman's paintings were inspired by filmmaker Derek Jarman's famous sustainable garden in Britain. Stockman's vocabulary of shapes could be flower beds or abstracted body parts, or even a rudimentary alphabet. They suggest a correspondence between landscape and body in which it is hard to tease out which is which. In this sense they embody Jarman's philosophy of gardening with, not in spite of, the natural terrain.
One motif consists of two or more horizontal lozenges stacked , placed atop one another on a vertical canvas. It's vaguely reminiscent of Rothko's stacked rectangles of luminous color, except, where his blocks feather out anxiously to nothingness, Stockman's are discretely rounded and self-contained. They don't have boundary issues; they seem to know who or what they are.
This self-assurance might be due in part to Stockman's background in Buddhist thangka painting. The works certainly have a meditative quality, and the shapes are all created freehand, betraying slight wobbles or asymmetries. It's this human touch that sets them apart from hard-edged abstraction and makes them so quietly compelling.
Gavlak, 1034 N. Highland Ave., Los Angeles, (323) 467-5700, through May 7. Closed Sundays and Mondays. www.gavlakgallery.com
---
The complete guide to home viewing
Get Screen Gab for weekly recommendations, analysis, interviews and irreverent discussion of the TV and streaming movies everyone's talking about.
You may occasionally receive promotional content from the Los Angeles Times.