Review: At South Coast Rep, glimmers of light in 'Little Black Shadows'
Theater Critic
"Little Black Shadows," a new play by Kemp Powers at South Coast Repertory, is set in the 1850s, when slavery in the South is an obdurate fact yet glimmers of a distant dawn are starting to peek through.
Colis (Giovanni Adams) and Toy (Chauntae Pink) are the young black slaves who shadow two white children, Daniel (Daniel Bellusci), a young, diffident flute player who cares little about the rough life of his family's Georgia cotton plantation, and Mittie (Emily Yetter), his conniving Southern belle sister. Colis and Toy tend to Daniel's and Mittie's every need, dressing them in the morning and accompanying them throughout the day.

For the record:
12:20 p.m. April 17, 2018An earlier version of this review erroneously credited Sara Ryung-Clement for the set. David M. Barber is the scenic designer.
At night, when Daniel and Mittie are sleeping in adjacent rooms, Colis and Toy, their beds made up on the floor underneath the bunks of the white children, communicate through a vent in the wall about Colis' dreams and the picture book Toy furtively peruses with help from a jar of lightning bugs and a dynamic imagination.
The tableaux created by these bedtime scenes are gorgeously rendered in May Adrales' visually arresting production. Hana S. Kim's projection and puppet design evokes on the frame of David M. Barber's sumptuous set the kind of silhouette figures visual artist Kara Walker has made a signature of her work.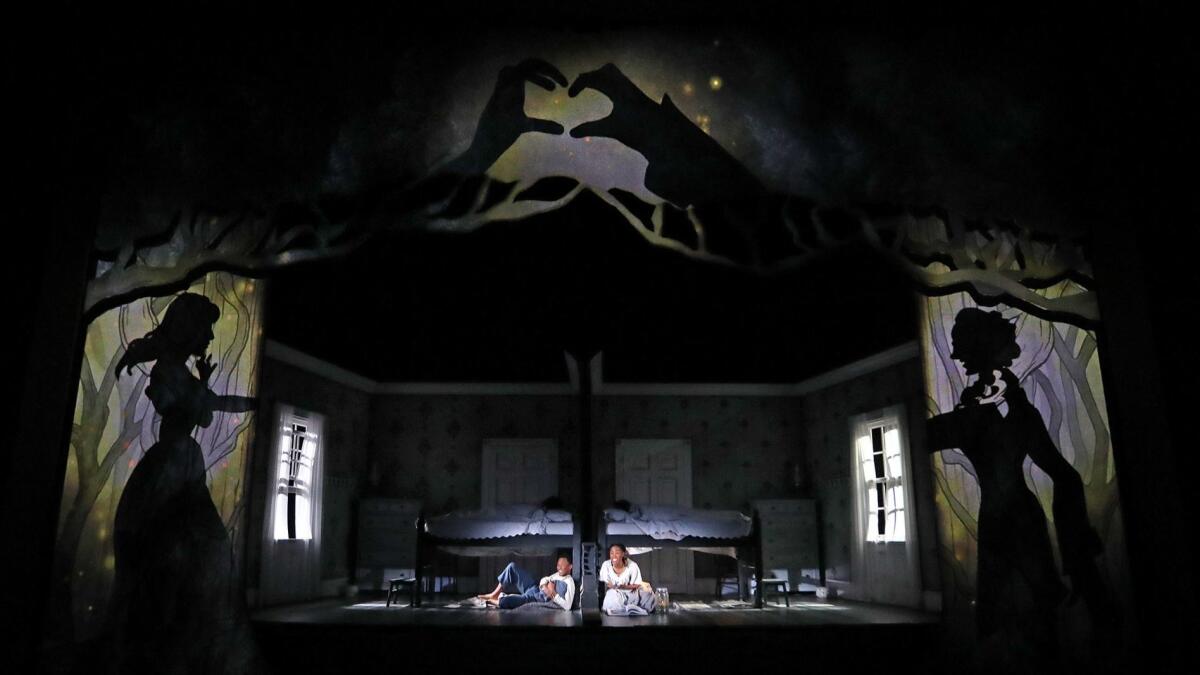 Change is in the wind, and Colis and Toy are registering the shifts in their nighttime flights of fancy together. Daytime, however, only reinforces the status quo of their enslavement — a reality that is given haunting theatrical life through mime.
Father (Mark Doerr), who takes delight in daughter Mittie's aggressive feminine wiles, has little patience for Daniel's gentle, ineffectual demeanor. A paternal bully, he thinks Daniel needs some toughening up. He makes him take down a nest of hornets without help from Colis, deriving sadistic pleasure when his son is severely stung.
Mother (Elyse Mirto) shares with Daniel the bad news that his father wants him to give up his beloved flute. Scarier still, Father has announced that the family is moving to a more lucrative sugar plantation in Louisiana, further into the deep South and away from the more progressive North, where Daniel dreams of attending music school with Colis by his side, not understanding that his faithful slave would no longer be his legal property in Pennsylvania.
Powers, author of the sleeper "One Night in Miami…," was inspired to write this new drama in part through his reading of slave narratives collected in an undertaking by the Federal Writers' Project. His material is undeniably potent, but at this stage, "Little Black Shadows" seems like rough sketches for a future play. The scenes are rich in theatrical atmosphere and quotidian historical horror, but the drama isn't well calculated.
Underdeveloped as characters, Mother and Toy never come into focus. Father and Mittie, on the other hand, are perhaps too rigidly defined. Daniel's escalating crisis lurches forward in ways that seem to have more to do with the author's point about the dehumanizing basis of slavery than with the specific qualities of this particular young man.
The problem isn't the shocking turn the story takes. It's the plot's herky-jerky preparation, which drains the drama of resonance.
Adrales, who staged Qui Nguyen's "Vietgone" with exuberance and flash at SCR in 2015, directed a reading of "Little Black Shadows" at the 2016 Pacific Playwrights Festival. She lavishes enormous care and ingenuity on her production, but the play unfortunately cries out for another developmental workshop.
The various elements of "Little Black Shadows" — the flatfooted domestic melodrama, the surreal nighttime fantasy scenes and the racial conflict mowing down everything in its path —haven't yet coalesced. But if Powers presses ahead, he might realize in a future draft the promise in a play that has clearly inspired his talented director.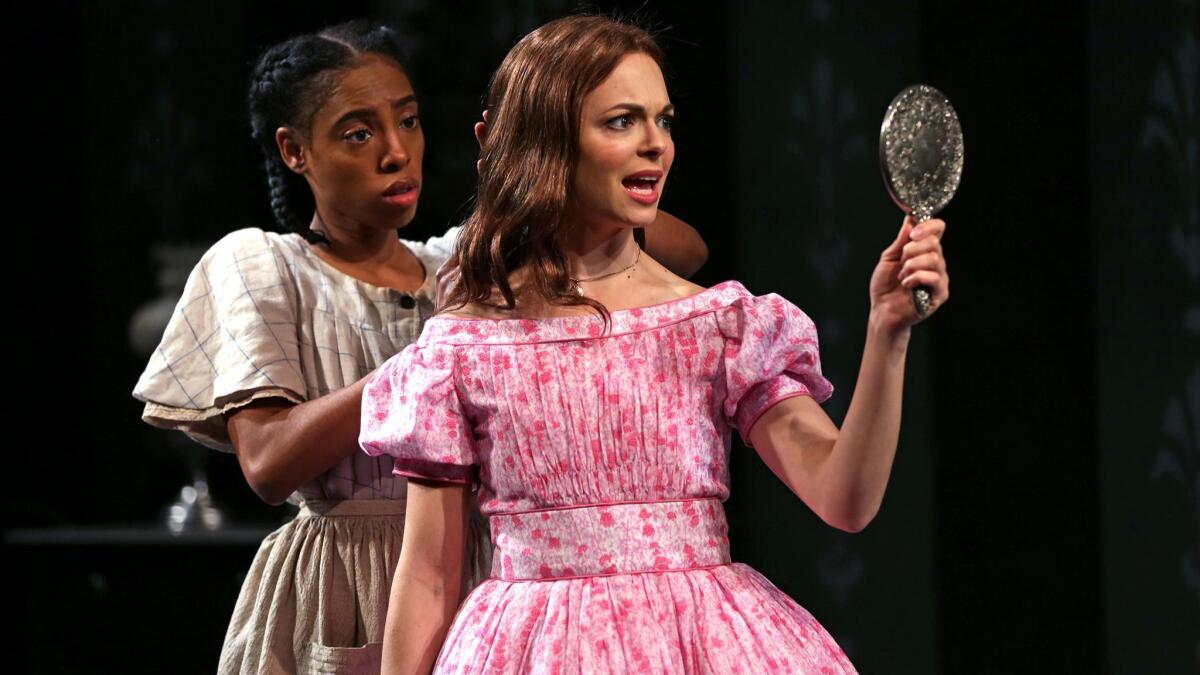 ♦ ♦ ♦ ♦ ♦ ♦ ♦ ♦ ♦ ♦
'Little Black Shadows'
Where: South Coast Repertory, 655 Town Center Drive, Costa Mesa
When: 7:45 p.m. Tuesdays-Fridays, 2 and 7:45 p.m. Saturdays and Sundays; ends April 29
Tickets: $30-$83
Information: (714) 708-5555 or www.scr.org
Running time: 1 hour, 45 minutes
Follow me @charlesmcnulty
ALSO
The Best Little Whorehouse in Texas, and the farmhouse next door
The BFFs got married, but will he have a 'Significant Other'?
Why Broadway's hottest theater just might be on the West Coast
Get our L.A. Goes Out newsletter, with the week's best events, to help you explore and experience our city.
You may occasionally receive promotional content from the Los Angeles Times.