Review: 'Love Never Dies,' a sequel to 'Phantom of the Opera,' struggles to abduct us
You would think that Christine Daaé might have learned by now to avoid rooms with full-length mirrors in them, because a certain masked face is bound to materialize in the looking glass, heralding another emotionally fraught visit by the Phantom of the Opera.
But no, she stumbles into the same situation in "Love Never Dies," a sequel to "The Phantom of the Opera"at the Hollywood Pantages, then Costa Mesa's Segerstrom Hall.
After a painfully protracted gestation, the musical emerged in 2010 to sharply divided reactions and a disappointingly brief London run, never making it to Broadway as intended. Yet even if we've followed news reports about all of that, our curiosity overpowers our logic and we find ourselves in a seat for this touring production, expectations running high.
The famously hypnotic Phantom and his namesake show have thrilled audiences for 30 years on Broadway and 31 1/2 on London's West End, drawing new people to live theater and becoming embedded in our culture. So of course we'd like to see a sequel do more of the same.
Some hopes are fulfilled. The compositions are grandly written by Andrew Lloyd Webber, the portrayals thrillingly well sung and the staging terrifically sumptuous. But the storytelling requires viewers to make leaps of logic and to reassess several beloved characters. Plot developments meant to be shocking are easily guessed beforehand. And the songs, though perceptively crafted, don't vault into the realm of instant classics.
The action moves to New York's Coney Island in 1907. Various characters keep referring to this as "10 long years" after the Phantom disappeared in Paris, but as any fan of the original musical can tell you, that show was set in 1881. So although 26 years should have passed, everyone remains remarkably youthful.
Still keeping mostly out of sight, the Phantom (Gardar Thor Cortes) is the mastermind behind Phantasma, a beachside show palace. Assisting him are a pair familiar from the original: the ballet mistress Madame Giry (Karen Mason) and her aspiring-star daughter, Meg (Mary Michael Patterson).
The Phantom remains as obsessed as ever with Christine (Meghan Picerno), his musical muse and protégée, now a celebrated soprano back in Paris. When an impresario brings her to America to sing, the Phantom sends henchmen to the dock to intercept her, along with her husband, Raoul (Sean Thompson), and preteen son, Gustave (Casey Lyons at the reviewed performance).
Soon the family is settled into a room with an armoire containing a full-length mirror, so we know that as soon as Christine is alone, the Phantom will materialize and the two will be reunited.
The storytelling twists itself into knots trying to make the Phantom less icky, most notably by attempting to convince us that Christine was more enamored of him in the first musical than we might have suspected. Still, with the tale barely underway, the Phantom not only abducts Christine once again, but her family as well. He later flies into a rage with Christine, then begs forgiveness. And once he meets the musically precocious Gustave, he develops a worrisome fixation on the boy as well.
The Phantom's behavior is exactly what #MeToo is calling out right now.
When the cognitive dissonance gets to be too much, we can find distractions elsewhere.
As fond as ever of showy transportation, the Phantom trades his subterranean gondola for a street-ready, self-propelled carriage — a curvy coach with a tricycle front, all shiny coffin-black with gold detailing.
The public and private spaces at Phantasma are rendered in lushly biomorphic Art Nouveau lines, and the arch of the show palace's stage cleverly incorporates a stylized evocation of the Phantom's mask. Such wonderful details in Gabriela Tylesova's designs are also characteristic of her luxurious costumes.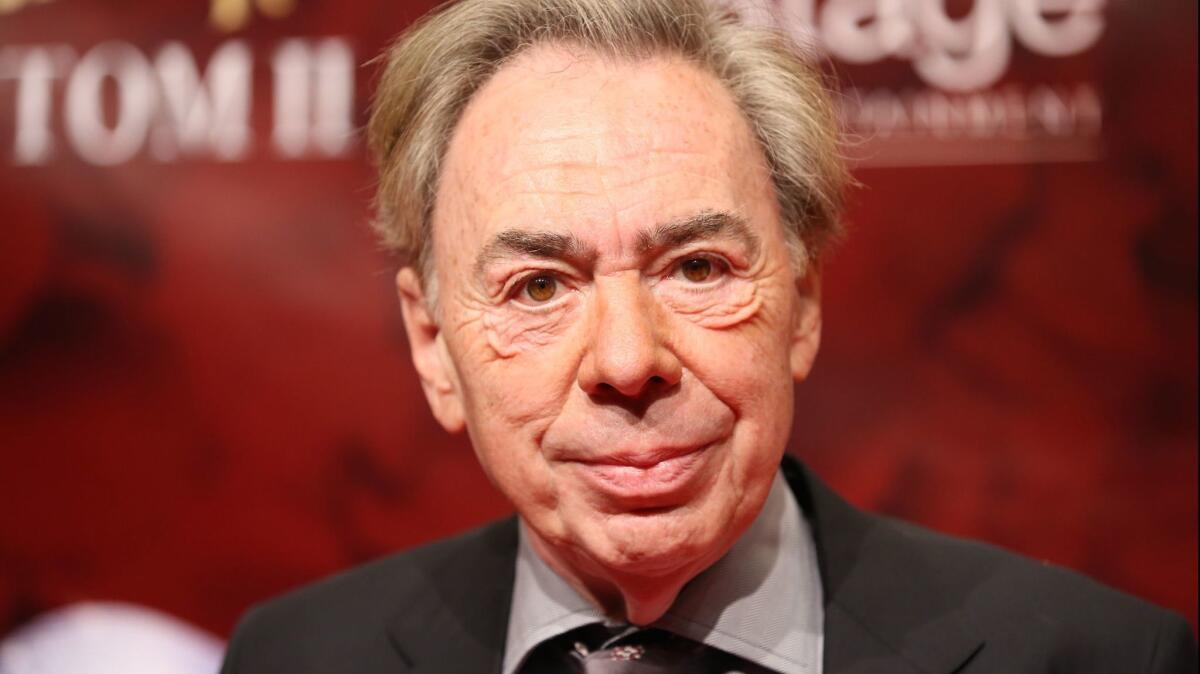 Like "Phantom," "Love Never Dies" is sung throughout. Its main themes are the Phantom's lovelorn "'Til I Hear You Sing," the Phantom-Christine duet "Once Upon Another Time," and the title song, introduced by Christine in a grand performance at Phantasma. These are swelling, operetta-ish compositions in keeping with the originals, but if they linger in our ears, it's mostly through sheer repetition.
Picerno sings in a spine-tinglingly stratospheric soprano, as all Christines must. As the Phantom, Icelandic singer Cortes — whose résumé, like Picerno's, includes a lot of opera — unfurls a lush, baritone-tinged tenor. Mason, the production's Madame Giry, is best known to L.A. audiences as Glenn Close's standby in "Sunset Boulevard." Her dark-chocolatey mezzo-soprano nicely matches the character's possibly shadowy intentions.
In the pit, Dale Rieling conducts a rich-sounding complement of 21 musicians in orchestrations by David Cullen and Lloyd Webber.
Lloyd Webber's list of collaborators is a road map of this show's hard journey. For the story he began working with novelist Frederick Forsyth ("The Odessa File"), who eventually published a tale called "The Phantom of Manhattan." The script is now credited to Ben Elton, who was Lloyd Webber's collaborator on "The Beautiful Game." The lyrics are by Glenn Slater of "School of Rock," with additional work by Charles Hart, Lloyd Webber's chief lyricist for "Phantom."
The touring version emerges from a 2011 reworking of the show for Australia. It is directed by Simon Phillips, best known in the States for staging the original "Priscilla Queen of the Desert."
"Love Never Dies" indulges in the sensationalistic twists of a turn-of-the-century potboiler, messing with the original in ways that will taint some fans' memories. That's a dangerous thing to do with such a valuable property. Those responsible should hope that the public's love indeed never dies.
♦ ♦ ♦ ♦ ♦ ♦ ♦ ♦ ♦ ♦
'Love Never Dies'
Where: Hollywood Pantages Theatre, 6233 Hollywood Blvd.
When: 8 p.m. Tuesdays-Fridays, 2 and 8 p.m. Saturdays, 1 and 6:30 p.m. Sundays; ends April 22
Tickets: $49-$169
Info: (800) 982-2787, HollywoodPantages.com
Also: Segerstrom Hall, 600 Town Center Drive, Costa Mesa
When: April 24-May 5 at 7:30 p.m. Tuesdays-Fridays, 2 and 7:30 p.m. Saturdays, 1 and 6:30 p.m. Sundays
Tickets: $29-$119
Info: (714) 556-2787, www.scfta.org
Running time: 2 hours, 30 minutes
Twitter: @darylhmiller
Get our L.A. Goes Out newsletter, with the week's best events, to help you explore and experience our city.
You may occasionally receive promotional content from the Los Angeles Times.