Misty Copeland, Calvin Royal III and the rarity of a black couple dancing lead roles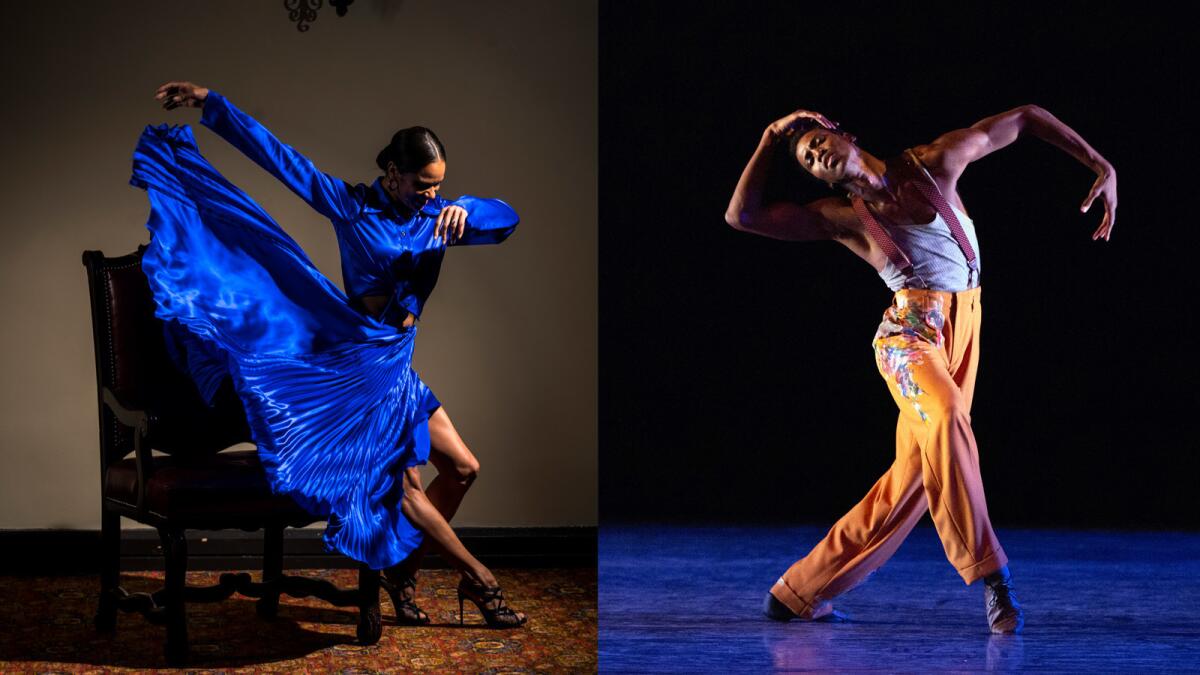 Almost four years have passed since American Ballet Theatre promoted Misty Copeland to its top ranks, making her its first African American female principal dancer. But just try to find an African American couple dancing lead roles from the ballet repertory. You'll be searching almost in vain.
Even at ABT, it hasn't happened — until now.
Copeland and Calvin Royal III will leap over that barrier Friday as they make their debuts as Pirrette and Pierrot in "Harlequinade" at Segerstrom Hall. The parts, based on commedia dell'arte stock figures, are the ballet's secondary leads to the title character, Harlequin, and the woman he loves, Columbine.
"To finally be able to take the stage, two leading dancers in a production with ABT, I see it as such a huge step forward in terms of visibility," said Royal, who joined ABT in 2010 and was promoted to soloist in 2017. He hopes the performance Friday inspires young people.
"I remember being that person looking to ABT and hoping that I could see myself there," he said. "By us being in that position, we'll do that for somebody else."
It's still rare to see a black couple onstage, given the dearth of black dancers at major companies and the low numbers who are elevated to the higher tiers. (ABT has 28 principals and soloists, and though many are dancers of color, Copeland and Royal are the only African Americans to attain those titles.) The exception is Dance Theatre of Harlem, which the late Arthur Mitchell founded in 1968 to give African American ballet dancers the opportunities they are, 50 years later, still denied.
At Washington Ballet, Copeland and Brooklyn Mack made history three years ago when they became the first African American duo to perform the lead parts in a full-length "Swan Lake." At ABT, Copeland and corp de ballet member Gabe Stone Shayer have performed the Blue Bird pas de deux, a short variation in the final act of "Sleeping Beauty." Houston Ballet was the rare troupe with two black principal dancers, Afro-Cuban star Carlos Acosta and Houston native Lauren Anderson, but that was in the 1990s.
Copeland is the biggest draw in dance right now, a crossover star with international reach. Because of that, she has influence to speed change, and she recognizes her position. She's trying, she said, to be a "platform for the dialogue and conversation of race within ballet."
"Beyond my personal goals as a ballerina, I want to celebrate, elevate and give opportunities to talented black and brown dancers to share the stage with me while I have the power and presence that I do. And to build a structure which can continue to exist beyond me," Copeland said by email.
She tapped Royal to be her prince in "Cinderella" at a Houston charity performance. She also invited him to appear with her in photographs taken for the Pirelli tire company's glamorous calendar. She described him as an "exquisite talent."
"When two talented dancers can come together, it's ideal and exciting. But when two of those dancers are black, it's explosive. At least for me!" she wrote. "I've always put Calvin at the forefront of my mind to bring with me as a partner whenever I'm doing gigs outside of ABT. It's because of his talent first and foremost, but also the significance and importance to our communities for two black dancers to dance together. It's rare. Like REALLY rare."
Royal began formal dance training as a freshman at a performing arts high school in St. Petersburg, Fla. He and his classmates looked for inspiration to the predominantly black Alvin Ailey American Dance Theater, which performs modern and contemporary choreography. But after he attended a summer program at the Rock School for Dance Education in Pennsylvania — boot camp for ballet — he began to think that with hard work, he too might be welcomed into the largely white classical world.
"I never wanted race to be something that held me back," he said. "I wanted it to be that thing that set me apart and allowed me to push myself, work hard and go beyond just the color of my skin."
Royal will be ABT's first African American to perform Pierrot, a clown character who traditionally wears white face makeup. Royal and the artistic staff have been discussing this costuming issue because, as Royal puts it, he doesn't want the audience to think, "Oh, they're trying to make him a white person." The character's makeup is intended to represent a mask that he uses to hide his sorrowful disposition.
"I've been having these conversations with friends and some of the makeup artists," said Royal, who added that, as he does with every new part he gets, he did his own research into Pierrot. "He's a caricature of this form of theater. The stage is the place where we should be able to explore these different characters, to be able to shed light on different things you might not be able to do in the outside world."
♦ ♦ ♦ ♦ ♦ ♦ ♦ ♦ ♦ ♦
American Ballet Theatre's 'Harlequinade'
Where: Segerstrom Hall, Segerstrom Center for the Arts, 600 Town Center Drive, Costa Mesa
When: 7:30 p.m. Thursday-Friday, 2 and 7:30 p.m. Saturday, 1 p.m. Sunday; Copeland and Royal perform together on Friday
Price: $39-$189 (subject to change)
Info: (714) 556-2787 or www.scfta.org
Elsewhere: ABT also will present "Harlequinade" in Washington, D.C., starting Jan. 29 and in New York starting May 13
See all of our latest arts news and reviews at latimes.com/arts.
Get our L.A. Goes Out newsletter, with the week's best events, to help you explore and experience our city.
You may occasionally receive promotional content from the Los Angeles Times.