Q&A: Misty Copeland on diversity in dance, her 'Nutcracker' princess and coming home for the holidays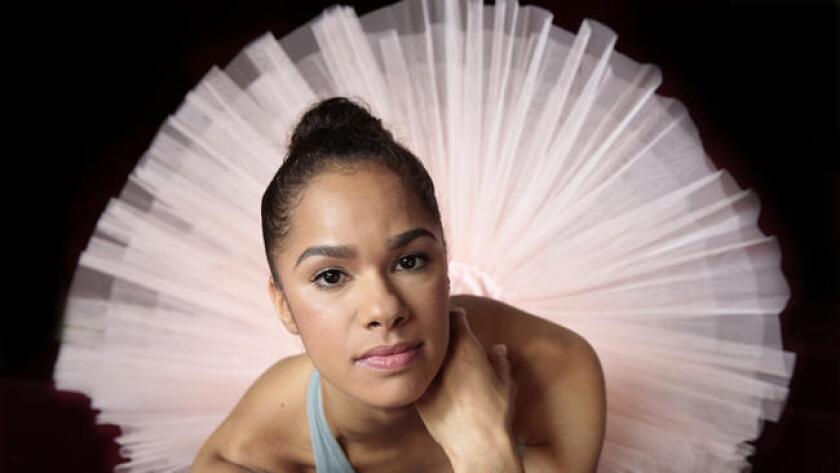 Misty Copeland has far-transcended the rarefied world of ballet, appearing as a guest judge on "So You Think You Can Dance," touring with Prince and serving as the face of Estée Lauder's Modern Muse fragrance — not to mention attracting more than 1.5 million Instagram followers. There's even a Misty Copeland Barbie doll.
As the first African American woman promoted to principal dancer in the 75-year history of American Ballet Theatre, Copeland had drawn new and younger audiences to dance.
The San Pedro native will return home this holiday season to appear in ABT's production of "The Nutcracker" at Segerstrom Center for the Arts in Costa Mesa. Copeland will dance the role of Clara, the Princess, in three performances choreographed by ABT artist-in-residence Alexei Ratmansky.
"The Nutcracker" is the first full-length ballet Copeland appeared in onstage — an experience that she calls "magical." Returning to Southern California is no less so, she said in this edited conversation.
You've popularized ballet and it's been suggested you're revitalizing — or "saving," as Jimmy Kimmel once put it — the classical dance world. Isn't that a lot of pressure?
I take it all with a grain of salt. I understand that I'm getting people interested in ballet. I'm happy to be able to represent the ballet. But I am, by no means, ballet. I'm a representation, a window for people to come in and be introduced to the broader world of ballet. That's what I feel my duty is: I'm a vessel. And I'm lucky to be a small fraction of ballet history.
Your promotion, in 2015, to principal dancer broke barriers. Is ballet evolving, do you think? Or is it still fairly exclusive?
Yes. I think the fact that me, a black woman, is what has kind of introduced a lot of people to the ballet world is huge. It's definitely forced a lot of ballet companies to address the issue of the lack of diversity.
You know — and I constantly say this — even if it's not something that they've ever wanted to do, the world is looking in now. More so than ever before. The ballet world is so secluded and lives in this bubble, and it's easy to get away with a lot. So with the attention I've brought to ballet, I think they're definitely being forced to make some changes.
You've been an athletic and artistic role model for so many young people. Who do you look to for inspiration?
It's definitely shifted and changed throughout my training and the course of my career. Growing up, Paloma Herrera was the ballerina I looked to. She was just so inspiring to me. Raven Wilkinson was kind of that person who really changed my point of view and perspective on my career and how I wanted to approach it and represent the black dancers in the classical ballet world. She really allowed me to have a clearer vision of what my purpose is.
But I feel like I'm surrounded by the best dancers in the world every day. It's amazing to be able to have that type of inspiration around me.
Let's talk "Nutcracker." You have a deep connection to this ballet. Take us back to that time you first danced it.
I had been dancing for, I think, eight months. I did the role of Clara. It was the first ballet I ever performed with the San Pedro City Ballet. The following year I did the Sugar Plum Fairy.
The second "Nutcracker" I ever performed in was Debbie Allen's production of "The Hot Chocolate Nutcracker." I might've been 14 or 15; I did it two years. It was a very diverse cast. It was amazing to share the stage with Debbie Allen. I've done 'Nutcracker' for most of my career in different productions. Just hearing the music makes you think of Christmastime and wintertime.
What makes this "Nutcracker" special?
Alexei's production, I think, is my favorite that I've ever done. The dancing is just so free. It's not like the traditional version. It has kind of a more modern contemporary movement to it. It's just a really exciting version.
And I'm excited to be dancing the lead part with Daniil Simkin. We've never done this role together before. It's also so nice for me to be able to do this at home in California.
Your story — growing up with a single mom in a cramped motel room with five siblings and becoming America's most famous ballet dancer — is a classic triumph-over-adversity tale. What was it like to discover dance?
I would say it was magical. I had never experienced anything like it. To be able to have this escape and be in the studio and feel like I actually am living this fairy tale. There was nothing in my life that was anything remotely close to a fairy tale — so it was such a magical time of discovery for me.
You've described yourself as cripplingly shy as a child. Are you still? Do you get nervous onstage?
Oh, that was never an issue for me. I was really shy as a child but it never crossed over to the stage. It was the only time in my life that I wasn't that way.
I feel like as dancers get older they tend to get more anxious and nervous. I think it just depends on the role that I'm doing. If it's a really high-pressure role, I tend to get nervous.
I don't know if I would say I'm shy anymore. But I definitely like to keep my personal life private. I have to respect myself. I feel like I give so much of myself in my career — and I want to do that — but you have to have something left for you.
Does it feel surreal, now, to be so far on the other side of the hardships you grew up with?
Yeah, it absolutely does feel surreal. I'm constantly thinking of that. I don't feel like I'm jaded in any way. I am just like, "I can't believe this is my life, I can't believe I get to do what I love." It's just an amazing thing to have.
Tell us about your upcoming film debut in "The Nutcracker and the Four Realms."
That's coming out November 2018. We're still working on the name of my character. I'm kind of a production within the production of the movie. It's like a performance that the characters are experiencing. It's me dancing and I'm portraying all of the different scenes that happen in "The Nutcracker," the snow scene, the battle scene, the land of the sweets.
I've never been in a film. It was so, so surreal to be a part of the Disney family. I never, ever imagined I would. It was just a really incredible opportunity. It was a lot of hard work.
Dancing and film is really difficult to kind of marry because dancers have to be [warmed up]. It's really difficult to sit around for hours and then get up and dance. We have to be warmed up properly. There were long days.
Is it meaningful to return home?
Coming home, and being in Orange County, and being in that theater — it just takes me back to that place. I saw American Ballet Theatre perform a lot when I was 13, 14, 15 years old — in Costa Mesa at the same theater we'll perform at, as well as the Dorothy Chandler Pavilion. Coming to those theaters in California definitely takes me back.
'The Nutcracker'
Where: Segerstrom Center for the Arts, 600 Town Center Drive, Costa Mesa
When: Opens Thursday; ends Dec. 17. Performances 7 p.m. Wednesdays-Fridays, 2 and 7 p.m. Saturdays, 12:30 and 5:30 p.m. Sundays
Follow me on Twitter: @debvankin
ALSO
Gustavo Dudamel gives Misty Copeland the royal treatment in the Hollywood Bowl's classical opener
How La Scala Ballet will get a special star — Misty Copeland — for one night
When a master class with ballerina Misty Copeland becomes a San Pedro homecoming
---
Get our daily Entertainment newsletter
Get the day's top stories on Hollywood, film, television, music, arts, culture and more.
You may occasionally receive promotional content from the Los Angeles Times.