Misty Copeland is on a mission to bring ballet to mass audiences with Disney's 'The Nutcracker and the Four Realms'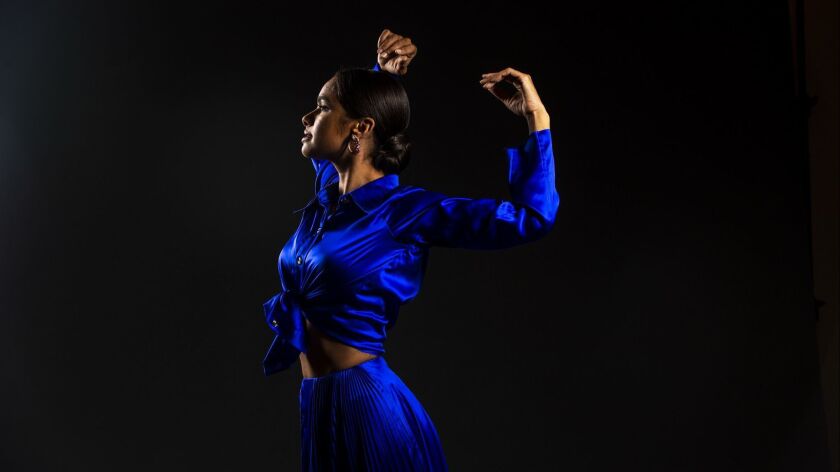 For Misty Copeland, life has come full circle. At 13, the prima ballerina danced in her first full-length ballet, a San Pedro production of "The Nutcracker." Her second "Nutcracker" was a Debbie Allen production, "The Hot Chocolate Nutcracker," in Los Angeles. As a company member, and later principal dancer at the American Ballet Theatre, she's performed the classic ballet around the country.
And now, Copeland is making her feature film debut in Disney's epic fantasy "The Nutcracker and the Four Realms."
"This is not something I ever saw in my future," Copeland said Monday, shortly before the film's premiere in Hollywood. "It's just incredible to be able to be representing ballet at this level in a movie that's going to reach so many people for so many generations to come. And the fact that I'm a brown ballerina, as a representation of ballet, is insane."
Now playing nationwide, the visually lavish adventure film is inspired by E.T.A. Hoffmann's 1816 fairytale, "The Nutcracker and the Mouse King." In 1892, the tale was transformed into the original ballet featuring music from the Russian composer Pyotr Ilyich Tchaikovsky.
In Disney's whimsical rendition, Mackenzie Foy plays Clara, a young woman who stumbles upon a fantasy world where her late mother was considered a queen. Directed by Lasse Hallström and Joe Johnston, it also stars Morgan Freeman as Clara's godfather and Keira Knightley as the Sugar Plum Fairy and includes performances by classical music stars pianist Lang Lang and conductor Gustavo Dudamel on the soundtrack.
While the "The Nutcracker and the Four Realms" isn't centered on dance, the film features two ballet sequences — one a performance within the movie and another over the ending credits — starring Copeland as simply, "The Ballerina."
"If audiences were going to see 'Nutcracker' over the holiday season, we owed them some beautiful dance sequences," said Sean Bailey, president of Walt Disney Studios Motion Picture Production. "We thought, 'Who would be the number one person in our minds to do this?' and Misty was immediately the name."
The film's ballet sequence is less than 10 minutes and tells the backstory of the four realms, including the Land of Flowers and Land of Sweets, through dance rather than exposition. Wearing an elegant white bodice and tutu, Copeland turns and leaps through the realms with dizzying speed. She also shares a brief pas de deux with Ukranian ballet "bad boy" Sergei Polunin.
Those involved recognize that simply including the sequence in the film represents an important opportunity. Copeland, who is devoted to increasing access to the often-exclusionary ballet world, believes that a film like "Nutcracker" — already considered a gateway ballet — opens the door for diverse audiences to experience the art form.
"[People] feel comfortable sitting in a movie theater rather than walking through the doors of the Metropolitan Opera House; you feel that 'Oh, that's not for me.' Especially as black people, that's not a space for us," Copeland said. "Everyone goes to the movie theater, so this is an amazing way to do that."
The 36-year-old is an unlikely ballet star. Copeland grew up poor in San Pedro, sharing a motel room with her single mother and five siblings. She was discovered at 13, when she took her first ballet class through an outreach program for underprivileged youth at the San Pedro Boys & Girls Club.
A prodigy, Copeland quickly ascended the ballet ranks, earning a spot in the internationally renowned company American Ballet Theatre at 18. In 2015, she made history as the first black woman promoted to principal dancer in the company's 75-year history.
As a black dancer with a nontraditional ballet body, Copeland redefined what it means to be a ballerina and catapulted from the exclusive world of ballet into the pop culture conscious. The dancer was the subject of the 2015 documentary "A Ballerina's Tale," wrote an autobiography and has been on the cover of Time Magazine, becoming a rare household name from the dance community.
For her role in Disney's "Nutcracker," Copeland was afforded some creative control and chose to work with the London Royal Ballet's artist-in-residence Liam Scarlett. "I had worked with him before, so it was nice to have someone that I was familiar with and knew my body and how I moved — [someone who] could ... say to the director, 'This angle is better for a dancer's line,'" Copeland said. Together, they spent many hours in a dance studio creating movement for the film — although much of what made the final cut was actually improvised on set.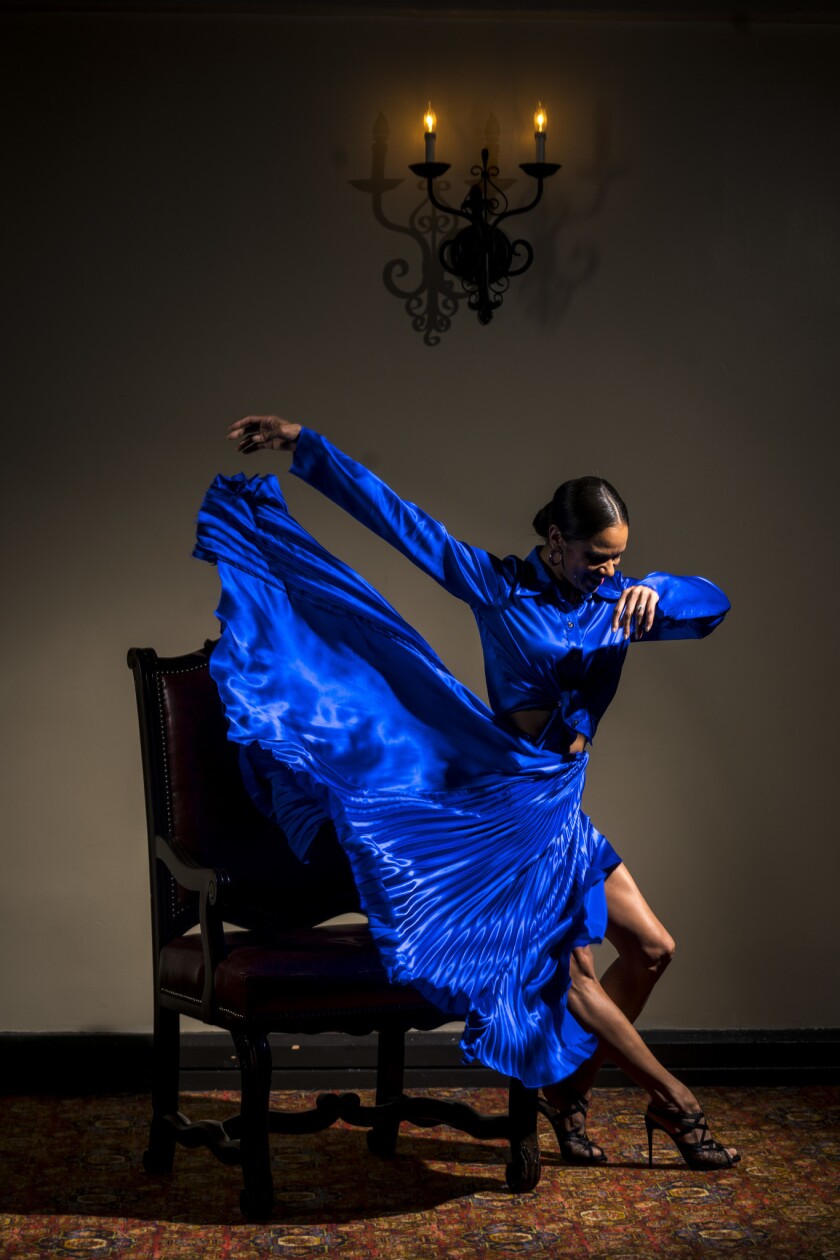 As a lifelong stage performer, Copeland had to learn to dance for the camera. Onstage, scenes flow uninterrupted, and dancers are continuously moving, never breaking character. In film, frequent breaks and long hours can be tough on a dancer's body.
"We can't be waiting around on a set till 2 a.m. and then they're like, 'Go, let's dance.' You get injured that way," Copeland said. "They were really good about creating a structure that works for dancers, which is a rare thing on the sets of films."
One perk to dancing on camera is the ability to give viewers an unobstructed and intimate look at the beauty of dance, a perspective that they may not experience during a live performance.
"We can put the camera in places where, if you're going to see Misty dance onstage, you can't get those angles; you can't get that close," Bailey said. "And with the magic of what movies can do, we can obviously build certain sets or enhance certain things with computer-generated imagery that one can't do in a normal stage production."
"The Nutcracker and the Four Realms" is part of a rich history of ballet in film, said Jodie Gates, vice dean of USC's Glorya Kaufman School of Dance and founder of the Laguna Dance Festival.
The 1948 film "The Red Shoes," starring ballet dancer Moira Shearer, centers on a ballerina torn between her career and love. A few years later, the 1951 musical "An American in Paris," starring Gene Kelly and French ballerina-actress Leslie Caron, features a 17-minute ballet sequence set to George Gershwin's composition. Copeland's favorite film about dance is 1977's Oscar-nominated drama "The Turning Point" about New York City's ballet culture.
More recent films featuring ballet include 2010's psychological horror "Black Swan," starring Natalie Portman, and 2018's "Red Sparrow" about a ballerina-turned-spy, starring Jennifer Lawrence.
"'The Nutcracker' is probably the most recognized holiday ballet in America ... . It's fantastical, it's exciting, it's colorful. The score of Tchaikovsky is just breathtaking," Gates said. "[Placing] ballet at the center point is not unlike the ballet sequences by Gene Kelly and Leslie Caron, and 'Red Shoes.' Those were long sequences in the movie that transformed the storytelling in such a dreamy way."
Copeland hopes to continue the tradition of ballet in film and push it forward. Several years ago, she founded her own production company dedicated to showcasing real and untold dance stories on screen.
"A lot of people have an idea of what they think ballet is," Copeland said. "We're not all crazy people that have eating disorders and are overly sexualized and are strippers in our side gig. I just want to tell authentic stories that highlight the amazing beauty of ballet."
While it's possible that Hollywood is Copeland's next phase, the dancer prefers to stay flexible, keeping her dance career the priority for now.
"I try not to put any limits on what may be in the future and just stay open. [To] do what I feel is right in the moment and that's organic and real for me to do. I never thought I would write a book," Copeland said. "I never thought I would do a lot of things."
---
The complete guide to home viewing
Get Screen Gab for weekly recommendations, analysis, interviews and irreverent discussion of the TV and streaming movies everyone's talking about.
You may occasionally receive promotional content from the Los Angeles Times.