Review: The art of daily existence: Meleko Mokgosi's provocative show at the UCLA Fowler Museum
Art Critic
Meleko Mokgosi describes himself as a history painter, but what he considers to be historic is what sets his work apart. Kids at school, people lounging at home, a young woman getting her hair done — ordinary life is offered with the same focused intensity of classical history and myth, history painting's usual subjects.
At the UCLA Fowler Museum, curator Erica P. Jones is presenting the Botswana-born, New York-based artist's first West Coast museum show. (Mokgosi, who completed his master's at UCLA, won the 2012 Mohn Award in conjunction with the Hammer Museum's "Made in L.A." exhibition.) In "Bread, Butter and Power," daily existence and stamina interact.
A gallery is lined with 19 large canvas panels, while a 20th — neatly rolled and wrapped in plastic, as if awaiting its eventual display — leans against a post in the center of the room. The rolled painting offers a tantalizing glimpse of a man clutching a large trophy, delighted winner of we-know-not-what. (Maybe the Mohn Award?) The rest are snapshot-like scenes based in unidentified places in southern Africa — in schoolyards, bedrooms, at the market, at a gathering of military veterans and more.
Most of the panels are installed edge to edge. Sometimes the image in one slides into the panel adjacent, as when a grinning girl dressed in a bright-red school uniform shares pictorial space with an unrelated scene of a woman on a patio grooming a young woman's hair. A stylized presentation of formal and informal education comes into view.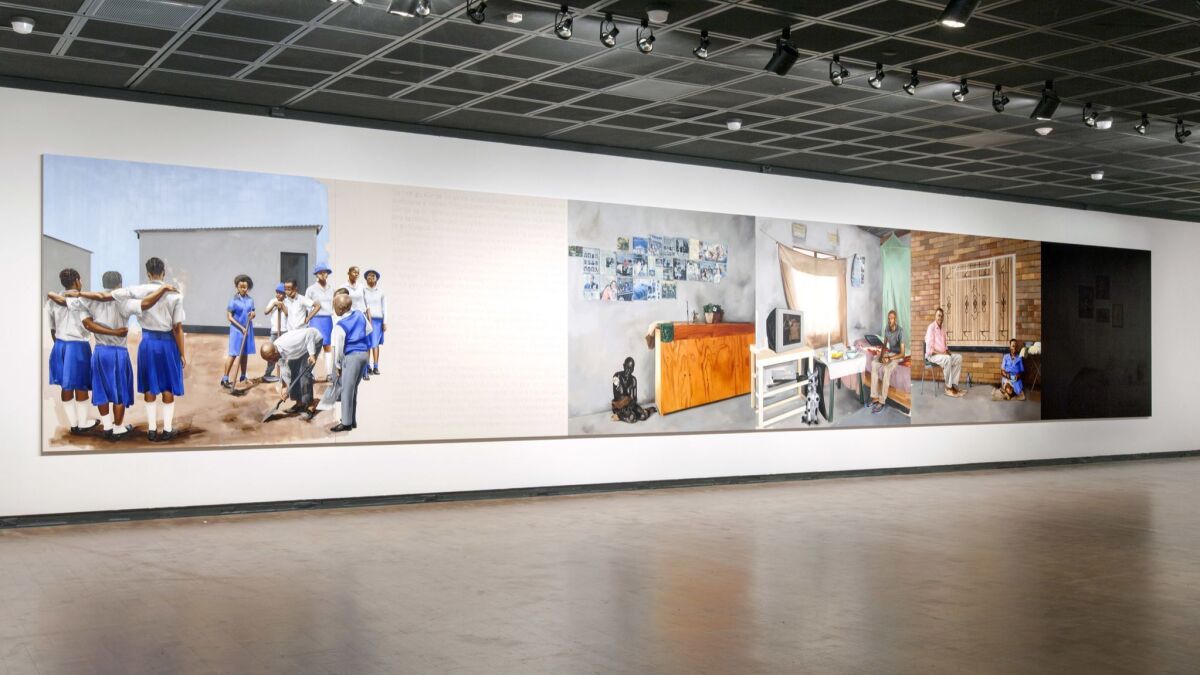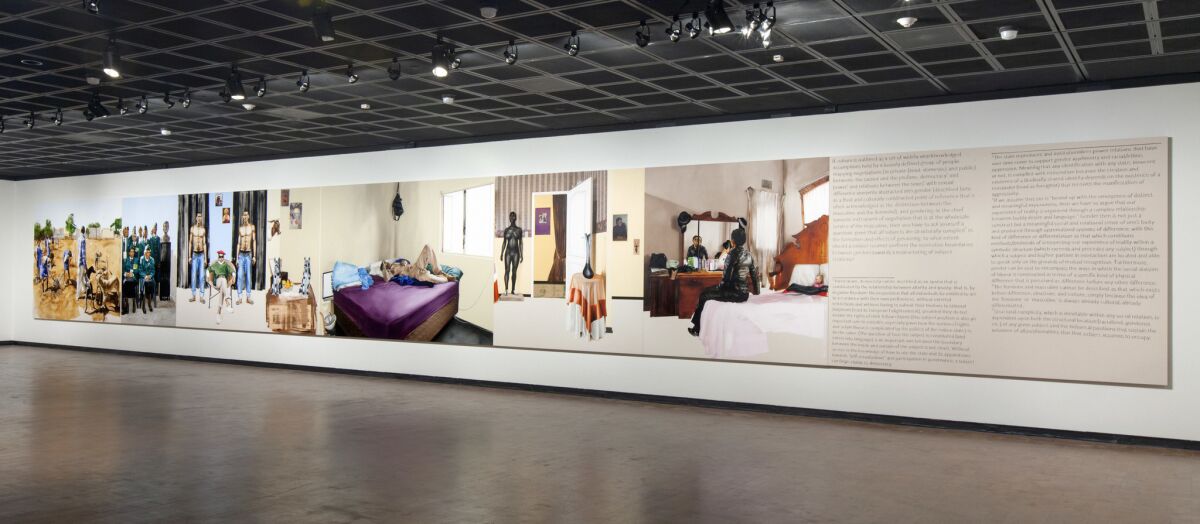 Mokgosi paints in a concise, declarative manner. He's a realist, but he's not overly attentive to the minutiae of representation. A few strokes of gray and white paint conjure a tin bucket. The stripes on a school uniform necktie are the same quick white lines that define the edge of the student's sweater and the pattern of her jacket in a scene composed like a yearbook's class picture..
The economy of means can be provocative. Those same white stripes on the students' clothing also describe security bars on the window behind the kids. Only then does it sink in that the girls and boys both wear masculine-identified attire, locking into place a prevailing social hierarchy. The jacket-and-tie clothing identifies the pecking order as traditionally European.
Nearby, a picture of veterans, older men and women dressed in military uniforms and laden with medals, telescopes the student yearbook picture's intimation of institutionalized power relations. The image is sent spinning by the adjacent panel, in which a teenage boy wearing shades and a red beret sits cross-legged in a chair and flanked by two muscular security guards. He's part Napoleonic wannabe, part Black Panther revivalist.
Mokgosi slyly pulls abstraction into the mix, which he divides into black and white. One nearly blacked-out panel slowly reveals a barely legible woman sleeping in a bed, her dark skin congruent with the jet-black night. Other panels are raw canvas covered in cursive white text — barely legible writing in Setswana (the language of Botswana), or else dense academic jargon (the language of the university).
A scholastic dissertation on the relationship between "alterity and ipseity" — otherness and selfhood, to use common language — becomes almost satirical juxtaposed with a painting of an attractive young woman casually posed in regal profile on a throne-like upholstered chair. The window curtains behind her are pulled back like those on a theater stage.
In relation to grand canvases that depict ordinary daily life, colonial history painting merges with contemporary genre painting. The two written texts — obscure to most viewers and implying the divisions between an initiate and a comrade — resonate as power tools that cannot help but divide, even as they struggle to connect.
UCLA Fowler Museum, 308 Charles E. Young Drive N., L.A. Through July 1; Closed Mondays and Tuesdays. (310) 825-4361, www.fowler.ucla.edu
christopher.knight@latimes.com
Twitter: @KnightLAT
ALSO:
'Border Door' welcomed immigrants 30 years ago. An art show brings back its message
Rashid Johnson at David Kordansky Gallery: Power, protection, plus 'Ugly Pots'
Get our L.A. Goes Out newsletter, with the week's best events, to help you explore and experience our city.
You may occasionally receive promotional content from the Los Angeles Times.