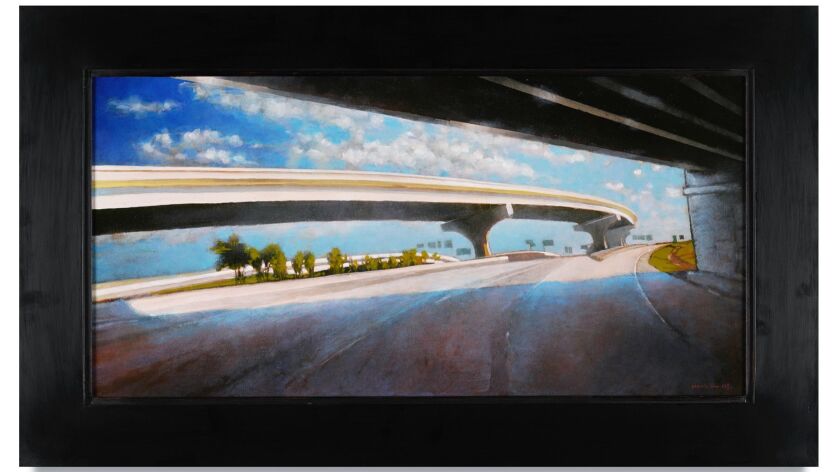 Art Critic
As a painter, Mark Innerst is an intimist of spectacle. The closely held visual language of quiet French domestic scenes — think Édouard Vuillard or Pierre Bonnard — is relocated into the modern, usually urban American public sphere, where it blows up into a showy pageantry of anonymous pomp and circumstance.
The result can be disarming. The seductive, eye-popping glamour of the city hums as a roaring engine of solitude and loneliness.
Most of Innerst's 23 recent paintings at Kohn Gallery recruit a modest number of square inches to draw a viewer in close. (Eighteen inches is the largest dimension in half the works.) The artist also designs and makes most of the frames — wide, heavy, dark strips that emphasize a frame's material function as a fictional picture's factual furniture.
Skyscraper canyons, subway platforms, the view out a museum window, monumental freeway overpasses — the city is a constructed place of mammoth wonder. Sometimes the view is slightly off-axis, yielding a visual wooziness. Often it is difficult to tell where Innerst physically stands in relation to the scene: The vantage hovers improbably in space, a floating eyeball, while that museum building might in fact be an architect's small foam-core model.
When people are shown, they are usually undifferentiated spots of light moving through a powerfully built environment.
In four larger paintings (the largest is 56 inches square), the more abstract the better. An intense poetry of color projects inner feelings onto monumental forms in "Spectra" and "Beneath a Canopy of Light," where vertical bands of color marked by patterned fenestration dissolve into tiny, dazzling dots of hypnotic light.
Kohn Gallery, 1227 N. Highland Ave., Hollywood. Through May 23; closed Sundays and Mondays. (323) 461-3311, www.kohngallery.com
christopher.knight@latimes.com
Twitter: @KnightLAT
MORE ART:
'Border Door' at the immigration-themed show at Vincent Price Art Museum
The city of L.A. gave local artists $10,000 grants. See what they did with it
Rashid Johnson at David Kordansky
---