Review: Monique Prieto at Chimento Contemporary: Finding a face in the clouds
Last year, Monique Prieto exhibited six pairs of little paintings, each resembling an abstract ear and all brought together under the title "Good Listening." The intimate diptychs suggested an artist listening to her inner rumblings while she let the world around her become the background music to her musings.
This year, it's clear that those exploratory abstractions were also seeds. They have sprouted and blossomed into the four diptychs that make up the L.A. painter's current exhibition at Chimento Contemporary in Boyle Heights.
"Luster" shows Prieto at her best: starting with the slightest of inklings, the most basic materials and the simplest gestures and, somehow, transforming them into unpresuming works that invite visitors to have conversations with ourselves about all kinds of relationships — between ourselves and our bosses, ourselves and our lovers and, if we stick with it, between our best and worst selves.
The format of Prieto's paintings sets everything in motion. On paired black panels, most 6 by 3 feet, she has used a single color — red, blue, yellow or gray — to paint an abstract blob. The blobs in the left panels are slightly lighter that those on the right, suggesting the passage from day to night.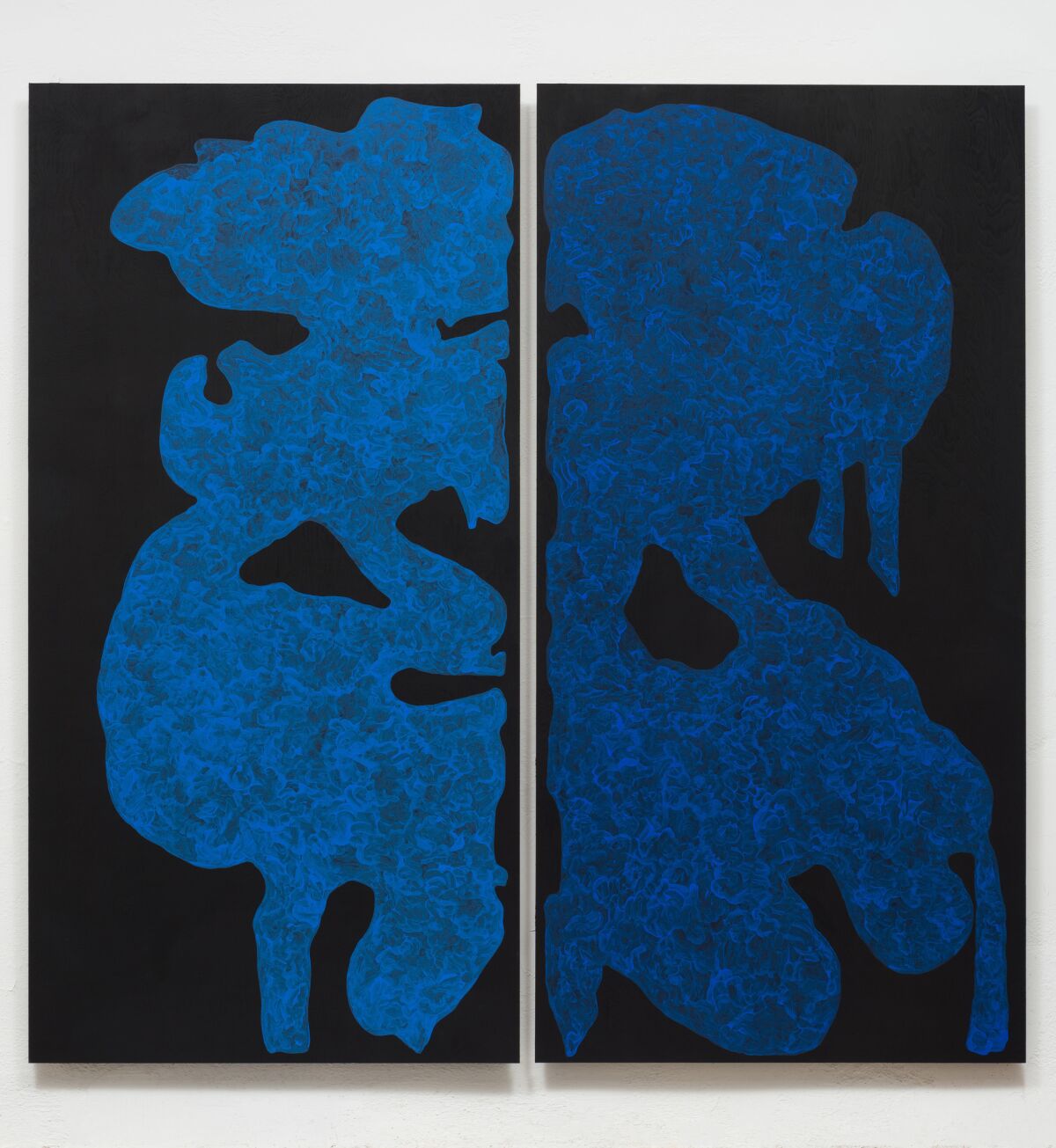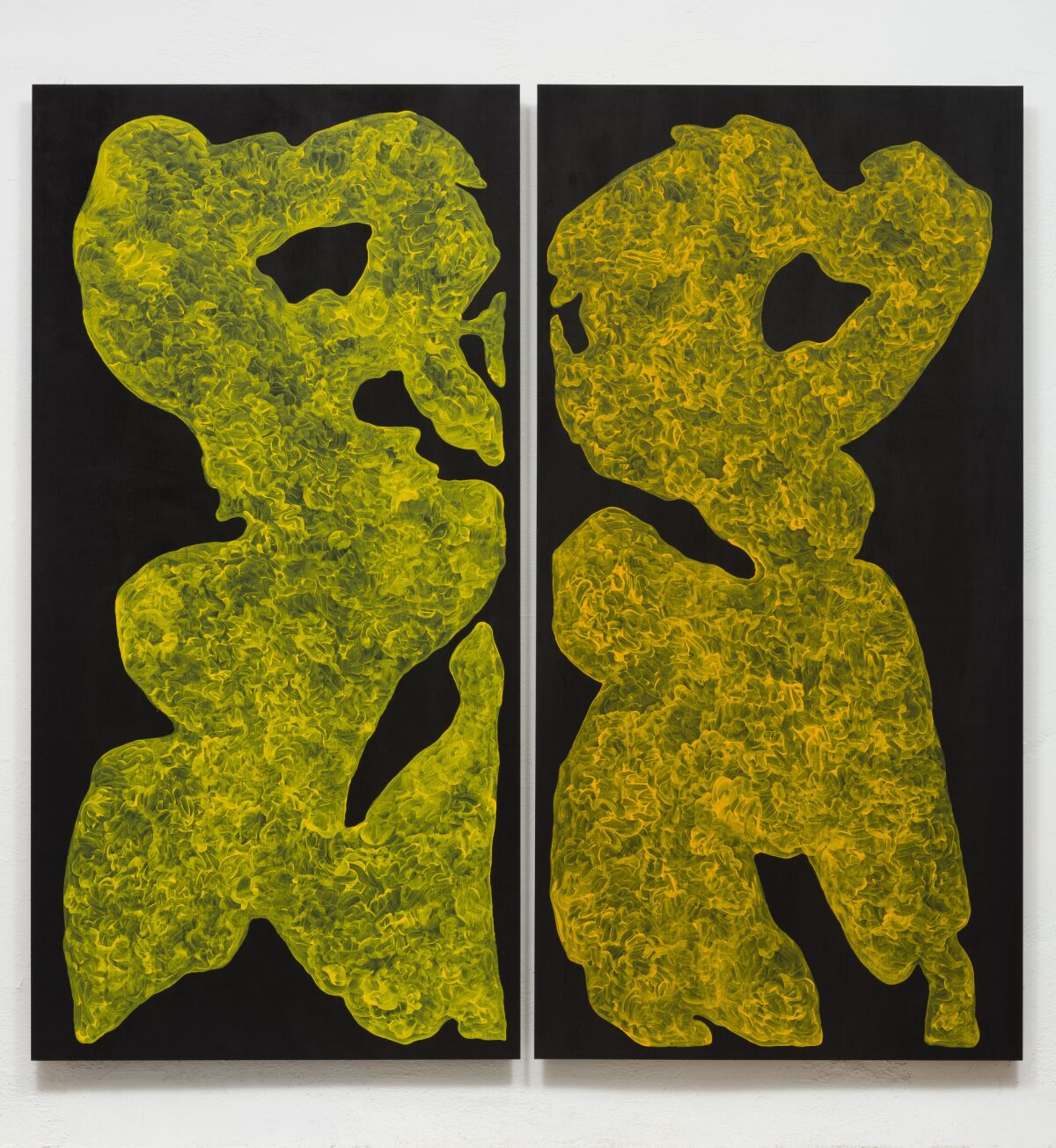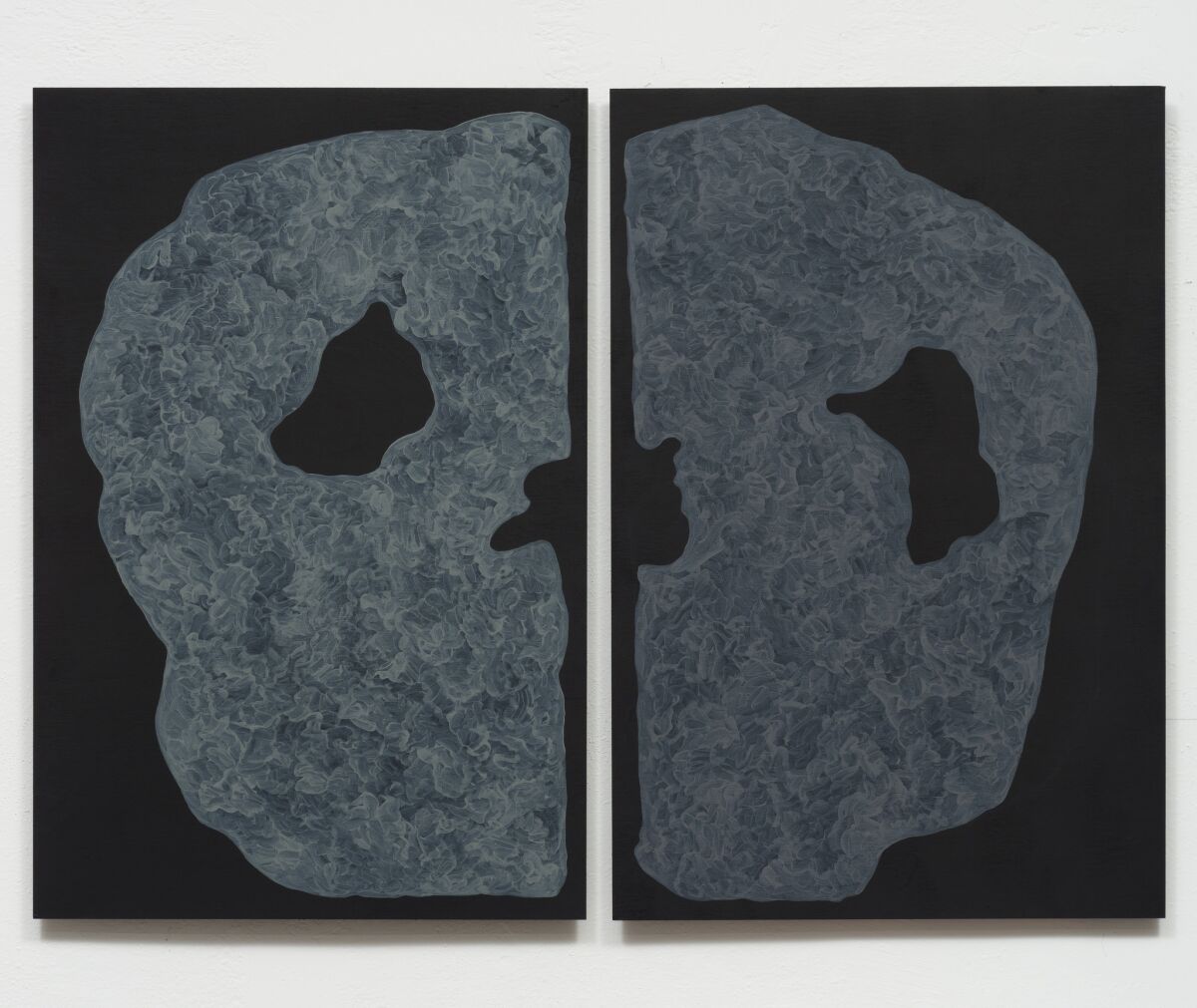 SIGN UP for the free Essential Arts & Culture newsletter »
Prieto painted each blob by dipping a small brush into a big cup of watery acrylic and noodling it around on the black panel, over and over again, until the meandering paths overlapped and interwove just enough to create something like atmospheric solidity. Think clouds, their various densities and wispiness making them seem to be living organisms.
Like clouds — or Rorschach blots — Prieto's shapes draw the imagination into action. Most evoke silhouetted figures. Often they recall the antics of cartoon characters, exaggerated expressions that capture a truth or two of human life.
Each has a single "eye" and at least one "mouth." All face the half-inch gap between the paired panels, always very closely. All are engaged in a passionate exchange, perhaps a kiss from which their lips have just broken or an argument between hot-headed antagonists, like those between baseball managers and umpires — for the benefit of fans too far away to hear a word of the overheated argument.
The silence with which Prieto's paintings begin is different. Gradually and casually, it is interrupted by internal voices that murmur beneath the cacophony of everyday life.
Chimento Contemporary, 622 S. Anderson St., Space 105, (310) 433-0508, through Oct. 28. Closed Sundays and Mondays. www.chimentocontemporary.net
Support coverage of the arts. Share this article.
MORE ART NEWS AND REVIEWS:
The incomparable political art of Faustin Linyekula
Film posters by Cuban graphic artists are love letters to American cinema
'Kinesthesia' exhibit in Palm Springs spotlights kinetic art in breathtaking new dimensions
Get our L.A. Goes Out newsletter, with the week's best events, to help you explore and experience our city.
You may occasionally receive promotional content from the Los Angeles Times.