'Moves After Dark': How dancers are taking over Disney Hall's rooftop garden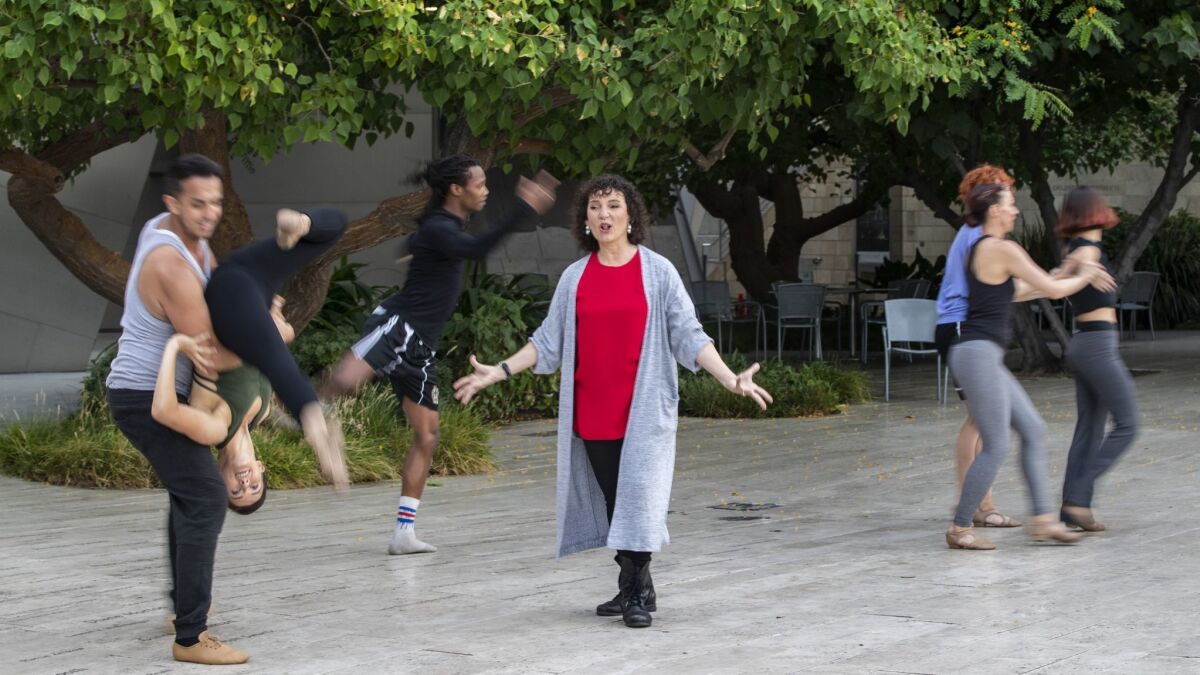 Take dance out of its traditional setting — the proscenium stage — and it can become a particular kind of theatrical magic. But the creation of site-specific dance comes with challenges too.
Consider choreographer Janet Roston's experience in creating "Gatsby Redux," one of three works that will be presented on the stairs, walkways, amphitheaters and gardens at Walt Disney Concert Hall for the Music Center's Moves After Dark series, beginning Tuesday and running through Aug. 1.
Standing in Disney Hall's Keck children's amphitheater, Roston envisioned the blissful reunion scene for Daisy Buchanan and Jay Gatsby, the ill-fated lovers of F. Scott Fitzgerald's "The Great Gatsby." And sure enough, at a recent rehearsal, Dominique McDougal (as Gatsby) and Tiffany Wolff (who portrays Daisy) turned the tiered concrete seats into a rendezvous of rapture as they frolicked across, up and down the stairs while 1920s songs filled the air.
But then, the dance moves into the concert hall's Blue Ribbon Garden. When Roston made one of her first scouting trips to this lush landscape high above Hope Street, the stone walkways yielded an obstacle for dancers.
"It was like the march of the snails," said Roston, who runs the multimedia dance company Mixed eMotion Theatrix. "We thought we could have Gatsby give everyone a gift of a snail because there were that many."
That was weeks ago, however, before the Music Center removed the interlopers. And Roston, working with composer Mark Governor and producer Joe LaRue, who created projections for the concert hall's swooping façade, has realized her vision of presenting a "glimpse of Gatsby" in Disney's outdoor spaces.
"I knew I wanted something that was about relationships, love," Roston said. "I wanted to transport the audience."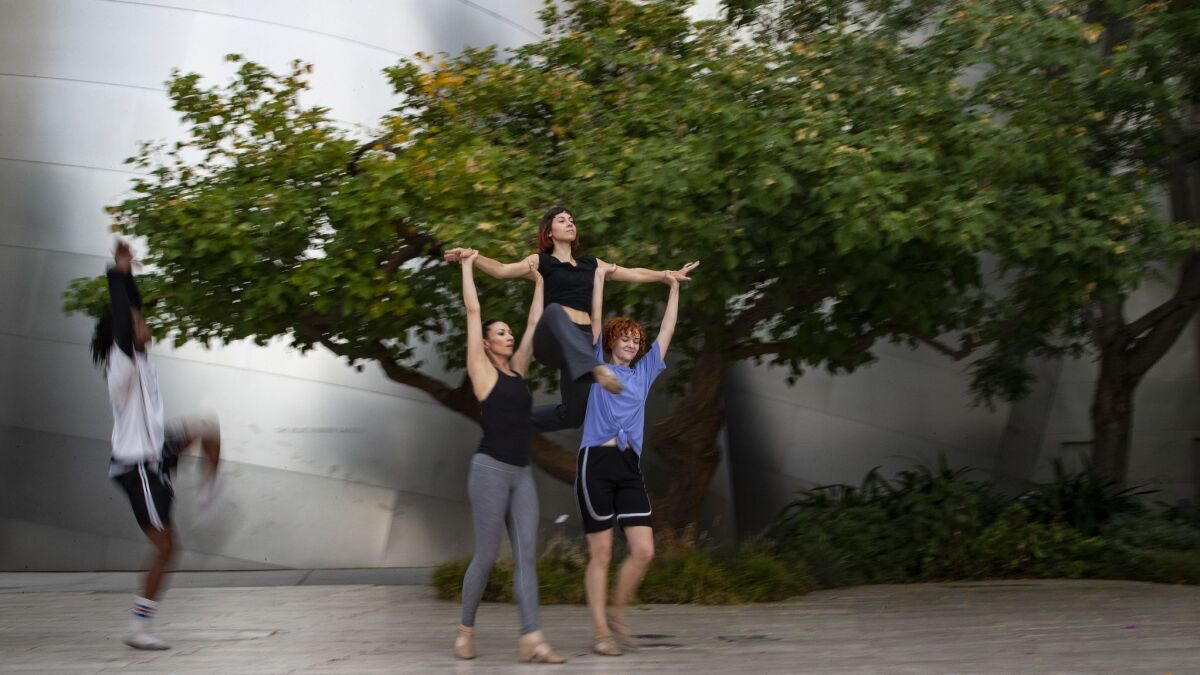 Transporting the audience is a good way to describe not just Roston's goals but also Moves After Dark, now in its third season. For these performances, viewers generally stand or move around during each 20-minute dance, walking from one piece to the next.
Holly Rothschild, artistic director of Strange & Elegant Choreography and Performance Installations, created a minimalist piece for eight performers on Disney's Grand Avenue stairway, inspired by the lively energy she feels from Frank Gehry's architecture. Rothschild hung out by the stairs, a popular meeting and photography spot, to watch how crowds flowed up and down. Her husband and frequent collaborator, musician Luke Rothschild, has created an electronic score for the dance, titled "Under/Current."
Clairobscur Dance artistic director Laurie Sefton will present "Concert Walls," in which her dancers travel along a snaking staircase and into the Carson amphitheater. Disney Hall's design sparked Sefton's creativity but so did thinking about the history of the Bunker Hill neighborhood and about some of Los Angeles' intractable social ills. Composer Bryan Curt Kostors and three other musicians will play live for Sefton's dance.
Michael Solomon, the Music Center's vice president of education and presentations, said he has sought out midcareer Los Angeles choreographers for Moves After Dark. This year, as in the past, Solomon chose female directors and their companies.
More women than men go into dance as dancers, but opportunities for women to run companies and choreograph work "have not been the same," he said. "I think it's important to point that out."
He noted the importance of Roston's work in the commercial realm — a deep list of credits in commercials, television and film. She also has two stage productions running: "Cabaret," Celebration Theatre's musical in Hollywood, and "Mutt House," a family musical that recently opened at the Kirk Douglas Theatre in Culver City.
It's less the exploration of a movement concept and more about how movement has an emotional resonance.
— Choreographer Janet Roston
With Mixed eMotion Theatrix, Roston's original projects have included "Anaïs, a Dance Opera," created in collaboration with composer-lyricist Cindy Shapiro, about the author Anaïs Nin. The company's mission, Roston said, is to use theater, dance and visual effects to tell stories — "all kinds of stories, literary or biography, folk tale, fairy tale. The idea is to communicate stories from a theatrical and movement premise. This is the road I'm on."
It's a road that fell out of favor for many concert dance choreographers, but Roston points to British choreographer Matthew Bourne as an artist who has brought unparalleled integrity to storytelling with his melding of movement and theater.
Roston, who got her bachelor's and master's degrees in dance from UCLA, said she has long been more interested in attracting an audience than in exploring new movement. For her master's project, she created a children's show that explained the musculature system.
Her greatest interest, Roston said, is in using movement to communicate human interaction.
"I want the audience to feel something," she said. "And I feel like I've reached the point where I'm comfortable that I'm a storyteller. It's less the exploration of a movement concept and more about how movement has an emotional resonance."
She expects her piece will be distinct from the two other Moves After Dark choreographers, and that's as it should be. Each dance maker is responding to this architectural landmark, she said.
"You get to walk around and watch dance on a building — how fun!"
♦ ♦ ♦ ♦ ♦ ♦ ♦ ♦ ♦ ♦
Moves After Dark
Where: Outdoor spaces of Walt Disney Concert Hall, 111 S. Grand Ave., Los Angeles. Comfortable shoes recommended
When: 8:30 p.m. Tuesday, Wednesday, July 31 and Aug. 1
Tickets: $30
Information: (213) 972-0711 or musiccenter.org/moves
See all of our latest arts news and reviews at latimes.com/arts.
Get our L.A. Goes Out newsletter, with the week's best events, to help you explore and experience our city.
You may occasionally receive promotional content from the Los Angeles Times.