Matthew Bourne and the U.S. premiere of 'The Red Shoes': 'Art is important, it's worth fighting for'
There were six or seven of them. It was the late 1980s and the dancers traveled around the country in a minibus, ironing their own costumes and sharing beds in cheap hotels. When they reached their next venue, choreographer Matthew Bourne would head to the box office and ask about the audience: "How many are booked for tonight?"
Usually the answer was around 30, with the hope of selling 50 tickets by showtime.
"I was like, 'Fantastic, amazing! Fifty people have decided to come and see us," recalls Bourne, sitting in the plush Founders Room at the Ahmanson Theatre days before the American premiere of his dance adaptation of the Academy Award-winning 1948 film "The Red Shoes." The production began previews Friday and opens Tuesday.
The Ahmanson has 2,000 seats, but to a certain extent Bourne says he still feels like he did in the early days of his career, when he had just founded his company Adventures in Motion Pictures, since renamed New Adventures.
"Fifty people was enough to keep me happy and it's just gotten bigger and bigger and bigger," he says. "But I was never ambitious for that. I've just got a natural desire to entertain."
New Adventures, by Bourne's calculations, performs more than any other dance company in the Britain. To date Bourne has created 11 full-length productions including critically acclaimed dance adaptations of "The Picture of Dorian Gray," "Lord of the Flies" and "Edward Scissorhands." The company has been nominated for 12 Olivier Awards ("The Red Shoes" won two), and in 2016 Bourne was knighted for his service to dance.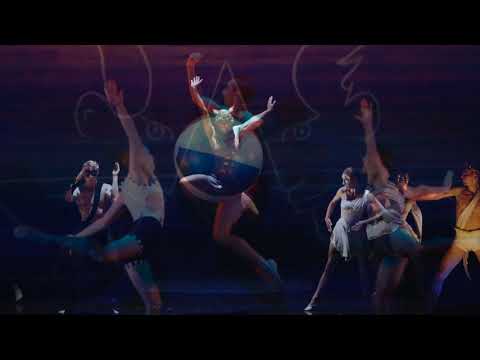 Choreographer Matthew Bourne presents the American premiere of "The Red Shoes," dance theater adapted from the classic film of the same name.
His company's success can be attributed to its pop-culture themes and work often based on beloved films and works of literature. Some might call it contemporary dance, but Bourne prefers the terms "dance theater" or "wordless storytelling."
"Even when I've tried to do something dark, or a little more difficult to get, it still ends up having an entertainment value that I can't resist," says Bourne. "I want people to be happy with what they're watching."
This desire materialized early in Bourne, who began putting on shows for his parents when he was 4 years old. His mother made his costumes and his father helped with makeshift sets. Bourne later put on shows at school and at a church hall down the road in London. He formed his first dance theater company when he was 14 and another when he was 18.
He never had formal training, instead basing all he knew on the MGM musicals he was enamored with. He never saw a ballet until he was 19, when he went to "Swan Lake" because it was famous. He left feeling that the show was "sort of weird and glamorous and wonderful."
He didn't formally commit himself to dance until age 22, when he began training at the Laban Centre for Movement and Dance.
Bourne attributes his unusual style to the idiosyncratic start he got in the art form. It helped him define a voice based largely in the narrative language of theater and cinema and lacking in the strictures that can bind dance to a certain stiff formality.
"I completely fell in love with the way he works — the telling of the story and the acting," says Michela Meazza, who has been working with New Adventures for two decades and plays forsaken prima ballerina Irina Boronskaja in "The Red Shoes." "I never went back to the ballet world."
In 1997, Meazza appeared in Bourne's daring reinterpretation of "Swan Lake" at the Ahmanson. When the show returned in 2006 for a 10th anniversary encore, Times dance critic Lewis Segal wrote that the performance "offers local audiences a chance to re-experience an initially groundbreaking and still audacious reinterpretation of an imperishable 19th century ballet. Male swans, a gay interspecies romance, comic observations about the royal House of Windsor, choreographic references to everyone from Alfred Hitchcock to Astaire and Rogers: What an amazing, triumphant achievement, then and now."
For "The Red Shoes" Bourne has once again concocted a surreal mash-up, combining Michael Powell and Emeric Pressburger's 1948 film with the expansive movie scores of Bernard Herrmann, as arranged by composer and longtime Bourne collaborator Terry Davies.
Even when I've tried to do something dark, or a little more difficult to get, it still ends up having an entertainment value that I can't resist.
— Matthew Bourne
"The Ghost and Mrs. Muir," and "Fahrenheit 451" provide the core soundscape for the show, as does "Citizen Kane," which "weirdly, is full of dance music. Who knew?" Bourne says.
"Since each film is a different story, part of my task was to unify this disparately sourced material so that it's forced through a particular spectrum," says Davies, who has worked on half a dozen Bourne shows. "Matt is a very trusting collaborator. He has a level of self-confidence that I think is unusual."
Despite being one of the most famous films about dance ever made, "The Red Shoes" didn't have a score that particularly inspired Bourne when he first started conceiving the show three years ago. (He found it on a list of possible dance adaptations that he had scrawled on a sheet of paper more than 20 years earlier.)
The film tells the tale of a ballerina cast in a production of "The Red Shoes," based on the Hans Christian Andersen fairy tale of the same name about a demonically possessed pair of ballet slippers that literally dance their owner to death. The ballerina's life in the film takes a twist when an unrequited love turns fatal.
For Bourne, "The Red Shoes" is a love letter to theater.
"It's an expression of what art can do," he says. "It's about dying for art — a very extreme thought — but that's what I wanted to say, that art is important, it's worth fighting for."
To bring the daily reality of a 1940s dance company to life, Bourne had his dancers perform a great deal of research, including looking at videos, old films, books and periodicals to learn about postwar London and the itinerant lives of dancers at the time. They wrote out their characters' back stories and discussed their relationships to one another, so nobody is ever onstage — no matter how minor the role — without clear motivation.
Bourne said one of the most interesting things they learned is that in the 1940s, dance troupes were a lot more eccentric, and less concerned with perfect technique. They were like bands of tightly knit journeymen who lived for their art, and they thought nothing of performing three or four shows a day. That detail alone helped the dancers add authentic flavor to life in the fictional company.
"There are all sorts of sub-stories and back stories that make people want to watch every single character," Meazza says. "At the train station, everybody has a story, so it's not just a generic train station scene."
This attention to detail is what has made New Adventures stand out. Like sweeping silent films, Bourne's productions excel at telling narrative stories without words.
"It's not that I reject words. It's just that my thing is not using them," Bourne says. "I feel like I've failed if I have to use them."
♦ ♦ ♦ ♦ ♦ ♦ ♦ ♦ ♦ ♦
'The Red Shoes'
Where: Ahmanson Theatre, 135 N. Grand Ave., L.A.
When: 8 p.m. Tuesdays-Fridays, 2 and 8 p.m. Saturdays, 1 and 6:30 p.m. Sundays; ends Oct. 1 (call for exceptions)
Tickets: $30-$165 (subject to change)
Info: (213) 972-4400, www.centertheatregroup.org
MORE THEATER:
Paul Rudnick's 'Big Night': Comedy and crisis in the awards machine of Hollywood
Laughter, and sex, in the cancer ward? 'A Funny Thing Happened' goes there
Get our L.A. Goes Out newsletter, with the week's best events, to help you explore and experience our city.
You may occasionally receive promotional content from the Los Angeles Times.