Neal Bledsoe on the love triangle of 'The Pride' and finding home onstage — and in downtown L.A.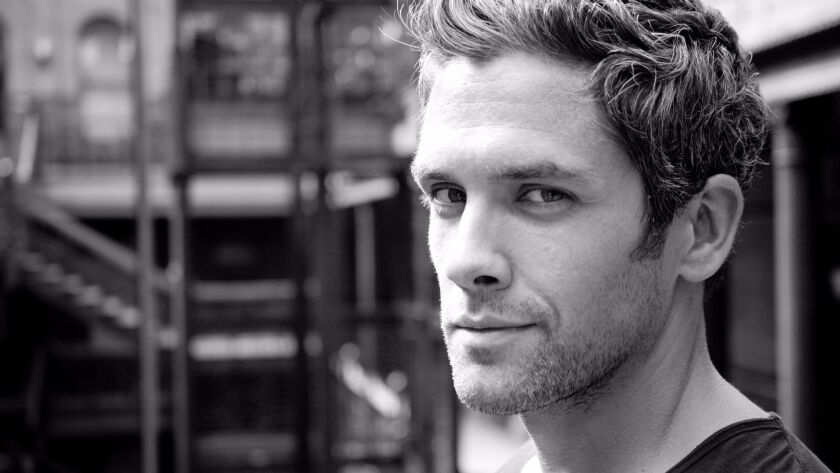 Tonight the Wallis Annenberg Center for the Performing Arts opens Alexi Kaye Campbell's "The Pride," a drama about a complex love triangle of sorts that toggles between 1958 and 2008 as it explores identity, intimacy, shame and desire.
The play, co-starring Neal Bledsoe ("The Man in the High Castle") and directed by Wallis artist-in-residence Michael Arden (2016 Tony nominee for "Spring Awakening"), coincides with Pride Month and addresses society's changing attitudes toward love and sexuality over five decades. "What it means to be a man has changed," Bledsoe says of his character, Phillip, "but just because societies change, doesn't mean they always change for the better." The actor fielded questions by email about the play and about his move to L.A. for this edited conversation.
When you first moved here from New York, you didn't much care for L.A. But moving to downtown was a game-changer. How so?
L.A. can be conflict-averse, something that's reflected in its neighborhoods. They can be segregated and somewhat tribal, while the dual forces of gentrification and the search for authenticity can make them feel like theme parks of themselves.
Downtown felt vital, true and full of conflict to me. Everywhere else in the city you can lock your doors and drive away from problems and people, but downtown forces you to navigate the human element. And for all of L.A.'s beauty, beaches, mountains, it is the chance human encounters, the history, the challenges of its past and present, its hope for the future, the spectral imprint of storytellers who came before me that I could find there and nowhere else that made me feel at home.
How does the L.A. landscape inspire you as a storyteller?
There's space and time to create here, two things that I need as a storyteller, things I didn't always get in New York. But also, its people fascinate me. L.A. still has a Ragged Dick meets Lana Turner siren song that calls people from all over the world to it. It's the one place, at least that I know of, where someone short on talent and long on ambition can come and make a success of themselves. In all fields. Actors, writers, directors, dancers, athletes, models, artists, dreamers and people living out their lives on the outskirts of the dream factories, aware that if it's happening to other people, maybe, just maybe, it could happen to them too. It's hard to not be inspired by them.
What are your favorite DTLA haunts?
Yuko Kitchen, Nickel Diner, KazuNori, Wolf & Crane Bar, the Varnish, Ledlow, Chicas Tacos, Daikokuya, G & B Coffee, Bluewhale jazz club, Chego, Mignon.
Langer's or Wexler's pastrami?
Wexler's (I've not been to Langer's yet, a sin, I know).
Last Bookstore or Book Soup?
Last Bookstore
Grand Central Market stall?
Rahul Khopkar's Ramen Hood
Favorite L.A. hiking trail?
The Bridge to Nowhere [San Gabriel Mountains]. If you keep going past the bridge into the nowhere, you can see everything from gold panners to bighorn sheep.
You've appeared on Broadway ("Impressionism") as well as on the big screen ("Sex and the City 2") and TV. Where do you feel most at home as an actor?
I'd say on stage. Night after night, it's entirely up to you, the actor. The live experience is like nothing else. The stakes are raised. You can't yell cut and hope that the editor will splice multiple performances together to make something that works. Also, the amount of time spent in rehearsal, the hours and hours diving into a single text to discover its secrets is not a luxury I get in film or television. There's something special in the connection that can only happen when human beings are in the same room with each other. Despite all of their fancy CGI, it's something that film and TV hasn't figured out how to do yet.
Much has happened in the world since "The Pride" premiered in 2008. What makes the play relevant today?
The main two events of the year this play premiered were the election of Barack Obama and the global recession. Obama, even though he had to famously evolve on the issue, represented a hopeful sense that social progress toward equality was inevitable. The recession was the start to the pushback, against what many of us know as progress toward something more euphemistically "traditional," a conservative 1950s golden age, which is the other period of this play.
We have seen the rise of nationalists and an erosion of our faith in globalism. It felt like we were going to be given the country and the world we had always been promised. What we assumed was inevitable has been called back into question, even as some other rights have been assured. I think this play serves as a clarion call to remind us that we mustn't go on autopilot, that we can never just assume that the work is done. I think we had a hopeful sense that in 2008 we had or were about to take two steps forward; since then that fear, I think, has forced us to take a step back. It perhaps makes the play even timelier now than when it was written.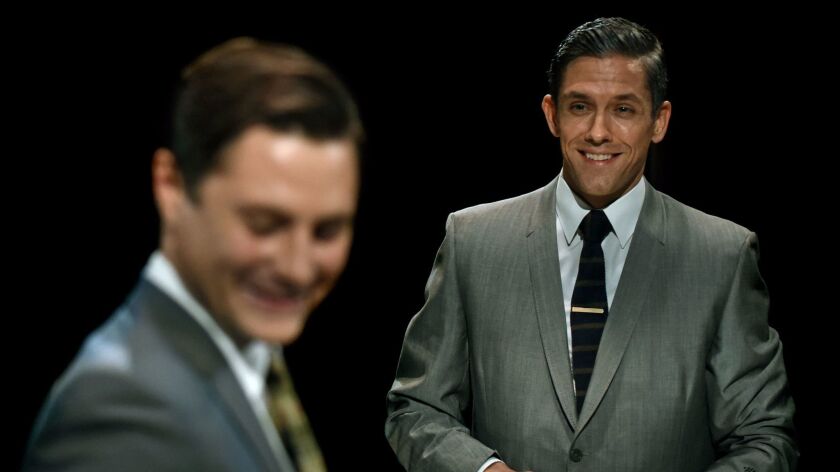 The play spans 1958 and 2008. How is your character's fate determined by the era he lives in?
Phillip is a man who is trying to live as well as he can in the circumstances provided to him. In London of 1958, we would have just come out of the existential threat of the Second World War and into a rapidly modernizing world where Britain lost its empire and its place in the world, faced the Cold War, American rock 'n' roll, movies, television and a society struggling to maintain a social order it thought made them great. Homosexuality was a crime and a disease. That fear of being found out for who Phillip really is, and the people he has to support, keep his desires buried deep within him.
Also, media had not fully connected us yet. In 2008, Phillip has not had to deal with many of those social pressures. Progress brings unintended regression in other ways, such as the current hyper-sexuality of our society. What was repressed has now become culture and what was culture has now been repressed. In 2008, I long for the structure, fidelity, trust, something that in 1958 I might've had some form of, but the choice and a society telling me what I am inhibits that.
You collaborated on artist Jon Kessler's "The Web," a 2013 immersive installation shown in New York and Basel, Switzerland, that addresses mobile devices in our lives while also examining the role of the viewer. Can you tell us about this?
Jon asked me to come on board and give a phony TED talk about the launch of his new app. He'd started a rumor that he'd sold this app for millions of dollars and was retiring from the art world. I was the CTO of the company that bought it, GVI, or Global Village Idiot. My speech was written by Josh Cohen and the whole thing devolved into an Emperor's New Clothes-like madness. We were essentially selling the audience back their own lives. The jokes played well in New York, but I don't think our Swiss audience appreciated the puns.
Most people may not know: You're also a sports journalist.
It's true. The MMQB over at Sports Illustrated has given me a bit of a home the last few years. I'm fascinated about what our obsession with football says about us as a culture. Most of what I like to write about is the intersection of sports and culture. I'm not a stat guy or a hot-take artist. I try to write things in the vein of Frank Deford, George Plimpton and WC Heinz, writers who were able to tell the stories behind the story.
Favorite sport to play? Or watch?
If I were any good at it, I'd like to say surfing, but I'm not, so I think I have to say football or boxing to actually do, and October baseball or World Cup soccer to watch. But if Seattle sports are on TV, my natural homer instinct kicks in and I watch that obsessively.
♦ ♦ ♦ ♦ ♦ ♦ ♦ ♦ ♦ ♦
'The Pride'
Where: Wallis Annenberg Center for the Performing Arts, 9390 N. Santa Monica Blvd., Beverly Hills
When: 8 p.m. Tuesdays-Fridays, 2 and 8 p.m. Saturdays, 2 and 7 p.m. Sundays; ends July 9
Tickets: $40-$75 (subject to change)
Information: (310) 746-4000, TheWallis.org
Follow me on Twitter: @debvankin
Also:
Five-time Tony winner Susan Stroman to revive 'Crazy for You' in L.A.
The secrets for Tony winner Laurie Metcalf? Brilliance and a whole lot of hard work
Her opera helps a Pakistani rape survivor find a louder voice
---
The complete guide to home viewing
Get Screen Gab for weekly recommendations, analysis, interviews and irreverent discussion of the TV and streaming movies everyone's talking about.
You may occasionally receive promotional content from the Los Angeles Times.