Negotiations fail in Actors' Equity 99-seat theater dispute; both sides head for court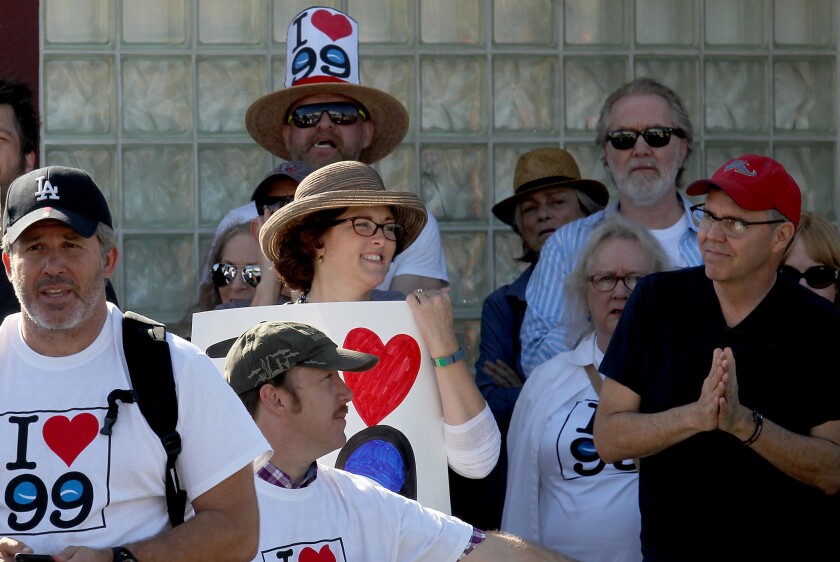 Negotiations to resolve a minimum wage dispute between Actors' Equity Assn. and members of the theater community have failed and the parties are headed to court, according to a statements released by both sides this week.
At the center of the lawsuit is Equity's 99-seat theater plan, which calls for owners of theaters with fewer than 100 seats to pay Equity actors minimum wage for rehearsal and performance time.

For the record:
12:20 p.m. July 3, 2016An earlier version of this article said actor Ed Asner was leading the group of plaintiffs suing Actors' Equity Assn. Asner is one of the plaintiffs but is not a leader of the group.
When national Equity leaders approved the plan in April last year, that meant a $9 hourly minimum wage for members performing in Los Angeles County theaters, a rate that increased to $10 on Jan. 1 and will increase to $10.50 on July 1, because of a wage hike signed into law by Gov. Jerry Brown on April 4.
The plaintiffs in the Asner vs. Actors' Equity case, including Ed Asner, Ed Harris, Amy Madigan, French Stewart and Tom Bower, argue that the new minimum wage would be an untenable financial burden for small theaters, too drastic a shift from the previous system that allowed for token payments for performances and no wage for rehearsals.
The Equity statement released Tuesday read in part: "While we are disappointed that this dispute will enter the courtroom, Equity intends to vigorously defend itself against the meritless lawsuit and will file an immediate motion to dismiss. We are fully prepared to defend both the process and the substance of [the National] Council's actions."
A majority of the L.A. Equity members, 2,046 to 1,075, voted to reject the pay hike during an advisory vote that preceded the union's decision to proceed with the minimum wage.
In a statement released Wednesday, the plaintiffs in the lawsuit detailed six months spent in discussions with Equity and their hope to grow financially successful theaters through a system of step-by-step changes.
"We agree that theaters should pay artists more when they can. But they should not be closed down if they can't. We want to see theatre thrive in Los Angeles. We want to see more contract work here," the plaintiffs said in the statement. "We will continue to urge Equity to reconsider; to gain an appreciation for the importance of small theatre to our City."
Implementation of the union's 99-seat theater plan was originally due to go into effect June 1 of this year, but it offered a 99-seat transitional code that allowed for theaters and producers to transition to the agreements while negotiations over the lawsuit took place.
With no resolution in place and both parties ready to proceed to court, Equity's statement reiterated that the transitional code, always meant to be a temporary order, would expire as scheduled on Dec. 14.
"If Equity enacts its new rules on December 14th as threatened, Equity members' ability to work in 99-seat theaters will be almost entirely eviscerated, and many small theaters will be forced to close," the plaintiffs' statement read.
The union sees the move to adopt the minimum wage as a step toward aligning Los Angeles with the rest of the nation while still allowing union members to volunteer their time in specific circumstances, including self-productions, performing with membership companies or appearing in 50-seat showcases.
The plaintiffs disagree, asserting that what works in New York or Chicago won't necessarily work for Los Angeles.
"We will rally," the plaintiffs' statement said. "And we will be heard. 'Let LA decide the fate of LA Intimate Theatre.'"
MORE
Actors in Los Angeles file lawsuit against Actors' Equity over wage hike
Actors' Equity imposes $9 minimum wage on L.A.'s 99-seat theaters
At Road Theatre Company, how the Equity-mandated minimum wage might play out
Twitter: @midwestspitfire
---
From the Oscars to the Emmys.
Get the Envelope newsletter for exclusive awards season coverage, behind-the-scenes stories from the Envelope podcast and columnist Glenn Whipp's must-read analysis.
You may occasionally receive promotional content from the Los Angeles Times.