Review: Pablo Rasgado at Steve Turner: Even the walls have been recycled
Rather than exhibit only his own art, Pablo Rasgado has created an environment for the display of works by 14 other artists at the Steve Turner gallery.
The tight network of walls — made from drywall recycled from other art exhibitions — cleverly positions its recycled aesthetic in opposition to the kind of seamless, World's Fair-like accounts of progress and globalization.
Titled "This Too Shall Pass" (perhaps a bromide for the Trump era?), the soon-to-close show is a satellite to Pacific Standard Time: LA/LA, the Getty-sponsored slate of exhibitions about the relationship between Los Angeles and Latin America. Accordingly, Mexico City-based Rasgado has selected artists from both regions united by their use of found materials.
Tim Hawkinson's "World Clock" is an open medicine cabinet in which almost every object — dental floss, prescription bottle, toothbrush — is attached to a ticking clock motor. There is no clock face, but perhaps the face is ours. We are left with the quiet realization of our own time, inexorably passing.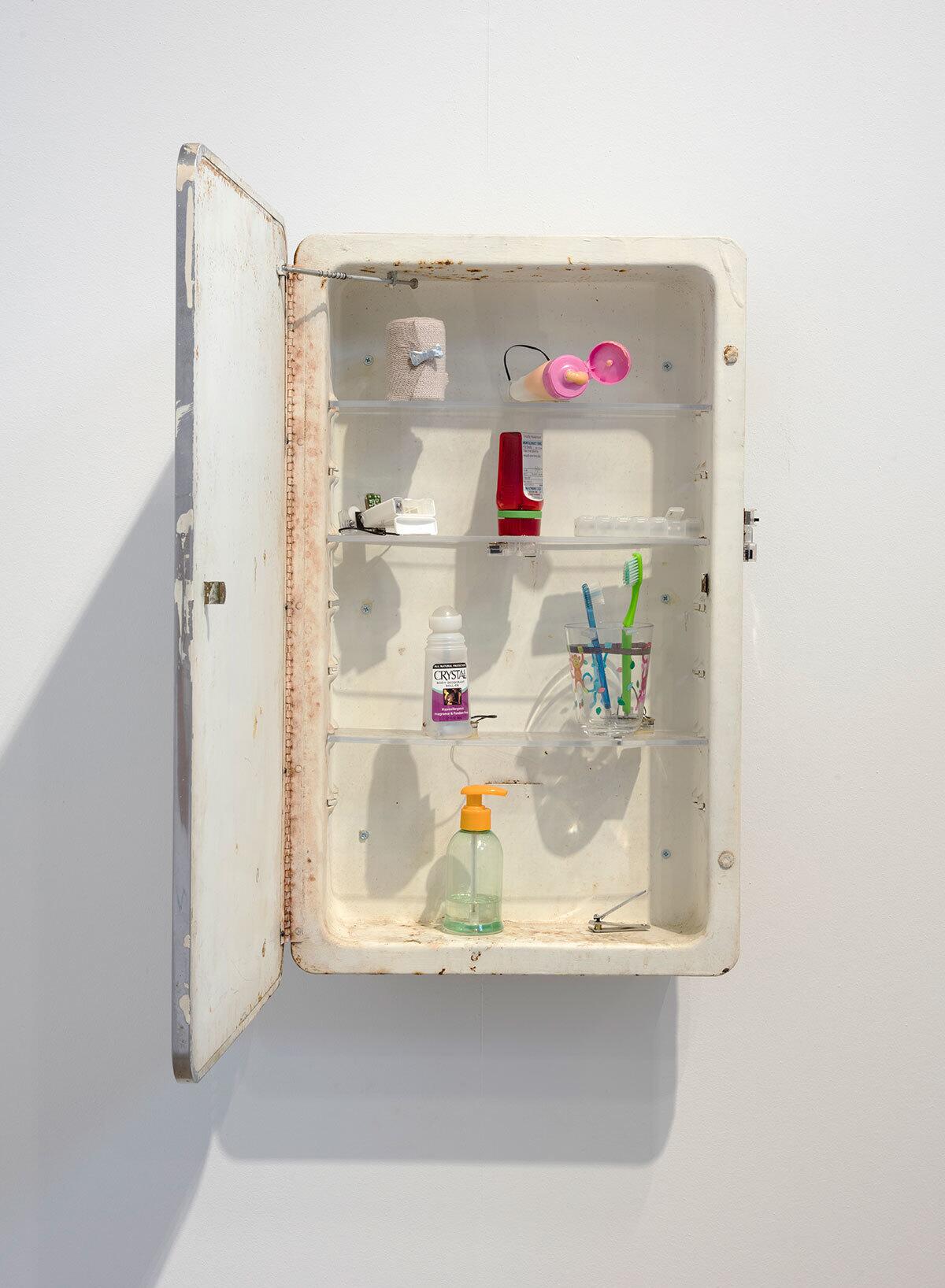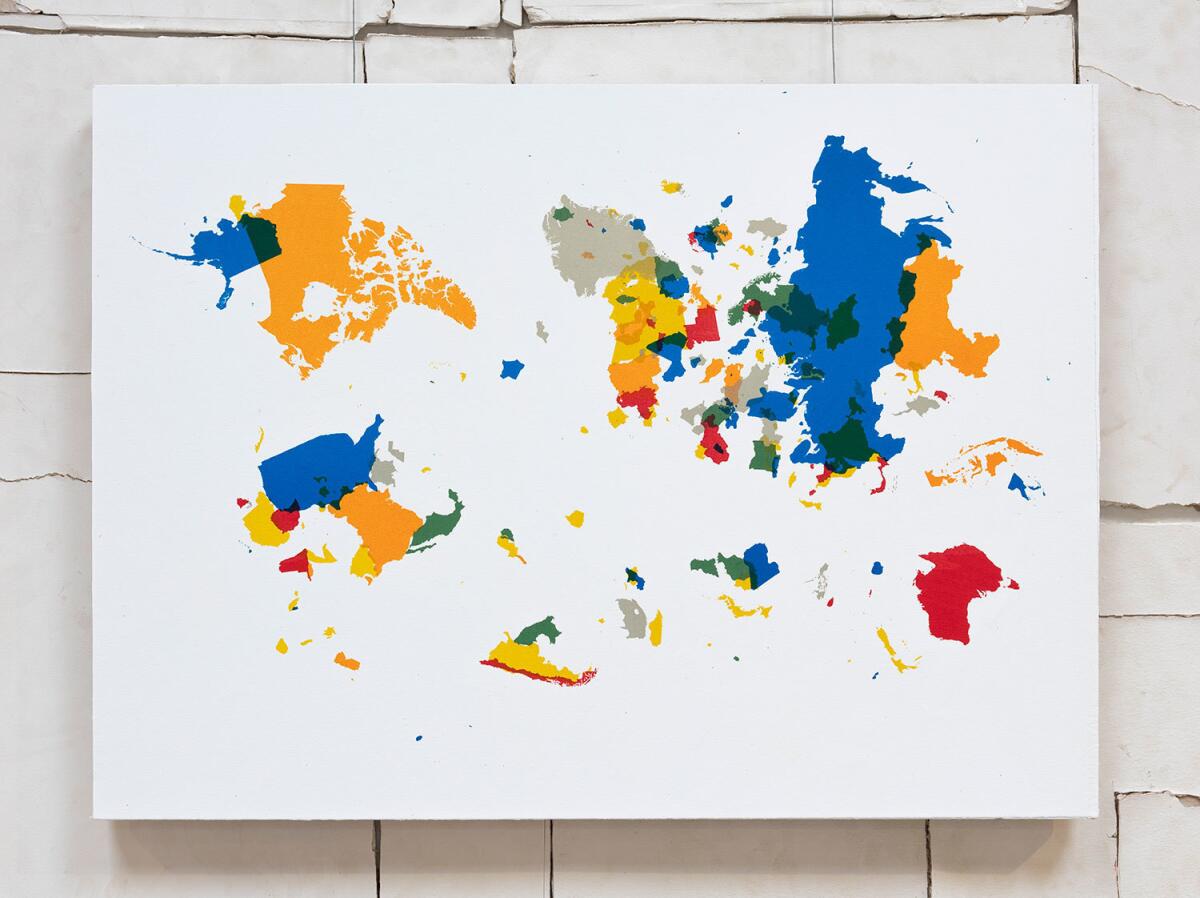 The lithograph "Euroasiaamérica" by Emilio Chapela looks as if he cut out the countries on a world map, threw them up in the air and let them fall where they may. It's a jumble, but it's also a new world order, the psychic product of air travel and the internet.
Gustavo Godoy's "Vacant Marker" is also a jumble of sorts. It's a concrete statue, roughly figurative, somewhat Cubist, composed of what look like the broken bits of other statues, or perhaps some decorative trim that fell off of a Frank Lloyd Wright Mesoamerican folly. It's a broken icon put back together but not restored.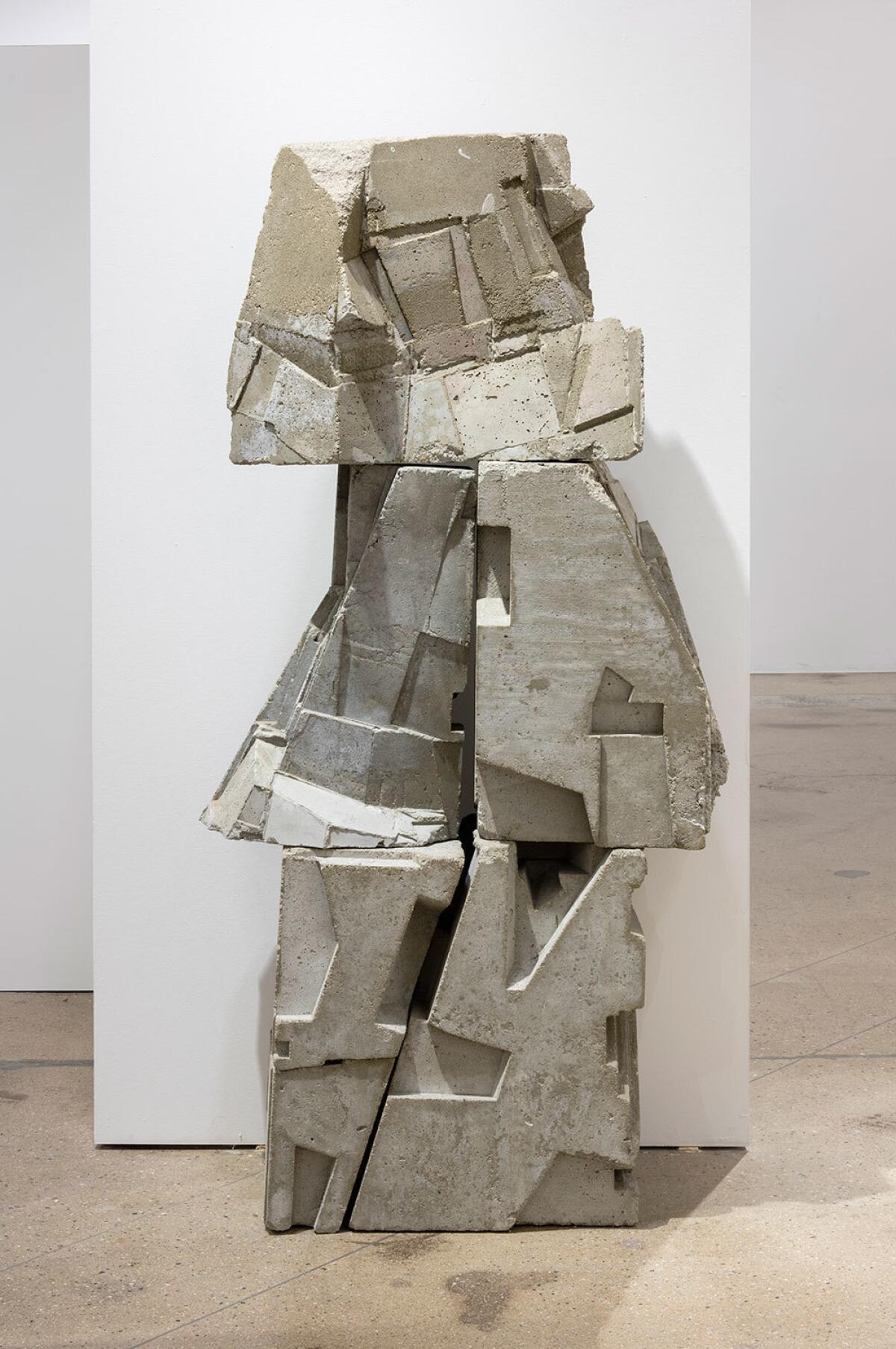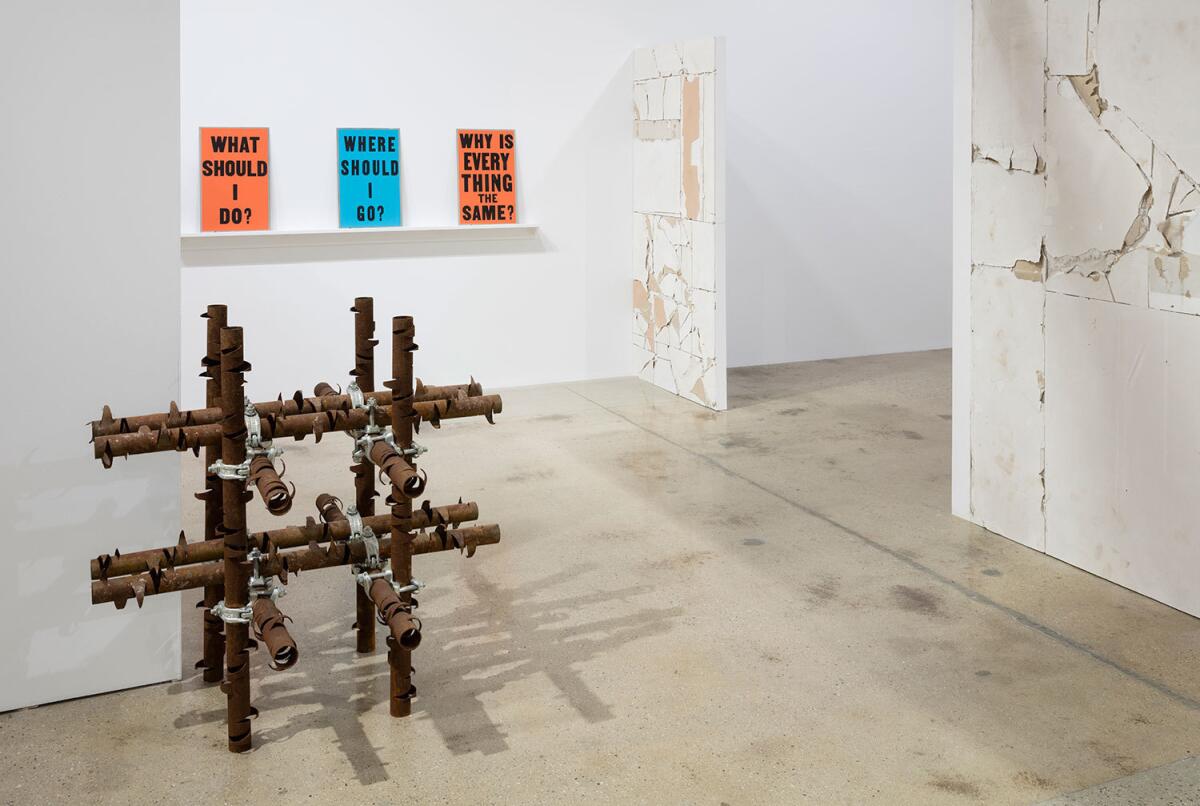 SIGN UP for the free Essential Arts & Culture newsletter »
Another sculptural work, made from rusted iron pipes by Luciana Lamothe, looks like a piece of infrastructure, but the pipes are perforated with cutouts turned outward like little spikes or thorns. They look incongruously organic and render the pipes both useless and dangerous.
To display the works, Rasgado has created a tight network of walls made from drywall recycled from other art exhibitions — mosaics of broken and battered pieces, some painted black or red. They are literally a deconstruction of the typical white wall, but they also are reminiscent of terrazzo — that polished concrete flooring flecked with bits of stone is ubiquitous in airports and office buildings. It pulls broken bits together, polished into a uniform smoothness.
Rasgado's version is not that. His is far from a fantasy of seamless progress toward a perfectible future; it's more like a reckoning with a troubled past that is always erupting around us.
Steve Turner, 6830 Santa Monica Blvd., L.A. Ends Saturday. (323) 460-6830, www.steveturner.la
Support coverage of the arts. Share this article.
MORE ART
Nearly a century later, a video artist follows Frank Lloyd Wright's Mayan footsteps
Artist's simulated banana grove is a stinking indictment of American corporate greed
Rent hikes and evictions — is this the last stand for artists in the Arts District?
A Baroque masterpiece, missing for more than a century, is hiding in L.A.
Get our L.A. Goes Out newsletter, with the week's best events, to help you explore and experience our city.
You may occasionally receive promotional content from the Los Angeles Times.