Review: 'Pairings' plays matchmaker with six painters and six sculptors at Denk Gallery
Art Critic
"Pairings" is an exhibition that teams six painters with six sculptors whose work is deemed somehow harmonious, like dinner entrees matched with compatible wines. The match might be conceptual or formal, although the link isn't always clear.
At Denk Gallery, the three most compelling pairings tend to be formal.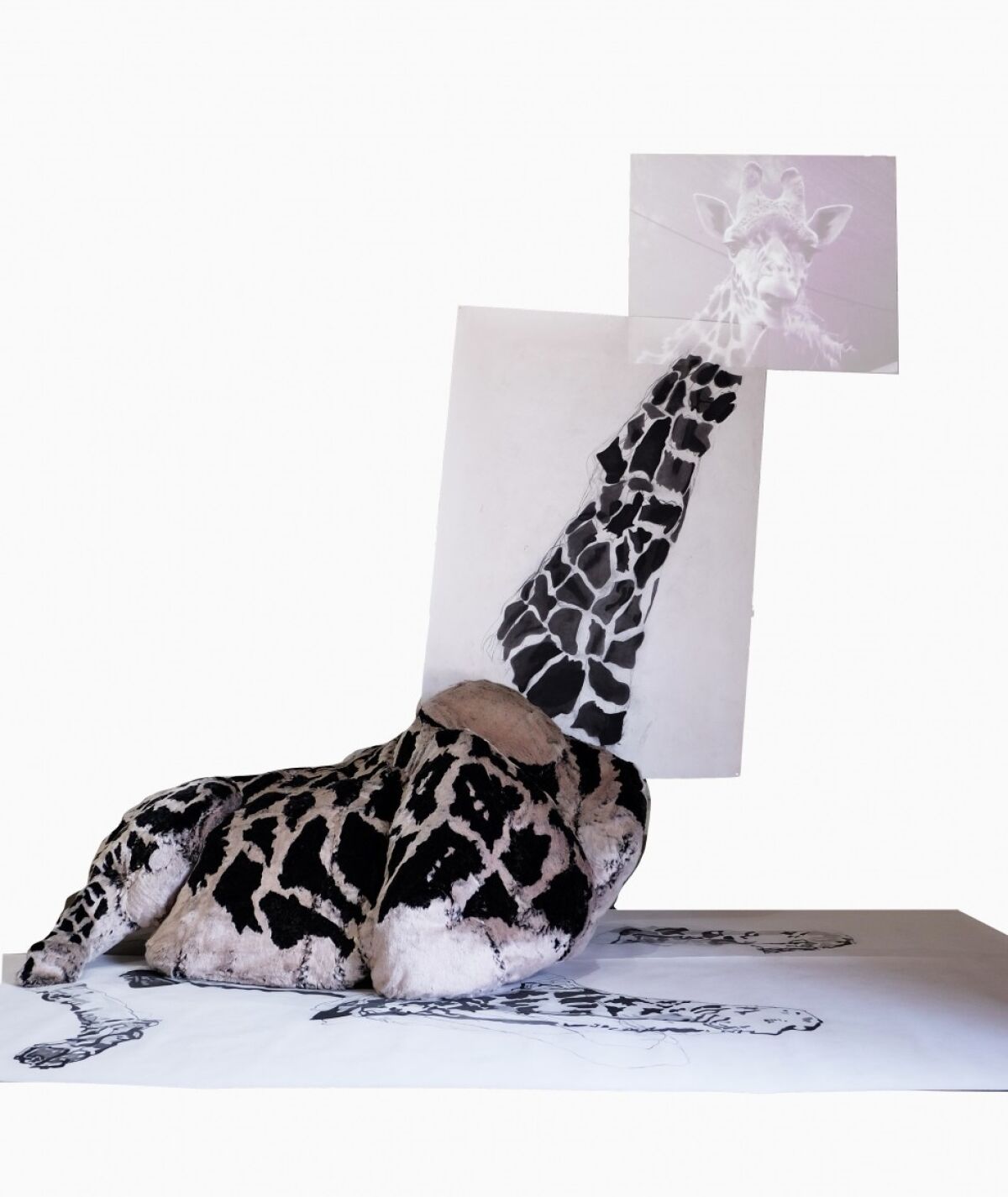 Jenn Berger represents a gangly giraffe by starting on the floor with a drawing on paper of spotted limbs, moving up to a fully sculptural body made of fur stretched over chicken wire, segueing into a tall two-sided rendering on canvas of a very long neck and topping it all off — up near the ceiling — with a beguiling video portrait of the animal's head, idly munching on leaves. Hanging nearby, colorful non-figurative canvases by Martin Durazo slip and slide among gestural, geometric, spattered, stenciled and stained applications of paint, each orchestrated into a seamless yet energetic whole.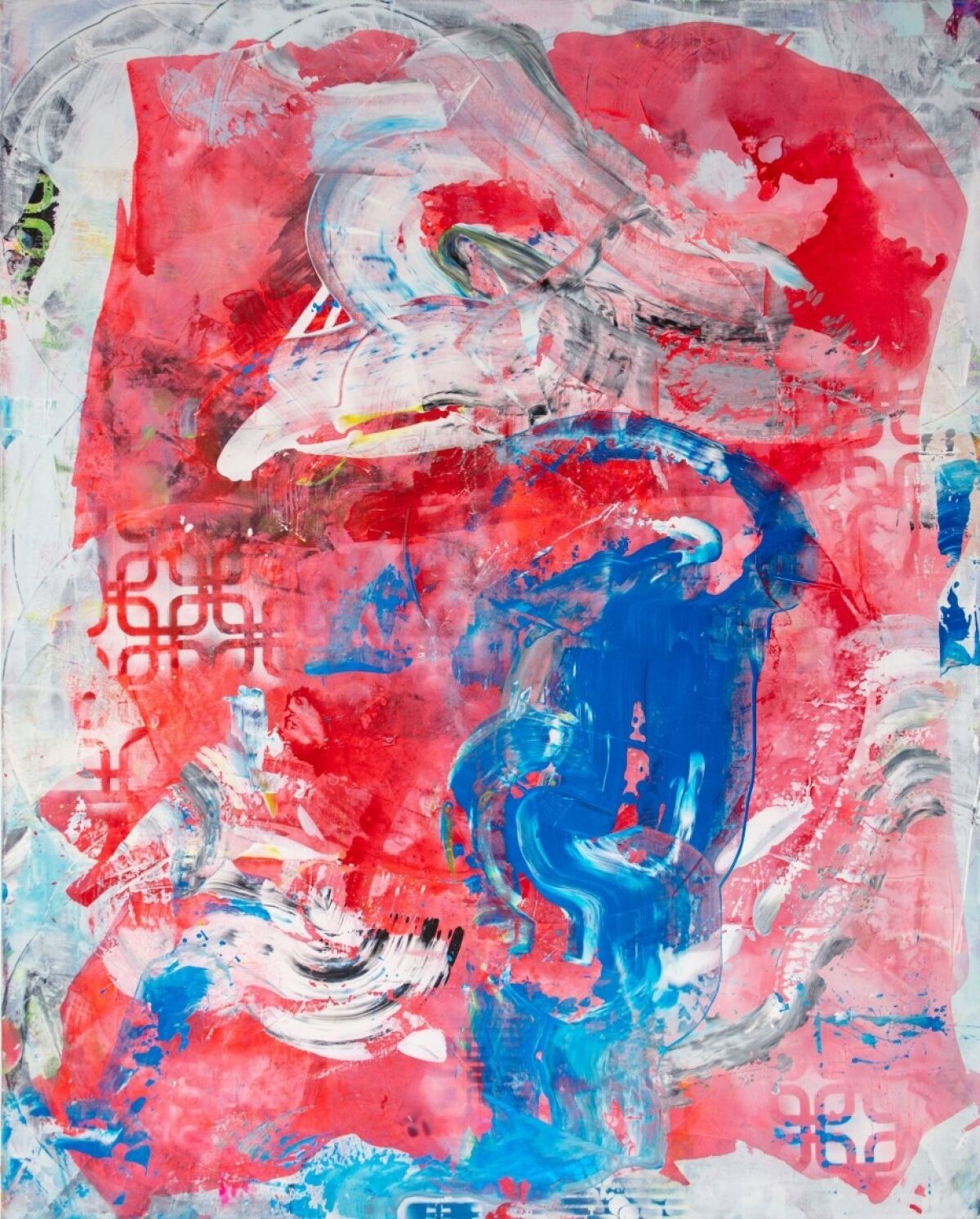 More simply, organic shapes float through pictorial space in chromatically vivid paintings by HK Zamani, while Lana Duong lifts organic forms from the floor and suspends them from the rafters in actual space, in a two-part ceramic work and a hanging vinyl sculpture. Tribal symbols of an apparently fictional civilization crown chunky stoneware vessels by Kiel Johnson, and a culturally ambiguous, mythological red beast slithers through a swirling cascade of blue birds in a monumental diptych painted by Andrew Schoultz.
These pairings do succeed in nudging closer study to speculate on why they have been put together. Ultimately, though, assuming a viewer doesn't already examine art is problematic. The process mostly feels like a parlor game that's only occasionally amusing.
Also on view are painter-sculptor pairings by Carlos Beltran Arechiga and David Hendren; Mira Schnedler and Andre Woodward; as well as Chris Trueman and Michael O'Malley.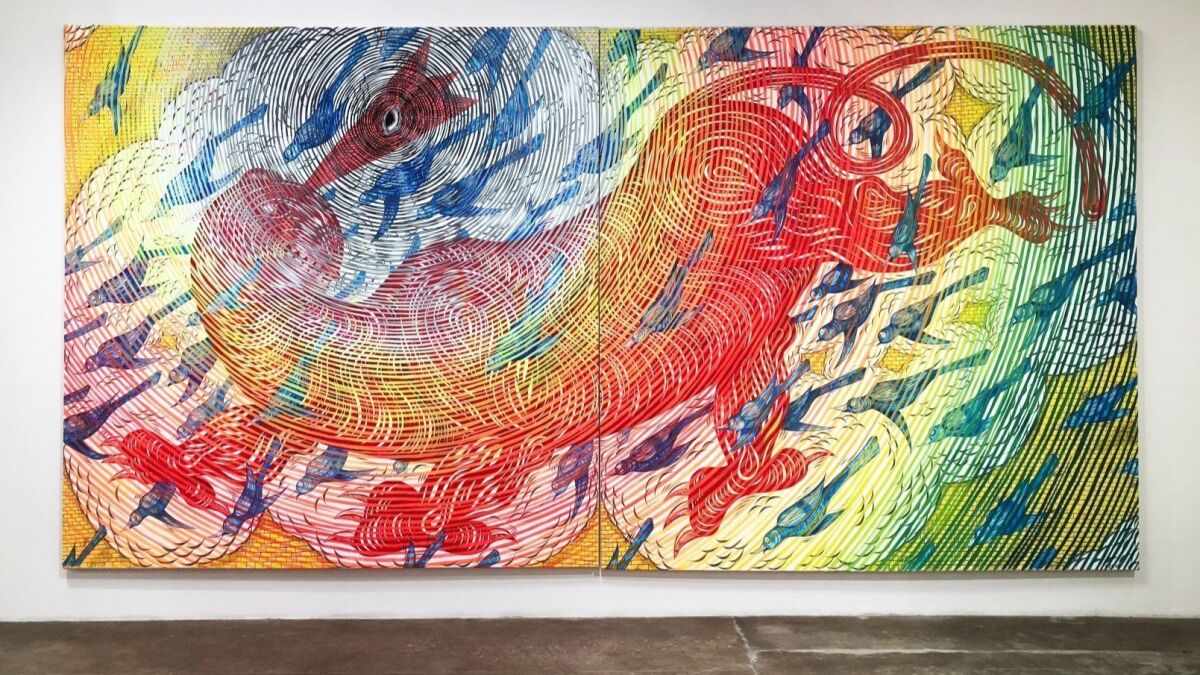 Denk Gallery, 749 E. Temple St., (213) 935-8331, through Sept. 29. Closed Sun. and Mon. www.denkgallery.com
christopher.knight@latimes.com
---
Get our daily Entertainment newsletter
Get the day's top stories on Hollywood, film, television, music, arts, culture and more.
You may occasionally receive promotional content from the Los Angeles Times.