Review: An opera about Walt Disney, in commuting distance of Disneyland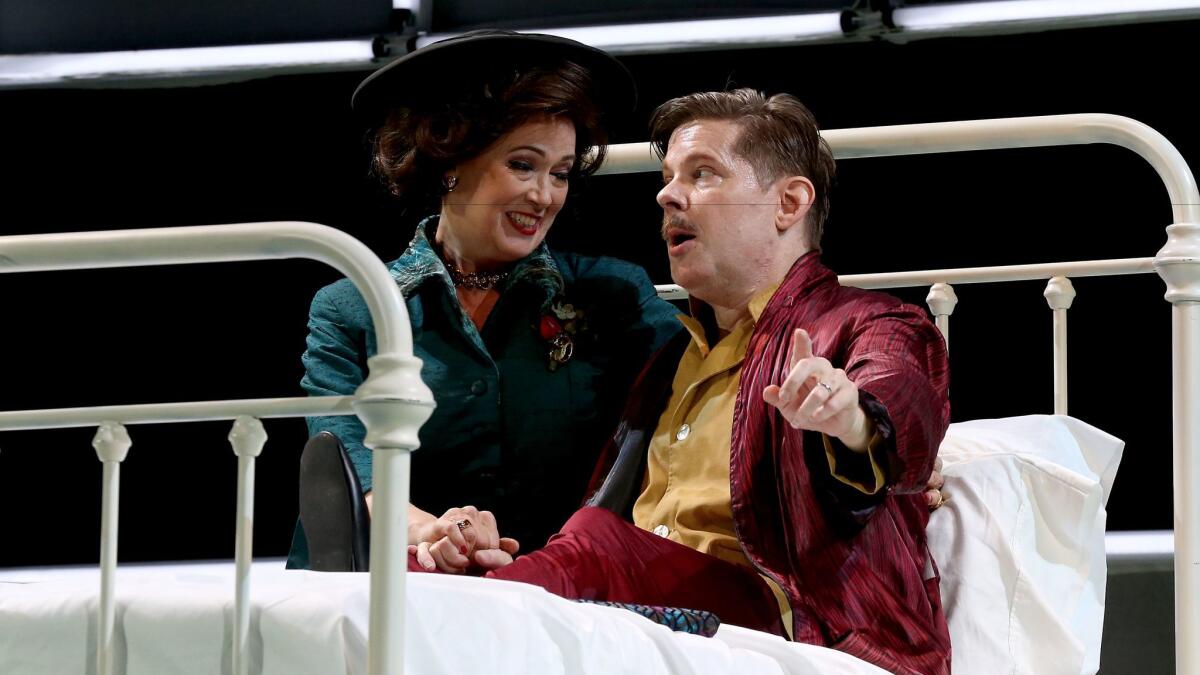 Music Critic
"The Perfect American" is the operatic portrait of an idealist American artist as a less-than-perfect old man, which is to say a blend of sunshine, supremacy and insecurity. In Philip Glass' most recent portrait opera (a great lives series that has included Einstein, Gandhi, Akhnaten, Columbus, Galileo and Kepler), Walt Disney takes stock as he confronts a virulent lung cancer.
At its premiere in Madrid four years ago, "The Perfect American" also came across as a revealing portrait of Los Angeles as a city Disney made into an imperfect factory town for creating the image of perfect life. So imperfect, indeed, that L.A. seemingly wouldn't touch what is one of Glass' most penetrating late works. The influential Disney family voiced its objections to Walt being shown in all his troubling complexity.
But Sunday afternoon, less than 20 miles from Disneyland, Long Beach Opera treaded where others fear to go. The feisty company presented the U.S. premiere of "The Perfect American" at the Terrace Theater.
Glass' starting point is Walt as an artist, the one whose reach extended beyond that of any other in modern times. Walt, who boasted of being more famous than Santa Claus, created a Hollywood dream factory. His vision became the way children around the world have seen the world for generations.
As "Perfect American" opens, Walt, who forbade death to be mentioned in Disneyland, lies dying in the hospital. Rudy Wurlitzer's concise libretto, based on German novelist Peter Stephan Jungk's insightful "The King of America," intercuts Walt's last three months with scenes of his life. He finances a swimming pool for Marceline, Mo., where he grew up. Ten days before he dies, he celebrates his 65th birthday with loving family at his home in Bel-Air, where he also rides his miniature railroad.
In a wonderful scene, Walt goes to Disneyland in the middle of the night to fix a malfunctioning animatronic Abraham Lincoln, with which he gets into an argument about race. An animators' strike at his studio in 1941 turns a once liberal Disney into a less tolerant and more corporate conservative.
But through it all, Walt remained the visionary. In the opera, a disgruntled animator fired by Disney's company attacks Walt for taking credit for the work of his army of artists. But while bonding with a dying boy in the next room, Walt explains that the important thing was to inspire others to create a vision that only an army of artists could realize.
The effectiveness of "The Perfect American" is the continual shifting between the grandiosity of all that Disney stands for and this one mortal man. Glass handles this with music of stirring intimacy, inexorable persistence and stunning grandeur. A chorus repeatedly espouses trademark Disney magical thinking. Disney gets from Glass a wonderfully over-the-top new operatic version of "Happy Birthday."
Symphonic melancholy pervades the score, but even Disney's dark side has an opulent majesty, as in the mysterious music for a mysterious visitor in an owl costume at Walt's birthday party. Haunted by having killed an owl when he was 7, Walt sings, to a quietly majestic melodic line that sounds as though it has no beginning and no end: "I promised myself … never mind."
An opera about a visionary artist, "The Perfect American" is ultimately an opera about art, about the separation of art from the artifice of fame. At times, it even seems to hint at a Glass self-portrait, as the composer himself surveys his own vast output. When Walt rides his model train, Glass alludes to the train scene in his first opera, "Einstein on the Beach."
Walt, of course, worked on the largest canvas an artist ever had. He made theme parks with people he called Imagineers. He didn't skimp, and a perfect production of "Perfect American" can't either.
Long Beach Opera, however, lacks such a canvas, to say nothing of an army of Imagineers. Kevin Newbury — who has become the go-to director for narratively conventional new opera, such as Kevin Puts' "The Manchurian Candidate" and Jimmy López's "Bel Canto" — seemed a curious choice to direct the production.
Newbury sets the opera entirely in the hospital. Flashbacks are in Walt's mind. Want a train? Push a couple of beds together. Want an animatronic Lincoln? Put together a puppet in the next bed. Want a big orchestra? Forget it. The chorus of animators sits in the back of the stage, obscured visually and vocally.
The ironic result is an anti-irony artist with a global-sized dream being represented through sickbay claustrophobia.
Despite that and a banal theatrical reliance on bathos, more than a little of Glass' larger-than-life Disney emerges. Thanks to conductor Andreas Mitsek, the company's artistic and general director, Glass' score retained its commanding vitality even in an acoustically challenged theater. (Word to the wise: The orchestra has greater presence in the loge, where I moved after intermission.)
"The Perfect American" is pretty much all Walt all the time, and for that, Justin Ryan's overbearing yet fragile portrayal has the vocal and physical charisma, as well as the dramatic range. He proved especially touching when facing what Walt feared the most. And if the baritone, in his pajamas and bathrobe throughout, carried on a bit too much, a two-hour hospital drama can do that to anyone.
Everyone else is a foil, loving or despising, to Walt, and LBO found a generally successful cast for that too. Zeffin Quinn Hollis' Roy Disney was the firmly long-suffering, but devoted, brother. Suzan Hanson's tender dignity as Walt's wife, Lillian, admirably humanized her husband. Jamie Chamberlin's Hazel George, Walt's nurse, seductively coddled her vulnerable patient. Rana Ebrahimi, the child in the owl costume and the young neighboring patient, piped like she might have been Walt's flute.
Kyle Erdos-Knapp was handed the impossible cost-cutting assignment of combining the character of Andy Warhol (who comes to pay his respect to a pop artist's inspiration) with the doctor who gives Lillian the bad news about Walt's incurable cancer. Scott Ramsay's Dantine, the fired animator, berated and mourned Walt, ferociously and poignantly, as both monster and god of animation.
Early in the opera, Walt prophetically says to his nurse that he has come to feel that his name is no longer his own, that it now belongs to the company, which will, after he's gone, just become another brand. But Disney the artist won't yet die. "The Perfect American" tells us why.
♦ ♦ ♦ ♦ ♦ ♦ ♦ ♦ ♦ ♦
'The Perfect American'
Where: Terrace Theater, 300 E. Ocean Blvd., Long Beach
When: 8 p.m. March 18
Tickets: $49-$150 (subject to change)
Info: (562) 470-7464, Ext. 101, www.longbeachopera.org
Running time: 2 hours, 25 minutes (with one intermission)
ALSO
How Long Beach landed the U.S. premiere of 'Perfect American'
Why Iceland? L.A. Phil's Reykjavik Festival highlights amazing music from an unlikely place
New Gehry concert hall in Berlin thrills with its sound — and its symbolism
Spring preview: What to see in dance, theater, art, classical and more
Get our L.A. Goes Out newsletter, with the week's best events, to help you explore and experience our city.
You may occasionally receive promotional content from the Los Angeles Times.