L.A. Phil centennial plans: Unprecedented commissions, new Gehry-designed home for YOLA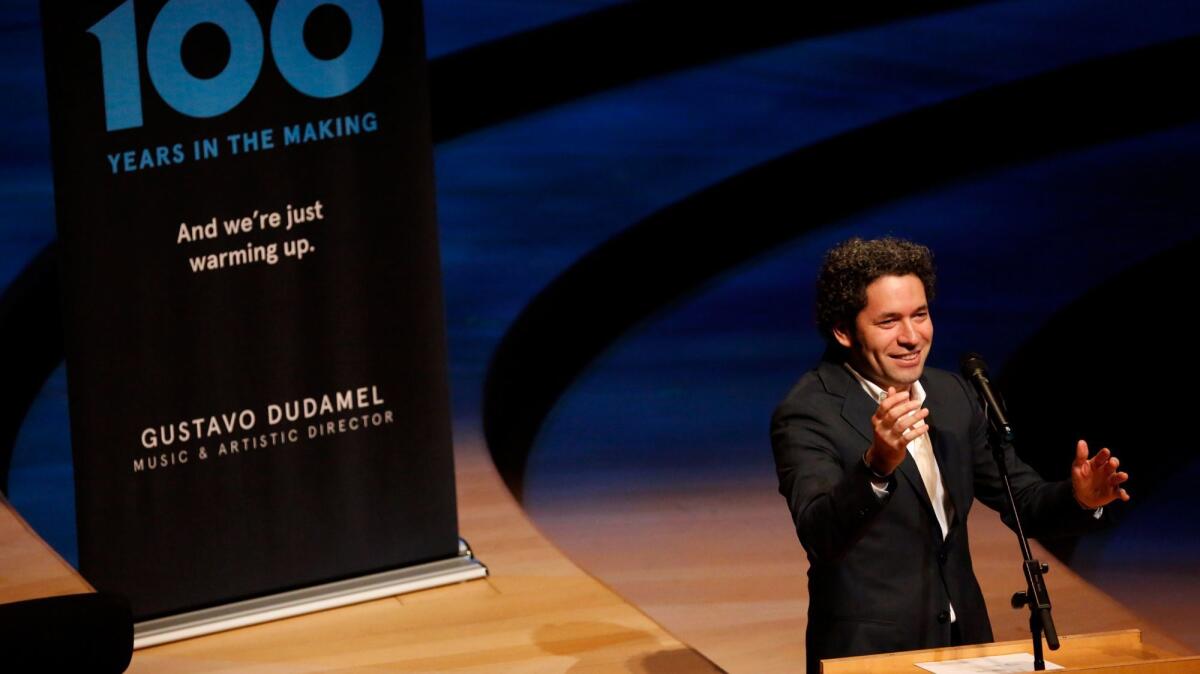 Music Critic
Not content to be widely considered the most important orchestra in America, the Los Angeles Philharmonic announced on Thursday utopian plans for a 2018-19 centennial season on an unprecedentedly lavish scale.
For the year leading up to the 100th anniversary of its first concert on Oct. 24, 1919, the L.A. Phil has hired Frank Gehry to design a permanent home for music director Gustavo Dudamel's YOLA youth education project. The L.A. Phil also will premiere an unheard-of 50 new works that it has commissioned. It will reach out to community groups to distribute 10,000 free tickets to concerts and events, and it will partner with dozens of local and international arts organizations, from the organizers of Hollywood's Academy Awards to London's Royal Ballet.
To pay for all this, the orchestra has begun what might seem like a Pollyanna-ish fundraising campaign of $500 million — four times the current season's budget — at a time when other classical music institutions are cutting back, uncertain of the future. L.A. Phil leaders said they already have raised 60% of that goal, or $300 million, which is more than the cost of building Walt Disney Concert Hall (and that took a 17-year fundraising campaign).
The L.A. Phil announced the ambitious plans without yet hiring a president and CEO to replace Deborah Borda, who had a major role in the centennial preparations but in March revealed that she was departing to take over the New York Philharmonic.
It is nothing new for the L.A. Phil to lay claim to being the model for an orchestra of the future — something its visionary head, Ernest Fleischmann, had proposed three decades ago when he called for a community of musicians involved in all aspects of Los Angeles' musical life. Building Disney Hall as "a living room for the city" was the first step. By the time the orchestra turns 100, that vision of a 21st century orchestra looks to be a reality.
The celebration will begin more than a year before the anniversary with a daylong festival on Sept. 30, 2018. In collaboration with the bike-and-pedestrian event CicLAvia, the orchestra will organize performances along a seven-and-a-half-mile route from Disney Hall to the Hollywood Bowl, with the streets closed to traffic. The day will culminate in a free L.A. Phil concert at the Bowl led by Dudamel.
The new YOLA Center will be housed in an existing 17,000-foot facility in Inglewood that Gehry is transforming into a space for teaching, rehearsing and performing. It will serve the approximately 1,000 children currently in the Youth Orchestra L.A. program, kids who don't otherwise have access to music education. The goal of the center will be to double the number of students served by 2022.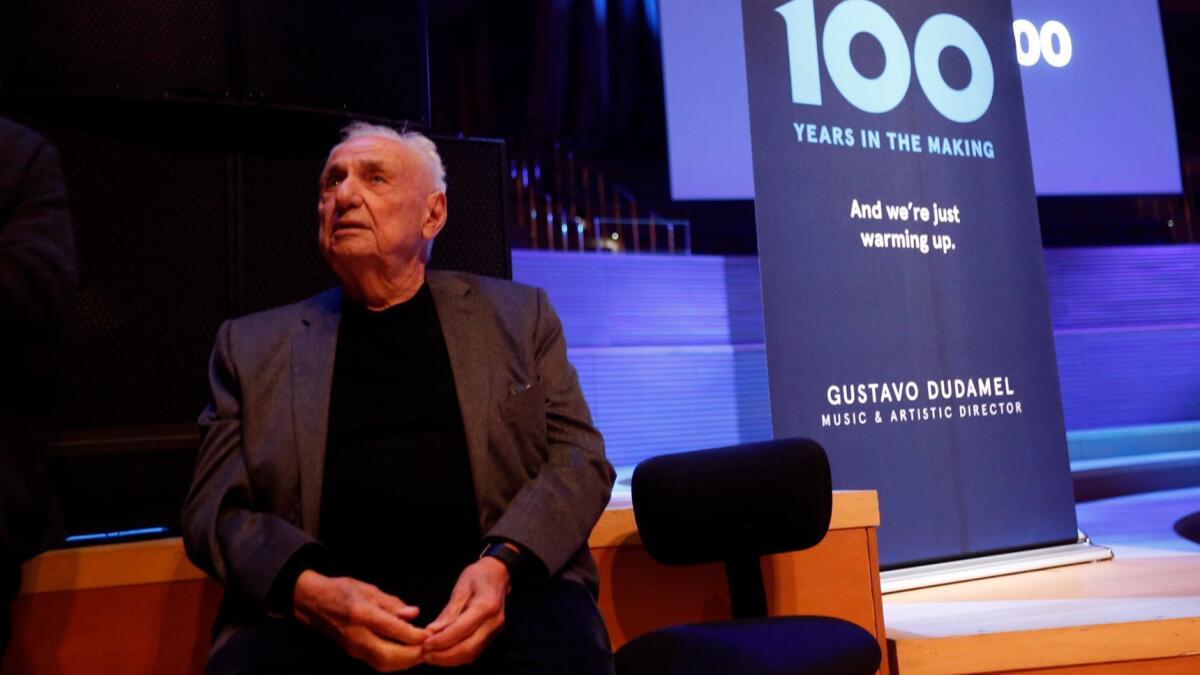 Details of the 2018-19 season will not be announced until February, when orchestras traditionally unveil their upcoming season. But the commissions call for major symphonic, dance and music-theater pieces from some of the world's most noted composers, including Philip Glass, Steve Reich and John Adams, as well as works by promising emerging composers of a younger generation, such as Andrew Norman and Ashley Fure.
The L.A. Phil will invite its former music directors to lead special programs, compose new pieces, or both. Zubin Mehta and Esa-Pekka Salonen, who is conductor laureate, have maintained a close relationship with the orchestra and continue to have their residences in L.A. Mehta will return to conduct a two-week cycle of Brahms symphonies. Salonen will oversee a two-week Stravinsky series, which will include a staging by Peter Sellars, a former dramaturge of the orchestra. Andre Previn, who resigned in 1989 after feuding with Fleischmann and hasn't set foot in L.A. since in protest, is unable to travel at age 88 but has agreed to write a new piece for the orchestra as well as participate in its oral history, the L.A. Phil said.
Some of the centennial plans aren't exactly new ideas for the orchestra but rather major expansions of the kinds of artistic and social activities for which it has become noted. The theatrical presentations and collaborations with stage directors, theater companies and dance troupes will expand to include jointly commissioning with Britain's Royal Ballet a dance work to be composed by Thomas Adès and choreographed by Wayne McGregor. The orchestra's artist-collaborator, the recently named MacArthur fellow Yuval Sharon, will stage the West Coast premiere of John Cage's "Europeras 1 and 2" on a film studio sound stage. L.A. Phil principal guest conductor Susanna Mälkki will conduct Sibelius' incidental music to Shakespeare's "The Tempest" to accompany new staging in Disney Hall by the Old Globe.
Another new partner will be the California African American Museum. The L.A. Phil will join the Exposition Park institution for a celebration of the historic, and neglected, African American L.A. composer William Grant Still. The Academy of Motion Picture Arts and Sciences is getting in the picture too: Dudamel and the L.A. Phil will appear in the Oscar ceremony in 2019.
As it has in the past, the L.A. Phil will reach out to feisty, venturesome small ensembles and composers in downtown L.A. and the environs, providing exposure to young musicians.
The sheer ambition of L.A. Phil should further inspire cautious arts organizations to think big. But it may also bring up some fears of one organization dominating the landscape. Every concert in the season will be an event of note.
One part of a dizzying package of centennial projects has been on hold since the opening of Disney Hall in 2003: The orchestra will finally attempt to project images on the hall's outside steel skin at night, as Gehry had originally proposed.
---
UPDATES:
4:55 p.m. This article was updated to add photos from a Los Angeles Philharmonic press conference.
Get our L.A. Goes Out newsletter, with the week's best events, to help you explore and experience our city.
You may occasionally receive promotional content from the Los Angeles Times.