Review: 'Pirates of Penzance,' with a piña colada: Gilbert & Sullivan plays as interactive party
Theater Critic
For those who have dreamed of being part of the merriment of a Gilbert & Sullivan light opera, the opportunity of a lifetime is waiting for you at Pasadena Playhouse.
The Hypocrites, a vibrantly inventive troupe from Chicago, has transformed the theater for a semi-immersive production of "Pirates of Penzance," which opened Thursday under the direction of the company's artistic leader, Sean Graney. The stage is where the audience congregates for this jocular update of a musical entertainment that is already overtopped with daffy cleverness.
Those seated on risers are granted a degree of safety from enforced participation. (Swatting a few beach balls and chatting briefly with a strolling troubadour was all that was required of me.) But theatergoers with general admission tickets must scurry about the promenade area as the performers boisterously invade a space outfitted with kiddie pools, benches, fairy lights and even a tiki bar that serves alcoholic refreshments.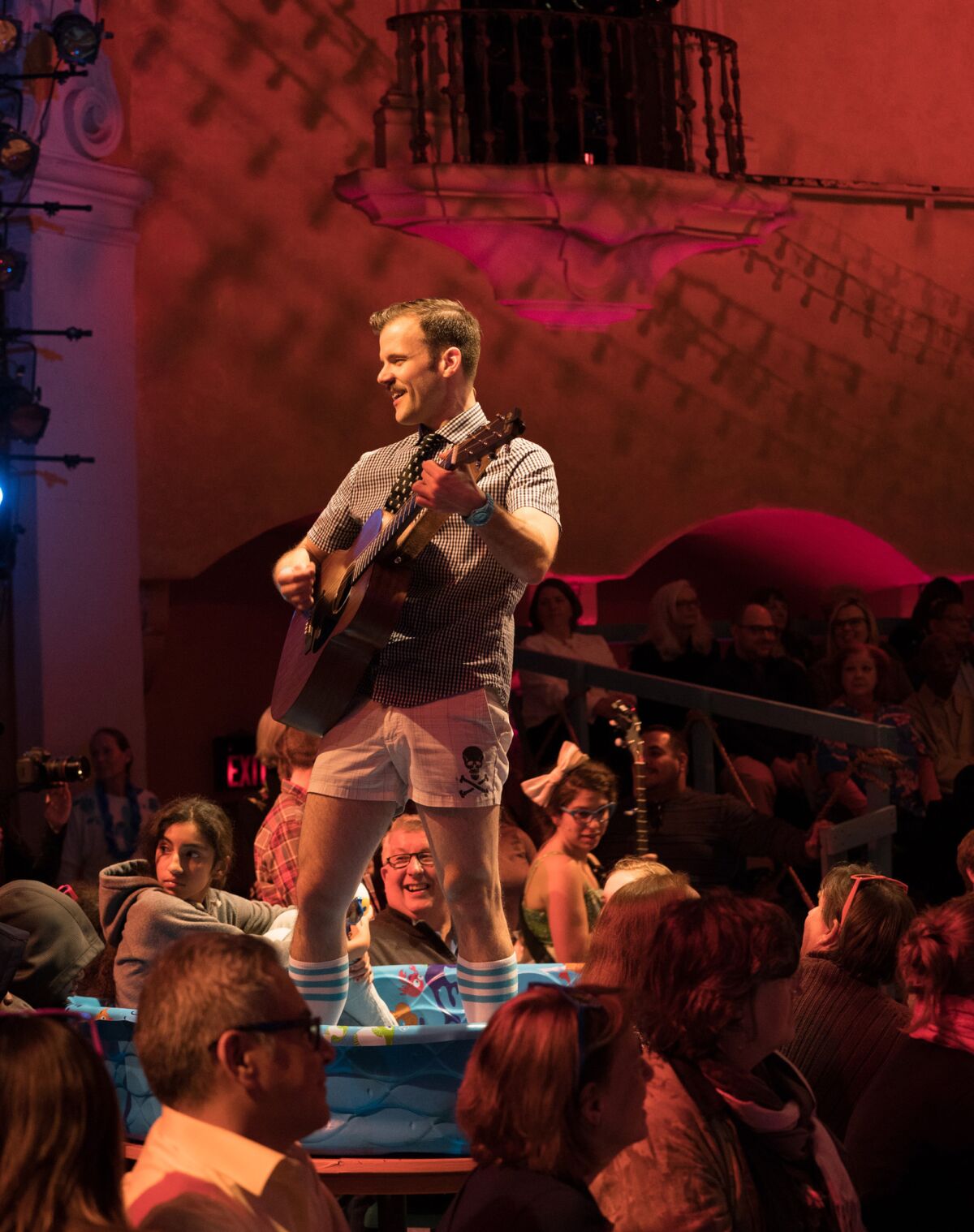 The first act of the musical is supposed to take place on the rocky coast of Cornwall, but the setting here has been transformed into a kind of touristy island paradise, where colorful plastic sunglasses are worn, guitars are strummed, and tropical drinks are downed. Think of this as a Club Med for Savoyards, the term for devotees of Gilbert & Sullivan's effervescent art.
This version of "Pirates," adapted by Graney with Kevin O'Donnell, condenses the show into a roughly 80-minute affair, not including the "one-minute intermission" or the elaborate set of instructions that are offered to theatergoers at the start in a welcoming tone that communicates the production's message that we are all in this together.
The company, which has made its name by giddily reimagining classics, has had success with the Gilbert & Sullivan repertoire. (In addition to "Pirates of Penzance," which has been well-received at various ports of call throughout the country, the troupe has also tackled "The Mikado" and "H.M.S. Pinafore.") The role of the audience is a central component to the Hypocrites' playful renovations, and here passivity is, if not entirely outlawed, deeply discouraged.
The actors, who double as musicians, rove about the performance space elbow-nudging theatergoers and deploying commedia-style gags to get a rise. Crowd control is exercised with firm-handed finesse, as pirates troop in and out while maidens waft about like Wagnerian swans.
Doug Pawlik, jauntily attired in gym shorts, sweat socks and a nerdy tie, plays earnest Freddy, who is all set to win his freedom on his 21st birthday after having been mistakenly indentured as a boy to a band of amiable pirates. Blame for this error goes to Ruth (a lively Dana Omar), his nitwitted nanny, who thought she was dropping him off for career training with a group of pilots.
Duty means everything to Freddy — the word is written out on the set and whenever it's spoken spectators are expected to loudly stomp their feet. He's been an exemplary apprentice, as the softhearted Pirate King (Shawn Pfautsch) is the first to acknowledge. But he can't wait to reclaim his life apart from the gentle nautical miscreants he now feels duty-bound to punish.
Freddy also wouldn't mind putting some distance between himself and his middle-aged nurse, who stayed by his side after realizing what she had done. Ruth has since developed a cougar crush on her swiftly maturing young charge. But the mustachioed innocent, lacking any knowledge of the opposite sex, feels reluctant to marry her without first determining whether she's fair or plain.
Enter the daughters of the Major General (a theatrically crisp Matt Kahler) in a frolicsome phantasmagoria of nubile beauty. Of these desirable lovelies, only Mabel (who is also played by the gamely resourceful Omar) opens her heart to poor forlorn Freddy.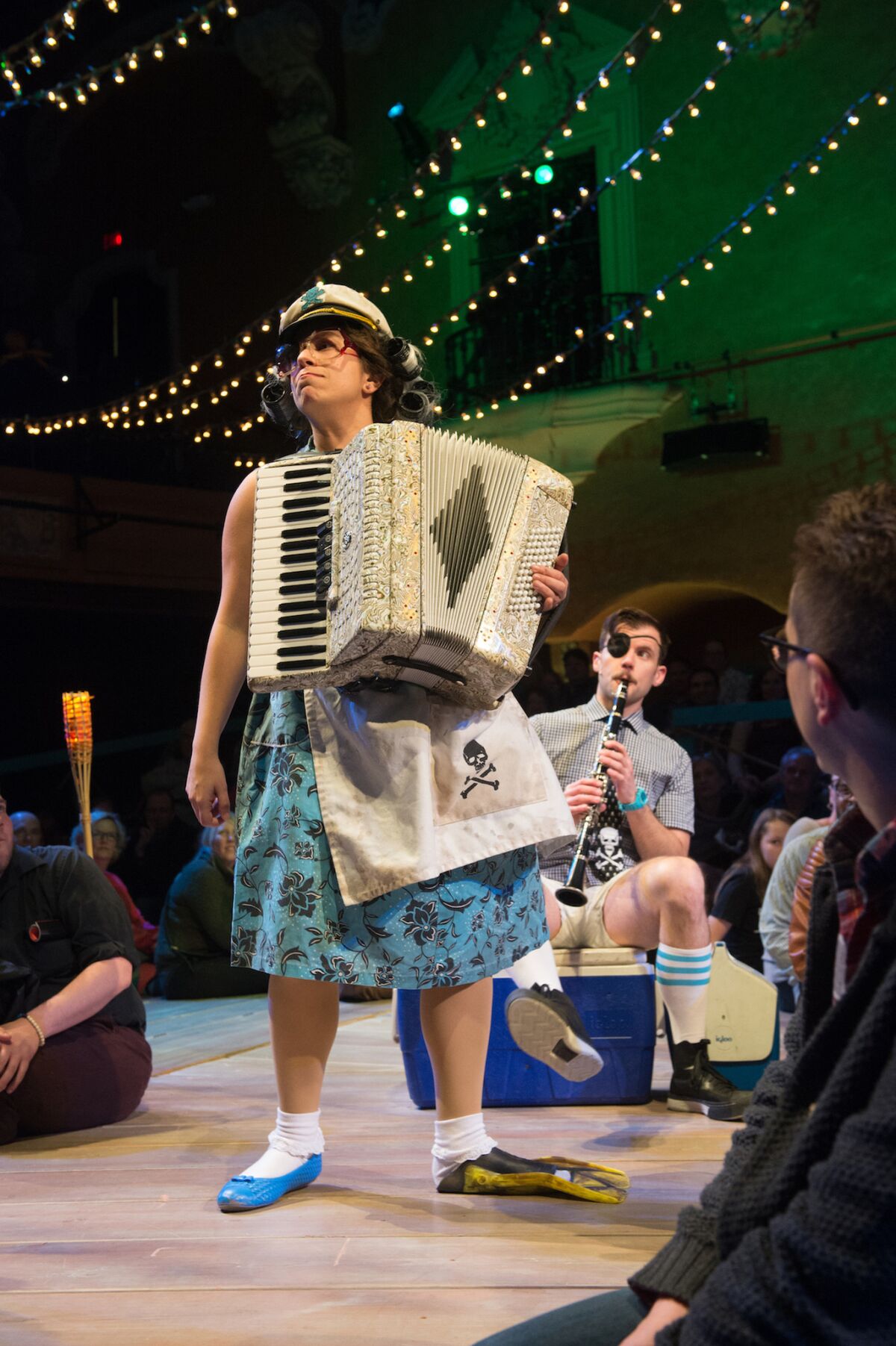 But this being an outlandish operetta, the romance is riddled with obstacles. The biggest perhaps is that the pirates have determined that since Freddy was a Leap Year baby, born on Feb. 29, he hasn't yet reached his 21st birthday and must continue to fulfill his duty — there's that word again — for several more decades.
W.S. Gilbert's fizzy libretto, which insouciantly parodies operatic conventions, unfolds as a series of convoluted scenarios. Arthur Sullivan's buoyant music is enlisted in helping the characters wrest free from the farcical jams cooked up by Gilbert's febrile imagination.
The story doesn't always survive the freewheeling atmosphere of the Hypocrites' hootenanny, so it would be helpful to familiarize yourself with a synopsis of the show beforehand. I had to piece together the book from memories of seeing my uncle perform in Gilbert & Sullivan shows with the Light Opera of Manhattan when I was in grade school. Clarity alternates with confusion.
The fault isn't so much with the actors as with the acoustics, which make it difficult to discern many of the famously witty lyrics. Kahler, standing before us in a spiked helmet, shorts and a jacket with tails, is the very model of a postmodern Major General, but when he delivers his character's signature song, I could only make out those lyrics I already knew by heart.
It might be better to think of the Hypocrites' "Pirates of Penzance" as a fresh theatrical event rather than as a faithful revival. Yet the balance struck by music director Andra Velis Simon is praiseworthy. Contemporary pop tunes are winkingly assimilated in ways that are in keeping with the jolly pastiche spirit of Sullivan, whose score comes through even with a ragtag orchestra dominated by strings.
The delight of the staging overrides (for the most part) the blurriness of the storytelling. Katie Spelman's spry choreography and a crack design team help to create an ambience in which the audience is helplessly incorporated into the act.
To make the most of your cameo appearance, brush up your Gilbert & Sullivan ahead of time. The Hypocrites are too good an ensemble to let down.
'Pirates of Penzance'
Where: Pasadena Playhouse, 39 S. El Molino Ave., Pasadena
When: 8 p.m. Tuesdays-Fridays, 2 and 8 p.m. Saturdays, 2 and 7 p.m. Sundays; ends Feb. 25
Running time: 1 hour, 25 minutes
Follow me @charlesmcnulty
Get our L.A. Goes Out newsletter, with the week's best events, to help you explore and experience our city.
You may occasionally receive promotional content from the Los Angeles Times.