Matt Walker, foreground, portrays the Grinch-meets-Prince character the Princh in Troubadour Theater Company's "How the Princh Stole Christmas!" The wacky tale of a loner at yuletide is performed at the El Portal in North Hollywood.
(Gary Coronado / Los Angeles Times)
Shopping and other Christmas preparations preoccupy the residents of Howville. Suzanne Jolie Narbonne is at right.
(Gary Coronado / Los Angeles Times)
Matt Walker, top, is the Princh in a Troubadour Theater Company Christmastime lark that's set not in Dr. Seuss' Whoville but in the similarly vivid Howville.
(Gary Coronado / Los Angeles Times)
Rick Batalla as Howville's Mayor Bill Focker and Lisa Valenzuela is his wife in "How the Princh Stole Christmas!"
(Gary Coronado / Los Angeles Times)
Matt Walker is the Princh and Katie DeShan is a young resident of Howville in Troubadour Theater Company's show at the El Portal in North Hollywood.
(Gary Coronado / Los Angeles Times)
Max the dog, played by Beth Kennedy, is none too sure about the plan cooked up by the Princh, portrayed by Matt Walker.
(Gary Coronado / Los Angeles Times)
Residents of Howville excitedly prepare for the season in "How the Princh Stole Christmas!"
(Gary Coronado / Los Angeles Times)
The Green One meets the Purple One, resulting in a switch of fur colors, in "How the Princh Stole Christmas!"
This Grinch/Prince mash-up is the latest holiday show from the Troubadour Theater Company, the troupe that brings sketch comedy and clowning instincts — along with serious music and acting chops — to its collisions of classic stories and classic rock, "Fleetwood Macbeth" and "As U2 Like It" being but two of the masterfully titled results.
Hilarity ensues in these loopy escapades, tickets for which sell in a "Hamilton"-like frenzy. Although "Princh" is stretching its legs in a larger theater, the 360-seat El Portal in North Hollywood, the show was mostly sold out even before performances began. (The run concludes on New Year's Eve.)
The grumpy loner known as the Princh is a terrific showcase for company artistic director and master of merriment Matt Walker, whose training includes the Royal Shakespeare Company, Second City and Ringling Bros. and Barnum & Bailey Clown College. He plays the role in purple pompadour, pointy purple shoes and purple, shaggy body fur that wouldn't have looked out of place as a rug in Prince's Paisley Park office/residence.
The show begins, appropriately, with the musical phrase "I was dreamin' when I wrote this," the first line of Prince's "1999."
Events — relayed in rhyme — unfold not in Dr. Seuss' Whoville but the similar, wavy-lined Howville, where the buildings are skewed, as if designed by architects who couldn't draw straight. A Christmas tree full of ski-slalom twists stands in the center of town. Everything is crayon-bright: buildings and clothes, as well as residents' bouffants and pompadours (set by Christopher Scott Murillo, costumes by Halei Parker, lights by Skylar Johnson).
As carol-rehearsing and last-minute Christmas shopping preoccupy the town (via the Prince song "Let's Go Crazy," altered to "Let's Shop Crazy"), a solitary, silhouetted figure high on a mountain broods about it all.
A stage-side narrator (Michael Sulprizio) helps to explain why the Princh's feelings are warped. Among the reasons are a too-dinky anatomical feature — not necessarily his heart, but rather hands that are "three sizes too small" (yes, the year's news is fodder for the laugh machine). And, sure enough, Walker is outfitted with tiny-hands prosthetics to accessorize his scowling face and madcap malevolence. He's so much fun that we like him pretty much right away; his inherent tenderness is never hidden much more than fur-deep.
Someone in Howville notices and empathizes with this bundle of contradictions: the mayor's raspberry-beret-wearing daughter, Applephonia (Maegan McConnell). And, bam!, a story strand from Prince's 1984 movie "Purple Rain," with its tale of an unhappy musician wrapped up in rivalries, enters the narrative.
Helping to drive the story are a greatest-hits list worth of Prince songs. "U Got the Look" is wonderfully "suited," you might say, to the moment the Grinch dons his faux-Santa costume and outfits his dog, Max, with a tree-limb reindeer antler. Max is given a kennel-escape back story that turns "When Doves Cry" into "When Dogs Cry."
Propelling the nearly two dozen musical moments are L.A.'s rockin'-est stage band: four musicians on keyboards, guitars, bass and drums, led by Eric Heinly at the drum kit as music director.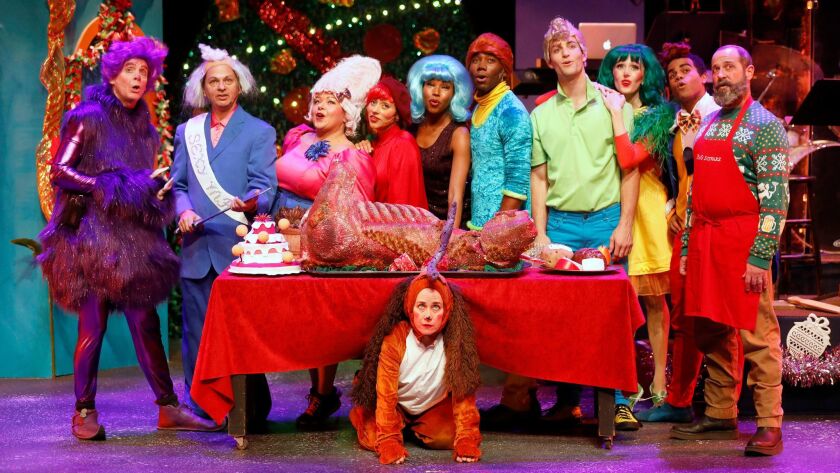 The show features Troubie regulars including Walker, Beth Kennedy, Rick Batalla and Lisa Valenzuela, but as usual, there's new talent to discover, such as Evan Strand, whose dance background lets the production take a few balletic leaps.
The Troubies keep their humor freewheeling and their stagecraft as playfully obvious as possible. Dr. Seuss' young hero, Cindy-Lou Who, is played by an actress (Katie DeShan) whose adult-size body is always half-hidden so that as she morphs at the waist into tiny doll legs she looks creepily childlike. Similarly, the Princh's evil idea to steal Christmas is indicated by a light bulb attached to an extension cord that another actor hauls out and holds above his head. Attention is called to the fact that Max is played by a human in a dog suit (Kennedy) by having the pup mention that perhaps he's a "furry," which quickly leads to a TMI moment.
Topical references roll through in waves: name-checks of those revealed in the #MeToo movement, as well as net neutrality, statues of Robert E. Lee and North Korean missiles.
As always with the Troubies, there's a foul flag at the ready, which gets thrown whenever someone breaks character or messes up a line, usually a result of performers cracking each other up.
The script was envisioned and blueprinted by Walker, with input from the cast and writing assistance from Batalla. Walker directed; Nadine Ellis choreographed.
Amid all the laughs, "Princh" delivers some substance — including a bit of useful growling about the commercialization of Christmas — and even, toward the end, a tear or two. It's one of the Troubies' better holiday shows, although the peak, for me, remains 2011's "A Christmas West Side Story," which told the "A Christmas Story" tale, in part, through choreography that looked much like Jerome Robbins' original work for "West Side Story."
SIGN UP for the free Essential Arts & Culture newsletter »
♦ ♦ ♦ ♦ ♦ ♦ ♦ ♦ ♦ ♦
'How the Princh Stole Christmas!'
Where: El Portal Theatre, 5269 Lankershim Blvd., North Hollywood
When: 8 p.m. nightly through Friday, 4 and 8 p.m. Saturday, 9 p.m. Sunday; ends Sunday
Tickets: $45-$100; sold out, but watch daily for releases
Info: (818) 508-4200, www.ElPortalTheatre.com
Running time: 2 hours
Twitter: @darylhmiller
---