Kendrick Lamar wins Pulitzer Prize for music for 'Damn.'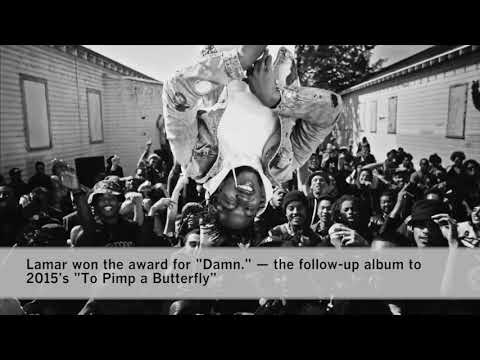 Compton rapper Kendrick Lamar was awarded the 2018 Pulitzer Prize for music.
Compton rapper Kendrick Lamar won the 2018 Pulitzer Prize for music on Monday, providing arguably the biggest surprise as the awards for arts and letters were announced Monday in New York.
Lamar is the first hip-hop artist to win the Pulitzer's music category, which traditionally has honored classical works, even after the category was opened up to jazz and pop in 2005. Jazz master Ornette Coleman won in 2007, but the selection of Lamar is the Pulitzer's biggest swing toward popular music.
Lamar won his Pulitzer for "Damn." — the follow-up album to 2015's searing examination of race in America, "To Pimp a Butterfly." Times pop music critic Mikael Wood heralded "Damn." as the 30-year-old artist's graduation to pop superstardom. The Pulitzer committee praised the album as "a virtuosic song collection unified by its vernacular authenticity and rhythmic dynamism that offers affecting vignettes capturing the complexity of modern African-American life."
Finalists in the music category were "Quartet" by Michael Gilbertson and "Sound From the Bench" by Ted Hearne.
Other winners in the Letters, Drama and Music categories included Andrew Sean Greer in the fiction category for his sixth book, "Less." Greer, a novelist and short-story writer living in the Bay Area, wrote "Less" as the global journey of a man running from his middle-age demons.
The Pulitzer committee called the novel "a generous book, musical in its prose and expansive in its structure and range, about growing older and the essential nature of love."
The National Book Review's Chiara Barzini wrote of the book, "This is no 'Eat Pray Love' story of touristic uplift, but rather a grand travelogue of foibles, humiliations and self-deprecation, ending in joy and a dollop of self-knowledge."
Martyna Majok won the Pulitzer for drama for "Cost of Living." The play, which played at Manhattan Theatre Company, explores the lives of four individuals: a man with cerebral palsy and his new caregiver, and a quadriplegic woman and her husband.
New York Times' theater critic Jesse Green wrote of the production, "it would be a mistake to see 'Cost of Living' as an identity play about people with disabilities. Rather, it's a play about disabilities with people. In both of its stories, which eventually collide, the biggest handicaps are the universal ones: fear and disconnection."
The Pulitzer committee lauded the play as "an honest, original work that invites audiences to examine diverse perceptions of privilege and human connection." Majok, a Polish-born playwright raised in the United States, has seen her work presented at LCT3/Lincoln Center in New york, Steppenwolf Theatre Company in Chicago, the Geffen Playhouse in L.A. and La Jolla Playhouse in San Diego.
Other winners: in history, Jack E. Davis history for "The Gulf: The Making of an American Sea"; in biography, Caroline Fraser for "Prairie Fires: The American Dreams of Laura Ingalls Wilder"; in poetry, Frank Bidart for "Half-light: Collected Poems 1965-2016"; and in general nonfiction, James Forman Jr. for "Locking Up Our Own: Crime and Punishment in Black America."
Finalists in fiction included "In the Distance" by Hernan Diaz and "The Idiot" by Elif Batuman; in drama, "Everybody" by Brandon Jacob-Jenkins and "The Minutes" by Tracy Letts.
Finalists in history were "Fear City: New York's Fiscal Crisis and the Rise of Austerity Politics" by Kim Phillips-Fein and "Hitler in Los Angeles: How Jews Foiled Nazi Plots Against Hollywood and America" by Steven J. Ross; in biography, "Richard Nixon: The Life" by John A. Farrell and "Robert Lowell, Setting the River on Fire: A Study of Genius, Mania, and Character" by Kay Redfield Jamison; in poetry "Incendiary Art" by Patricia Smith and "semiautomatic" by Evie Shockley; and in general non-fiction, "Notes on a Foreign Country: An American Abroad in a Post-America World" by Suzy Hansen and "The Evolution of Beauty: How Darwin's Forgotten Theory of Mate Choice Shapes the Animal World — and Us" by Richard O. Prum.
ALSO:
2017 Pulitzer winner Lynn Nottage: 'I'm representing for women'
2017 Pulitzer winner Colson Whitehead
When 'Hamilton' won the Pulitzer for drama
---
UPDATES:
12:50 p.m. This article has been updated with more context on Kendrick Lamar's award and details on finalists in all arts and letters categories.
2:36 p.m. This article has been updated with more details on winners and streamlined for length.
This article was originally published at 12:30 p.m.
Get our L.A. Goes Out newsletter, with the week's best events, to help you explore and experience our city.
You may occasionally receive promotional content from the Los Angeles Times.