Review: Ry Rocklen's sly sculptures: There's more than what you might see at first
There is a seemingly alchemical magic to Ry Rocklen's sculptures at Honor Fraser. The process by which one thing becomes or reveals another is a central theme of the L.A. artist's recent work.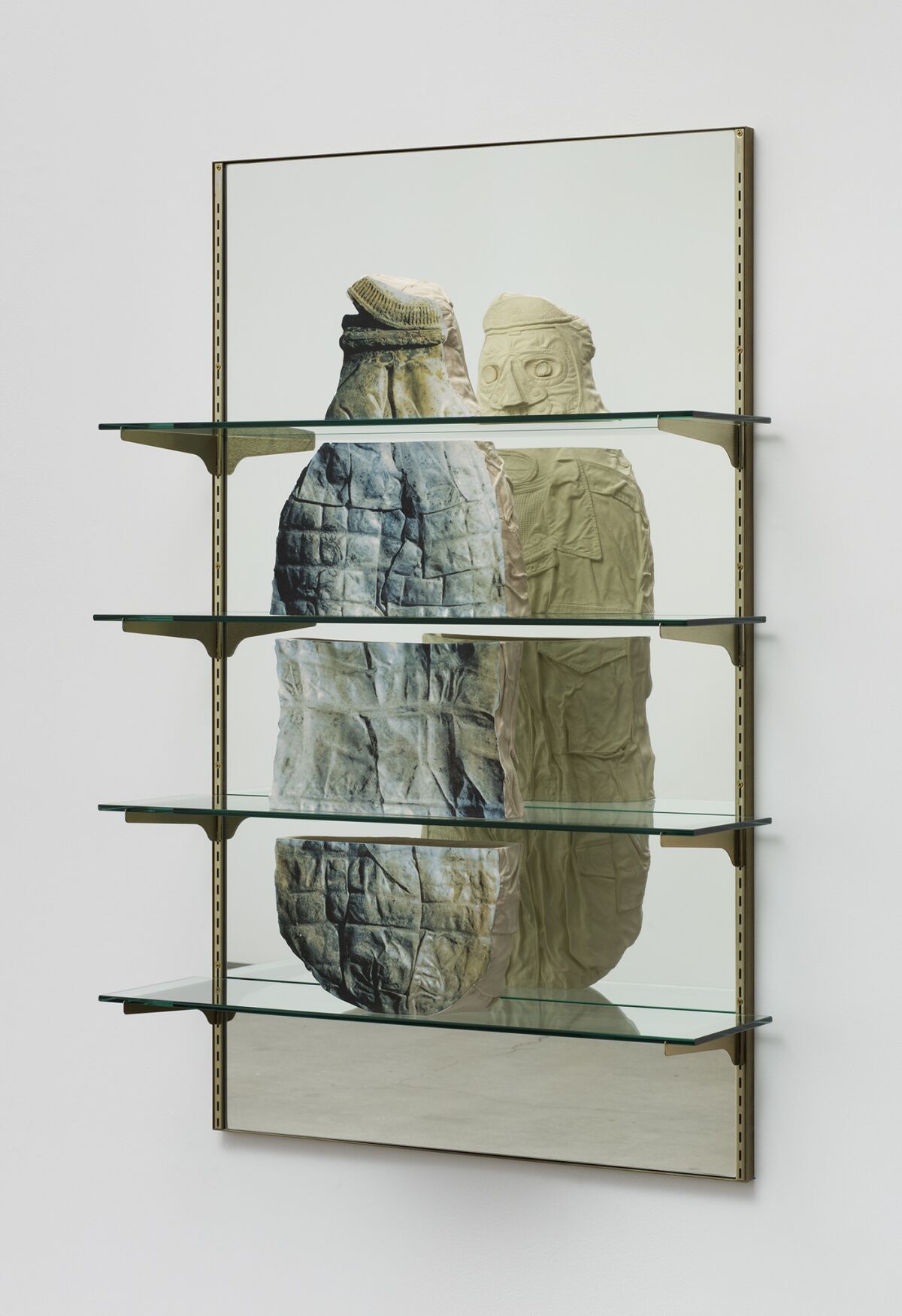 This is particularly evident in four wall-mounted sculptures in the first room. They are ceramic objects, each cut into horizontal slices. Each slice is displayed on a glass shelf with a mirrored backing, the slices aligned to reconstitute the whole. On their front sides, they are flat and bear a photographic image; on their backs they are three-dimensional, but this surface is really visible only as reflected in the mirrors.
This optical confusion is increased by incongruity between front and back. "Bottled Up" depicts a smashed plastic water bottle on its flat side and a sculpture of a man on its back. Perhaps most affecting is an image of a battered chest of drawers that reveals a beautiful, ornate doll's house behind. It's like a glimpse into the secret lives of discarded objects — magic hidden in the trash.
In a more traditional sculptural vein, Rocklen has inserted dollar bills stiffened with sand into the metal mesh surface of a public trash can. The bills form a protective shell, like dragon scales, as their faces are reflected in the can's mirrored bottom. Living one dollar at a time, building up armor, gazing into the bottom of a trash can — these are ideas that become a surreal metaphor for life on the streets.
------------
Ry Rocklen
Where: Honor Fraser, 2622 S. La Cienega Blvd., Los Angeles
When: Through Oct. 29; closed Sundays and Mondays
Information: (310) 837-0191, www.honorfraser.com
Follow The Times' arts team @culturemonster.
ALSO
Pure color: John Elderfeld looks at the legacy of Helen Frankenthaler
Photographer Dan Winters searches for New York City's soul in 'The Grey Ghost'
D.C.'s new African American museum is a bold challenge to traditional Washington architecture
Get our L.A. Goes Out newsletter, with the week's best events, to help you explore and experience our city.
You may occasionally receive promotional content from the Los Angeles Times.