Mental illness and sexism left this artist largely forgotten. A new show restores her place in history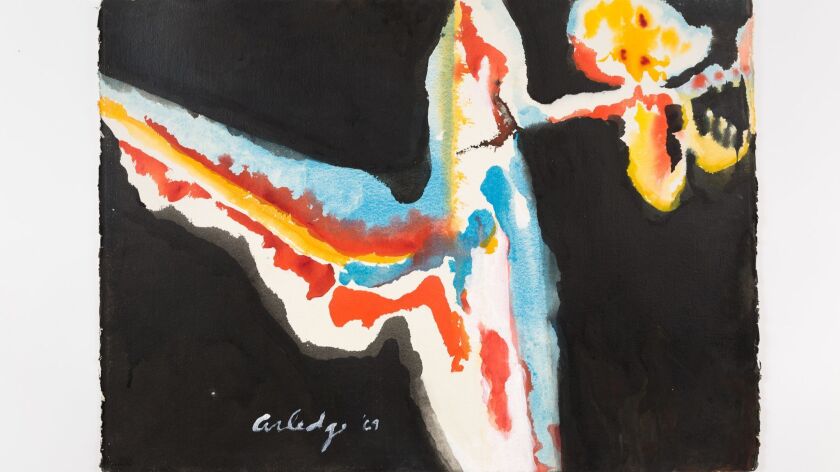 Sara Kathryn Arledge is best known for her 1946 experimental film, "Introspection," which uses dancers' bodies, colored gels and multiple exposures to create surreal, mesmerizing, flower-like abstractions. The work — ahead of its time, foreshadowing the trippy, psychedelic effects of later decades — is on view in the fascinating retrospective "Sara Kathryn Arledge: Serene for the Moment" at the Armory Center for the Arts in Pasadena.
(UC Berkeley Art Museum and Pacific Film Archive)
Arledge, who died in 1998, is one of many female artists who traversed important strains of American art and film history only to be largely forgotten. The Pasadena artist studied art at UCLA, Columbia University and the Barnes Foundation. She moved in the same circles as experimental film titans John and James Whitney and Kenneth Anger, and she screened her work all over the world. But she struggled with mental illness, was repeatedly institutionalized against her will and lost her only child to suicide. As it did for many ambitious, creative women of her generation, sexism took its toll.
The Armory exhibition doesn't exactly restore Arledge to the pantheon. If anything, it breaks down the notion of a pantheon altogether. Represented by seven films, more than 80 works on paper and select archival documents, Arledge's work is exceedingly idiosyncratic. Her colorful, organic forms reflect the influence of Surrealism but also the time she spent in the Southwest documenting Native American ceremonial dances.
Her paintings possess an unmoored spirituality, reminiscent of the ecstatic visions of Charles Burchfield. "Portrait of a Shaman" from 1970 is a seemingly effortless depiction of a figure wearing an animal mask (or perhaps just an animal?), leaves and flowers dancing through the air. "Stellar Garden," from 1956, presents a wall of prickly foliage that appears to ascend toward the night sky. The image crackles with energy. It's Arledge's "Starry Night."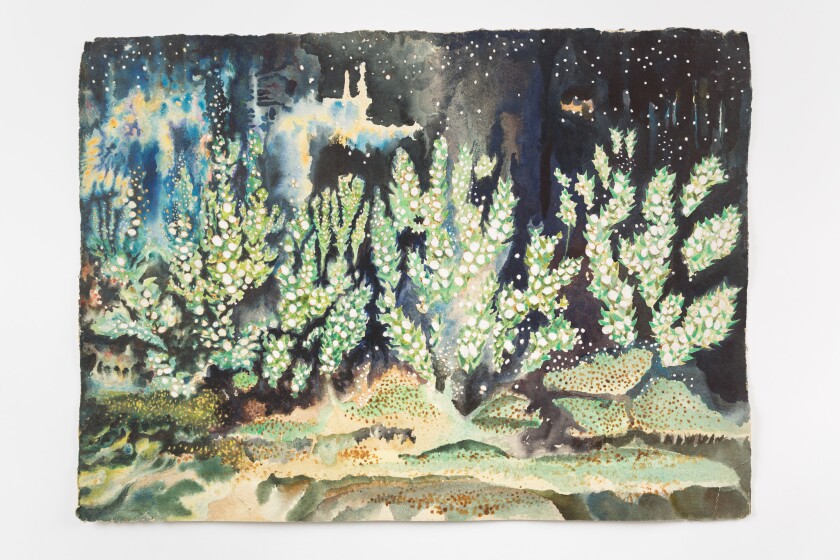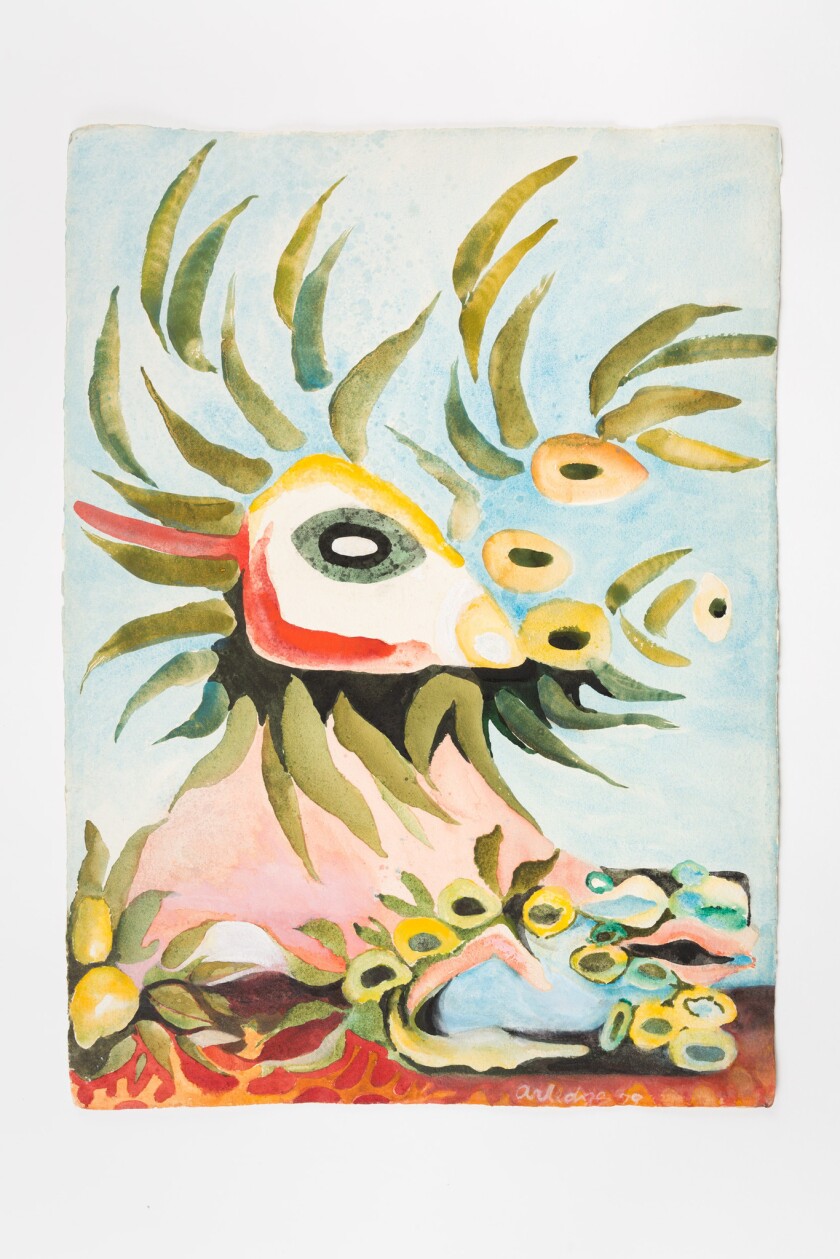 The artist also turned her attention to gender relations. The 1958 film "What Is a Man?" is executed in the style of a 1950s educational film, except all of the actors speak in rhyming verse. In one sequence, Arledge intercuts footage of a woman visiting the doctor with images of lab rats. It's a "Twilight Zone" version of our world, in which hard truths about power and the control of women's bodies seep through the playfulness.
Arledge's eclectic, visionary work defies easy categorization, refusing to settle neatly into a traditional art historical narrative. It's only by continuing to highlight and champion such adventurous figures that we get a fuller, more accurate picture of our artistic and cultural heritage. "Serene for the Moment" cracks open the canon, making space for spectacular night blooms.
Armory Center for the Arts, 145 N. Raymond Ave., Pasadena. Open Wednesdays-Sundays, through May 19. (626) 792-5101, armoryarts.org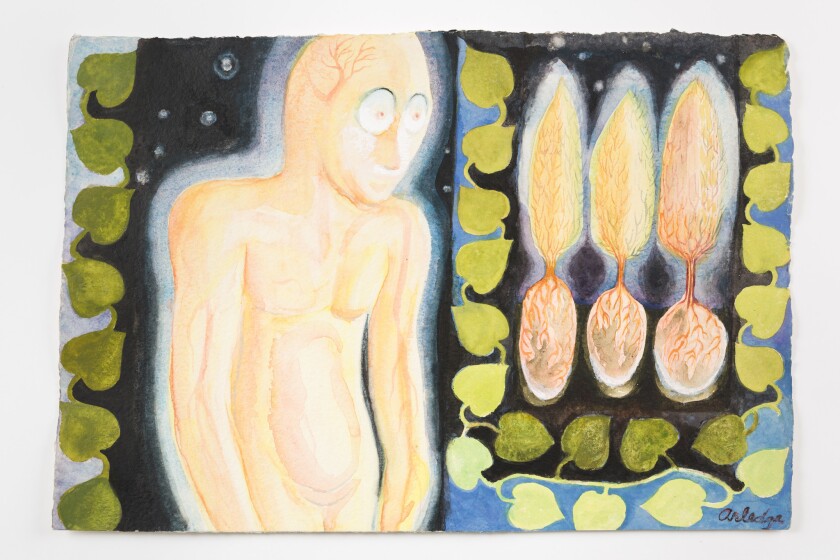 Support our coverage of local artists and the local arts scene by becoming a digital subscriber.
See all of our latest arts news and reviews at latimes.com/arts.
---
From the Oscars to the Emmys.
Get the Envelope newsletter for exclusive awards season coverage, behind-the-scenes stories from the Envelope podcast and columnist Glenn Whipp's must-read analysis.
You may occasionally receive promotional content from the Los Angeles Times.