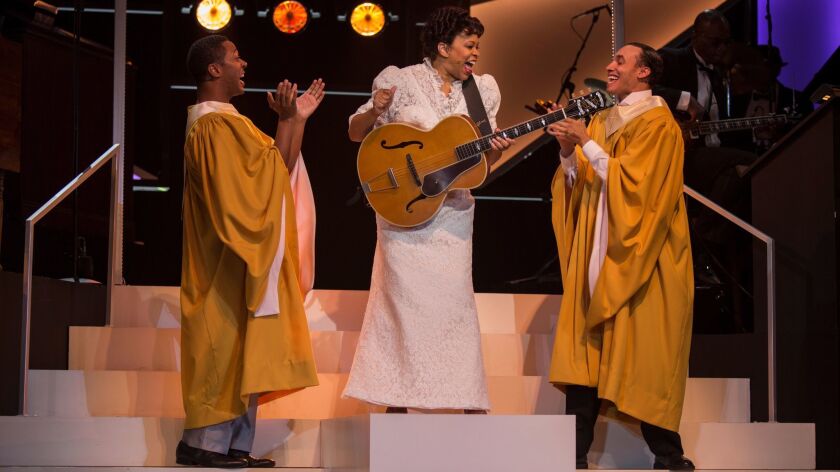 Theater Critic
Add "Shout Sister Shout!" to the growing list of musicals that would make a more potent impression as a straightforward revue.
The show, which is having its world premiere at Pasadena Playhouse, tells the story of Rosetta Tharpe, a guitar-strumming gospel, blues and rock singer who has been dubbed the godmother of rock 'n' roll. More influential than famous, Tharpe has been rescued from obscurity by Gayle Wald's 2008 book, "Shout, Sister, Shout! The Untold Story of Rock-and-Roll Trailblazer Sister Rosetta Tharpe."
Wald's biography is a source for this musical by Randy Johnson (the creator, writer and director of "A Night With Janis Joplin") and Cheryl L. West (who wrote the book for the Duke Ellington musical "Play On!"). The show wants to reproduce the "Janis Joplin" commercial magic, but it's operating with a catalog that's not as well known and approaches the storytelling in a manner that is every bit as by-the-numbers.
West, who wrote the book, sets up a framing device that had me silently groaning in my seat. Before Rosetta (Tracy Nicole Chapman) can enter the pearly gates of heaven, she has to return to Earth and tell her life story to Isaiah (Logan Charles), a suicidal young man who harbors songwriting dreams.
"Look like he can carry a tune, but he's white!" Rosetta says after hearing Isaiah play. "And he looks like a bum. And he sounds like he wants to kill himself. God, please reconsider."
The musical, unfortunately, is unyielding on this point. Rosetta is forced to take the bratty young man on a tour of a few important landmark moments in her life. Isaiah associates Rosetta with his mother, who was a huge fan, so it doesn't seem cool to him to be trailing behind this middle-aged spiritual singer, but when she blasts her electric guitar in his direction his resistance softens.
Chapman, a stage veteran, is a sensational singer and performer, but her style is a bit too pasteurized and polished. She wears the guitar like an accessory, while the real Tharpe carried it as extension of her body, the music flowing down her arm and through her instrument.
YouTube video of Tharpe reveals a grittier performer. She's physically larger and a little more rough and tumble in manner than Chapman. Even when she's raising her voice to God, she's digging into earthly blues.
One of the problems with any show about a great artist is that rare talents aren't easy to simulate. Chapman is an adept musical theater performer, but I can't say I glimpsed in this portrayal why Tharpe was such an influential figure in the development of rock 'n' roll. Isaiah shouts when Chapman's Rosetta does a modified duck walk with the guitar, a move immortalized by Chuck Berry, but if he weren't there to annotate the moment I would have missed it.
Yvette Cason, who plays Rosetta's mother, Katie Bell, and later Mahalia Jackson, actually gets a little closer to the spirit and presence of Tharpe in her musical numbers. Her Etta James-like attitude, the look of woman who doesn't give a damn about anything but the music, is convincing in a way that transcends impersonation. The swagger seems genuinely earned by suffering.
A trio of male performers provides rousing backup and invites audience members to raise their arms and clap between scenes. Johnson's direction and Keith Young's choreography work hard to keep the concert-style staging thrumming.
The information West's book provides amounts to a theatrical Wikipedia entry. We learn that Rosetta was insecure about her looks and married the first seemingly good man who would have her. That gentleman is the Rev. Tharpe (Michael A. Shepperd), who turns out to be no gentleman. He stops taking Rosetta on his business trips, and when she complains he slugs her.
Her talent, honed in the church, provides a way out. We see her struggle with her conscience after she becomes a star at New York's Cotton Club and a raunch secularism creeps into her style.
A lesbian affair with Marie Knight (Angela Teek Hitchman, filling in the personality details left out by the script) comes as a surprise in the second act, as not much has been alluded to in the way of Rosetta's private life. The way Rosetta seduces Marie to leave Mahalia Jackson and sing with her on the road suggests a level of confidence that doesn't seem completely in character. (She places her own fur coat around Marie's shoulders, making clear that this offer isn't strictly business.)
More surprising still, we learn at the end that she's had three husbands and that "sugar diabetes" cost her a leg. (This medical information raises some questions about her restored physical state after death, but supernatural framing devices obviously get a free pass.)
The Isaiah plot, I'm happy to report, doesn't intrude all that much, though I could have done without his sobbing on the sidelines as Rosetta's mother catapulted "Take My Hand, Precious Lord" to the heavens. Charles has a fantastic voice, though his big number late in the second half feels like an earnest way to wrap up the character's extraneous story. The audience's applause subtly implied a question mark.
Rudimentary and unfulfilled, "Shout Sister Shout!" should ditch the book and tell Sister Rosetta Tharpe's story purely through the music. If a musician of her magnitude isn't available, perhaps a team of performers could help us understand what made her such a trailblazing figure.
♦ ♦ ♦ ♦ ♦ ♦ ♦ ♦ ♦ ♦
'Shout Sister Shout!'
Where: Pasadena Playhouse, 39 S. El Molino Ave., Pasadena
When: 8 p.m. Wednesdays-Fridays, 4 and 8 p.m. Saturdays, 2 and 7 p.m. Sundays; ends Aug. 20
Tickets: $25-$115
Information: (626) 356-7529 or www.PasadenaPlayhouse.org
Running time: 1 hour, 55 minutes
SIGN UP for the free Essential Arts & Culture newsletter »
Follow me @charlesmcnulty
MORE THEATER COVERAGE:
Sam Shepard, the cowboy playwright who rewrote the rules of the American stage
'King of the Yees': Questions of identity, family and Shrimp Boy brought to surreal life onstage
'Curious Incident' director Marianne Elliott isn't afraid of big risks
---