Review: Ben Feldman, Mamie Gummer and modern love in the Uber age
The title of Michael Mitnick's play "The Siegel" may evoke "The Seagull," but the comedy, having its world premiere at South Coast Repertory in Costa Mesa, is not a Chekhov adaptation, at least not directly.
So many contemporary plays owe something to Chekhov and his tender lampoons of human folly. "The Siegel" also takes on the love triangle, one of the Russian playwright's go-to existential dilemmas. But it does so without a country estate, a gunshot or a dead bird, and it happens not in imperial Russia but rather in decidedly contemporary America.
Mitnick's Siegel isn't a bird at all, even symbolically. He's a guy in his early 30s named Ethan Siegel, played by Ben Feldman of TV's "Superstore" and "Mad Men." He loves a woman named Alice, played by Mamie Gummer, Meryl Streep's daughter in the film "Ricki and the Flash" and in real life.
When the play opens, Ethan has arrived at the house of Alice's parents, Ron (Matthew Arkin) and Deborah (Amy Aquino), to ask for her hand in marriage. Ron and Deborah are thrown, and not just by Ethan's archaic etiquette. He and Alice broke up two years ago, they remind him.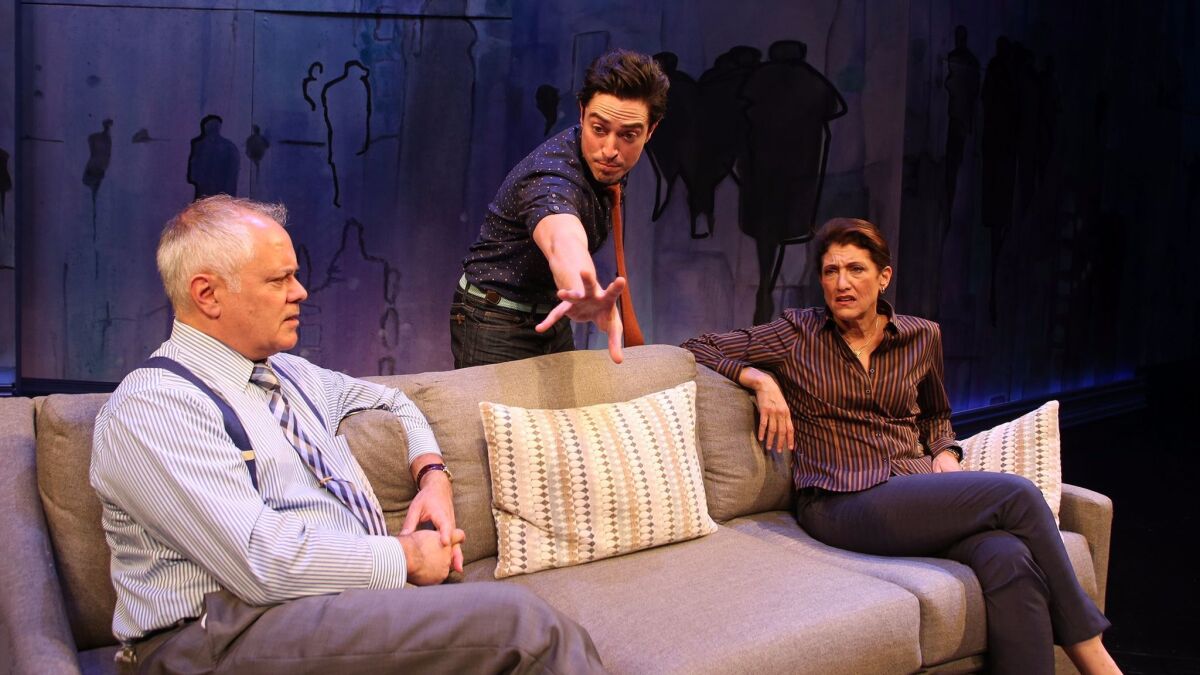 SIGN UP for the free Essential Arts & Culture newsletter »
Ethan, undeterred and possibly a little unhinged, heads over to Alice's house next. Or really, because Michael B. Raiford's charming set revolves like a lazy Susan, Alice's living room swoops around to him. (Its backdrop, which evokes a city street in a spring rain, could be an Impressionist watercolor painting.)
Alice — tall and thin in chic black clothing, with a platinum bob and matching frosty demeanor — is in no mood to deal with her ex's change of heart. For one thing, she just hit a bump in her career: She held an important position in the campaign of a candidate who just lost an election (not named — but we all know it's Hillary). For another, she's living with her new boyfriend, Nelson (Dominique Worsley).
Nelson is so affable (or feckless) that instead of asking Ethan to leave, he invites the interloper out to dinner with them. Ethan uses the opportunity to launch a multilevel assault on Alice's affections, plying first Nelson, then Alice's dad and finally Alice herself with drinks and his offbeat charm. It's so crazy it just might work.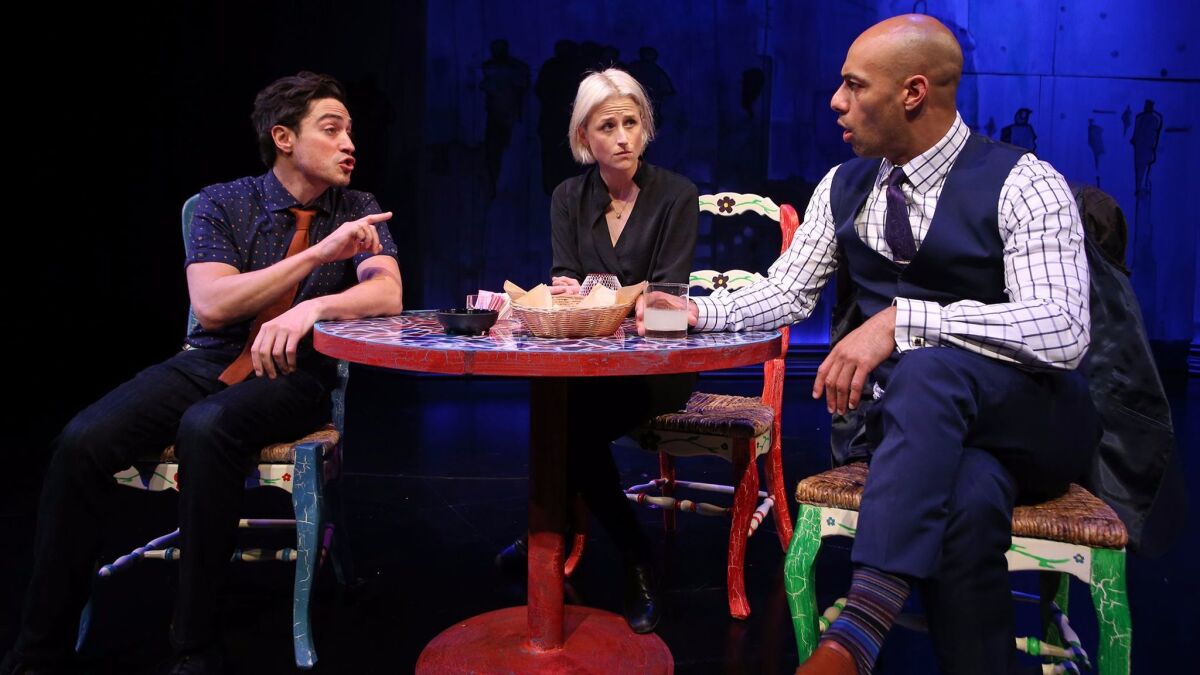 The dialogue is spirited and wacky, with a distinctively millennial edge. "Uber's here. I don't want my rating to drop," Alice announces, shutting down a tiresome conversation. At another point she asks Ethan, "Are you on medications?" When he says no, she follows up at once: "Are you off medications?"
It's hard to be sure whether such lines are jokes or just accurate transcriptions of modern conversations. Mitnick, a millennial himself, has a keen ear for the rhythms of his generation's speech — unfiltered, sarcastic, both jaded and needy — and in fact all of his characters talk more or less the same way, even Alice's parents, who sit on their couch batting barbs back and forth like college roommates.
"What can you do, Mr. Big Important Lawyer? Proofread a document and then bill me $900?" Deborah goads her husband during one particularly hilarious argument about how they ought to help Alice.
The sympathy Ron and Deborah manage to generate, however childishly they behave, is a credit to Casey Stangl's warmhearted direction. Mitnick's writing tends to chase the joke, occasionally at the expense of character, and in less expert hands the comedy might turn brittle.
The character of Ethan is particularly tricky: Always "on," he's cute and quick, but he's also intrusive, manic and utterly oblivious to anybody else's feelings. Feldman's considerable charm saves the character from coming across as a sociopath — but just barely. In fact, we never do find out what Ethan likes so much about Alice, or what motivates his urgent gamble to win her back.
The play offers a last-minute twist that, far from clarifying these questions, makes his behavior even more inscrutable. (It also introduces a new character, Jordan, played by Devon Sorvari.) If Alice weren't obviously over Ethan from the get-go, and equally self-centered, his campaign to upend her life might even seem cruel.
"The Siegel" is the part of South Coast Rep's Pacific Playwrights Festival for new work. In revising the play, which could have a bright stage future, Mitnick might want to borrow more than a title from Chekhov. The characters in "The Seagull" are specific individuals, stranded in their separate minds and yearning for connection. The play's humor — apparently its original Russian audience greeted it as a riotous comedy — is grounded in the persuasiveness of their failed interactions. A deeper picture of Ethan and Alice might make their jokes even funnier.
♦ ♦ ♦ ♦ ♦ ♦ ♦ ♦ ♦ ♦
'The Siegel'
Where: South Coast Repertory, 655 Town Center Drive, Costa Mesa
When: 7:30 p.m. Tuesdays and Wednesdays, 8 p.m. Thursdays and Fridays, 2:30 and 8 p.m. Saturdays, 2:30 and 7:30 p.m. Sundays; ends April 23
Tickets: $22 and up
Information: (714) 708-5555 or www.scr.org
Running time, 1 hour, 20 minutes
Follow The Times' arts team @culturemonster.
ALSO
When Ben Feldman and Mamie Gummer take the stage, think of the NEA
Why Hillary Clinton's next big stage should be at the Tony Awards
Lynn Nottage on her Pulitzer win for drama: 'I'm representing for women'
Clearing up confusion over 'Hamilton' tickets: What you need to know
A backstage conversation with 'The Encounter's' Simon McBurney
---
Get our L.A. Goes Out newsletter, with the week's best events, to help you explore and experience our city.
You may occasionally receive promotional content from the Los Angeles Times.