Conrad Ricamora, Oliver on 'How to Get Away With Murder,' on the provocative, political 'Soft Power'
He's a heavy breather, he snuffles like a piglet and he's an incorrigible face-licker. His name is Wilbur, and he's actor Conrad Ricamora's French bulldog. He's also a regular presence on set during rehearsals for Ricamora's show "Soft Power," which opens Wednesday at the Ahmanson Theatre.
The hair and make-up department keeps treats for Wilbur, and the cast and crew have come to rely on him for emotional support and comic relief. Workshopping a new musical from a powerhouse creative team at L.A.'s highest profile theater is not exactly easy.
"It's exhausting, it's tiring and it's frustrating," Ricamora says over a buckwheat-flax pancake breakfast at his apartment in West Hollywood. "We're in a very vulnerable place — all of us — because we want to fully commit to things, but even a small line change can alter the arc of what we're doing."
"Soft Power" is the provocative, political, complicated, impossible-to-fully-explain and still-evolving brainchild of two Tony Award winners, playwright David Henry Hwang ("M. Butterfly") and composer Jeanine Tesori ("Fun Home").
This is the most uncomfortable show that I've ever done, and I don't think that's a bad thing.
— Conrad Ricamora
Directed by Leigh Silverman, the show is being dubbed a "play with a musical" and seeks to flip the script on America's domination of pop culture by presenting an American-style musical from a Chinese perspective, set 50 years after the election of 2016. In an imagined future where China is the dominant world power, how might our country as we know it today be depicted when we are no longer driving the narrative?
Think an elevation of every terrible cliché about American culture, including McDonald's as our hip and sexy restaurant of choice, Hillary Clinton as a twerking candidate desperate to win over the masses and politicians toting semi-automatic rifles in a gun-crazed, meth-soaked society.
The show does not shy away from politics. President Trump's defeat of Clinton is depicted as the cataclysm that allows China to take center stage culturally and politically. To say that the production leans left would be an understatement. In today's polarized landscape, given the inevitably mixed audience of even a blue-state theater, it's a risk.
"This is the most uncomfortable show that I've ever done," Ricamora says. "And I don't think that's a bad thing. I don't think it's necessarily a bad thing for people to keep their brains turned on when they take their seats."
Ricamora has become used to challenging viewer perceptions. He is best known for portraying Oliver Hampton, an HIV-positive gay man and the love interest of Connor Walsh on ABC's hit show "How to Get Away With Murder."
To a certain extent, the role defies how Asian men are often portrayed in popular culture. And it's one reason why Ricamora, who is of Filipino descent, made sense for the role of Xua Xing in "Soft Power," a Chinese executive seeking to create a "Sex and the City"-style TV show filmed in China.
At its core, "Soft Power" is about the overwhelming power of pop-culture imagery, and how it can mold societies. It is about the grave responsibility of representation — and how much it matters to those being represented.
Ricamora knows all about these themes in his bones. He conjures a vivid picture of his own past from his perch on a cozy banquette in the breakfast nook of his classic Hollywood apartment, which he purchased from Amy Stiller (Ben Stiller's sister) and which still has her homey decorating touches: framed show posters, a New York subway sign and a black-and-white photo of Central Park.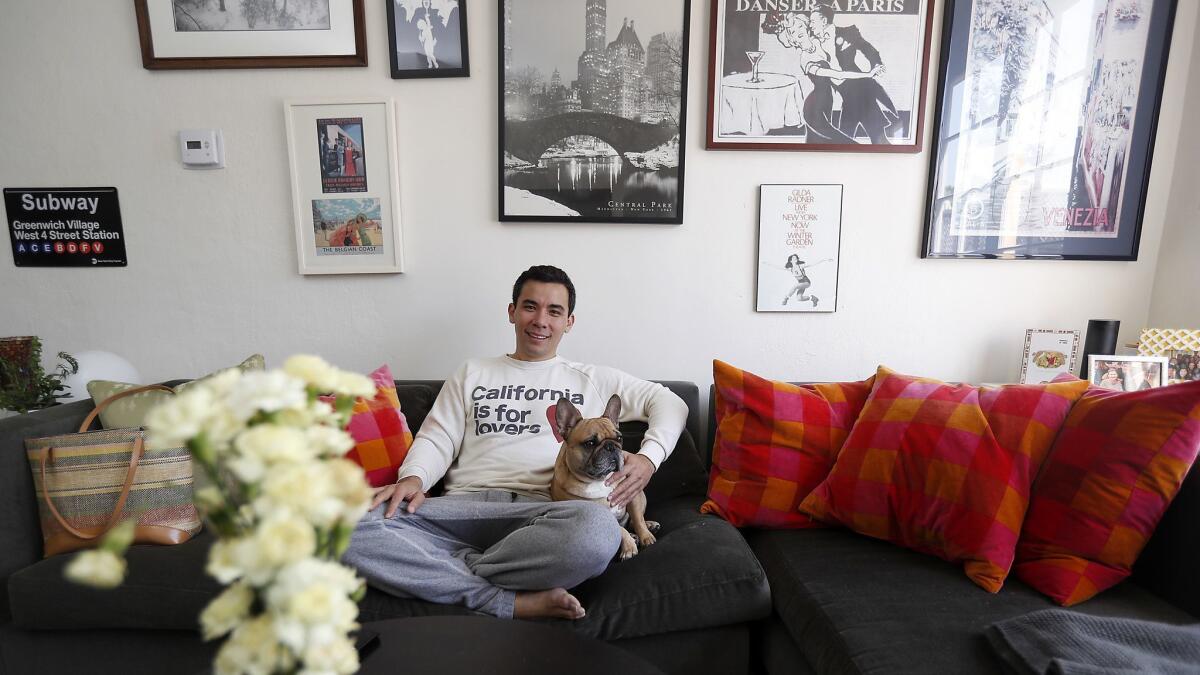 Chet Baker plays on the stereo, and the morning light filters with cheery precision through the large windows. Ricamora wears a "California is for lovers" sweatshirt and sweatpants. This is his happy place, his necessary morning ritual before the grueling day of rehearsal and night of performing beyond that.
Ricamora, whose name, he points out with a wry grin, means "delicious blackberry" in Spanish, grew up on Air Force bases in the 1980s and '90s, a gay Asian child who seemed as out-of-place in the masculine culture of his surroundings as an onion in a fruit basket. When his classmates began throwing around homophobic slurs in junior high, Ricamora knew to keep his head down and play sports. He became great at tennis.
His self-control was the first thing that his close friend and fellow actor Julie Lake noticed when she met him in grad school at the University of Tennessee, Knoxville.
"He was a college athlete and super-disciplined in everything he did, and he would show up to the studio at 5 a.m. to do an hour of vocal training and an hour of yoga," Lake says. "One thing I think he learned in grad school was to let go of that control, because in acting that doesn't serve you. It's about being spontaneous and in the moment, it's good to watch him be loose and free — channeling the universe."
Ricamora's mother abandoned the family when Ricamora was a baby and his older brother was 2, he says. Ricamora's father raised the boys alone until Ricamora was 7 and his stepmom arrived on the scene. His father suspected the boy was gay but never spoke of it. He never shamed Ricamora, either. When a young Conrad wanted a Barbie, his father bought one, no questions asked. When his older brother got Superman footsie pajamas, Ricamora got the Wonder Woman version that he wanted.
Then there was the whole mixed-race issue. Ricamora's mother was white, with roots firmly planted in Colonial New Hampshire. Ricamora's father emigrated from the Philippines when he was 10. Two very different immigrant stories sandwiched into the same American child.
"It's so funny to think they were both immigrants, but they would have been treated very differently today because of the color of their skin and the shape of their eyes," Ricamora says. "They would not be granted the same welcome."
When Ricamora was young, pop culture depictions of Asian men and boys were often the likes of Long Duk Dong in "Sixteen Candles," uttering lines like, "No more yanky my wanky."
When Ricamora began acting in shows with other Asians, they compared notes. How many of them had tried to make their eyes look larger? Too many.
"We were always comedic devices, we were always clowns and nerds," Ricamora says. "That's the kind of taunting I would then experience in school."
That is to say, once again, representation matters. Americans watching "Soft Power" may cringe as a manic Hillary Clinton character in a soiled white suit sings next to a giant Big Mac while rollerskating carhops deliver fast food. For some audience members, it will be no fun seeing an image of their culture pulled from the shallowest of wells. There is a lesson there, and it's not subtle.
Which is why the production is working so hard to get it right. The long days workshopping "Soft Power" are important in a way that goes far beyond Ricamora, and he is well aware of that humbling fact.
"I have to remind myself that this is not about creating your performance, it's about creating a show that will live on after you are no longer a part of the show," he says. "I think about what it was like when they were workshopping 'The Lion King' or things like 'Wicked.' They had to constantly make changes, and those actors are no longer a part of those shows."
So when Ricamora arrives with Wilbur for afternoon rehearsal before each night's performance, his inbox is stuffed with new pages filled with changes as the show's creators strive to discover the very best way to reveal "Soft Power" to the world. And Ricamora is happy to be part of a team making art from scratch.
And maybe, just maybe, that art will live on long enough to see the fruit of its promise: a cacophony of diverse voices on stage and screen.
----------
'Soft Power'
Where: Center Theatre Group's Ahmanson Theatre, the Music Center, 135 N. Grand Ave., L.A.
When: In previews now, opening Wednesday, ending June 10. Performances at 8 p.m. Tuesdays-Fridays, 2 and 8 p.m. Saturdays, 1 and 6:30 p.m. Sundays (check website for exceptions and additions)
Tickets: $30-$130 (subject to change)
Information: (213) 972-4400, centertheatregroup.org
MORE ONSTAGE:
A revelatory Denzel Washington in 'The Iceman Cometh'
In the deeply felt 'Blues in the Night,' stellar songs speak for themselves
Mark Morris mines the Beatles' 'Sgt. Pepper' for an irresistible 'Pepperland'
The guide to dance in L.A.: 12 standout companies and how to see them
Get our L.A. Goes Out newsletter, with the week's best events, to help you explore and experience our city.
You may occasionally receive promotional content from the Los Angeles Times.