Sondheim on 'Sondheim on Sondheim's' new orchestral act at the Hollywood Bowl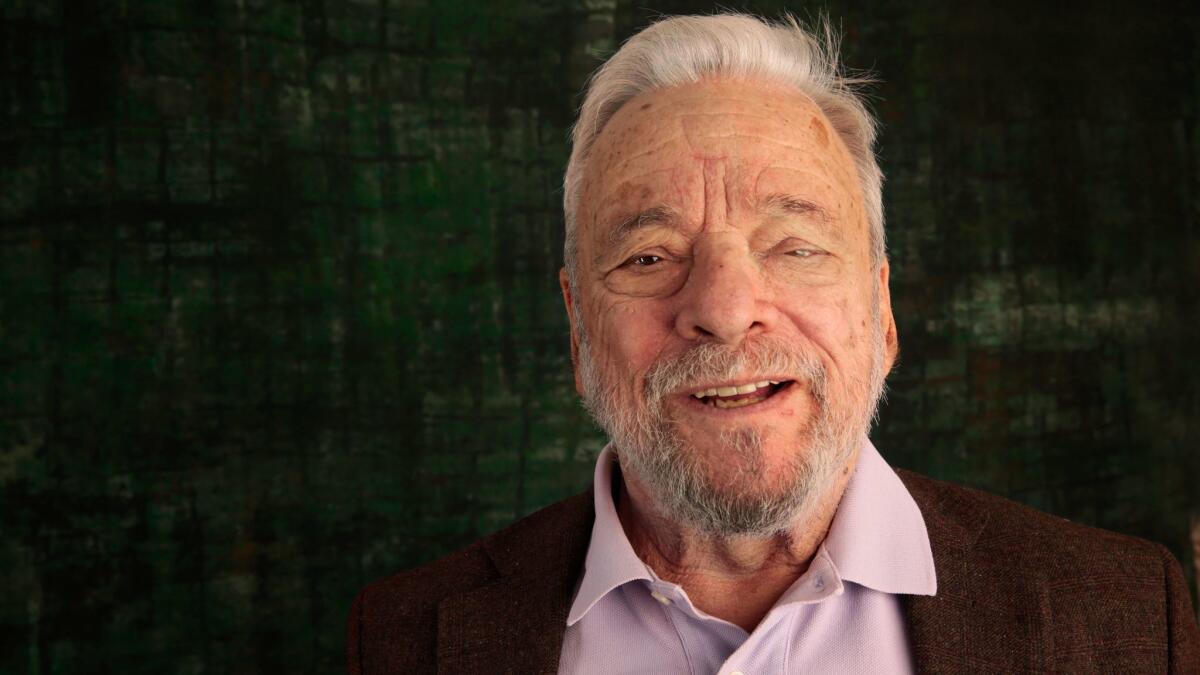 The last time Stephen Sondheim was at the Hollywood Bowl was 2005 for a concert in honor of his 75th birthday.
"They handled the traffic pretty well," he recalls.
On Sunday, the Hollywood Bowl will again be filled with the sound of Sondheim when Gustavo Dudamel conducts the Los Angeles Philharmonic in a one-night-only performance of "Sondheim on Sondheim," a revue of the Broadway songwriter's career.
This time Sondheim won't be in the audience. But there will be a starry cast on stage, including Vanessa Williams, Jesse Tyler Ferguson, Jonathan Groff, Sarah Uriarte Berry, Phillip Boykin, Lewis Cleale, Carmen Cusak, Claybourne Elder, Ruthie Ann Miles and Solea Pfeiffer.
"Sondheim on Sondheim," which first ran on Broadway in 2010, has been newly converted into an orchestral production for the Bowl. It gives audiences an intimate look at the composer's life and creative process.
But putting together a retrospective of his work "would not have occurred to me," Sondheim says over the phone about a week before the big night. He describes himself as "by nature a shrinking violet." Even so, when his close friend and frequent collaborator James Lapine proposed the idea years ago, he readily agreed.
"I had my usual, 'Oh, I hate being in the spotlight' stuff,' he admits, "but knowing that it was Jim, I just knew it was in good hands."
Lapine, who wrote the books for the Sondheim musicals "Sunday in the Park With George" and "Into the Woods" (and directed the premieres), designed "Sondheim on Sondheim" as a visual and musical experience, incorporating along with many songs, archival footage as well as historical and new interviews with the composer — to which Sondheim gamely submitted.
I figure, you know, what the heck, it's interesting for people to know about the lives of writers whose work they like.
— Stephen Sondheim
"There are some things that will surprise an audience," Sondheim promises. "I'm pretty open about some stuff in the interviews. James said there was no point in doing it unless I was sort of open and frank about it. And I said, 'Sure, OK, ask me questions. Tell me what you want to know.' I figure, you know, what the heck, it's interesting for people to know about the lives of writers whose work they like. I remember seeing an interview with Cole Porter when I was in my teens, and I just loved it. It's like, 'Yeah, oh, that's the guy who writes these things.' That's the fun of it, a glimpse into the personality of the writer."
His frankness notwithstanding, nothing about the show when it ran on Broadway in 2010 surprised or dismayed Sondheim. Even though, he says, "there were some things I had quote unquote forgotten." Later, the licensing agency Music Theater International proposed reconfiguring the revue as a symphonic piece for philharmonic orchestras. After a tryout performance with the Boston Pops at Tanglewood earlier in July, this new symphonic version will have its world premiere on Sunday.
During a break from rehearsal space at the Dorothy Chandler Pavilion, director Sarna Lapine (James Lapine's niece, who also directed the highly praised Broadway revival of "Sunday in the Park With George" earlier this year) described what it took to re-orchestrate the score and trim the original two-hour-plus running time to 100 minutes. There were hours of conversations with orchestrator Michael Starobin, music supervisor David Loud and projection designer Peter Flaherty, not to mention with Sondheim and James Lapine. A lot of effort for a one-night performance, but as Sarna Lapine explains, "It helped us create a new version of 'Sondheim on Sondheim' that can be done with other orchestras. It will be going into the library at MTI, and they can license it."
Sondheim says he's thrilled. "The whole thing that makes it exciting for me is the orchestra aspect," he explains. "New York theaters were not built for large orchestras, back in the early 20th century. The orchestrator has to be able to fit the instruments into the budget but also fit the bodies into the pit. To have not only a first-rate orchestra but a large orchestra — that's very thrilling for a composer, particularly a composer of theater songs. And nobody has an orchestra like the L.A. Phil."
So why isn't he making the trip west? It's not because he's slowing down at age 87 — though he does remark matter-of-factly, "I think about my own death all the time, now that I'm so close to it."
Indeed, he makes a point of catching new productions of his work all over the world. It's just that there are a lot of them these days, and he can't be in two places at once. He's due in London to see a new production of "Follies" at the National Theater. "I'm really distressed that I can't be out there for 'Sondheim on Sondheim,'" he says. "But I have a live baby 6,000 miles away."
"It's been a banner season," he continues. "Here in New York there's 'Sweeney Todd,' which is still running, and there was 'Sunday in the Park With George,' and right now as we speak, 'Assassins.' And 'Company''s going to be done later in the year, directed by Marianne Elliott — and get this, with a female Bobby."
Our popular conception of theatrical geniuses — prickly, arrogant and contemptuous of newfangled ideas — makes it a bit surprising that Sondheim responded to the last proposal with enthusiasm.
The thing about the theater as opposed to movies and television is, it's malleable... Every generation there are new actors to play Hamlet."
— Stephen Sondheim
"Oh, yeah," he says. "The thing about the theater as opposed to movies and television is, it's malleable. What keeps theater alive is that every generation there are new actors to play Hamlet. I mean, it's not the only reason 'Hamlet''s still alive, because it's a great play, but it wouldn't be alive if if weren't performed, and performed by new people. In the movie of Laurence Olivier's 'Hamlet,' Olivier is still giving the same performance he gave 40 years ago. But if he were alive and doing it, he'd be doing it differently. Shows are performed and, most important, directed by different people, and that keeps them alive.
"If you've got somebody as distinguished and inventive and good as Marianne Elliott, and she says, 'I would love to do "Company" with a female central character.'… What is there to lose? It can only make the play either interesting or, if you dislike it… dislikable… but still. I'm fumfering here, but the point is: That's what keeps the theaters alive. So I'm always open."
Well, almost always. Somebody once suggested a version of "Merrily We Roll Along" told in conventional rather than reversed chronology. "That was so stupid I can hardly bring words to it," Sondheim says with a good-natured sigh.
"Theater is always vulnerable to directors who want to do something 'capital D different' for the sake of it," he concludes. "But the idea of different orchestras doing 'Sondheim on Sondheim' is thrilling to me."
During her interview, Sarna Lapine described how easy she has found it to work with both Sondheim and James Lapine. "They're both so gracious," she says. "And so many people aren't. They just stand out as gentlemen who don't lead with their egos but with their ideas and their commitment to investigating the best way forward."
"Well, she's right," Sondheim replies when this compliment is repeated. "We are both gentlemen. We're both easy to work with. That's one of the reasons our collaboration has been so good."
Although Sarna Lapine grew up in a creative, culture-loving family and first saw "Sunday in the Park" at 8 years old, she was hardly molded all her life to inherit the Sondheim mantle. She described herself as an introverted, bookish child, and she arrived at directing through a process of self-discovery that led her first to the Pacific Northwest on a decade-long pursuit of rock climbing, mountaineering, back-country skiing and teaching Outward Bound.
In her late 20s, while working at Seattle's Intiman Theater, she got to know its then-director, Bartlett Sher. He was about to direct his Broadway debut, "Light in the Piazza," and, aware of her growing interest in directing, he invited her to be his assistant. She found that the skills she'd developed far offstage were transferable.
"Pursuing mountaineering really reshaped my psyche and gave me a way to find physical strength and confidence and independence, as well as really concrete skills to combat things like the insidious ways sexism operates in the fabric of our culture and in institutions. How you lead a team of people to a common goal, how you project problems and solve them preemptively — these were things we had to do as mountaineering guides. I had been training myself for more of an extroverted leadership role than I ever imagined."
While continuing to assist Sher, as well as to direct her own projects, Lapine simultaneously enrolled in film school at Columbia. When James Lapine needed help budgeting and shooting the video portions of "Sondheim on Sondheim" in 2011, he thought of her.
It would be the first time they'd worked together, and the idea made Sarna "incredibly nervous."
"James isn't just somebody in the theater, he's actually somebody great, who's part of our American theater canon," she explains about her thinking at the time. "I know him as an adult, as my uncle, but we don't, you know, hang out and talk that often, at Thanksgiving, so he's a little bit mysterious to me in that way, and if I set myself on that path, what happens if I'm not as good? Would that bring shame upon my family?"
"I remember thinking that this was something I might not do again," she admits. "Just because it made me so nervous."
But when he called her again, this time to help him out with a City Center concert of "Sunday in the Park," a play that she loved and had already directed on her own, she couldn't resist. That weeklong collaboration "really taught me that I loved working with James, artist to artist and adult to adult" and also led to her taking the helm as director when the show transferred to Broadway.
"So when this came up," she says, "it was, of course, I'll do anything for you, and of course for Mr. Sondheim, whose work," she pauses to think.... "It just always opens itself up. There's all these doors you walk through and they keep opening and you keep discovering new things about the craft, about human nature, about storytelling. He has made such a commitment to this art form that he's just left an indelible mark on what it can do. And he continues to!"
'Sondheim on Sondheim'
When: 7:30 p.m. Sunday, July 23
Where: Hollywood Bowl, 2301 N. Highland Ave., Los Angeles
Tickets: $14 to $189
Info: www.hollywoodbowl.com, (323) 850-2000
SIGN UP for the free Essential Arts & Culture newsletter »
Support coverage of the arts. Share this article.
ALSO
Times art critic Christopher Knight's latest reviews
Times theater critic Charles McNulty's latest reviews
Times architecture critic Christopher Hawthorne's latest columns
Times music critic Mark Swed's latest review
---
UPDATES:
12:52 p.m.: A previous version of this article misspelled the name of singer and actress Solea Pfeiffer, who will perform in Sunday's "Sondheim on Sondheim" production at the Hollywood Bowl.
Get our L.A. Goes Out newsletter, with the week's best events, to help you explore and experience our city.
You may occasionally receive promotional content from the Los Angeles Times.